It's been a hot minute since I've used a cleansing foam on my dry skin, but after seeing their pH 5.5 claim, I wanted to see if this was the cleansing foam that wouldn't dry my skin out!
Quick Summary
Low pH cleanser that can still create thick foams with a foaming net
Oily or combo skin will enjoy how gentle it is
Not the best option for dry skin types
Overview
What is it
Our cleansing foam is set at pH 5.5 to cleanse the skin of dirt, excess oils, and other impurities deep in the pores without stripping the skin. With its special patent skincare technology, Aquaxyl, this cleansing foam keeps the skin moisturized and balanced. Our enhanced formula features the addition of even more moisturizing agents to guarantee a clean, yet fully moisturized feeling.
Best suited for
Normal/combo/oily skin types OR those living in more humid climates. Dry skin types living in drier climates might still find this too stripping, especially as a second/morning cleanse.
Things to note
It's free of artificial fragrance, alcohol, and harsh surfactants! Also paraben-free.
Packaging
A matte white plastic tube like most foam cleansers. AXIS-Y has a clean aesthetic which is easy on the eyes.
Scent
The natural scent is slightly salty, kind of like Elmer's glue? It's not an unpleasant scent but it doesn't spark joy either.
Texture
A thick pearly cream that turns into a milky foam when you add water. You can achieve the super dense and fluffy foam is you use a foaming net.
Finish
Skin feels fresh without being squeaky clean! I don't notice any issues if I continue with my routine immediately, but if I wait ~30 seconds, my skin will start feeling dry and a little tight.
Available For
$18 for 120ml on FeelUnique, YesStyle (5% off with code GEEKYPOSH)
Ingredients Highlight
All AXIS-Y products follow their 6-1-1 formula, which are 6 base ingredients + 1 goal oriented ingredient + 1 quality-producing technology. It sounds like a promising concept, so let's take a look at each one:
The 6 base ingredients included in all products, including this cleanser, are:
Green Tea Extract is a powerful antioxidant that's also well-studied. It can help protect our skin against UV rays and will work wonderfully under your sunscreen (never in place of it!). It's also anti-inflammatory and potentially anti-bacterial!
Licorice Root Extract has both skin brightening and soothing properties. The active glabridin prevents pigmentation from forming and is anti-inflammatory, while liquiritin helps fade the dark spots. A small study found it to be effective with minimal side effects.
Allantoin is known for its skin-smoothing and soothing properties. Studies have shown that applying allantoin topically can help fasten our skin's repairing process.
Calendula Extract can also soothe our skin and a few experiments show its effects on wound healing, but researchers agree more studies are required. You should avoid this extract if you have ragweed allergies!
Chamomile Extract is a better studied ingredient if you're looking anti-inflammatory benefits, specifically from its two active compounds, chamazulene and bisabolol. It also has some antioxidant properties!
Centella Asiatica Extract is probably the most well-known of the anti-inflammatory extracts listed. Not only is it soothing, it's also a great antioxidant and as moisturizing properties!
Birch Sap (2000 ppm) is the "goal oriented" ingredient in this formula, and it contains some trace minerals, amino acids, and antioxidant compounds that are all beneficial for the skin. However the ingredient's actual impact on the skin requires further research. Also don't be fooled by 2000ppm, that's only 0.2%.
Aquaxyl is the "quality producing technology" in this cleanser, and it's actually a blend of 3 sugars: Xylitylglucoside + Anhydroxylitol + Xylitol. It claims to increase our skin's own natural moisturizing factors, lipids, and proteins, which in turn helps hydrate and protect our skin against moisture loss. A supplier's in-vivo study found a 13.5% increase hydration after 24hours, and a 15.4% decrease in trans-epidermal water loss after 8 days.
Main surfactants: Sodium Cocoyl Isethionate, Sodium Methyl Cocoyl Taurate, Potassium Cocoyl Glycinate, and Coco-Betaine. These are milder than SLS but depending on the %, combined they can still be harsh.
My personal thoughts
When it comes to cleansers, I'm not terribly impressed by the extra antioxidants because they're all getting washed off after 30 seconds. Instead I wish they added some extra emollients to make this more dry-skin friendly.
On the plus, I like that they used gentle surfactants (though the dose makes the poison) and included some humectants to combat potential dryness.
Not my favorite cleanser formula by a long shot, but not terrible either.
Full Ingredient List
Water, Glycerin, Sodium Cocoyl Isethionate, Sodium Methyl Cocoyl Taurate, Potassium Cocoyl Glycinate, Coco-Betaine, Potassium Cocoate, Polyquaternium-67, Xylitylglucoside, Citric Acid, Anhydroxylitol, Sodium Chloride, Betula Platyphylla Japonica Juice, Xylitol, 1,2-Hexanediol, Glucose, Sodium Acetate, Sodium Hyaluronate, Butylene Glycol, Trehalose, Allantoin, Matricaria Flower Extract, Licorice Root Extract, Green Tea Leaf Extract, Perilla Frutescens Leaf Extract, Rice Bran Extract, Houttuynia Cordata Extract, Centella Asiatica Extract, Calendula Flower Extract, Disodium EDTA, Potassium Benzoate
How To Use the AXIS-Y Cleansing Foam
As a single pm cleanse on no-makeup days when you're not wearing waterproof sunscreen.
If you have combo/oily skin or live somewhere humid, this will also work well as a second or even morning cleanser!
Use a small pea-sized amount and add water to create a foam. Apply to your damp skin, starting with the t-zone.
Massage up to 1 minute, then rinse with lukewarm water.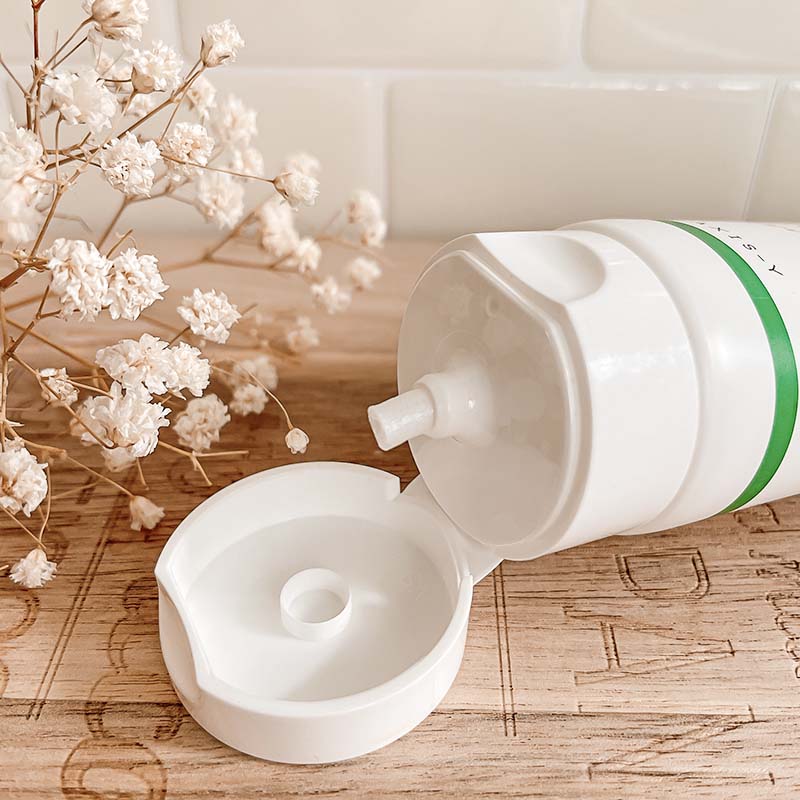 Pros & Cons of the AXIS-Y Cleansing Foam
✅ Truly skin balancing pH
I get so annoyed when I see "skin balancing pH" on a product and find that it's pH 7. Yes that's a neutral pH, but our skin's natural pH is around 4-5.5, so 7 is still to basic!
Some cleansers take it too far and end up below 4, which isn't the worst but if you have sensitive skin it could irritate your skin further. 5.5 is within the sweet spot which means minimal disruption to your skin's microbiome, which means a healthier skin barrier in the long run!
✅ Cleans well and rinses cleanly
It won't remove waterproof makeup or even waterproof sunscreen (at least not fully), but non-waterproof sunscreens and natural oils are a breeze for this cleanser! Also no funny film left behind!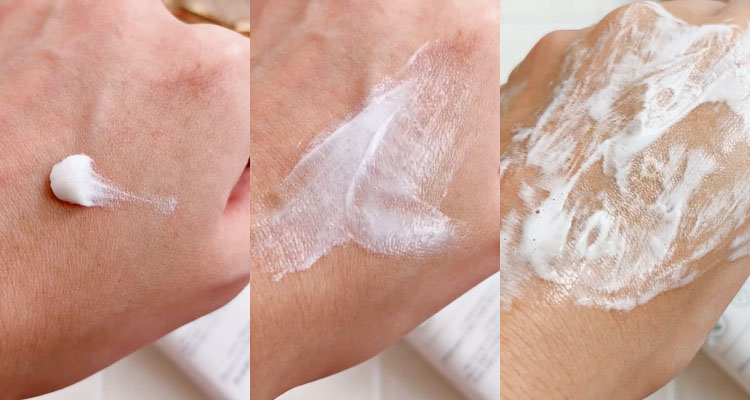 ❓ Still a bit drying for my dry skin
Despite the humectants added and the gentle surfactants used, I still found it slightly drying. I definitely have to skip my first cleanser and make sure I follow up with a hydrating essence afterwards. Depending on your skin type or where you live, this may be a non-issue
❓ Basic and no-frills
Depending on your stance, this could be a pro or a con. My evening cleansing routine is a part of how I unwind at the end of the day, so I want my face wash to smell nice and deliver a luxurious cleansing experience.
Unfortunately the AXIS-Y Cleansing Foam is the opposite of all those things. It's incredibly utilitarian, which again isn't an objectively terrible thing, but something to keep in mind if you're like me!
Product Comparisons
AXIS-Y Cleansing Foam vs 107 Chaga Cleansing Gel*
Both are low pH but the 107 is a gel cleanser and foams only slightly. It also has a much more pleasant texture (soft tea leaves!) and a calming Earl Grey scent. The AXIS-Y cleans better but I prefer the 107 for overall experience.
AXIS-Y Cleansing Foam vs Cerave Foaming Cleanser
The AXIS-Y foams more easily and cleans slightly better imo, but the Cerave is less drying and much more affordable. If you want a truly utilitarian cleanser and aren't allergic to fatty alcohols, I would recommend Cerave. However Cerave is not cruelty free whereas the AXIS-Y cleanser is!

AXIS-Y Cleansing Foam vs Holifrog Superior Omega Nutritive Gel Wash*
Both are cruelty-free, foaming, but the Holifrog includes emollients to help offset some of the dryness. Tbh both feel very similar on my skin (kinda drying) and the Holifrog is much more expensive. But it comes in a cute bottle?
AXIS-Y Cleansing Foam vs Shiseido Senka Perfect Whip Cleansing Foam
The Shiseido is one of the most well-known Asian face cleansers and both have similar textures that can deliver thick foams. However the Shiseido has a pH of 8-9 and strips your skin squeaky clean. Avoid and go with the AXIS-Y instead!
Want more cleanser reviews? Here's a skincare edit I did a while back: 6 facial cleanser I'm currently using
Final Verdict
Ingredients
Packaging
Texture/Application
Performance
Price
It's exciting to see foaming cleansers make a comeback without the squeaky clean results and high pH. While the extra ingredients won't do much for your skin, there's no harm either and the price is still relatively affordable.
Personally it's a pass for my dry skin and I think there are better options out there, but if you've missed the thick foams of old school cleansers and your skin isn't super dry, you might enjoy this.
FAQs
Is the AXIS-Y Sunday Morning Refreshing Cleansing Foam cruelty free?

Yes! AXIS-Y is one of the few (but growing) Kbeauty brands that is cruelty free and certified by PETA.

Is the AXIS-Y Sunday Morning Refreshing Cleansing Foam vegan?

Yes, AXIS-Y is certified vegan by the Korean Vegan Association.
Article Sources
To keep my content accurate and trustworthy, I rely on peer-reviewed studies, articles from reputable academic institutions, and quotes from certified healthcare professionals to back my claims. No woo-woo clickbait nonsense here!
"AQUAXYL." SEPPIC, 2015, www.seppic.com/en/wesource/aquaxyl.

Li, Yuan-Hong et al. "Protective effects of green tea extracts on photoaging and photommunosuppression." Skin research and technology : official journal of International Society for Bioengineering and the Skin (ISBS) [and] International Society for Digital Imaging of Skin (ISDIS) [and] International Society for Skin Imaging (ISSI) vol. 15,3 (2009): 338-45. doi:10.1111/j.1600-0846.2009.00370.x

OyetakinWhite, Patricia et al. "Protective mechanisms of green tea polyphenols in skin." Oxidative medicine and cellular longevity vol. 2012 (2012): 560682. doi:10.1155/2012/560682

Elsaie, Mohamed L et al. "The efficacy of topical 2% green tea lotion in mild-to-moderate acne vulgaris." Journal of drugs in dermatology : JDD vol. 8,4 (2009): 358-64.

Davis, Erica C, and Valerie D Callender. "Postinflammatory hyperpigmentation: a review of the epidemiology, clinical features, and treatment options in skin of color." The Journal of clinical and aesthetic dermatology vol. 3,7 (2010): 20-31. www.ncbi.nlm.nih.gov/pmc/articles/PMC2921758/.

Araújo, Lorena Ulhôa, et al. "Profile of Wound Healing Process Induced by Allantoin." Acta Cirurgica Brasileira, vol. 25, no. 5, Oct. 2010, pp. 460–61, https://doi.org/10.1590/s0102-86502010000500014.

Givol, Or, et al. "A Systematic Review of Calendula Officinalis Extract for Wound Healing." Wound Repair and Regeneration, vol. 27, no. 5, June 2019, pp. 548–61, https://doi.org/10.1111/wrr.12737.

"Practical Uses of Botanicals in Skin Care – JCAD | the Journal of Clinical and Aesthetic Dermatology." Jcadonline.com, 23 Jan. 2009, jcadonline.com/practical-uses-of-botanicals-in-skin-care/.

Bylka, Wiesława, et al. "Centella Asiaticain Dermatology: An Overview." Phytotherapy Research, vol. 28, no. 8, Jan. 2014, pp. 1117–24, https://doi.org/10.1002/ptr.5110.

"Chemical Characterization and in Vitro Evaluation of Birch Sap and a Complex of Plant Extracts for Potential Use in Cosmetic Anti-Ageing Products." Environmental and Experimental Biology, 2017, https://doi.org/10.22364/eeb.15.05.