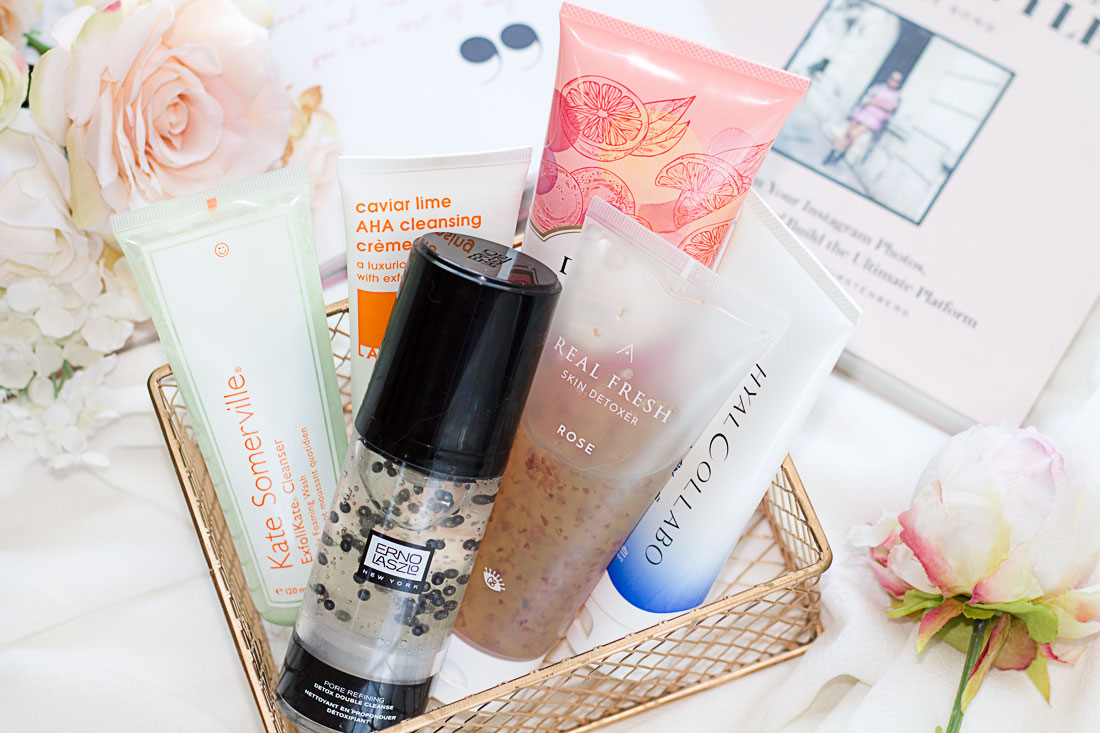 Last updated on January 3rd, 2019
A while ago I talked about if facial cleanser were worth splurging on, and from an efficacy and ingredients standpoint, not really. But from a sensory experience, then I definitely think so. Regardless of whether you view cleansers as purely utilitarian or an opportunity to pamper your skin, we all need at least one in our routine.
Now I currently have 6 second cleansers, which is 5 too many for the average person. These are all generously gifted by brands for me to try, so I figured I'd share my thoughts on them all here. As always, my reviews are 100% honest, and trust me I've pissed off brands/PR companies because of it, but hey, not my fault they can't take criticism.
Kate Somerville ExfoliKate Cleanser
Did a brief review on Instagram, but this has quickly become one of my favorite cleansers. First it smells incredible (like key lime pie!), but the smell isn't so strong as to knock the winds out of you whenever you use it.
Now this is a foaming cleanser, but it is sulfate-free and doesn't leave the skin feeling dry or stripped. If anything, my skin has felt softer and smoother since using this, maybe due to the  fruit enzymes that provide some minor exfoliation effect, which I prefer over stronger acids. It also has glycolic and lactic acid, but the pH isn't low enough for them to really have much impact.
Overall a delightful cleanser to use, and not super expensive. Much love. ♥♥♥♥♥
pH Level

Tested around 6

Key ingredients

glycolic acid, lactic acid, Aquaxyl, fruit enzymes (full ingredient list)

Available At

$38 on Sephora, Amazon, Nordstrom
Or get a free full-sized cleanser with the purchase of a Try Me Kit (free shipping)!
Erno Lazlo Pore Refining Detox Double Cleanser
I really don't care for its name. Double cleansing is a method of removing your makeup/sunscreen first and cleansing your skin second, so I'm confused why a product touted as a morning cleanser would be called double cleanse.  And don't get me started on the "Detox" part, it's like they just threw together a bunch of trendy terms and called it a day.
Name rant aside, this is actually a really nice gel cleanser. It's super gentle and fun to use if you like to pop the little black bits (charcoal) as you're massaging your skin. This also contains fruit enzymes for exfoliation, but because it barely foams, it's feels even gentler than the Kate Somerville ExfoliKate Cleanser. It has a subtle sweet scent to it, which I don't mind getting a whiff of first thing in the morning!
Now is it worth $55? Not really, especially since there are so many better and more affordable options out there. ♥♥♥
pH Level

Tested around 4.5

Key ingredients

black charcoal, aloe vera juice, fruit enzymes, kale protein blend (full ingredient list)

Available At
Detclear Bright & Peel Hot Cleansing Gel Cream
The Japanese sure love their warming cream cleansers! Unlike the Skinvill one, this one actually has a warming effect, and it smells like gummy bears! It also boasts that it's 99.4% essence, which I'm not sure what that means exactly – like you could potentially use this as an essence if you removed the cleansing ingredients? Despite the vague and imo, inflated claims, this is actually full of beneficial fruit extracts, hydrating ingredients, and both AHAs and BHAs to exfoliate the skin.
The texture of this is pretty thick, so you'll want to use a generous amount to avoid tugging your skin when massaging it in. You can actually use this to remove makeup, and on days when I'm wearing a non-water proof sunscreen and feeling lazy, this is all I need to thoroughly cleanse my skin. Or I'll use a micellar water first to remove some of my more stubborn makeup, then follow up with this, since I want my skin to get as much of the ingredient benefits as possible. Rinses off easily and doesn't leave skin feeling dry or tight, but it can sting a bit when my skin is on the sensitive side.
Smells good, looks pretty, and has good ingredients. Me likey. ♥♥♥♥
pH Level

Tested around 4.5

Key ingredients

hyaluronic acid, citric acid, salicylic acid, vitamin c, and lots of fruit extracts (full ingredient list)

Available At

$21 on YesStyle, Kirei Station
Lather Caviar Lime AHA Cleansing Creme
I'm definitely noticing an exfoliating trend in my cleansers, and of the 4 mentioned so far, this one is the strongest, given its lower pH for increased acid efficacy. It's also one of the "greener" brands in that it uses more natural ingredients and avoids eco-beauty taboos like synthetic fragrance, colors, sulfates, and parabens. Scent-wise it smells the least synthetic, as if someone had just shaved some fresh lime zest! Just a tiny bit of product produces a rich lather, but as all cleansers I use, it doesn't leave the skin dry or tight (are you sick of me saying that yet?).
Personally I found it a bit too strong for daily use, but if you have oily or more resilient skin, you'll really like this cleanser. Instead I use this whenever I feel like my skin could use a deep cleaning, and I don't have to worry about my skin stinging or getting too sensitive. Also, I'm very on the fence about the lime scent, it's too bitter for me!
Overall a nice "natural" foaming cleanser, but just not right for my skin type. ♥♥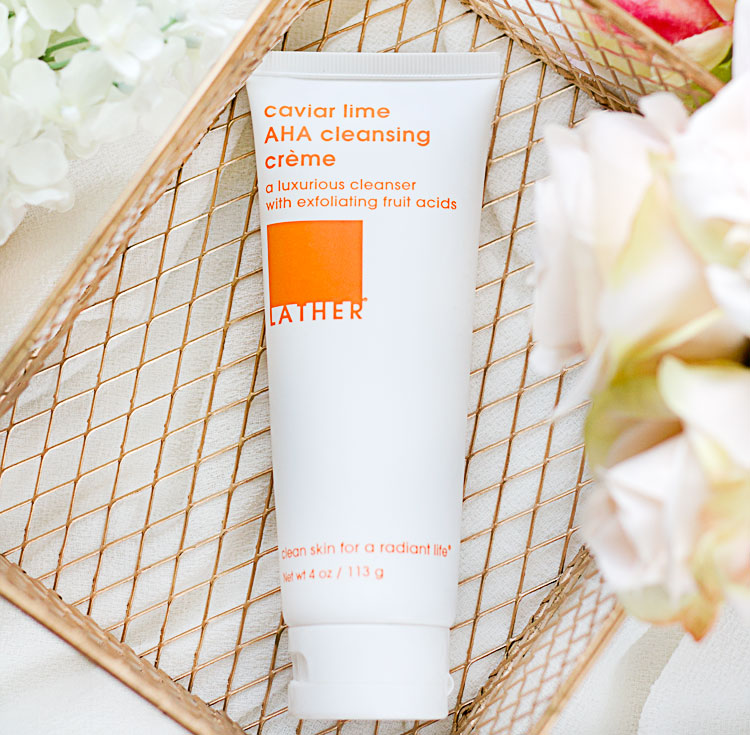 pH Level

Tested around 4

Key ingredients

lime extract, meadowfoam seed oil, lactic acid, hyaluronic acid  (full ingredient list)

Available At

$21 on Lather
Althea Real Fresh Skin Detoxer – Rose
I already wrote a full review on this so I won't ramble on too much here, but it's one of the more affordable options on this list, and also non-exfoliating. If you already use an acid regularly, you might not want more exfoliation in your cleanser, so this is a nice option.
It's gentle, lightly foaming, smells of roses, and gets the job done. ♥♥♥♥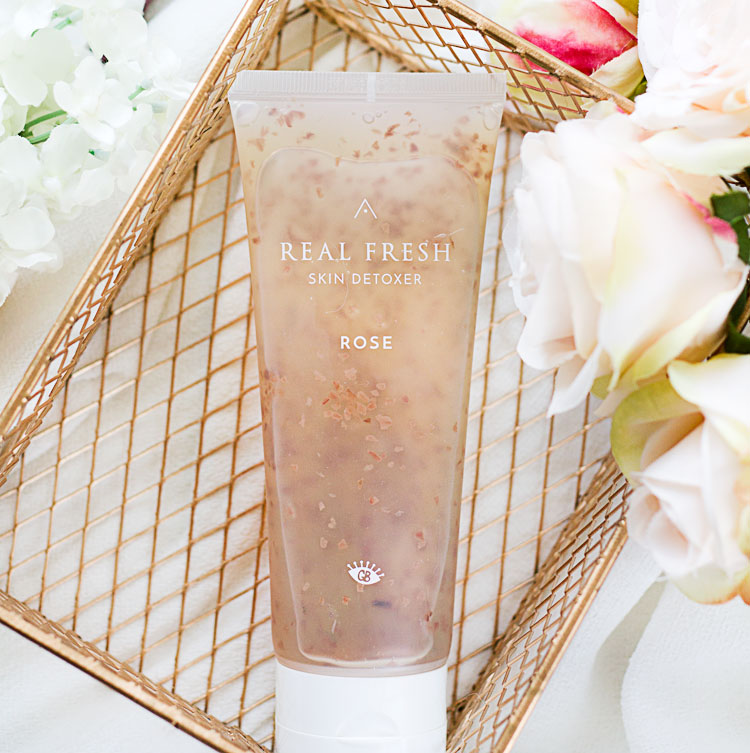 pH Level

Tested around 5

Key ingredients

rose water, rose flower powder, oat extract, beta-glucan  (full ingredient list)

Available At

$11 on Althea, use my referral link to get 20% off your first purchase!
Joanna Vargas Miracle Bar
The black soap looks intimidating at first, but the color is due to charcoal powder, which provides a deep cleansing effect. It also has a surprisingly sweet scent thanks to the sweet orange and lemon essential oils, which for me is a plus, but if you're allergic to fragrances, keep that in mind.
Since this is the newest addition to my collection, I've only used this a few times and found that a little bit goes a long way. I used too much the first time and it stung a bit, especially around the eyes, so make sure you don't get any in! Unlike traditional soaps, this did not feel drying , and actually left a slight moisturizing film behind. This does have a higher pH than I prefer, but it's at least still neutral, so I won't rule it out completely.
Whether you'll like this or not depends on how you feel about soap formats and your stance on pH levels. A detailed review will be coming soon once I've had more time to try this!
pH Level

Tested around 7

Key ingredients

charcoal, bamboo powder, shea butter, olive oil  (full ingredient list)

Available At
Other cleansers I recommend
While I no longer have these in my rotation, I've used them in the past and rather enjoyed them. Maybe I'll even get around to repurchasing them one day!

Of course I've also tried my share of Asian foaming cleanser before I realized pH levels were a thing, but with the plethora of low pH options, there's really no reason to use alkaline cleansers anymore. At most I'll use a neutral pH7 cleanser occasionally, but anything higher is a red flag for me.
All this talk about second cleansers, but what about first cleansers? Here are 7 types of makeup removers compared.
What are your go-to second cleansers at the moment? Have you tried any of these before? Let me know!
Did you enjoy this post?
I share first impressions, product comparisons, and more skincare tips regularly on Instagram! Learn about products first and get a bonus dose of daily fluff! 😸
Follow Now