Are you looking for a cruelty-free alternative to the Laneige Cream Skin Refiner? Meet the AROMATICA Reviving Rose Infusion Treatment Toner. It's as beautiful as it looks!
Quick Summary
Bi-phase formula that provides extra moisture to dry skin types
A joy to use for anyone who loves the smell of roses or the color pink
Moisturizes well without sensitizing my skin!
What is it
Duo functional toner of organic rose water and rose essential oil has emollient and hydrating properties in a two-layer form, ideal for mature, dry, or sensitive skin.
How I use it
As a hydrating toner after first essences and before serums on damp skin. Mist lightly (if essence has already been absorbed), give it a generous shake to mix the water and oil layers, dispense into my hands, and pat gently into the skin.
Best suited for
Normal, combo, and dry skin types who are fans of rose scents and/or pink. Could work for oily skin types as well depending on climate. Sensitive skin should review ingredients beforehand.
Things to note
It contains Damask Rose Flower Oil, a heavily scented essential oil. Personally I've never had a problem with this irritating my skin and I find the scent calming, but ymmv.
Packaging
A frosted glass bottle that feels elegant and luxurious.
Scent
Like a bouquet of roses! It's not overwhelming but definitely noticeable. Goes away after you apply the product.
Texture
A light milky texture with some slip. Feels slightly lighter than the Laneige.
Finish
Depending on the number of layers you apply and your skin type, it could range from a natural to a dewy finish. Can feel sticky if you apply too many layers.
Where to buy
$35.70 for 200ml at StyleKorean (free express global shipping $80+), $41 at Yesstyle
Ingredients Highlight
Damask Rose Flower Extract, Aloe Leaf Extract, Methylpropanediol, Triethylhexanoin, Caprylic/​Capric Triglyceride, Butylene Glycol, Ethylhexyl Palmitate, Niacinamide, 1,2-Hexanediol, Polyglyceryl-4 Isostearate, Polyglyceryl-10 Laurate, Glycerin, Caprylyl Glycol, Polyglyceryl-10 Myristate, Damask Rose Flower Oil, Star Anise Fruit Extract, Hydrogenated Lecithin, False Daisy Extract, Neem Leaf Extract, Ceramide NP, Moringa Seed Oil, Citronellol, Geraniol, Eugenol, Benzyl Alcohol, Farnesol, Linalool, Citral, Limonene
Despite the light texture this toner is rich in emollients – aka ingredients that make your skin feel soft and smooth. They do this by either drawing moisture to your skin or helping retain it, which is why I always recommend applying milky toners like this on damp skin!
Some ingredients I'm happy to see are Niacinamide (a superstar antioxidant), Aloe Extract (moisturizing and anti-inflammatory), Ceramide (essential to our barrier health), and Moringa Seed Oil (full of moisturizing fatty acids). But there are a few lesser known/debatable ones as well:
Damask Rose Flower Extract and Damask Rose Flower Oil are the key ingredients in this toner, and heavy fragrance aside, research as shown them to have anti-inflammatory1, antioxidant, and even uv protection properties2. Keep in mind they're not nearly as well studied as proven ingredients like vitamin c or vitamin e though.
Star Anise is something I use frequently in my cooking but this is the first time I've seen it in skincare. It's shown to have antioxidant and anti-inflammatory properties3 but it also contains fragrance which can be irritating to some.
False Daisy Extract and Neem Leaf Extract are also lesser-known ingredient but they're both great antioxidant and anti-inflammatory as well, without the fragrance aspect4! Neem Leaf actually contains components, like polysaccharides, that help hydrate the skin5!
Overall a nice blend of proven ingredients plus a few lesser-known extracts for a well-rounded formula that mainly moisturizes but also protects and soothes. Now let's see if it actually does all those things!
Usage Experience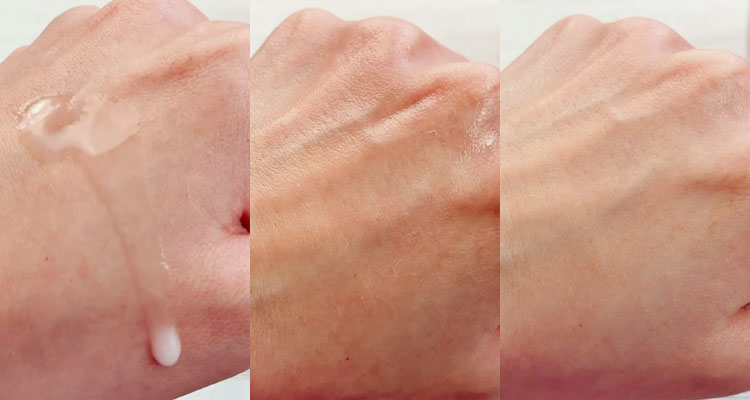 ✔️ Extremely moisturizing
For my dry skin the AROMATICA Reviving Rose Infusion Treatment Toner moisturizes just as well as the Laneige Cream Skin! During the winter I'd occasionally use up to 2 layers when my skin is really dry, but now that it's warmer my skin is able to get the hydration it needs with just one layer!
✔️ Spa-like experience at a reasonable price
From the luxe packaging to the delicate rose scent, this toner feels like a luxurious upgrade compared to the Laneige. Obviously result is king, but for those who view skincare as selfcare, finding joy in your products is just as important, and Aromatica delivers without costing an arm and a leg!
✔️ A multi-purpose product
Like the Laneige, there are multiple ways to use this. You can use it as a regular hydrating toner, as a DIY toner/lotion mask when your skin is really dry, mixed with a few drops of facial oil as an emulsion, or even in between skincare steps to create a moisture sandwich!
Need more ideas on how to use your toner? Here are 4 ways you can use them
❌ More complex ingredients = more likelihood of irritations
Having essential oils and multiple botanical extracts doesn't automatically mean the product will irritate your skin, but the chances of it possibly doing so does go up. Not a deal breaker imo and I never experienced any irritations, but something to consider if you have sensitive skin.
On the contrary, the Laneige Cream Skin has a shorter and simpler ingredient list with no added fragrances, making it the better option for fragrance-sensitive folks.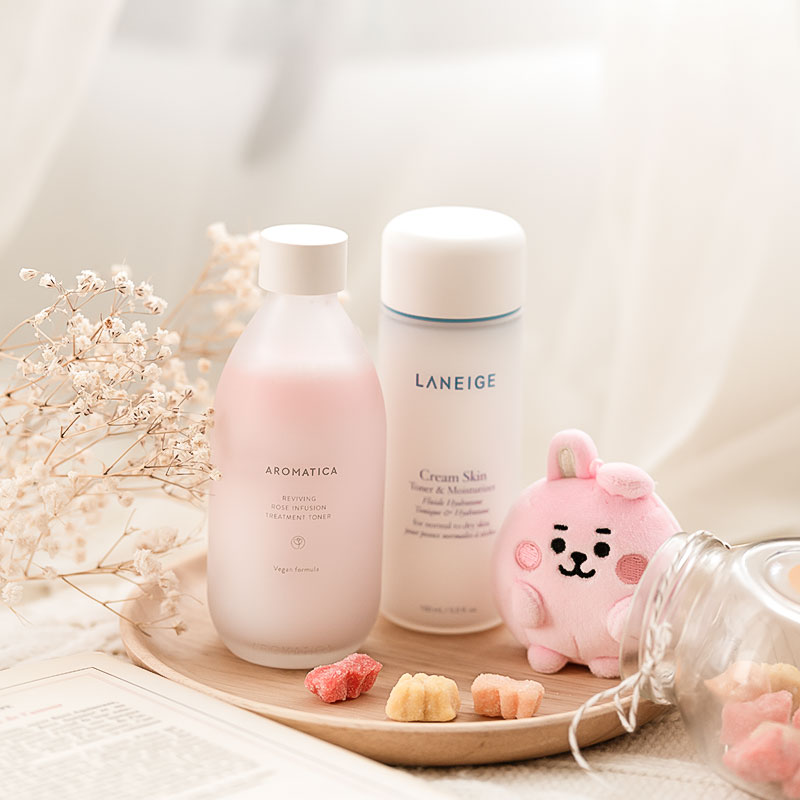 AROMATICA Reviving Rose Infusion Treatment Toner compared
…to the Laniege Cream Skin Refiner (reviewed here)
You can't go wrong with either, the main difference comes down to the usage experience. Pink and scented? Go with Aromatica. Fragrance-free and possibly gentler? Go with Laneige.
…to the I'm From Rice Toner (IG review)
The I'm From feels lighter with more slip, and it's also fragrance-free and cruelty-free! My dry skin prefers the Aromatica more though for its superior moisturizing abilities and overall usage experience. Let's say if the Aromatica was whole milk, the I'm From would be 2%.
…to the Versed Baby Cheeks All-In-One Hydrating Milk (IG review)
Looks like a milk but feels like water. Using the milk analogy, this would be fat-free milk. As a toner, it's not particularly hydrating, and as a makeup remover, it struggles with anything heavier than tinted sunscreen. Looks cute though!

Final Verdict
Packaging
Ingredients
Texture/Application
Performance
Price
I still adore the Laneige but AROMATICA elevates the usage experience with its beautiful scent and color while delivering the same excellent moisturizing results. It's a bit harder to find and the scent/ingredient list might not be for everyone. But if you don't have sensitive skin and actually enjoy fragrance in skincare, definitely give this product a try. You might become addicted, just like me!
Article Sources
To keep my content accurate and trustworthy, I rely on peer-reviewed studies, articles from reputable academic institutions, and quotes from certified healthcare professionals to back my claims. No woo-woo clickbait nonsense here!