I know I'm a few years late to the Bioderma party, and while I've tried other micellar water in the meantime, I finally got a chance last month to try The Original & The Great™: Bioderma H2O Micellar Water.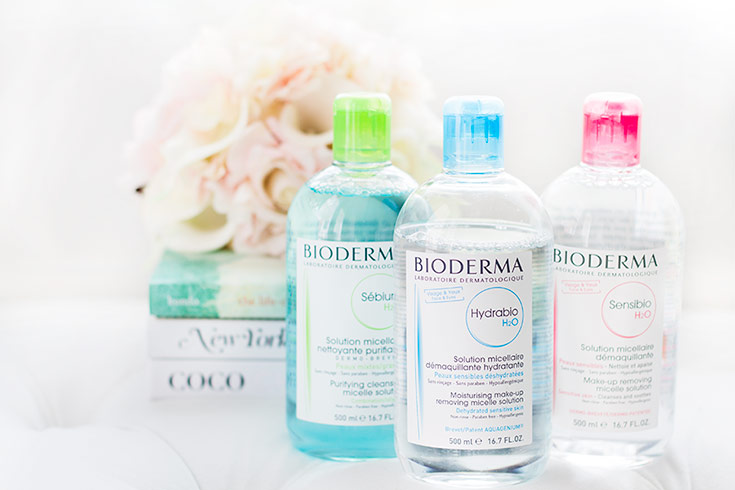 I was fortunate enough to receive 3 flavors of their all-star micellar water:
Bioderma Hydrabio H2O – for dehydrated & sensitive skin
Bioderma Sensibio H2O – for sensitive to intolerant skin, the original of originals
Bioderma Sébium H2O – for combination, oily, or blemished skin
Since winter makes my skin on the drier side, I decided to start with the Hydrabio H20, which also happens to be the least discussed (and I guess least common) out of the 3. I haven't tried the other 2, because it doesn't make sense to have 3 bottles open. Remember, I'm all about minimalism now.
First look at the Bioderma Hydrabio H2O
What is it

A micellar water that gently removes makeup and dirt while hydrating the skin. Its Aquagenium™ complex retrains the skin to activate its natural moisturizing capacities by stimulating the production of aquaporins, water channels in the skin, and retain the water it needs to be balanced. Me likey!

How I use it

Soak a cotton pad, wipe, and repeat until cotton pad shows no residue. Easy peasy. This is now my default AM cleanser and 1st PM cleanser (which is then followed by a super gentle 2nd cleanser). Waterproof eye makeup is still removed with a separate eye makeup remover.

Best suited for

All skin types, but especially dry or dehydrated folks.

Key ingredients

Micelles, Aquagenium™ complex (full list here)

Irritants

Contains allergen-free fragrance (whatever that means), but otherwise is paraben-free, non-comedogenic, and hypoallergenic.

Scent

a light fresh scent

Texture

like water, but with a slight slip

Size & Price

$11.90 for 250ml, $16.90 for 500ml

Where to buy

Beautylish (I would highly advise against buying from Amazon or eBay to avoid fakes)
The entire Bioderma Hydrabio line boasts the inclusion of their exclusive Aquagenium™ complex, which after some researching and ingredient cross-checking, is a combination of the following: mannitol, xylitol, rhamnose, fructo-oligosaccharides, niacinamide, and apple fruit extract.
The first 4 are moisturizing agents, and niacinamde is a skincare rockstar that brightens/moisturizes/soothes and just makes your skin friggin' fantastic. In the case of a regular cleanser, I'd disregard its benefits, but since the micellar water is non-rinse, the niacinamide will actually stay on your skin long enough to work its magic. Lastly there's apple fruit extract, which is another great ingredient with antioxidant and mild exfoliating properties (resource). Overall I'm very happy with the ingredients of this micellar water, even with its added fragrance (which is super easy on the nose, I barely recognized it was there).
The only cleanser I really need
I still believe in double cleansing, as clean skin is the foundation of which to build the rest of your routine. However, I also think a lot of cleansers out there, especially those high-pH, SLS-laced ones, are an overkill. Our skin has a moisture barrier in place to help keep the bad stuff out and good stuff in, and using a super harsh cleansers is like dropping an atomic bomb on it. Yeah, you get rid of all the dirt and oil, but you've destroyed your moisture barrier as well.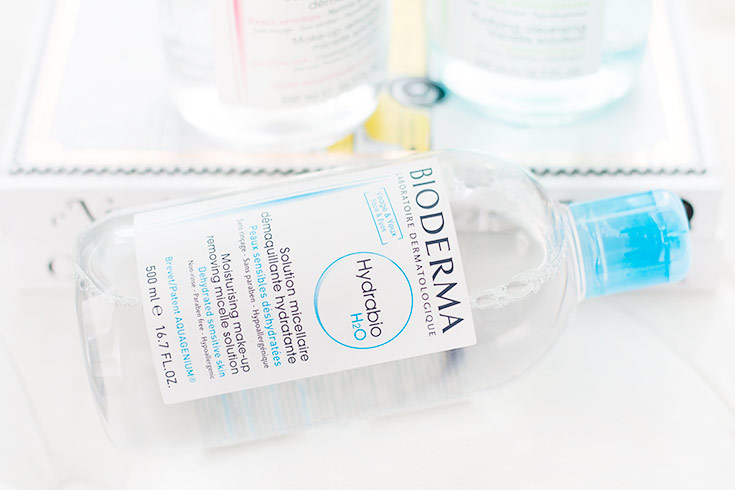 All Bioderma H2O Micellar Waters are formulated to mimic the the phospholipids of our skin cell membranes, and it has a beautiful pH of 4.5, which is very close to our skin's natural pH level. The Hydrabio H2O goes above and beyond with extra hydrating ingredients, something you'll appreciate if your skin is on the drier side.
Despite its super skin-friendly composition, the Bioderma micellar water does a killer job of removing sebum, dirt, and makeup, all while leaving your skin hydrated and soft. Even with the gentle CeraVe Hydrating Cleanser, my skin would start to feel dry after a few minutes if I don't moisturize immediately. But with the Bioderma Hydrabio H2O, my skin feels completely fine, as if I hadn't cleaned it at all, so I panicked. IS MY SKIN CLEAN OR NOT CLEAN?? Short answer: Yes.
Long answer: Ever since I switched out all my cleansers (except for my 2nd PM cleanser, because I'm still mildly paranoid) to Bioderma, I stopped breaking out. This could also be due to me simplifying my routine in other aspects, but no break outs + better product absorption are both good signs that my skin is indeed clean. It took me a while to accept that no, my skin didn't have to feel dry for it to feel clean, and that no squeaky clean feeling ≠ dirty face. And evidently I'm not the only one who feels this way.
Some people complain about micellar water leaving behind a film on the skin, something I can attest to with past products I've used *cough* Lancome I'm looking at you *cough*. However, I've never experienced any film or residue on the skin with Bioderma, though I do use multiple cotton pads until they wipe clean. This may be caused by the use of Hexylene Glycol in other micellar waters, which is slightly comedogenic.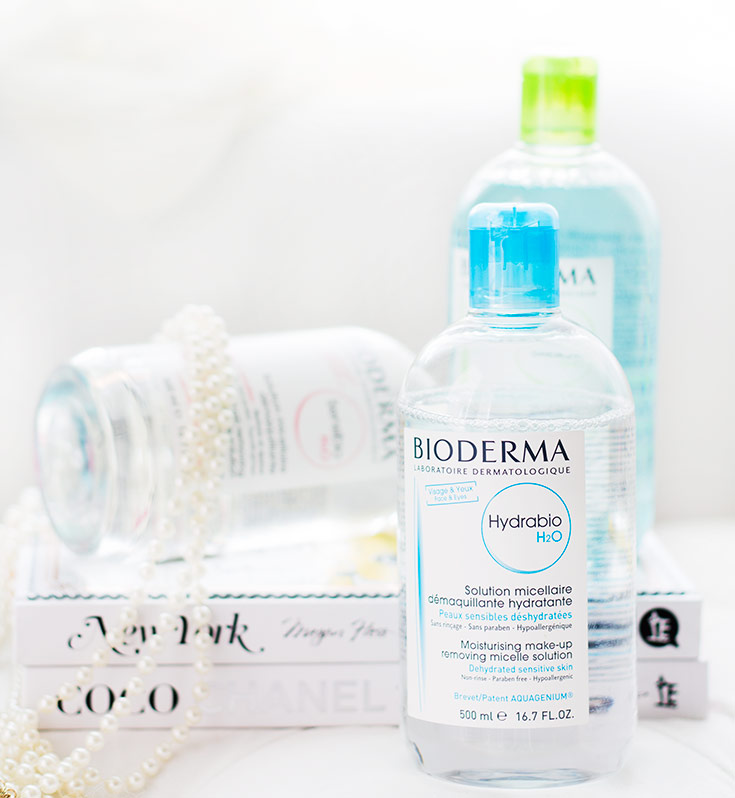 Thanks to the Bioderma H2O Micellar water, I no longer need a cleansing balm/oil or a separate AM/PM cleanser. Yes for money saved and a simpler skincare routine! But most importantly, YES to a cleanser that effectively cleans and improves the condition of my skin.
Final Verdict
Packaging
Ingredients
Texture/Application
Performance
Price
If you feel like your skin is stuck in a rut no matter which products you use, there's a good chance your cleanser is the culprit. I'd highly recommend giving Bioderma a try, and you might be pleasantly surprised. I can't speak for the Sébium version, but the Hydrabio H2O has definitely made my skin happier and less dry in the winter-time. I'm now a firm believer of the awesomeness of micellar water, and the Bioderma H2O will be a staple in my skincare routine.
Have you tried micellar water or more specifically, Bioderma's micellar water before? Let me know your experiences in the comments below!