With the recent wellness trend, vinegar, specifically apple cider vinegar, has risen in popularity both as a health supplement and a skincare ingredient. I'm sure you've seen those DIY recipes for an apple cider vinegar cleanser or toner on social media.
Spoiler alert, DIY is not the way to go if you want to use vinegar in your skincare routine. At the very least you'll sting or irritate your skin if you don't dilute it properly, at the worst you could burn your face off. Not fun.
Instead I'd like to introduce you to 107 Beauty, a Korean skincare brand that uses a handcrafted all-natural vinegar, with a recipe that dates back 36 generations! Their skincare line includes the four core products, each featuring vinegar as their key ingredient:
107 Chaga Jelly Low pH Cleanser
107 Micro Drizzle Hydro Toner
107 Dewy Glow Serum Mist
107 Beauty 7-Year Aged Vinegar
First, what is vinegar? Typically it's refers to a 5% acedic acid solution, with the acedic acid coming from fermenting ethanol. Apple Cider Vinegar also contains acedic acid, but in this case it comes from fermenting apple cider.
107's vinegar is based on a traditional Eastern medicine recipe, and is further fermented for 7 years to release all the nutrients from the ingredients. So now in addition to acedic acid, you get lactic acid, malic acid, vitamins, and 17 types of amino acids!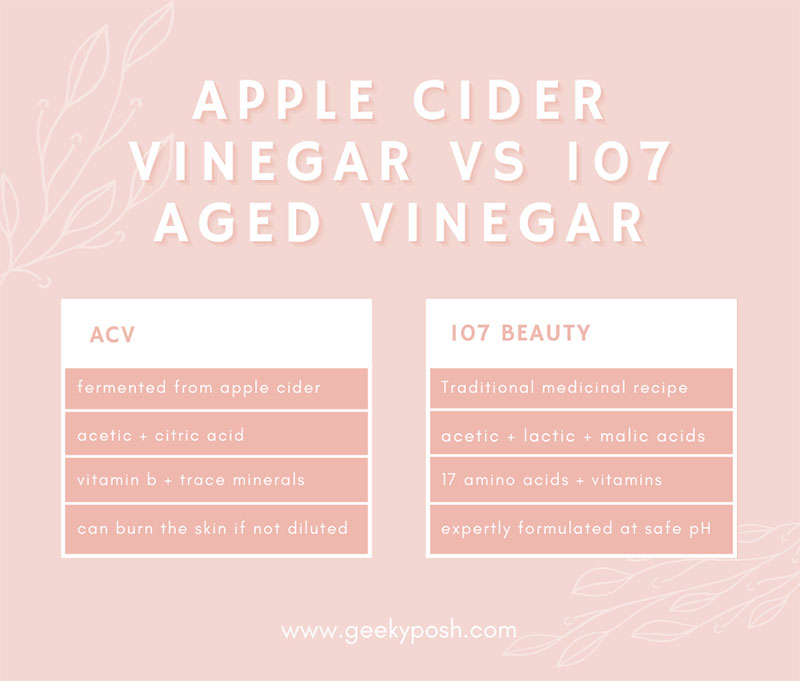 Regular vinegar is obviously the least beneficial other than being anti-bacterial and anti-microbial1, then you have ACV that's a step up with some vitamin B's and trace minerals from the apple cider2.
107's aged vinegar takes it a step further and offers gentle exfoliation via lactic + malic acids and nourishment via the multiple vitamins and amino acids. It's no longer just vinegar, but a nutritional drink for the skin!
Now that we have a better understanding of the key ingredient and how beneficial well-formulated vinegar can be, let's see how it works in 107's products
107 Beauty Skincare Products Reviewed
Photo Credit: 107beauty.com
A low-foaming gel cleanser with green tea leaves for mild exfoliation, but it's still super gentle on the skin! In addition to aged vinegar, this also contains soothing extracts like chamomile and centella asiastica and the antioxidant chaga mushroom. The bonus? This smells just like earl grey tea! Will work well for all skin types as a second or morning cleanser.
→ $22 for 120ml at 107 Beauty
Photo Credit: 107beauty.com
A lightweight liquid with some slip. Contains 3 types of hyaluronic acid, panthenol, betaine, and beta glucan to draw moisture to the skin, along with grape seed and Japanese camellia leaf extracts for an antioxidant boost. A great option for anyone that wants extra hydration without the stickiness.
→ $35 for 180ml at 107 Beauty
Photo Credit: 107beauty.com
A mist that truly can double as a serum thanks to its nourishing and soothing ingredients: rice + soymilk ferment, adenosine, allantoin, and safflower extract. Feels slightly sticky on application but goes away after you apply your moisturizer. I would definitely use this as a serum instead of a mist as it nourishes better than it hydrates.
→ $58 for 50ml at 107 Beauty
Photo Credit: 107beauty.com
One of my favorite moisturizers! A lush gel cream that's deeply moisturizing yet feels light at the same time. Contains squalane and sunflower seed oil to moisturize and panthenol + hyalyuronic acid + trehalose to hydrate. This gives my skin such a lovely glow and plumpness with continued use!
→ $48 for 50ml at 107 Beauty
All four products feature the proprietary aged vinegar formula, which means they all offer very mild exfoliation, so mild you can use all of these daily without irritating your skin at all!
While I've gotten good experiences using the products separately, they truly shine when used together in a routine. If glowing + bouncy skin is what you're after, this brand is it!
I don't usually recommend purchasing from a single brand, but I'd make an exception for 107 Beauty – I'd happily use only their products, but add in a vitamin c + sunscreen in the morning and a retinol at night.
Curious on what you really need in an effective skincare routine? How to start a skincare routine in your 30's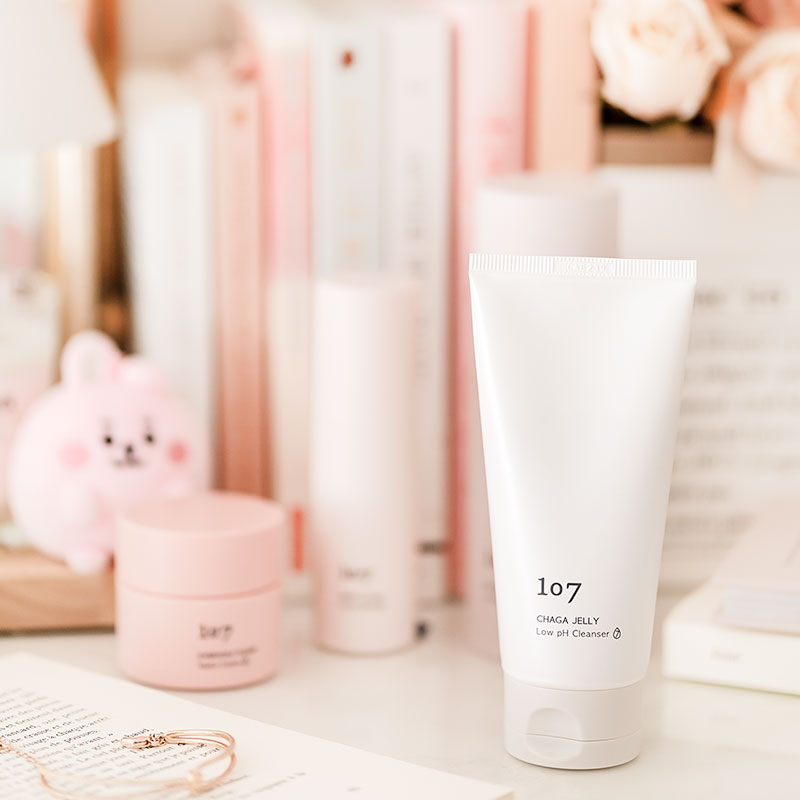 Final Verdict
Ingredients

Packaging

Texture/Application

Performance

Price
If you want vinegar based skincare that truly works without irritations, save your ACV for your salad dressing and go with products that have been specifically formulated to work for our skin!
While you can't go wrong with anything in this line, my pick would definitely be the cream for its efficacy and texture or the serum mist for its unique application!
Article Sources
To keep my content accurate and trustworthy, I rely on peer-reviewed studies, articles from reputable academic institutions, and quotes from certified healthcare professionals to back my claims. No woo-woo clickbait nonsense here!
Nagoba, B. S., et al. "Acetic Acid Treatment of Pseudomonal Wound Infections – a Review." Journal of Infection and Public Health, vol. 6, no. 6, Dec. 2013, pp. 410–15, https://doi.org/10.1016/j.jiph.2013.05.005.

"Apple Cider Vinegar." MedicineNet, MedicineNet, 11 June 2021, www.medicinenet.com/apple_cider_vinegar/supplements-vitamins.htm.