As someone who's not a fan of vinegar in my food, I never thought I'd be a believer, or even a fan, of vinegar in skincare. But after my experience with the 107 Everyday Plump Hydro Cream, well, here we are.
What is it
A lightweight moisturizer with a silky cream-to-gel formulation that's rich without being heavy or greasy. With a bright, fresh scent, it's an ideal source for daily nourishment and protection, for all skin types.
How I use it
Twice a day as my moisturizer. I use a generous pea sized amount and massage gently into my skin.
Best suited for
Dry, normal, and even combo skin types looking for a nourishing yet light cream with a dewy finish will enjoy this! Oily skin might find it too rich depending on the climate.
Things to note
It's fragrance-free and alcohol free!
Packaging
A beautiful pink jar. It's plastic but still has some weight so it doesn't feel cheap. FYI their entire line is different shades of pink based on the usage order of the product! Lightest one goes first, darkest (this cream) goes last.
Scent
Luckily it doesn't smell like vinegar. It actually doesn't smell like anything really.
Texture
A rich gel cream that feels absolutely lush but not heavy at all. It's very emollient, almost in a balm-like way, but not greasy.
Finish
A dewy finish, but not to the point where you look oily. The dewiness absorbs after 30 minutes.
Where to buy
$48 for 50ml on 107 Beauty, Beauty Box Korea
Full Ingredients
Water, Butylene Glycol, Glycerin, Cyclopentasiloxane,
Sunflower Seed Oil
,
Squalane
, Bacillus/Corchorus Olitorius Leaf Ferment Filtrate, PEG/PPG-18/4 Copolymer, Isostearyl Isostearate, 1,2-Hexanediol, Cetyl Alcohol, Aluminum Starch Octenylsuccinate, Cyclohexasiloxane, Polysorbate 60, Dimethiconol, Glyceryl Stearate, PEG-100 Stearate, Sorbitan Stearate,
Lactobacillus/Soymilk Ferment Filtrate
,
Pomegranate Enzyme
,
Arginine
, Acrylates/C10-30 Alkyl Acrylate Crosspolymer,
Lactobacillus/Panax Ginseng Root Ferment Filtrate
,
Jojoba Seed Oil
,
Panthenol
,
Trehalose
,
Allantoin
,
Sodium Hyaluronate
,
Polyglutamic Acid
,
Pear Fruit Extract
,
Beta-Glucan
, Damask Rose Flower Water,
Peach Fruit Extract
, Ivy Leaf/Stem Extract, Anise Fruit Extract, Vanilla Planifolia Fruit Extract,
Vinegar
,
Melon Fruit Extract
, Phenoxyethanol (0.52%).
Some quick observations based on the list above:
Love the nice mix of emollients to nourish and lock in moisture.
The key ingredient, vinegar, appears near the bottom of the list. But before you get mad, here's why it might be a good thing: Vinegar by nature is acidic (ph 2.4!), so too much of it will burn your skin!
Phenoxyethanol is the only preservative listed and its % is pretty low too. With a jar packaging and without ethylhexylglycerin to boost its efficacy, you don't want to take your sweet time with this moisturizer. Definitely aim to finish the jar within the period-after-opening window so you don't risk a bacterial infection in the product!
Now let's talk a bit about this aged vinegar that's featured in 107's entire product line! According to the brand, the vinegar is fermented for up to 30 years using their special recipe rooted in traditional Asian medicine.
As we know, the fermentation process helps breakdown the ingredient to release additional nutrients within – amino acids, AHAs, and acetic acid. These molecules are also smaller making them easier for the skin to absorb.
There hasn't been much research on the benefits of topically applying vinegar-based products, but dermatologists generally agree that diluted use of Apple Cider Vinegar can provide exfoliating and antibacterial benefits.
Usage Experience
✔️ Dry skin's dream texture!
It's as if the I Dew Care Say You Dew Moisturizer had a baby with the Lancome Absolue Soft Cream! The gel cream texture is rich and lush, but not in a suffocating kind of way. It's just the right amount of nourishment my dry skin needs, but I can still easily wear this cream during the day without looking too glowy (lol as if that's a concern of mine, but I know some people don't like it).
✔️ Layers beautifully over serums and under sunscreen/makeup
So many gel moisturizers pill on me, so given the the gel cream texture, I was wary. However, I'm happy to report that this does NOT pill at all! Throw any serum under it and any sunscreen over it and I promise the 107 Everyday Plump Hydro Cream will play well with them all.
✔️ Delivers noticeable results!
There's a reason why I listed this as a possible alternative to the Lancome Absolute Soft Cream in my moisturizers reviews roundup – it keeps my skin well moisturized during the dry winter season and gives my skin a healthy glow with continued use.
Plumping and skin-refining effects are less noticeable, but then again the 107 is also 1/4 price of the Lancome, so I'm pretty happy as is :) Plus no irritations at all from the vinegar!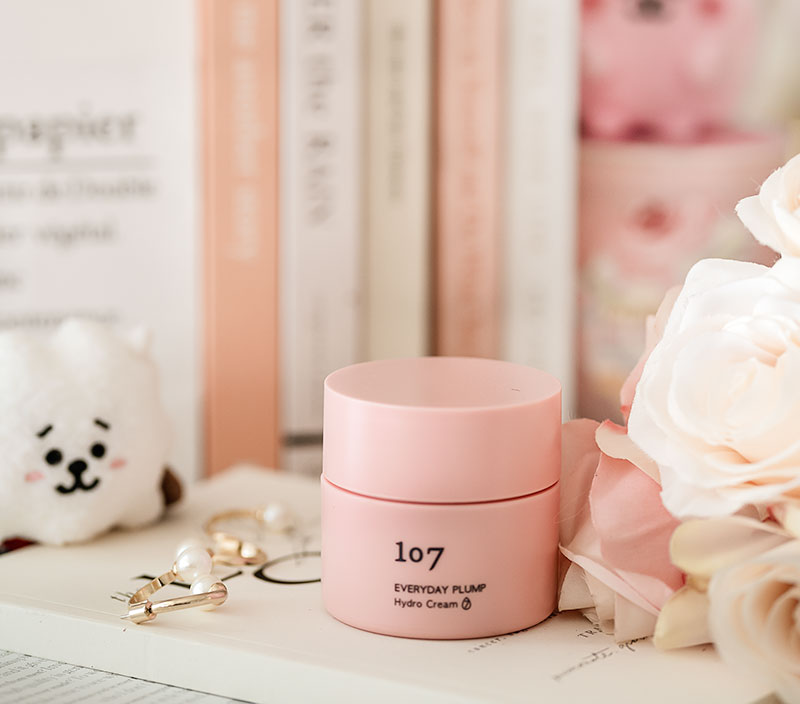 107 Everyday Plump Hydro Cream compared
To the I Dew Care Say You Dew Moisturizer:
The 107 is a more elegant and potent version of the I Dew Care, which seems to be targeting younger demographics. The 107 is also fragrance free.
To the Lancome Absolue Soft Cream:
Both have very similar textures, but the Lancome feels noticeably richer. If you want your moisturizer to be just as potent as your serums, you'll love the Lancome. But if you just need it to work as a moisturizer and save $$$, the 107 is a great pick.
Curious how the 107 Everyday Plump Hydro Cream compares with other moisturizers? Read my big moisturizer roundup to find out!
Final Verdict
Ingredients

Packaging

Texture/Application

Performance

Price
The idea of vinegar based skincare might turn you off at first, whether it's the fear of the scent or the chemical burn, but rest assured that this is neither. What it is is a well formulated moisturizer with an excellent texture that does everything a good moisturizer should do, and then some. All while looking pretty in its pink jar ;)
It's hard to find a fault with this one, but if I had to pick it would be the preservatives, though I've yet to come across any contamination despite my jar being open for quite a while! All in all, a winner in my book!