Hi I'm still alive, and I'm here rounding up my favorite skincare/makeup/hair care/body care products that I've had the chance to try this past year. I won't include old favorites that were featured in previous years, but I still love many of them just as much today.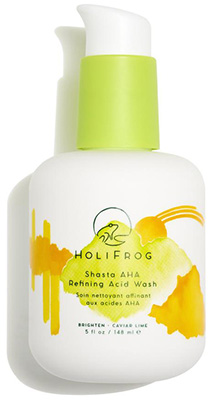 Holifrog Shasta AHA Refining Acid Wash*
Honestly I adore all 4 cleansers from Holifrog but Shasta wins by a smidgen because I've never used such a gentle exfoliating cleanser before. It's low pH, non-foaming, and full of skin-loving ingredients to brighten and nourish at the same time. I alternate between this and their Tashmoo Milky Wash which is also excellent. It's pricey for a cleanser, but it's so well formulated, and could replace your acid toner if you don't require strong exfoliants.
→ $38/148ml on Holifrog, Net-a-Porter, and Dermstore
Skinfood Black Sugar Perfect Splash Mask*
Reviewed here. I'm all about gentle exfoliating products this year and this "splash mask", which is really an acid toner, fits my needs perfectly. It relies on the gentlest of acids, PHAs, to smooth and brighten the skin while minimizing irritations. I use this 1-2 times a week depending on my skin needs and have never experienced any sensitivities, just refined and brighter skin!
Laneige Cream Skin Refiner
Reviewed here, and I still feel as strongly about it as I did 8 months ago. It's gentle, insanely hydrating, and extremely versatile. You can use it as a toner, turn it into an emulsion by adding a few drops of facial oil, or lotion mask with it. It also comes as a mist or pre-soaked pads.
→ $6.90/50ml at YesStyle (5% off with code GEEKYPOSH), $20.99/150ml on eBay, $28 on Amazon, $33 on Sephora
The Inkey List Vitamin C Brightening Cream*
The most effective vitamin c product I've tried to date. It's has waterless formula which means you don't need to worry about oxidization, and with 30% ascorbic acid, this product packs a punch. Despite the name, it's NOT a moisturizer but a serum. I like mixing it with their Hyaluronic Acid Serum to minimize the irritations and it gives me glowing skin the next morning. Between price and efficacy, you can't go wrong with this product.
→ $9.99/30ml at Sephora, FeelUnique, and CultBeauty
Peter Thomas Roth Pro Strength Retinoid Peptide Serum*
While I love Curology, I can't use it daily due to the tretinoin strength, so I'm grateful to have this much gentler anti-aging alternative in my routine. It uses granactive retinoid, which does NOT need to be converted to retinoic acid, potentially making it just as effective as tretinoin but without the irritations. It's a newer ingredient, but so far the results for me have been great. If you have sensitive skin but still want a potent product, this is worth a try. I've been using mine almost daily for 2 months now and I still have a half bottle left.
→ $110/30ml on Peter Thomas Roth, Sephora
Paula's Choice Peptide Booster*
I've had the chance to try out a lot of great PC products this year but this Peptide Booster stood out with its beautiful blend of ingredients and its efficacy. While not as effective as Curology or the PTR serum on pores, this has helped keep my skin smooth and fine lines at bay, plus it's quite hydrating too. It's a great multitasker that you can mix with other serums, making it a favorite of mine to travel with.
→ $52 on Paula's Choice (currently on sale for $36!), Amazon, Dermstore, Nordstrom, Cultbeauty
Sunday Riley C.E.O Glow Vitamin C + Turmeric Face Oil
Of all the oils I've tried this year (and it's a lot), this one is a my favorite thanks to its mix of nourishing oils and antioxidants like vitamin c and tumeric! True to its name, this product not only gives me the usual facial oil glow but also that vitamin c glow, and it's a great option for those who find ascorbic acid too irritating. Plus a little goes a long way!
→ $40/15ml on Sephora, Amazon, CultBeauty, Beautylish, Dermstore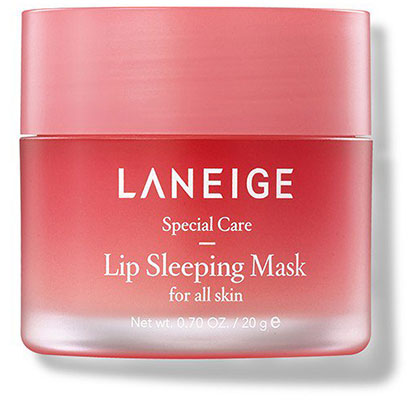 Laneige Lip Sleeping Mask
Probably not new to most people but I finally tried it this year, and yes it's as good as everyone says. It's the only lip mask heavy enough to really keep my lips moisturized throughout the night without feeling gross or waxy. It's definitely thicc but in a balmy oily way that I enjoy? Also I love the vanilla scent, it's light but cozy. If you have dry lips you need this!
→ $11-20on YesStyle, Amazon, Sephora; $5 for trial size on YesStyle (5% off with code GEEKYPOSH)
Glossier Futuredew
Reviewed here. It's kinda a strange product in that it's not quite a primer and definitely not a skincare product, yet it does work as a base and moisturize the skin. But forget all that, this gives my skin the most amazing glass glow, not that oily glow but that I-just-sheet-masked-with-unicorn-tears glow. It's definitely not for oily skin folks, but if you have dry/normal skin and want to look juicy, this is it.
→ $24 on Glossier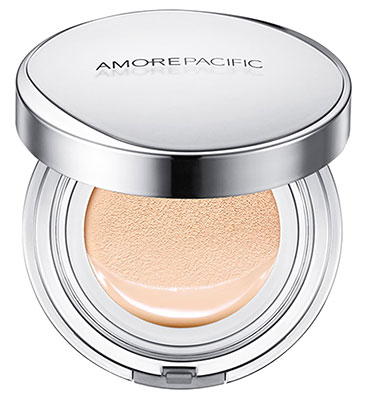 AMOREPACIFIC Color Control Cushion Compact with SPF50+*
Dethroned the YSL Touche Eclat Cushion as my new favorite base. It gives the most natural, skin-like finish that only gets better throughout the day. No caking, no creasing. Coverage is light but enough to hide pores and redness, which is really all I need, though you could definitely build up by applying more layers. Color 104, despite its name, is actually a perfect fit for my light + warm skin tone. If you can find this in your shade, definitely give it a try!
→ $60 (includes a free refill) on Sephora, Nordstrom, AMOREPACIFIC, Amazon, Neiman Marcus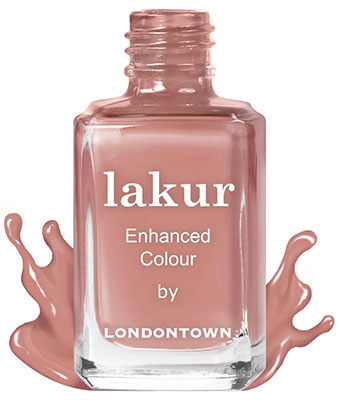 London Town Nail Polishes*
9-free and cruelty-free, these are by far the easiest nail polishes to apply. I'm one of those people that always get nail polish on my cuticles and skin, but not with theses! Plus when used with their base and top coats they actually remain chip-free for 2 weeks! My only gripe is their shade selection, I'd love to see more neutral shades! But with what they have so far, my favorites are Mauve Over and Crowning Crumpet.
→ $16 on London Town USA
First Aid Beauty Bendy Avocado Concealer*
My favorite concealer! It checks all the boxes: moisturizing, good coverage, doesn't cake or crease, great lasting power, and matches my skin tone. The shades run darker than average, so I use Fair for my blemishes and dark circles, and a few tiny dabs is all I need. Perfection in a tube.
→ $22 on Sephora, Ulta, FeelUnique, ASOS, Look Fantastic
Lancome L'absolut Lip Lacquer – 274 Beige Sensation
This formula is not new to me but I discovered this shade and it's been my most-worn shade ever since. It's the perfect pink brown that gives a little more oomph than your usual nude but it's still understated and natural. Every time I wear this I feel feminine and elegant, and it's just a color that really goes well no matter what you're wearing! Also a fantastic (imo better) dupe than the famous Dior Lip Tattoo 421!
→ $26 on Lancome, Ulta, Macy's, Neiman Marcus

Function of Beauty Hair Serum*
I got the chance to try Function of Beauty again and my experience this time was much better! Of all their products, the hair serum really stood out. Just a single pump on dry hair and it de-frizzes while giving incredible shine. Since this is a custom formula, when choosing you hair goals, think about what you want this serum to accomplish, instead of your overall hair goals, which could include things like soothe scalp or lengthen that aren't relevant to this serum.
→ $19 on Function of Beauty

Dove Body Wash Mousse*
Reviewed here and I'm still loving how easy to use and moisturizing they are! I don't miss my loofah at all and will use a dry brush or body scrub if I need some exfoliating action. With that said, I do wish they had more scents available, and will actually try out Ritual's body wash mousse when I'm done with my current bottle.
Looking for masks? I've already shared my favorites here: I've tried 30+ mud masks, and here are my 5 favorites
Almost favorites
These aren't the only great products I've tried, but obviously only the best of the best make the cut above. Here are some that just missed the mark:

In addition to the above list, I also shared a few more favorites specifically from Peter Thomas Roth, since this is the brand I've worked with most this past year. Since I'm not able to share everything I try on here, make sure you follow me on Instagram @geekyposhe to keep up with all the products I'm reviewing!
I hope you found this post helpful and I wish you all a happy new year! Cheers to 2020!