Hi I'm still alive, and I'm here rounding up my favorite skincare/makeup/hair care/body care products that I've had the chance to try this past year. I won't include old favorites that were featured in previous years, but I still love many of them just as much today.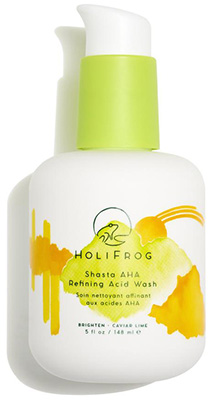 Holifrog Shasta AHA Refining Acid Wash*
Honestly I adore all 4 cleansers from Holifrog but Shasta wins by a smidgen because I've never used such a gentle exfoliating cleanser before. It's low pH, non-foaming, and full of skin-loving ingredients to brighten and nourish at the same time. I alternate between this and their Tashmoo Milky Wash which is also excellent. It's pricey for a cleanser, but it's so well formulated, and could replace your acid toner if you don't require strong exfoliants.
→ $38/148ml on Holifrog, Net-a-Porter, and Dermstore
Looking for masks? I've already shared my favorites here: I've tried 30+ mud masks, and here are my 5 favorites
Almost favorites
These aren't the only great products I've tried, but obviously only the best of the best make the cut above. Here are some that just missed the mark:
In addition to the above list, I also shared a few more favorites specifically from Peter Thomas Roth, since this is the brand I've worked with most this past year. Since I'm not able to share everything I try on here, make sure you follow me on Instagram @geekyposhe to keep up with all the products I'm reviewing!
I hope you found this post helpful and I wish you all a happy new year! Cheers to 2020!