One of the earliest skincare products I started using? Masks, specifically mud masks, thanks to my super oily teenage skin. Even though my skin has balanced out over the years, I still love a weekly mud mask deep cleansing treatment. Of the 30+ (I actually counted) masks I've tried, these 5 are my favorites:
Grown Alchemist Deep Cleansing Masque
I got this in my FabFitBox and it was love at first use. It has a light fluffy texture, almost like a mousse, that just feels very comfortable on the skin. It features bentonite and kaolin as its main clay (more on those later), but also oils rich in fatty acids to moisturize and antioxidants to soothe/brighten/all that good stuff. The most important thing is that it not only cleans well, but my skin doesn't feel dry and actually has a slight glow after using this!
→ full ingredients
→ $39 on Ulta, Net-a-Porter, Revolve
Common clays in masks
Generally all clays work as absorbents by drawing sebum and other gunk from the skin. They're also full of trace minerals that can be beneficial for the skin, but with the short amount of time they're on your skin, those benefits are limited. Here's a rundown of the most common ones:
Bentonite – One of the most absorbent clays, it's also negatively charged meaning it can attract things with a positive charge, like bacteria, to the surface. It comes in a variety of colors: pink, white, yellow, and green, each with different concentrations of minerals, but generally they'll deliver the same deep cleaning results.
Kaolin – Less absorbent than bentonite, it's the gentlest and least drying of clays, particularly white kaolin clay. A good option for those with more sensitive skin.
Montmorillonite/French Clay – So bentonite is actually majority Montmorillonite and a bit of other minerals, so it's not surprising this provides similar benefits. French (Montmorillonite) Clay is specifically unearthed in Southern France and is supposed to richer in minerals compared to other clays.
Illite/Green Clay/Red clay – A less common clay that's actually more absorbent (and drying) than Montmorillonite. The different colors are due to different mineral content, with the red being rich in iron oxide.
Rose Clay – This pink clay is just a mix of Red Illite Clay + kaolin, making it slightly gentler while potentially providing some mineral benefits. Also it's pink and millennials love that.
Rhassoul Clay/Moroccan Red Clay – Sourced from mountains in Morocco, this clay is rich in magnesium and silica, highly absorbent, but still gentle.
Moor mud/Peat – So this technically isn't clay, but mud formed via plant decomposition, making it rich in enzymes, amino acids, minerals, and vitamins. In addition to deep cleaning, it's also anti-inflammatory.
You'll notice a lot of clays are named after colors and the regions they're sourced, both which determine their mineral content. But for the most part these names are more marketing tactics, and if you take a closer look at the ingredients, most of the time you'll see either bentonite and/or kaolin.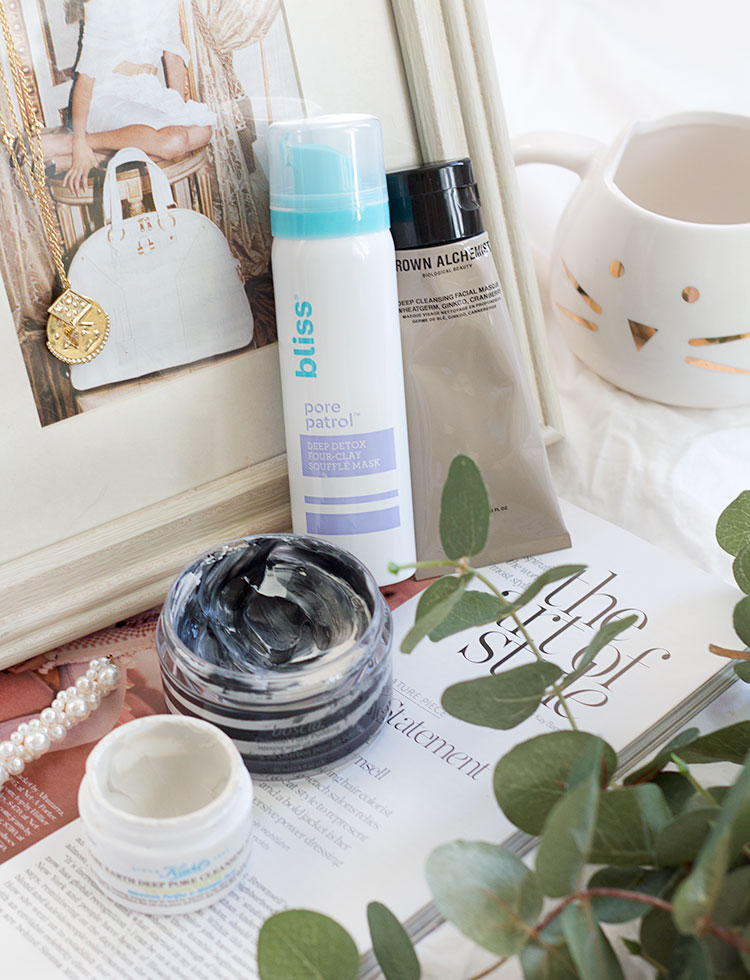 My clay masking tips
Are you still applying your clay masks all over and waiting for it to dry completely? If yes, read on.
Unless you have oily skin, focus on the t-zones where sebum production is highest. The only thing these masks will give your dry cheeks are just fine lines, instead apply a moisturizing mask there instead!
Mist continuously to keep your mask from drying out, and subsequently your skin from drying out.
Mask right before you shower and let the steam soften the skin, allowing the deep cleaning ingredients to work even better. Also they're so much easier to wash off in the shower.
Have you tried any of these masks before? Which one do you swear by to help deep clean your skin?