Originally posted on October 11th, 2018
I'm a big fan of facial masks, and while sheet masks are my go to for instant hydration and brightening, wash off masks are my jam when I want to multi-mask. Kiehl's has made multimasking super easy with their selection of different masks for different needs, so let's take a closer look at each one!
Kiehl's Rare Earth Deep Pore Cleansing Mask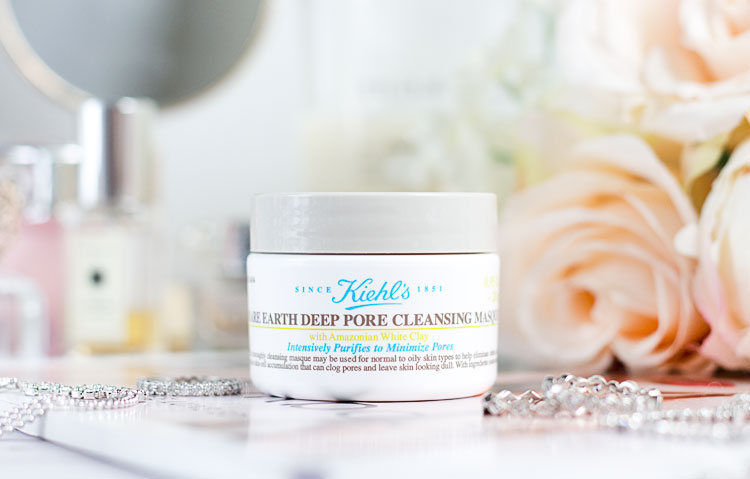 Probably their most well-known mask, and for good reasons. Yes there are a million mud masks out there, and yes I've tried a good number of them, yet I was still blown away by how well this one worked! It's a beast at removing sebaceous filaments and leaves my nose looking fresh and pore-less every time I use it. While I adore the Peter Thomas Roth Irish Moor Mud Mask for its gentleness and hydration factor, the Kiehl's Rare Earth Deep Pore Cleansing Mask is in a league of its own when it comes to actually deep cleaning the skin.
Texture wise this is your classic clay mask, thick, dries down, and can leave skin feeling tight if you don't moisturize immediately. I wouldn't use this on your cheeks unless you're super oily, but it will do a fantastic job on your t-zones! I use once a week on just my nose, and every other week on the rest of my t-zones, and I'm more than happy with the results. ♥♥♥♥♥
Key ingredients

kaolin, bentonite, aloe vera juice (full ingredients here)

Available At
Kiehl's Turmeric & Cranberry Seed Energizing Radiance Mask
This is a physical exfoliating mask meant to brighten dull skin, but I honestly get better brighten results with sheet masks or other chemical exfoliating masks (eg. Oskia Renaissance Mask or Lumene Glow Reveal Peeling Mask). It's not as drying as Rare Earth, but it'll still offer some deep cleaning benefits thanks to the kaolin clay. Now I'm not a fan of the crushed cranberry seeds as an exfoliant, to me it's like fancier walnut shells (cough St. Ive's cough) because they both feel rough on the skin. Good thing the seeds are kind of sparse, so you can minimize the exfoliation by applying a thicker layer of the mask.
Since it does contain physical scrubs, your skin will feel softer after washing this off, but you can get the same result with gentler scrubs, so for me this is a pass. ♥
Key ingredients

kaolin, bentonite, cranberry seed + oil, turmeric root extract, vitamin c (full ingredients here)

Available At
Kiehl's Calendula & Aloe Soothing Hydration Mask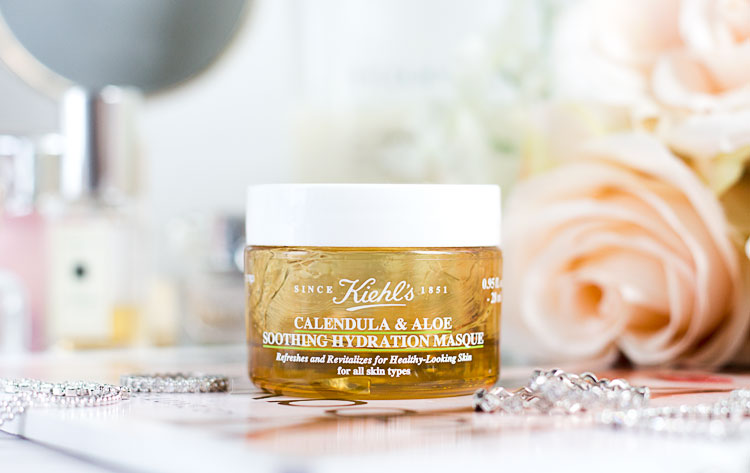 I love gel masks because they really hydrate the skin and don't dry out like sheet masks as long as you apply a thick layer. However this one seemed to be the exception as it'd always dry out no matter how much product I slathered on my face. Of course the instructions did say leave on for 5 minutes, but when it comes to a hydrating + soothing mask like this, is 5 minutes really enough to achieve noticeable results?
Let's just say my skin didn't feel worse after using this, but it didn't feel particularly better either. Ironically the Peter Thomas Roth Irish Moor Mud Mask actually leaves my skin feeling more hydrated than this one (maybe because that one doesn't dry out!), so I really don't see them purpose of the Kiehl's Aloe + Calendula mask in my routine. It does have a feel good soothing ingredients, but then it also contains essential oils that can be irritating – kinda the opposite of what you expect in a "soothing" mask. Pass again. ♥♥
Key ingredients

aloe vera juice, calendula extract, skullcap root extract, vitamin e, chamomile flower oil (full ingredients here)

Available At
Kiehl's Cilantro & Orange Extract Pollutant Defending Mask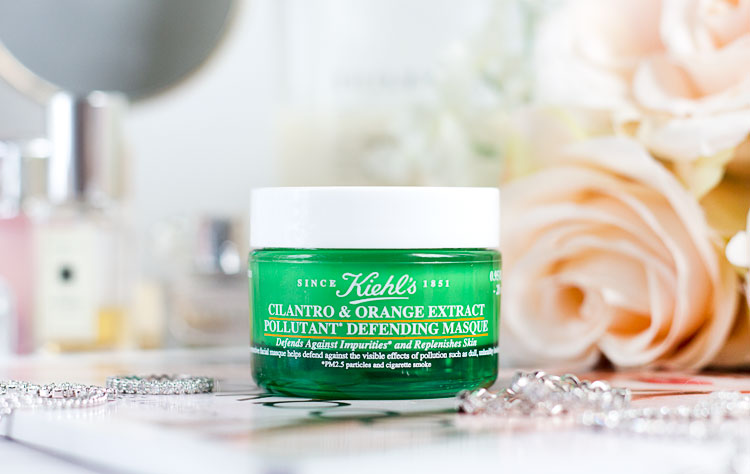 Somehow the 2 supposed star ingredients of this mask, cilantro and orange, are actually towards the end of the ingredients list. But no worries, because this mask is full of other antioxidant, nourishing, and gentle exfoliating ingredients that will get to work on your skin as you sleep! Yes this is a sleeping pack/overnight mask and my second favorite of the 4. It has a nice balmy texture that melts upon contact with the skin, and what I typically do is apply a thick layer, wait about 15 minutes, tissue off the excess, then go to sleep.
The next morning my skin is always less oily but looks brighter and feels smoother, so I have no complaints. I can't vouch for its anti-pollution effects, but I will say that this is a nice sleeping mask with good ingredients (the best out of all 4 masks). If you don't mind the extra step of wiping off the excess, this will make a lovely alternative to your usual night cream. Definitely glad to have this in my routine. ♥♥♥♥
Key ingredients

shea butter, arginine, bilberry extract, apricot oil, squalane, olive oil, vitamin e, sugar cane extract, ferulic acid (full ingredients here)

Available At
So of these 4, I recommend the Rare Earth mask if you have oily/combo skin or the Cilantro & Orange mask if you want to amp up your evening routine. Since purchasing my set Kiehl's has release two more overnight masks, the Ginger Leaf & Hibiscus and Ultra Facial Overnight Hydrating so now I'm curious to see how these 2 compare to the Cilantro & Orange.
Have you tried Kiehl's masks before? If so, which one is your favorite?
---
FYI I'll be in Italy for the next 2 weeks so there won't be any updates on the blog until I return. But if you're curious about my travel skincare/makeup or just want to see which cities I'm visiting, make sure to follow me on Instagram and say hi! I always love chatting with you guys!