I rarely fall for the hype of new releases, but when Glossier announced a new product promising a dewy, non-oily glow, and it came in a pearlescent pink bottle, I couldn't resist. Let's just say that the Glossier Futuredew did not disappoint.
What it is
A first-of-its-kind oil serum hybrid packed with nourishing oils and brightening plant-based extracts to deliver an instant and lasting glow.
How I use it
Apply 1-2 pumps after applying sunscreen all over my face, focusing on the forehead, cheeks, nose bridge, and chin. I'll then apply a bit more on the cheeks as highlighter.
Best suited for
Dry/normal skin types that don't care for foundation and want a dewy glass-skin glow. Combo skin types can use this just on their cheeks as highlighter.
Ingredients
Water, Glycerin, Squalane, Isoamyl Laurate, Polyglyceryl-3 Polyricinoleate, Butylene Glycol, Jojoba Seed Oil, Propanediol, Isohexadecane, 1,2-Hexanediol, Evening Primrose Oil, Olive Oil Polyglyceryl-6 Esters, Grape Seed Oil, Rosehip Oil, Polyglyceryl-6 Pentaoleate, Sodium Hyaluronate, Tocopheryl Acetate, Evodia Rutaecarpa Fruit Extract, Rosemary Leaf Oil, Castor Seed Oil, Hydrogenated Castor Oil, Hydroxyacetophenone, Sodium Chloride, Disteardimonium Hectorite, Propylene Carbonate, Tin Oxide, Mica, Titanium Dioxide (CI 77891), Iron Oxides (CI 77491).
ingredient analysis
Things to note
The rosemary essential oil can be potentially irritating, but otherwise this is alcohol and fragrance free.
Packaging
A sleek baby pink pearlescent glass pump bottle. Feels bougie and I like it.
Scent
Faintly of rosemary, but it dissipates quickly.
Texture
A thick gel texture that then becomes an oil once you massage it in to the skin. Reminds me a bit of the Oskia Renaissance Cleansing Gel actually.
Finish
Dewy without looking oily! Doesn't feel heavy or uncomfortable on the skin either.
Where to buy
$24 on Glossier
Not skincare, but makeup
Despite what Glossier says and what the ingredients look like, this is a makeup product.
It's meant to be used after sunscreen, which means whatever beneficial ingredients in this will not get absorbed by the skin. At most it helps prevent moisture loss thanks to the emollient oils.
Sure, you can use it before sunscreen, but then the dewiness will just get covered up once you apply sunscreen, which negates the whole purpose of the product.
Now as makeup, this isn't quite like anything I've tried. It's not a primer, and offers absolutely no coverage or blurring of pores. It simply gives your skin a glass-like, youthful glow, you know, the same one you get after using a really good sheet mask and wish would last more than 5 minutes.
Now you'd think with this making my skin so glowy, my t-zones would be an oily mess at the end of the day, but nope. It's lasting powers are impressive, and my t-zones and overall skin condition actually look the same, and unlike foundation, I don't have to worry about anything melting and caking. No touchups required!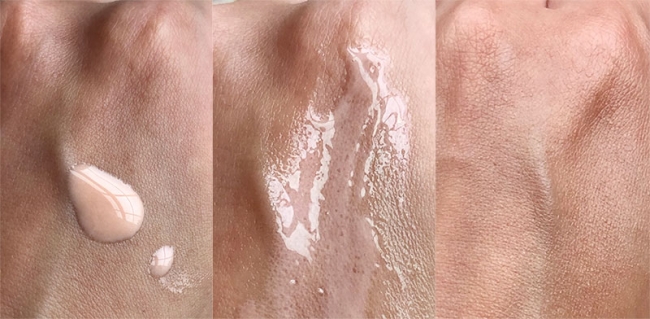 I've also worn Futuredew under foundation, and while it doesn't help it last longer, it does prevent any creasing thanks to the extra moisture, not to mention the additional glow it gives. You can also mix it with foundation for similar results.
I would avoid this around the eyes though, I didn't realize this the first time and my eye makeup was a mess within 30 minutes. Oops.
Glossier Futuredew vs VDL Lumilayer Primer
These are the two glow-giving makeup I currently own so I thought it'd be interesting to compare the two:
Glossier
Gel-to-oil texture
Faint rosemary scent
Use alone or mixed with foundation
No noticeable shimmer and has a dewy, almost wet finish
$24 for 30ml/1oz
Only available on Glossier
VDL
Light serum texture
Noticeable floral scent
A primer that can also be mixed with foundation or used as highlighter
Noticeable shimmer and gives the skin a pearlescent glow
$16-32 for 30ml/1oz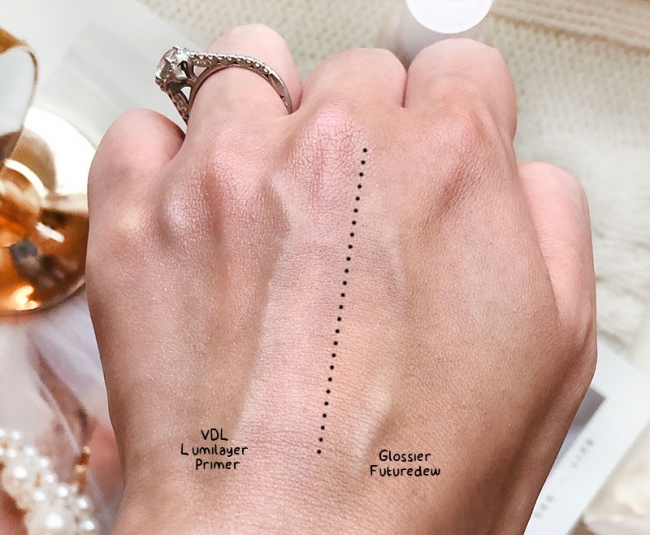 Between the two, I prefer the Glossier since it feels more hydrating and looks more natural. With the VDL I need to be careful not to use too much, otherwise I end up looking like a disco ball!
However if you wear foundation regularly, the VDL may be a better choice since it works well as a primer and the foundation will balance out the more intense shimmer. It also works great as a liquid highlighter!
Final Verdict
Packaging

Texture/Application

Finish

Performance

Price
This isn't for everyone, but if your skin type and makeup needs fit its somewhat narrow criteria, it's pretty awesome. As much as I love my cushion foundations, I actually enjoy this even more, as it's so easy to use. Just apply and forget about it, and my skin still looks the same after a full day out and about. It's what I've been wearing since I got it, and I foresee it continuing to be a staple in the winter months!