It's pretty obvious that YSL is one of my favorite makeup brands: I adore their Rouge Volupte lipsticks and their Touche Éclat foundation has been my go-to for years. So when YSL released my favorite foundation in a gorgeous gold cushion this past May, I immediately bought it. After 2 months of using this baby, I'm ready to share my thoughts, and of course, pictures!
YSL Touche Éclat Cushion Foundation Overview
What is it

"A lightweight foundation with a sheer, buildable coverage to give you a fresh dewy glow and a natural finish." – pretty spot on if you ask me.

How I use it

First I apply the YSL Touche Eclat Blur Primer, then I pat this on as I would any cushion foundation.

Best suited for

Those with few blemishes to cover. Oily skin folks may want to powder afterwards keep your skin from getting too shiny. Dry skin folks will definitely want to use a primer beforehand.

Packaging

A beautiful gold case that's sadly plastic and needs to be wiped down constantly to remove any smudges. There's an inner lid that holds the sponge and covers the foundation, but neither the inner lid nor the case clicks when you close them, so they don't feel airtight.

Formula

A lighter version of the original Touche Éclat foundation, which contains gold pigments to give the skin a natural lit-from-within glow.

Texture

Very light, even lighter than the original foundation.

Shades

7 total, 5 are neutral shades with 1 warm and 1 cool dark tones. My match is B20 (I've also gotten lighter since my YSL Touche Eclat Foundation post), which is pretty close but still a bit on the cooler side.

Finish

A very natural finish. The glow factor and coverage are both not as strong as the original, but you can build by patting on more foundation.

Size & Price

$48 for the compact, $38 for the refill

Where to buy

Nordstrom, YSL Beauty, StrawberryNet (ships worldwide)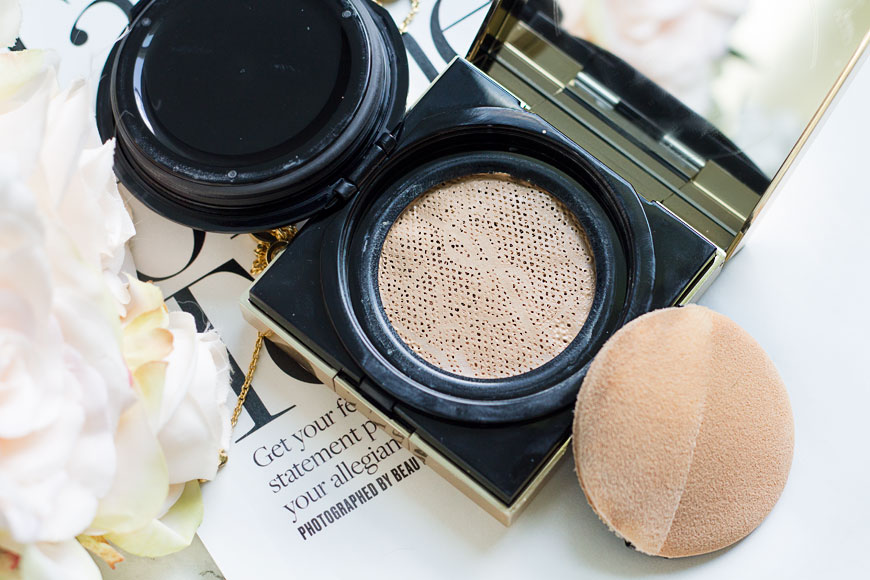 What I didn't care for, ie. the minor details
I'm going to start with things I didn't like about this foundation, and the first is the puff/sponge. YSL claims the "dual flocked" texture gives you 2 different application methods thus 2 different finishes, but tomayto tomahto – the end results look the same, so just pat, pat, pat the lovely foundation in and you're set.
Next, and probably my biggest gripe, is the packaging. I love the gold and the rectangular shape, but ugh it smudges like crazy and the insides get pretty messy. There's this annoying gap between the actual cushion and the case, so when you pat down the edges of the cushion get into the gap and picks up foundation, which then gets everywhere. This has never happened with any of my Korean cushions, so wtf.
Also, I briefly mentioned this earlier but the cushion lid and the case don't seem to close very tightly. Granted it's never popped open on me yet, and I've traveled with it twice, but I'm a bit worried that this may cause the cushion to dry out sooner.
Whatever, it's still fabulous
Once I got over the quirks of the YSL Touche Éclat Cushion Foundation, it's actually pretty amazing. I personally love the light texture and its sheer finish with a subtle glow – it's the perfect canvas for my makeup, and I can conceal or highlight based on the look I want to achieve. For me foundation should be as light as possible to avoid the made-up look, so this definitely fits my needs.
While you can use this without a primer, I find that you get the best results with one, especially if you use the YSL Touche Eclat Blur Primer from the same line. The finish when used with the primer is literally your skin but better – super natural with a subtle glow when the light hits your skin. If you want a more intense glow, that's what highlighters are for :)
As you can see in the photo above, the YSL Touche Eclat Cushion Foundation does an excellent job of evening my skin tone, minimizing any redness, and covering small imperfections all while still looking natural. However, more obvious blemishes, pigmentation, and dark circles will still require a concealer, which I did not use. I applied 1 layer of foundation throughout my face and touched up with a second layer on my cheeks were I had the most pigmentation. You'll see that the smaller spots are pretty much covered.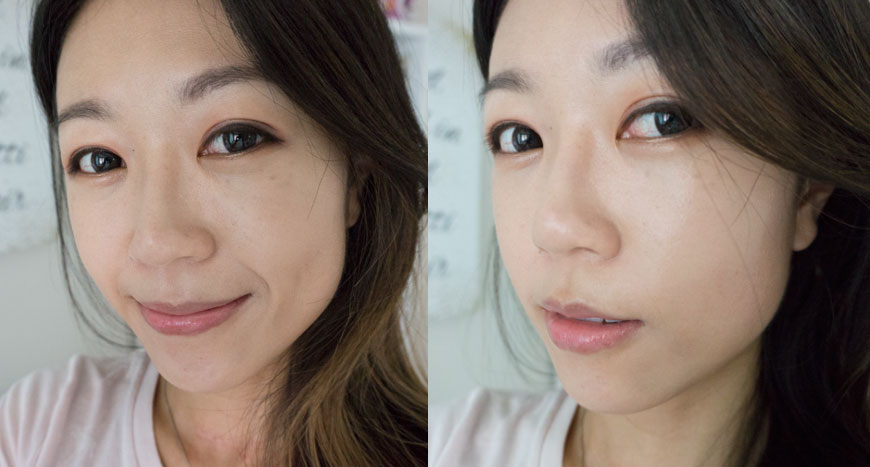 As I mentioned earlier, you won't notice any glow with this cushion until the light hits your skin – and even then it's a very subtle glow. It reminds me of how my skin looks right after I finish sheet masking – that chok-chok look that just says healthy skin. Yassss.
I've noticed that the foundation also lasts longer when used with a primer, and even when it starts degrading, it does so naturally without any caking. The shade does oxidize a tiny bit, but the difference is negligible, which is an improvement from the original foundation which turned me a shade darker at the end of the day. Oh and the cushion doesn't contain the joke that is SPF15, so it's flash photography safe. Woohoo!
Packaging

Color Range

Finish

Performance

Price
This cushion isn't perfect by any means, but if you can find a shade match and you like the light coverage + natural finish, this is a total win. This has been a staple in my regular makeup routine and when I travel, beating out my other Korean cushions like IOPE and Sulwhasoo. For me, it's also an improvement from the original Touche Eclat foundation, and I will definitely be purchasing refills for this in the future.

Hope you found this review helpful, and let me know if you'd be interested in more makeup posts! I know I write a lot about skincare, but it's nice to switch things up every once in a while :)