I briefly raved about how much I loved the Instytutum Truly Transforming Brightening Eye Cream in the brand review, and now that 2 months has passed, it's time for the in-depth review.
Overview
What is it
An advanced eye cream that brightens, firms, depuffs, and smooths the delicate eye area, i.e., the claim for every eye cream out there.
How I use it
I tap a pea-sized amount lightly around my eye area and on my smile lines twice a day.
Best suited for
Anyone who's serious about keeping their eye area line-free.
Packaging
A sleek plastic jar, small spatula included. I prefer tube to keep the actives potent, but at this point I'm about 200% done griping about this issue. The jar is also deceptively large given the amount of product inside.
Scent
Fragrance-free so no noticeable scent.
Texture
Luxuriously creamy yet not at all heavy. Absorbs almost instantly. More creams need to be like this!
Where to buy
Instytutum for $89/0.5oz
Ingredients Highlight
I've tried my fair share of eye creams/serums, and at best they did nothing and at worst they gave me milia. I did enjoy the Kiehl's Creamy Eye Treatment with Avocado, but it's definitely for younger eyes, as it was hopeless against my increasing fine lines *cries*
The Instytutum Truly Transforming Brightening Eye Cream came with high praise from Anne, and the first thing I noticed were its smorgasborg of anti-fine-lines ingredients:
Some other interesting, albeit not as well researched (hence skepticism-inducing), ingredients include:
tensing agents – blends of polysaccharides that can temporarily smooth + firm your skin while providing long term anti-aging results. Not sure about the anti-aging claim, but polysaccharides themselves are humectants with antioxidant properties (source).
raspberry leaf cultured stem cells – improves the skin's hydration level and elasticity for a firmer and smoother feel. I feel like stem cells in skincare is mostly marketing hooey, but as plant extracts they may still have some antioxidant properties.
cellpulse – a blend of psilanthus bengalensis leaf cell culture extract + glycerin + water, which is supposed to increase collagen production and minimize the loss of lipids. Nay to the stem cell related fluff, but yay to increased hydration + antioxdant properties.
Full ingredients

Aqua/​Water/​Eau, Glycerin, Caprylic/​Capric Triglyceride, Coco-Caprylate, Sorbitan, ​Mg Stearate+, Acacia Senegal Gum, Butyrospermum Parkii (Shea) Butter, Butylene Glycol, Cetyl removed comma Alcohol, Tocopheryl Acetate, Panthenol, Phenoxyethanol, Niacinamide, Albizia Julibrissin removed comma Bark Extract, Hydrolyzed Rhizobian Gum, Carbomer, Dimethicone, Fraxinus Excelsior Bark Extract, Caffeine, Chondrus Crispus (Carrageenan) Extract, Disodium EDTA, Xanthan Gum, Sodium Hydroxide, Ethylhexylglycerin, Bisabolol, Pentylene Glycol, Retinyl Palmitate, Glycolic Acid, Biosaccharide Gum-1, Silanetriol, Lecithin, Sodium Acetylated Hyaluronate, Ascorbyl Palmitate, Sodium Hyaluronate, Glyceryl Stearate, Psilanthus Bengalensis Leaf Cell Culture Extract, Sodium Hyaluronate Crosspolymer, Pantolactone, Sodium Benzoate, Glyceryl Oleate, Hydrolyzed Sodium Hyaluronate, Palmitoyl Tripeptide-5, Citric Acid, Darutoside, Tocopherol, Rubus Idaeus Leaf Cell Culture
Experience and Results
Overall the ingredients are good, though not quite give-me-all-the-feels good yet. Then I started using the cream, and that's when the magic happened.
The creamy texture feels rich and luxurious, blends like a dream, and the dry skin around my eyes drink it up instantly. Unlike other rich eye creams, this doesn't leave a weird film on the skin, which means no milia or God forbid, any breakouts, because I'd totally try to pop that pimple and stab myself in the eye in the process.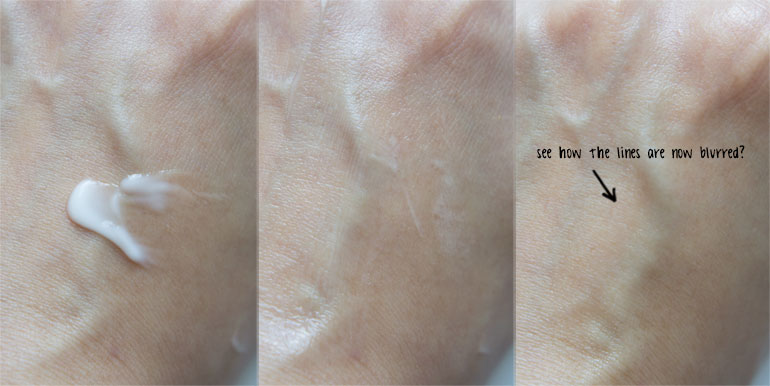 Remember the tensing agents I mentioned earlier? I didn't believe in its temporary effects but damn girl, I was wrong. It blurs the fine lines as well as any good primer while leaving the skin feeling soft, smooth, and not one bit oily.
As happy as I was to see "instant" results, I was more interested in seeing long-term permanent results: less noticeable fine lines and dark circles, though I honestly had low expectations for the latter.
Bad news first: the Instytutum Truly Transforming Brightening Eye Cream did nothing for my dark circles or puffiness :(
If these were my primary concerns I'd be disappointed, but they're actually not and at this point I've about 99% given up on trying to fix those issues. Maybe I need to try eye massages to help improve circulation or something. Suggestions welcome!
The good news is that I definitely noticed a decreased appearance in fine lines and dryness not only around my eye area, but also my smile lines. Previously my foundation would to settle in my smile lines, but that's no longer an issue.
I honestly didn't expect to see such noticeable results and am kicking myself for not taking before/after pics, but please take my word when I say that the Instytutum Truly Transforming Brightening Eye Cream is the ultimate fine-lines slayer and worth every pretty penny.
Packaging
Ingredients
Texture/Application
Performance
Price
This cream is expensive, yes, and it's not without flaws, but my God it does such a bang-up job of decreasing the appearances of fine lines (both instantly and in the long run) that none of those other things matter. As a skincare junkie I'm forever in search of the next best product, but my search for an eye cream has ended, at least in the foreseeable future. If you're serious about keeping your eyes line-free and have the budget, I can't recommend this eye cream enough. I already repurchased a backup of this as I cannot be without it ❤️