Last updated on August 18th, 2021
If you've been reading this blog long enough or follow me on Instagram, you know my woes with Vitamin C. It's an incredibly powerful skincare ingredient, yet my skin just doesn't quite react to it like others do.
Is it the type of vitamin c I'm using? Is it the formula?
All this thinking led me down the rabbit hole of hours of reading and research, and of course, a blog post with all my findings.
Before we look at all the different forms of vitamin c, let's take a look at why this ingredient is beneficial for our skin:
Promotes collagen synthesis. As we get older, the collagen in our skin starts breaking down and the there's a decrease in production levels, which means we start seeing fine lines, wrinkles, and sagginess!
Protects from and treats UV damage. While by no means a replacement for sunscreen, vitamin c can protect against the free radicals from UV exposure and reverse some of the damages caused by too much fun in the sun.
Reduce hyperpigmentation and dullness by decreasing melanin formation. It works even better when paired with other brightening ingredients!
Is anti-inflammatory. It inhibits the protein complex that begins the inflammation process, making it great at healing acne and preventing post-inflammatory hyperpigmentation (source).
Promotes a healthy skin barrier. A study found an increase in ceramide levels when vitamin c levels increased as well
Yep, list any of your skincare woes and vitamin c will pretty much takes care of it, plus it has a ton of studies to back up its claims. Now the question is, what are the differences between the various forms, and is one better than another?
Ascorbic acid (AA)
The most well researched form of vitamin c and the most potent. Other forms of vitamin c often need to be converted to ascorbic acid first to achieve the benefits. A couple things to keep in mind:
It's notoriously unstable. Exposure to air, light, and heat will cause AA to start oxidizing. Adding in vitamin E and ferulic acid can help stabilize AA, as can using an opaque and airtight container. Formula and packaging is key when using AA!
It's water soluble and requires a low pH ( > 3.5) for optimal skin penetration.
It can be irritating due to the low pH formula it's in, making it less ideal for those with dry/sensitive skin
The potency of AA increases as you increase the concentration, but only up to 20%.
Ascorbic Acid products I've tried:
| | | |
| --- | --- | --- |
| By Wishtrend Pure Vitamin C 21.5% Advanced Serum | 21.5% | Dark glass dropper bottle. Uses Vitamin Tree Water instead of plain water for an antioxidant boost, and felt slightly sticky after application. Minor tingling when used, oxidized after 2 months. Very meh. |
| Klairs Freshly Juiced Vitamin Drop* | 5% | Clear dropper bottle. Somehow they've managed to stabilized the vitamin c, and I went through the entire bottle without it ever oxidizing. This has a slightly oily slip to it, but was extremely gentle on the skin. Full review here. |
| Timeless 20% C + E + Ferulic Acid Serum | 20% | Dark glass dropper bottle. An affordable dupe for the Skinceutical version, this one felt like water on the skin and was not irritating. Didn't start oxidizing until I was almost done with the bottle. Includes vitamin e and ferulic acid for increased stability and antioxidant boost. |
| Lixir Vitamin C Paste | 10% | Opaque Squeeze tube. This is a gel-like balm that's meant to be washed off after a few minutes. Tingles slightly, but leaves skin noticeably softer and brighter immediately afterwards. Smells like ass, but the results more than make up for it! |
| Wish Formula C200 Bubble Peeling Pads* | Unknown | This is a gentle exfoliating pad that also contains lactic acid (AHA), salicylic acid (BHA), but it's not irritating at all, even on my then-sensitive skin. Skin felt brighter and smoother after use. |
| The Inkey List Vitamin C Serum* | 30% | A waterless cream that needs to be mixed with a hydrating serum or moisturizer to minimize irritations, but it's an incredibly stable formula. It's also the most effective ascorbic acid serum I've tried yet, and one of the most affordable too! Full review here. |
| Drunk Elephant C-Firma Day Serum Serum* | 15% | Packaged in an airtight, opaque container with 1% Ferulic Acid + Vitamin E for efficacy and Pumpkin Ferment + Pomegranate Extract to smooth the skin. This has an oily gel texture that feels slightly sticky after application, but goes away after I apply my moisturizer. I just started using this one so I can't speak to its effects yet, but I'll be posting updates on Instagram! |

My thoughts on AA:
Even though it's the most potent, it's flaws make it a pain to use and honestly the differences between using AA and another vitamin c form has been minimal for me. Personally I find it too much of a hassle to use, but currently I'm willing to make an exception for the
Lixir Vitamin C Paste
, which has a better packaging and actually delivers results.
Magnesium Ascorbyl Phosphate (MAP)
This is a stable of vitamin c that needs to be transformed into ascorbic acid by our skin. As a result, it's not as potent, but also much gentler on the skin.
Still water soluble but no longer requires a low pH to be efficient.
Delivers all the benefits of AA but because it's weaker, it's often paired with other antioxidants and brightening ingredients to boost its efficacy.
One study found that a concentration of at least 10% MAP is required for brightening effects (source).
Considered a "whitening" (which really means brightening) ingredient by the Department of Health in Taiwan, suggesting that enough research was done to in terms of MAP's brightening properties (sadly my Googling abilities weren't good enough to find all these studies)
MAP products I've tried:
| | |
| --- | --- |
| Skin Actives Collagen Serum | Contains a ton of other great ingredients, and improves overall skin health with long term usage. However it does leave a tacky finish and smell a bit funky. Review here. |
| Curology | It's hard to judge the efficacy of MAP since my formula also included anti-aging/brightening powerhouses niacinamide and tretinoin, but I definitely noticed improvements in my skin tone and texture after a month. |
| Common Labs Ggultamin C Real Jel Mask* | Contains 10ppm of MAP along with lots of other brightening and soothing ingredients. It's nourishing without being heavy and leaves my skin soft and plump. Full review here. |

My thoughts on MAP: It's an ingredient I'm happy to see in any skincare product because it's gentle and fuss-free. The key is making sure there are other antioxidants/brightening ingredients in the mix, otherwise you'll be waiting until kingdom come for results.
Sodium Ascorbyl Phosphate (SAP)
SAP and MAP are very similar in that:
Both are water soluble, not low-pH dependent, and have same benefits as AA, but not as potent nor as irritating on the skin.
Both are often paired with other key ingredients to improve efficacy.
One study actually found SAP to be even more stable than MAP (source).
Several studies show that SAP has an antimicrobial effect and can be a good option for treating and preventing acne (source). Don't forget vitamin c in general is anti-inflammatory, which is also beneficial for acne-prone skin.
SAP products I've tried:
Activist Skincare Active Hydration
Vitamin C+ Antioxidant Serum*
A beautiful silky serum with plenty of hydrating and soothing ingredients! Gentle on the skin and improves overall skin health with continued usage.
Ole Henriksen Truth Serum
Had a pleasant enough scent and texture, but my God the packaging of this was horrible – it leaked when I traveled with it. Didn't notice any significant improvements, but maybe it's because HALF OF MY BOTTLE LEAKED.
Orgaid Vitamin C & Revitalizing Sheet Mask*
One of my favorite sheet masks due to its excellent blend of brightening and hydrating ingredients with no fillers. This one really brightens the skin after using!

My thoughts on SAP: I feel pretty much the same way about this as I do MAP. Happy to see it, but formulation is key to getting the most of this vitamin c form.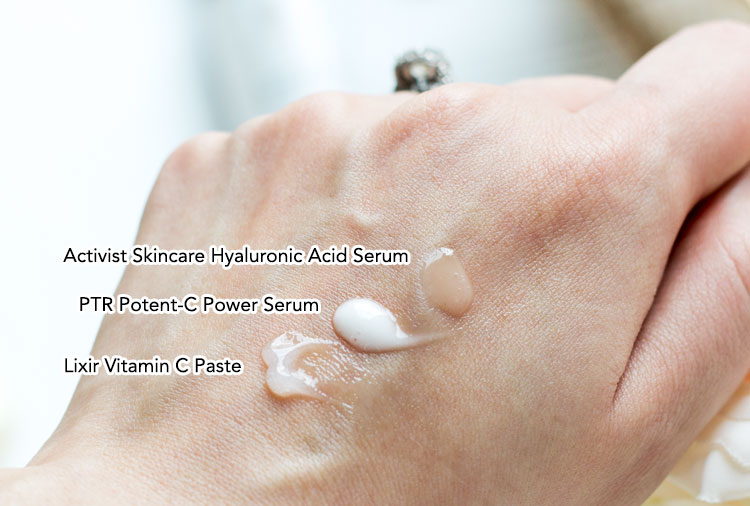 Ethyl Ascorbic Acid (EAA)
Aka 3-O-ethyl-L-ascorbic acid, an extremely stable form of vitamin C.
Several studies have been done on EAA's brightening effects, which show promising results (source). One study showed that it has superior brightening abilities compared to other vitamin c forms, even AA (source)
There have been a few reports of allergic reactions to EAA, but in my opinion this is more of a YMMV case than an actual issue with EAA.
EAA products I've used:
Kiehl's Clearly Corrective Dark Spot Solution
Has a water-like texture that absorbed instantly into the skin, but sadly it did little to improve my skin tone or my dark spots. Full review here.
Hylamide Booster C25
A water-free and oil-free serum with just 4 ingredients and

25% EAA

. Has the same oily slip as the Klairs serum which I disliked, and I didn't notice any brightening effects.

My thoughts on EAA: I had high hopes for its brightening effects, but sadly none of the products I've tried have been effective. I may give EAA a try again in the future, but in the meantime I'd rather use a different vitamin c form.
Ascorbyl Glucoside (AG)
A water-soluble form of vitamin C that's more stable than AA (at this point just assume every other vitamin c form is more stable than AA).
Non-irritating. What else is new?
Can be converted into AA in our skin, thus delivering all the benefits of vitamin c but at a much lower potency.
Considered a "whitening" (which really means brightening) ingredient by the Department of Health in Taiwan, suggesting that AG's brightening properties are well studied.
AG products I've used:

My thoughts on AG: I've had decent brightening success with AG when it's in a well-formulated product, though you can argue the results may be due to an entirely different ingredient. For me this is one of the more promising forms of vitamin c that my skin agrees with.
Ascorbyl Palmitate (AP)
A fat soluble form of vitamin c that penetrates the skin more easily than other forms (source).
More stable than AA but less stable than MAP and SAP.
Gentler than AA, but not as potent. You need a lot more AP to get the same results.
Can help control sebum production when used with SAP, making it a good option for oily and acne-prone skin (source).
AP products I've used:
| | |
| --- | --- |
| Oskia Renaissance Cleansing Gel | Typically I don't care for actives in cleansers because they rarely stay on your skin long enough to do any good. However the texture of this product makes it excellent for facial massages, giving your skin more time to absorb some of the ingredients. This is lovely second or morning cleanser, and one I really enjoy using. |

My thoughts on AP: While it's a nice option for oily and acne-prone skin types, my skin is neither, so I'm indifferent towards it. Due to its relatively lower stability, I wouldn't go out of my way to look for this vitamin c form.
Ascorbyl Tetraisopalmitate (ATIP)
Aka VC-IP, Tetrahexyldecyl Ascorbate, or THD Ascorbate.
Fat soluble, gentle, and very stable. It can also penetrate into the deeper layers of the skin.
Several clinical trials showed significant improvement in skin texture and tone after using products featuring (not not limited to) ATIP (source , source, source).
It can stimulate the production natural moisturizing factors, which allows our skin to better to absorb moisture from the body, keeping it well hydrated (source).
One study found that ATIP is actually better at increasing collagen synthesis than AA (source).
ATIP products I've used:
Peter Thomas Roth Potent-C Power Serum*
Features

20% ATIP + 3% Vitamin E + 2% Ferulic Acid

for some serious antioxidant action. It has a emulsion-like texture that absorbs quickly into the skin, leaving minimal shine and stickiness. Overall skin tone seems to have improved since using this, but no significant results yet.
Sunday Riley C.E.O. Glow
A facial oil featuring an unknown % of ATIP with tumeric extract in a blend of nourishing plant oils including Raspberry Seed, Cranberry Seed, and Pomegranate Seed oils. As a result this gives you the antioxidant benefits of vitamin c + tumeric + the seed oils plus the extra moisture oils provide. While I didn't notice significant brightening results, I loved the oil benefits of this one and how using it always made my skin juicy and glowy. Would repurchase.

My thoughts on ATIP: The studies are extremely promising, and between this and AP (the other fat-soluble vitamin c), I prefer ATIP. This is definitely an ingredient I look forward to trying more of in the future!

Key takeaways
Kudos to you if you've read through all that, because I know that was a lot of info, but if you haven't, here's a quick summary:
Formula is key when selecting a vitamin c product. For AA-based products, the pH needs to be < 3.5. For all other forms, you'll want to see it in a mix with other antioxidants and beneficial ingredients.
As with all actives, you'll want to see vitamin c near the top of the ingredient list. Remember that the derivatives need to be converted to AA first, so if you're getting a peanut amount of that, you probably aren't getting any of the vitamin c benefits.
When it comes to potency, you can't beat AA. However, you'll want to weight the pros and cons to see if it's really the right form for your skin type and skincare habits. Sensitive skin will want to try the other gentler forms, or at least start with a very low % of AA.
SAP and MAP are very similar, both provide the same benefits as AA but at a lower potency, with less irritation, and more stability. They're also relative well researched compared to other forms of vitamin c (asides from AA).
Oily and acne prone skin should consider SAP and AP for its anti-microbial and sebum control properties.
Look for EAA or AG if you want to brighten your skin tone, as both have specific studies done in regards to their brightening properties. I prefer AG, but YMMV.
Always wear sunscreen, especially if you use AA as that can make your skin more sensitive!
Hope you found this post helpful, and let me know which vitamin c product(s) you swear by!