If you've been reading this blog long enough or follow me on Instagram, you know my woes with Vitamin C. It's an incredibly powerful skincare ingredient, yet my skin just doesn't quite react to it like others do.
Is it the type of vitamin c I'm using? Is it the formula?
If you're struggling with the same issues, keep reading because this post has everything you need to know about the different types of vitamin c, what they do, and mini reviews on the products featuring these ingredients!
Before we look at all the different forms of vitamin c, let's take a look at why it's beneficial for our skin:
Vitamin C Skincare Benefits
Promotes collagen synthesis. As we get older, the collagen in our skin starts breaking down and the there's a decrease in production levels, which means we start seeing fine lines, wrinkles, and sagginess!
Protects from and treats UV damage. While by no means a replacement for sunscreen, vitamin c can protect against the free radicals from UV exposure and reverse some of the damages caused by too much fun in the sun.
Reduce hyperpigmentation and dullness by decreasing melanin formation. It works even better when paired with other brightening ingredients!
Is anti-inflammatory. It inhibits the protein complex that begins the inflammation process, making it great at healing acne and preventing post-inflammatory hyperpigmentation (source).
Promotes a healthy skin barrier. A study found an increase in ceramide levels when vitamin c levels increased as well
Yep, list any of your skincare woes and vitamin c will pretty much takes care of it, plus it has a ton of studies to back up its claims. Now the question is, what are the differences between the various forms, and is one better than another?
Ascorbic acid (AA)
The most well researched form of vitamin c and the most potent. Other forms of vitamin c often need to be converted to ascorbic acid first to achieve the benefits. A couple things to keep in mind:
It's notoriously unstable. Exposure to air, light, and heat will cause AA to start oxidizing. Adding in vitamin E and ferulic acid can help stabilize AA, as can using an opaque and airtight container. Formula and packaging is key when using AA!
It's water soluble and requires a low pH ( > 3.5) for optimal skin penetration.
It can be irritating due to the low pH formula it's in, making it less ideal for those with dry/sensitive skin
Its potency increases with concentration, starting at 5 % and up to 20%. Anything stronger will not deliver better results.
Ascorbic Acid Product Recommendations
Klairs Freshly Juiced Vitamin Drop – 5%
Despite the clear bottle this never oxidized on me! Very gentle, albeit has a slightly greasy texture that feels more like a dry oil than a typical serum. Full review here.
Cerave Skin Renewing Vitamin C Serum* – 10%
Just as gentle as the Klairs but with a much more elegant water-gel like texture. Also contains barrier supporting ceramides and cholesterol. A great option for combo/oily skin types. Full review here.
The Inkey List Vitamin C Serum* – 30%
A waterless cream that needs to be mixed with a hydrating serum or moisturizer to minimize irritations, but it's an incredibly stable formula. It's also the most effective ascorbic acid serum I've tried yet, and one of the most affordable too! Full review here.
Maelove The Glow Maker* -15%
A water-based serum with your standard Vitamin E + Ferulic Acid formula, plus hyaluronic acid for hydration. True to its name, this does give your skin a lovely glow with regular use!
La Roche-Posay 10% Pure Vitamin C Serum* 10%
A gel like serum that feels surprisingly gentle and hydrating on the skin. Also contains salicylic acid which I thought was interesting. However it comes in a clear bottle and I'm noticing oxidization after a month into using. Full review here.
Paula's Choice C15 Super Booster* 15%
Opaque bottle and the classic vitamin e + ferulic acid formula. Has a slightly greasy texture but absorbs well and isn't irritating or sticky. Didn't oxidize until I almost finished the bottle. One of the most well-rounded AA products here.
Algenist Blue Algae Vitamin C*
Expensive but just a few weeks of using this and I've noticed brightening results already. It's also quite gentle on the skin and comes in an airtight bottle.
My thoughts: Even though it's the most potent, its also the most irritating and unstable so finding a great formula is key. Some of my favorite vitamin c products feature this ingredient, but I've also used ones that were just terrible. Stick with trusted brands here and you'll have better luck!
Magnesium Ascorbyl Phosphate (MAP)
This is a stable of vitamin c that needs to be transformed into ascorbic acid by our skin. As a result, it's not as potent, but also much gentler on the skin.
Still water soluble but no longer requires a low pH to be efficient.
Doesn't absorb as well but does convert into AA in the skin.
Delivers all the benefits of AA but because it's weaker, it's often paired with other antioxidants and brightening ingredients to boost its efficacy.
One study found that a concentration of at least 10% MAP is required for brightening effects (source).
Considered a brightening ingredient by the Department of Health in Taiwan, suggesting that enough research was done to in terms of MAP's brightening properties.
MAP product recommendations
Skin Actives Collagen Serum
Contains a ton of other great ingredients, and improves overall skin health with long term usage. However it does leave a tacky finish and smell a bit funky. Review here.
Common Labs Ggultamin C Real Jel Mask*
Contains 10ppm of MAP along with lots of other brightening and soothing ingredients. It's nourishing without being heavy and leaves my skin soft and plump. Full review here.
My thoughts on MAP: An ingredient that's becoming less common now because there are better vitamin c derivatives out there. I wouldn't go out of my way to search for this ingredient, but it's not the worst either.
Sodium Ascorbyl Phosphate (SAP)
SAP and MAP are very similar in that:
Both are water soluble and not low-pH dependent
Both are often paired with other key ingredients to improve efficacy.
Doesn't absorb well into the skin, but still has antioxidant and some collagen boosting effects, though less than MAP.
One study actually found SAP to be even more stable than MAP (source).
Several studies show that SAP has an antimicrobial effect and can be a good option for treating and preventing acne (source). Don't forget vitamin c in general is anti-inflammatory, which is also beneficial for acne-prone skin.
SAP product recommendations
Activist Skincare Active Hydration Vitamin C+ Antioxidant Serum*
A beautiful silky serum with plenty of hydrating and soothing ingredients! Gentle on the skin and improves overall skin health with continued usage. Full review here.
Klairs Freshly Juiced Vitamin Drop
In addition to AA it also includes SAP, making it a good option for acne-prone skin.
Orgaid Vitamin C & Revitalizing Sheet Mask*
One of my favorite sheet masks due to its excellent blend of brightening and hydrating ingredients with no fillers. This one really brightens the skin after using!
My thoughts: The anti-microbial effect sets it apart from the other vitamin c, but if your skin doesn't need that, then I would pass over this in favor of better forms.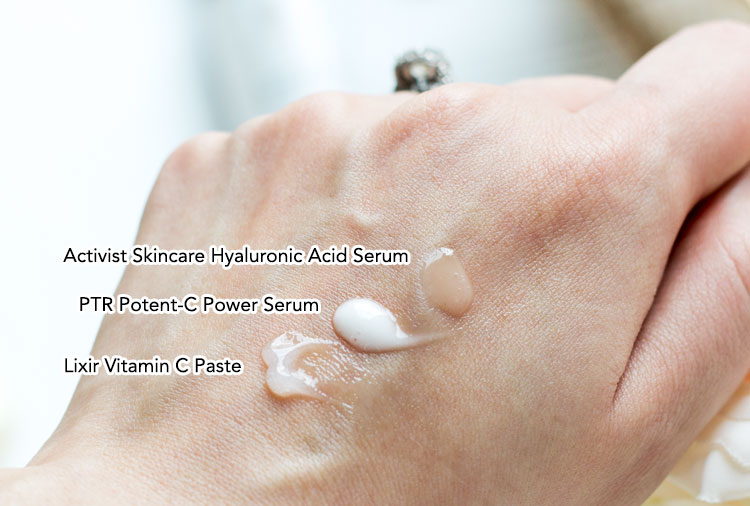 Ethyl Ascorbic Acid (EAA)
Aka 3-O-ethyl-L-ascorbic acid, an extremely stable form of vitamin C.
The conversion rate to AA in the skin is 86%, which is higher than the average 50-60%!
Several studies have been done on EAA's brightening effects, which show promising results (source). One showed that it has superior brightening abilities compared to other vitamin c forms, even AA (source)
There have been a few reports of allergic reactions to EAA, but in my opinion this is more of a YMMV case than an actual issue with EAA.
EAA products to try
107 SOSEO VINBIOME Vitamin C Serum*
With 15% EEA and a great antioxidant + barrier support formula, this is a wonderful all-in-one kind of serum that will brighten your skin with long term use!
Bliss Bright Idea Serum*
An affordable vitamin c serum with peptides and hyaluronic acid. Feels gentle and hydrating, but brightening results weren't as obvious.
Kiehl's Clearly Corrective Dark Spot Solution
Has a water-like texture that absorbed instantly into the skin, no irritations whatsoever. Sadly it did little to improve my skin tone or my dark spots, but it's a highly rated product so it could be worth a try. Full review here.
My thoughts: I had high hopes for its brightening effects, but most of the products I've tried have been ineffective. Worth trying if you're just looking for a stabler/gentler form of ascorbic acid with good conversion rate.
Ascorbyl Glucoside (AG)
A water-soluble form of vitamin C that's more stable than AA (at this point just assume every other vitamin c form is more stable than AA).
Non-irritating. What else is new?
Absorbs well and can be converted into AA in our skin, thus delivering all its benefits as well: antioxidant protection, boosting collagen production, and brightening hyperpigmentation
Considered a brightening ingredient by the Department of Health in Taiwan, suggesting that AG's brightening properties are well studied.
AG product recommendations
INKEY List 15% Vitamin C and EGF Brightening Serum*
Watery texture, easy to absorb, no sticky finish. Contains EFG for an anti-aging boost but I didn't see much results in terms of brightening. A great affordable + gentle antioxidant serum though!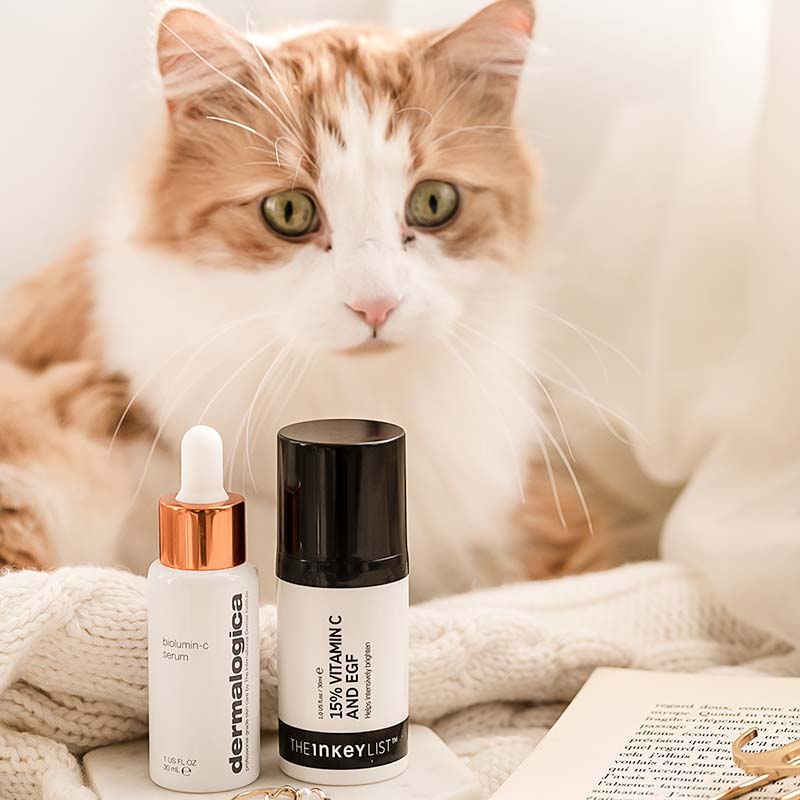 My thoughts: Haven't seen too many vitamin c serums featuring it, but I've had decent brightening success when it's in a well-formulated product. I think I prefer it as a supporting ingredient rather than the main one.
Ascorbyl Palmitate (AP)
A fat soluble form of vitamin c that penetrates the skin more easily than other forms (source).
Doesn't convert well into AA, so products would need a high % of AP to see results.
More stable than AA but less stable than the other forms
Offers antioxidant protection but also causes cell membrane damage when exposed to UVB rays.
Can help control sebum production when used with SAP, making it a good option for oily and acne-prone skin (source).
My thoughts: While it's a nice option for oily and acne-prone skin types, my skin is neither, so I'm indifferent towards it. Due to its relatively lower stability and poor conversion rate, I can see why it's not as commonly used.
Tetrahexyldecyl Ascorbate (TA)
Aka VC-IP, Ascorbyl Tetraisopalmitate, or THD Ascorbate, since it's technically the same molecular structure that's being used in all skincare products.
Fat soluble, gentle, and very stable. It can also penetrate into the deeper layers of the skin with an absorption rate that's 3x better than AA.
Converts to AA and offers all 3 benefits: antioxidant protection, collagen production boost, brightening
Several clinical trials showed significant improvement in skin texture and tone after using products featuring (not not limited to) ATIP (source , source, source).
It can stimulate the production natural moisturizing factors, which allows our skin to better to absorb moisture from the body, keeping it well hydrated (source).
One study found that ATIP is actually better at increasing collagen synthesis than AA (source).
ATIP product recommendations
Holifrog Sunnyside C Glow Serum*
Also contains Ethyl Ascorbic Acid, but I prefer other EAA serums so I didn't list it there. But if you're specifically looking for TA vitamin c, this is a well formulate one that feels moisturizing on the skin.
Sunday Riley C.E.O. Glow
A facial oil featuring turmeric extract, raspberry+ cranberry + pomegranate seed oils. As a result this gives you antioxidant benefits plus the extra moisture oils provide. While I didn't notice significant brightening results, I loved how using it always made my skin juicy and glowy. Would repurchase.
My thoughts: The studies are extremely promising, and between this and AP (the other fat-soluble vitamin c), I prefer TA. This is definitely an ingredient I look forward to trying more of in the future!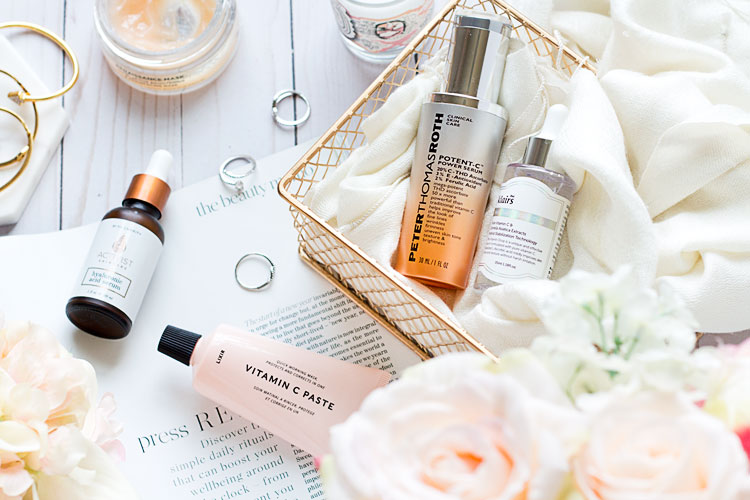 Aminopropyl Ascorbyl Phosphate (AAP)
Has a better absorption rate than AA
Shown to boost collagen production.
0.5% AAP reduced hyperpigmentation age spots by 29-33% and reduced number of wrinkles by 23% after 8 weeks (source)
Can add antioxidant protection as part of sunscreen formulas
My Thoughts: I've only tried one product featuring AAP and I was not impressed, hence no recommendations here. It does seem promising so I'd love to explore this ingredient more!
Glyceryl Ascorbate (GA)
A newer vitamin c derivative that binds ascorbic acid with glycerin. Depending on the position where glycerin is substituted, you may also see this as 3-Glyceryl-Ascorbate or Bis-Glyceryl-Ascorbate. (source)
Used at a concentration of 1-10% with a pH of 3-5. (source)
According to the manufacturer, it has a higher stability compared to ascorbic acid or other vitamin c forms, with no color change even after 12 weeks. (source)
When compared to Ascorbyl Glucoside (AG), GA scored higher in all aspects from moisturization, smoothness, emollience, ease of absorbance, and application experience. (source)
The same study above also showed GA's promising ability to fade discoloration compared to other vitamin c forms.
A GA derivative, 3-O-Laurylglyceryl Ascorbate, has been found to improve the skin's moisture barrier functions by increasing ceramide production. It's also a potent antioxidant. (source)
My thoughts: Obviously there aren't a ton of studies on this novel form, but the moisturizing factor makes it stand out from the other forms. Since more research is required to prove its efficacy, ideally you'll want to see GA supported by better-studied antioxidants in the formula.
Key takeaways
Kudos to you if you've read through all that, because I know that was a lot of info, but if you haven't, here's a quick summary:
Formula is key when selecting a vitamin c product. For AA-based products, the pH needs to be < 3.5. For all other forms, you'll want to see it in a mix with other antioxidants and beneficial ingredients.
The % matters! 5-20% is optimal for AA, and remember that other derivatives need to be converted to AA first, so if you're getting a peanut amount of that, you probably aren't getting any of the vitamin c benefits.
When it comes to potency, you can't beat AA. However, you'll want to weight the pros and cons to see if it's really the right form for your skin type and skincare habits. Sensitive skin will want to try the other gentler forms, or at least start with a very low % of AA.
Oily and acne prone skin can consider SAP and AP for its anti-microbial and sebum control properties.
Look for EAA, AG, or MAP if you want to brighten your skin tone, as they have specific studies done in regards to their brightening properties. I prefer AG, but YMMV.
Always wear sunscreen, especially if you use AA as that can make your skin more sensitive!
Hope you found this post helpful, and let me know which vitamin c product(s) you swear by!