I'm a big fan of La Roche-Posay for their sunscreen and Cicaplast Balm B5, but their vitamin c serum was unknown to me until recently. With so many more "famous" vitamin c serum brands like Skinceuticals or Paula's Choice, it seems the La Roche-Posay Pure Vitamin C 10% Serum has flown under the radar. And oh what a shame because it is a hidden gem!
Overview
What is it
This anti-aging vitamin c face serum leaves skin more radiant, softer, and hydrated. As a result, wrinkles look visibly reduced and skin texture and tone are more even and refined.
Best suited for
All skin types. Combo/oily skin prone to congestion may have a love-hate relationship with this serum, as the salicylic acid is beneficial but the silicones can be a hit or miss. Sensitive skin friendly as long as fragrance isn't an issue.
Things to note
Contains alcohol but isn't drying or irritating. Also contains fragrance and silicones.
Packaging
A tinted glass dropper bottle. Not ideal as vitamin c is prone to oxidization and the bottle doesn't limit air or light exposure.
Scent
A noticeable, slightly artificial, citrus scent. Fades once serum is applied.
Texture
Lightweight and fluid serum. Not sticky at all.
Finish
Natural, almost velvet finish. No stickiness or shine, but can pill if you use too much product.
Available For
$39.99 for 30ml on Amazon, FeelUnique, LookFantastic, Ulta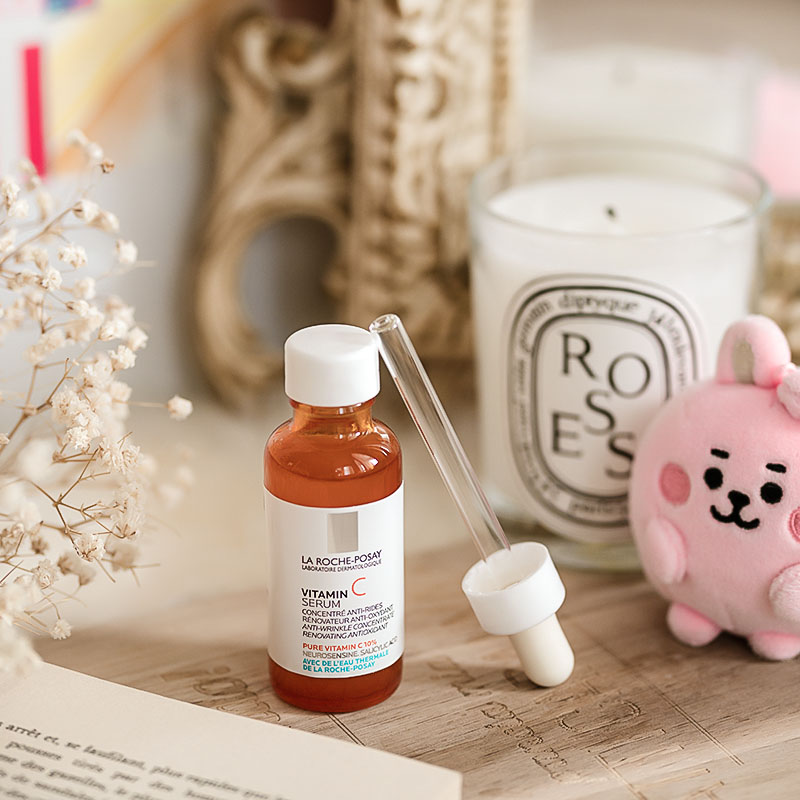 La Roche Posay Vitamin C Ingredients
With vitamin c, there are 8 different forms but the most potent and well-researched is Ascorbic Acid (AA), which is the form used here. AA has been shown to fade dark spots, boost collagen production and UV protection when worn under sunscreen1,2,3!
5 – 20% is the recommended Ascorbic Acid %, so at 10%, this serum is gentler than most of the other AA options, but it also has a lower potency. If it's your first time trying AA or if you use other actives, this is a good option.
What's interesting about this formula is that it doesn't feature Ferulic Acid for stabilization (though it does still have Vitamin E), instead it features several anti-inflammatory ingredients:
Salicylic Acid, an oil-soluble chemical exfoliant that can help clear out our pores. An excellent ingredient if your skin is prone to congestions or blackheads.
Acetyl Dipeptide-1 Cetyl Ester (aka Neurosensine) has one study that shows its skin calming benefits, but otherwise it's not as commonly used4.
Adenosine has been shown to help with wound healing and protecting our skin barrier5!
For extra hydration benefits, the La Roche Posay Vitamin C Serum includes two forms of hyaluronic acid – the larger Sodium Hyaluronate and smaller Hydrolyzed Hyaluronic Acid. Both attract and retain moisture on the skin while the smaller hydrolyzed HA are also anti-inflammatory and can help with skin repair functions6,7!
While alcohol is listed high up, my dry skin has not experienced any discomfort using this face serum. On the contrary this is one of the most hydrating vitamin c serums I've ever tried, but if you are sensitive this may not be the best fit for you.
Full Ingredient List

Water, Ascorbic Acid, Cyclohexasiloxane, Glycerin, Alcohol Denat, Potassium Hydroxide, Polymethylsilsesquioxane, Polysilicone-11, Dimethicone, Propylene Glycol, Pentaerythrityl Tetraethylhexanoate, C13-14 Isoparaffin, Tocopherol, Sodium Hyaluronate, Hydrolyzed Hyaluronic Acid, Adenosine, Acetyl Dipeptide-1 Cetyl Ester, PEG-20 Methyl Glucose Sesquistearate, Poloxamer 338, Salicylic Acid, Polyacrylamide, Toluene Sulfonic Acid, Ammonium Polyacryloyldimethyl Taurate, Xanthan Gum, Caprylyl Glycol, Disodium EDTA, BHT, Laureth-7, Fragrance
How to apply the La Roche Posay Vitamin C Serum
Instructions
Pure vitamin c, aka ascorbic acid, is a pH dependent active, so it's actually best applied directly after cleansing.
One squeeze using the dropper dispenses enough for your face. Use an extra squeeze for your neck and décolletage.

Don't use too much, and massage lightly to avoid pilling. Wait until fully absorbed before continuing.
Follow up with the rest of your skincare routine, starting from thinnest to thickest. Eg. toner - a hydrating serum (optional in this case) - moisturizer.
Always end with sunscreen to get the best results from your vitamin c!
Due to the protective nature of vitamin c, it works best when applied in the morning.
Usage Experience
✅ So gentle and hydrating!
I've tried a LOT of different vitamin c serums, and 95% ascorbic acid based products will sting, even just a tiny bit. I haven't experienced any discomfort with the La Roche Posay Vitamin C, even on my sensitive skin days!
It's also surprisingly hydrating. Most AA serums are a liquid or dry oil texture, neither of which will feel hydrating on the skin. But thanks to the hyaluronic acids in this formula (ok maybe not so surprising after all), combo/oily skin types can easily skip their dedicated hydrating product and go right to sunscreen.
✅ Pairs well with other actives
Ascorbic Acid itself is an active and can be sensitizing at higher %, so usually I recommend making it the only active in your routine or even your day. Less is always more with actives to keep our skin barrier healthy!
But due to the lower vitamin c % and inclusion of anti-inflammatory ingredients, you can get away with adding in another low % active in the same routine. With stronger vitamin c's, usually I pair it with a gentle retinol in the evenings, but with this one, I have no issue using it with tretinoin on the same day.
✅ Regular use gives skin a nice glow
I didn't notice significant brightening results, nor did I see any improvements in my stubborn dark spots, but at around the 2 weeks mark I do notice that my skin looks less dull. There's also more of a glow when I wake up in the mornings!
❌ Oxidizes quickly, so use generously
Oxidization is a common problem with ascorbic acid, and strangely La Roche-Posay took none of the precautions to limit that: no ferulic acid for stability, and no airtight opaque bottle to limit exposure. These are all pretty simple changes to make in my opinion, so the missed opportunity here is a shame.
I started noticing a color change at the 3-week mark, with the serum turning that dreaded brown at around 6 weeks. If used twice a day, you should be able to finish the product well before then. Dedication is key here.
La Roche-Posay Vitamin C reviews
Since skincare is so personal, here are some positive and negative reviews from other users to give you more perspective on this serum:
Upon application, the serum feels refreshing and weightless on my skin. It absorbs quickly and does not feel sticky at all. The scent is pleasantly unnoticeable. I apply it once in the morning underneath my daytime skin lotion.

As far as results go, I haven't seen any glow—like features in my aging skin, but it does appear slightly smoother and, certainly, hydrated.

Ohstacy, Amazon review
It feels good and I'm hoping it will brighten my dull skin however I was hoping to use it in the morning – have to use it at night only as no matter how long I wait or what other product I use, it flakes off and looks awful. Pieces of it clump together and I have to wash it off.

J1305, Ulta review
I really liked this one, although all these companies love droppers and I feel like this one oxidized really quickly. Beyond those minor things, I like this Vitamin C and use it in place of the SkinCueticals one when I'm feeling more budget-concious.

Sabina, Dermstore review
La Roche-Posay Vitamin C dupes
Because this vitamin c serum is so unique, it's hard to find an exact dupe, but the following 3 delivered the most similar usage experience and results.
🍋 Klairs Freshly Juiced Vitamin Drop
In terms of overall usage experience and results, this is probably the closest, though not identical. The Klairs has a dry oil texture and is less moisturizing, but the bottle will stay fresh for weeks before it even starts oxidizing! Overall I still prefer LRP, but if you don't want to feel rushed, the Klairs is a nice & gentle option.
🍋 Bliss Bright Idea Serum
This features Ethyl Ascorbic Acid, which is probably the most effective vitamin c derivative after Ascorbic Acid. It also includes hyaluronic acid and peptides at a lower price tag! Same lightweight texture and hydrating benefits, but I didn't notice any skin improvements with the Bliss.
🍋 Algenist Blue Algae Vitamin C Serum
If you feel like splurging, the Algenist Vitamin C is a lovely upgrade. Same light texture and but in an airtight bottle to protect the ascorbic acid. This isn't as hydrating but delivered noticeable brightening results for me!

Want more vitamin c serum comparisons? Subscribe to my weekly newsletter and get free access to my growing vitamin c database!
Final Verdict
Ingredients

Packaging

Texture/Application

Performance

Price
The La Roche Posay Vitamin C Serum is far from perfect, but it still manages to stand out with its unique formula and hydrating yet lightweight texture. I was ready to dismiss this as "just another vitamin c", but its joy sparking (albeit slightly short lived) usage experience and promising results won me over. If the same old ascorbic acid + vitamin e + ferulic acid formula isn't working for you, you might find better luck with this one.
Please La Roche-Posay, improve the packaging! It's such an unnecessary flaw on an otherwise fantastic face serum!
FAQs
Is the La Roche-Posay Pure Vitamin C 10% Serum cruelty-free?

No, La-Roche Posay is not a cruelty-free brand as they are currently sold in China.

Is the La Roche-Posay Pure Vitamin C 10% Serum safe to use while pregnant or breast-feeding?

It's not safe for pregnancy because it contains salicylic acid, which can cause side effects for the mother and fetus. Doris Day, MD, a board-certified dermatologist in New York City says that small amounts immediately washed off should be ok, but since this is a leave-on serum, I would recommend against the risk. There aren't any studies on the impact during breastfeeding, but it's unlikely to appear in breast milk so it's considered safe to use.

Will the La Roche-Posay Pure Vitamin C 10% Serum break me out?

As long as you don't have issues with any of the listed ingredients, the product itself when used correctly should not cause acne. If anything, the addition of salicylic acid should help keep your pores clear. However, there's several types of silicone in the formula, some which may have occlusive properties. Meaning if there's any oil, dead skin, or bacteria on your skin prior, this serum will trap that in, which can lead to breakouts. That's why it's important to apply this directly on cleansed skin.
Article Sources
To keep my content accurate and trustworthy, I rely on peer-reviewed studies, articles from reputable academic institutions, and quotes from certified healthcare professionals to back my claims. No woo-woo clickbait nonsense here!