I'm a big fan of Cerave Skincare. It started with their cleansers (a favorite since 2016), and I've since tried their moisturizers, facial oil, with each living up to my high expectations. So naturally I have high hopes for this Cerave Skin Renewing Vitamin C Serum as well.
Overview
What is it
Our gentle, yet effective lightweight vitamin C serum with three essential ceramides also helps to restore your protective skin barrier, and includes moisturizing hyaluronic acid, and soothing vitamin B5 (pantothenic acid) to help improve skin hydration. Plus, MVE technology continually releases moisturizing ingredients for all-day hydration.
Best suited for
All skin types, especially sensitive skin, looking to brighten their complexion, protect against free radicals, all while respecting the skin's natural barrier. Only exception is if your skin doesn't agree with alcohol.
Things to note
Contains alcohol but is fragrance-free.
Packaging
An aluminum squeeze tube with a small opening to minimize ingredient oxidization. Not air tight (and kinda basic) but it's an improvement from drop bottles with larger openings.
Scent
No noticeable scent, which is a nice alternative to the usual hot dog smell of ascorbic acid.
Texture
A white water gel that spreads easily with no stickiness. Will start turning yellow as it oxidizes.
Finish
Absorbs well with a natural, almost matte, finish. Doesn't feel heavy or sticky at all.
Price & Size
30ml for $26.99 on Ulta, Target, Adore Beauty, and Amazon
Product Demo
Make sure you turn off your ad blocker so you can see the video!
Cerave Vitamin C Serum Ingredients
Water, Ascorbic Acid 10.0%, Glycerin, Dimethicone, Cetearyl Ethylhexanoate, Denatured Alcohol, Sodium Hydroxide, Ammonium Polyacryloyldimethyl Taurate, Panthenol, Ceramide NP, Ceramide AP, Ceramide EOP, Carbomer, Cetearyl Alcohol, Behentrimonium Methosulfate, Sodium Hyaluronate, Sodium Lauroyl Lactylate, Cholesterol, Phenoxyethanol, Tocopheryl Acetate, Disodium EDTA, Isopropyl Myristate, Caprylyl Glycol, Xanthan Gum, Phytosphingosine, Ethylhexylglycerin
Vitamin C is a potent antioxidant, and of all the forms available for skincare, ascorbic acid (aka pure vitamin c) is the most well-researched and effective:
Protects the skin against free radical damage.
Can increase collagen production, which in term can minimize appearances of fine lines and improve skin firmness.1
Helps even skin tone and fade dark spots.
Can boost UV protection when layered under sunscreen. This effect is doubled with the inclusion of Vitamin E!2
The downside is that it's ridiculously prone to oxidization and it can sting when applied. Cerave makes an effort to address both issues:
The metal tube blocks out all light and minimizes air contact with a tiny tip. Would've loved to see stabilizing ingredients like ferulic acid or glutathione as well.3
Includes a great blend of nourishing ingredients that support and moisturize the skin's protective barrier. Ceramides, cholesterol, and phytosphingosine are all natural building blocks in our skin. Hyaluronic Acid and Panthenol are both humectants that draw water to the skin, with the latter even having anti-inflammatory benefits
The only ingredient of slight concern would be alcohol if you're sensitive to it. Personally my dry skin has no issues with it.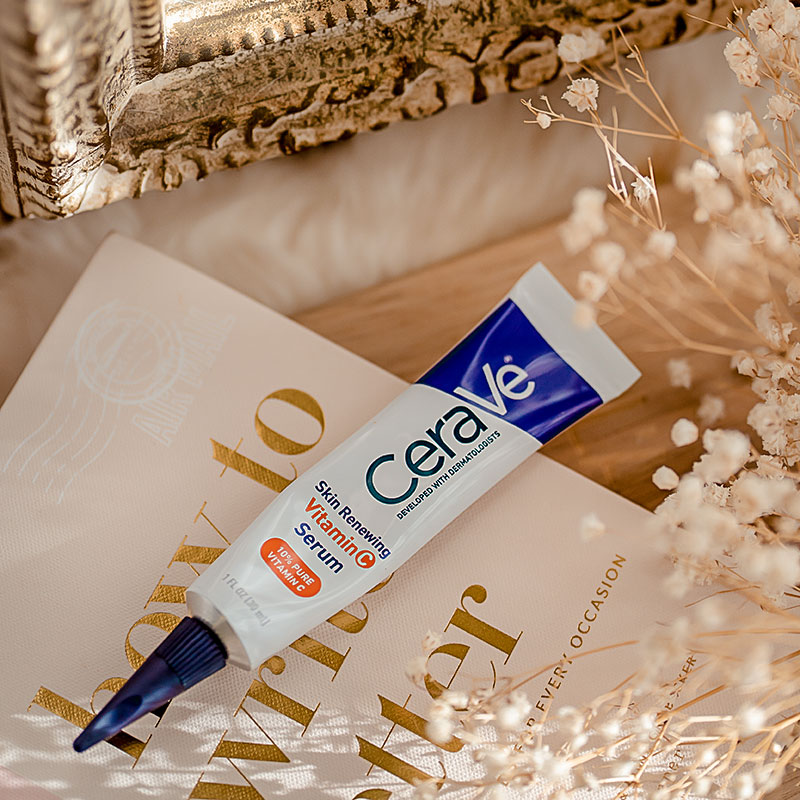 How to Use Cerave Skin Renewing Vitamin C Serum
I always recommend using vitamin c serums in the morning for their sunscreen boosting effect (because we're always wearing our sunscreens, right?).
After cleansing and toning, apply a pea sized amount for your face another another pea sized amount for your neck.
If applying multiple face serums, use the light to heavy rule, applying your water-like serums first. If they have similar textures, then apply the Cerave first due to its active ingredients.
Follow with the rest of your routine, and make sure you finish up with sunscreen!
Use everyday to protect your skin and see brightening results in the long run.
Notes
Make sure to store the product out of direct sunlight and heat! If you have a skincare fridge definitely put this in there.
Usage Experience & Results
Personally I rarely notice skin-brightening results with vitamin c serums. But this one did make my skin look brighter after a couple of weeks of use! The few pimples I've had while testing also seemed to fade quicker, and there was no hyperpigmentation.
I'm also a huge fan of the texture. The super watery serums can be tricky to apply, and if you've struggled with them dripping all over your fingers and face, then you know what I'm talking about!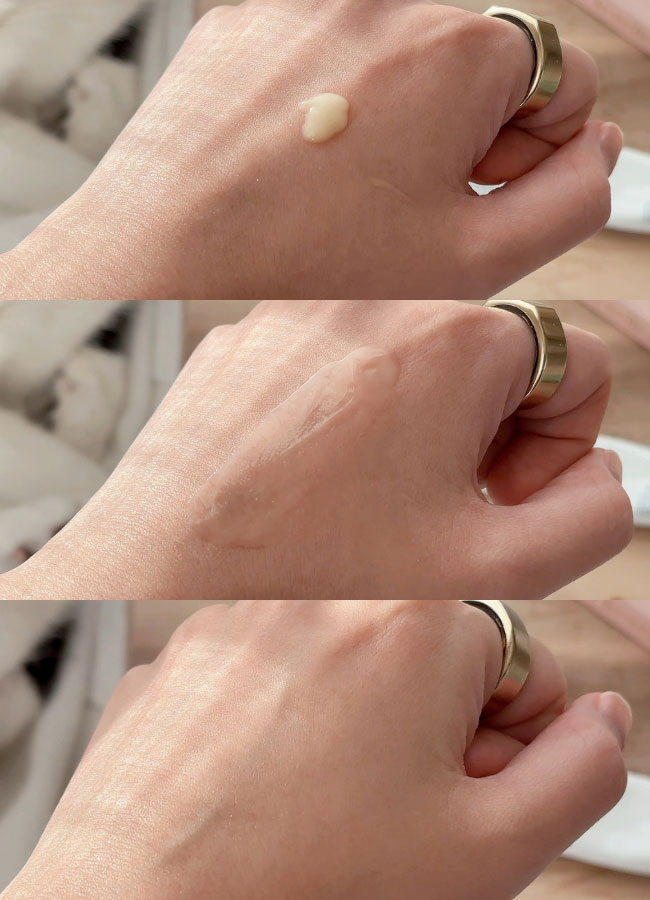 Cerave Skin Renewing Vitamin C Serum's unique water gel texture has none of these issues but feels equally comfortable and elegant on my skin. It instantly absorbs into my skin, leaving a soft, almost matte finish that layers beautifully under moisturizer and sunscreen.
It feels more hydrating than other vitamin c serums, but despite the multitude of humectants and emollients, I wouldn't consider this on the same level as dedicated hydrating serums. I think combo/oily skin may find this enough on its own, but dry skin like mine will want to keep their hydrating layers.
I've been using my tube for 2 months now, and the serum only started darkening recently. I'll definitely be able to finish the tube before it turns brown – can't say the same about other products!
What Others Say
It has noticeably evened and brightened my skin tone, and I don't break out as much. My pigmentation appears a little lighter, and my skin just generally looks better

Paris B, normal-dry skin
Notably, its fresh scent just makes you want to use it every day and it effectively brightened and nourished my skin. For $25, you can't go wrong.

New York Post
I'm not really sure if this serum does anything. I used for 2 months and didn't see any change in my skin. It is a nice consistency and easy to apply.

Isabella M
Cerave Skin Renewing Vitamin C Serum Alternatives
La Roche-Posay Vitamin C
Loved how gentle and hydrating this one was! I do prefer the usage experience of the LRP because of hydration and citrus scent, but the packaging is terrible, which means it oxidizes much quicker.
The INKEY List 15% Vitamin C & EGF Brightening Serum
This uses Ascorbyl Glucoside, a form of vitamin c that's known for its skin brightening properties. Ironically I didn't notice any brightening with this one, but it's super gentle and affordable as well. A good option if you're skin is super sensitive.
The INKEY List Vitamin C Serum
This also uses ascorbic acid but at triple the strength – 30%! What I liked about the Inkey List is the waterless formula (much less prone to oxidization) and how effective it is, but it does need to be diluted with an HA serum. If you like the DIY mixing aspect, this is a great affordable option!
Klairs Freshly Juiced Vitamin Drop
Contains 5% ascorbic acid yet it remained crystal clear until the last drop, no oxidization at all. Has a dry oil texture which I didn't love, but it was gentle on the skin and is alcohol free. A good beginner AA serum.
Final Verdict
Pros
Slower to oxidize compared to other ascorbic acid serums.
Saw brightening results with continued usage.
Elegant texture that layers well and doesn't irritate.
Suitable for all skin types.
Cons
Slightly lower % than other brands.
Won't replace your hydrating serum.
Scores & Summary
Ingredients

Packaging

Texture/Application

Performance

Price
This is one of the better vitamin c serums I've tried! As with most Cerave products, it's not much of a looker, but what it lacks in aesthetic packaging it makes up in a lovely formula. I didn't find any deal breaking flaws with this one, so if you're looking for a reasonably-priced workhorse product, this will not disappoint. Worth the money in my opinion, especially if you can get it on sale!
FAQs
Can you use this with a retinol serum?

While I wouldn't use the two in the same skincare routine, you can use the vitamin c in the morning and retinol in the evening!

Is Cerave Cruelty Free?

No, they do test on animals when required by law and are sold in China.

Can I use Cerave Vitamin C Serum at night?

You can definitely use it at night if you prefer, though you obviously lose the UV protection boost with sunscreen. However you'll still get the same collagen-boosting, skin-brightening results if you apply it consistently.
Article Sources
To keep my content accurate and trustworthy, I rely on peer-reviewed studies, articles from reputable academic institutions, and quotes from certified healthcare professionals to back my claims. No woo-woo clickbait nonsense here!
Traikovich, Steven S. "Use of Topical Ascorbic Acid and Its Effects on Photodamaged Skin Topography." Archives of Otolaryngology–Head & Neck Surgery, vol. 125, no. 10, 1 Oct. 1999, p. 1091, pubmed.ncbi.nlm.nih.gov/10522500/, 10.1001/archotol.125.10.1091. Accessed 16 Nov. 2022.

Eberlein-König, B, and J Ring. "Relevance of Vitamins c and E in Cutaneous Photoprotection." Journal of Cosmetic Dermatology, vol. 4, no. 1, Jan. 2005, pp. 4–9, pubmed.ncbi.nlm.nih.gov/17134414/, 10.1111/j.1473-2165.2005.00151.x. Accessed 16 Nov. 2022.

Touitou, E., et al. "Glutathione Stabilizes Ascorbic Acid in Aqueous Solution." International Journal of Pharmaceutics, vol. 133, no. 1-2, May 1996, pp. 85–88, www.sciencedirect.com/science/article/abs/pii/0378517395044191, 10.1016/0378-5173(95)04419-1. Accessed 16 Nov. 2022.