I've tested high end skincare, I've tested $1 moisturizers, and let me tell you, good skincare does not have to be expensive! This post is proof, as I share my top picks under $20 to create your best skincare routine on a budget.
How to stretch your dollar when it comes to skincare
If budget is a concern, I would cut back to just the very basics: cleanser, serum, moisturizer, and sunscreen in the morning. If you're young or want to cut back further, you can even skip serums altogether!
Further reading: How to start a skincare routine in your 30's
Say you have a little left over in your budget, I would consider investing more $ in a well-formulated serum. Sure you can spend it on a inexpensive eye cream or a toner, but in my experience, you'll get a better value with the serum. Whatever benefits a $6 eye cream is providing you can probably be replaced by an extra layer of your moisturizer around the eyes.
Affordable facial cleansers under $15
Don't let the prices of these cleanser fool you. $15 may seem like a lot, but if it lasts 3+ months, isn't it a better value than a $5 travel sized cleanser that only lasts 2 weeks? This post is all about giving you the best value for your $, so bulk is the way to go!
Best dry skin serums under $20
If there's one category that you should be spending more money on, it's your serum step. After much research $20 seems like the sweet spot where affordability meets efficacy.
Moisturizers for dry skin under $15
If the Nivea creme is too heavy for you and/or you're a fan of ceramides, give this Illiyoon cream a try. It's more elegant and less heavy than the Cerave, but it'll still help reinforce your barrier and keep your dry skin well moisturized.
I also love using this on my super dry feet, works better than dedicated foot creams!
→ $12 for 200ml ($0.06 per ml) on StyleKorean, Olive Young
It's more expensive but if you have dry sensitive skin the La Roche-Posay will be a skin saver. I've lost count of the times this tube has saved my irritated, peeling skin just after one application.
Another reason why I'm a fan: I brought this as my main moisturizer for a 2-week trip and I swear my skin was glowing at the end. Maybe it's the low stress and good food, or maybe it's Cicaplast.
→ $14.99 for 40ml ($0.37 per ml) on Amazon, Escentual, and Target
Best budget sunscreens under $10
My all time favorite everyday sunscreen, and it's pretty much as perfect as sunscreen can get in my opinion. No white cast, no shiny finish, no stickiness, and proven SPF50 PA++++ protection. You might not survive a beach trip with this but for everyday wear it's more than enough.
→ ~$10 for 50ml on YesStyle (5% off with code GEEKYPOSH), Stylevana; $15 for 2 tubes on Olive Young!
Verdio UV Moisture Essence
An underrated gem and the most affordable sunscreen I've come across yet. Elegant texture, no white cast, and no stickiness. It's almost as good as the SCINIC except that 1) it hasn't been independently tested and 2) it irritates the eyes when it gets in.
If you don't care about #1 and don't have sensitive eyes, you won't be disappointed with this one!
→ $7 for 50ml on Stylevana
3 budget friendly skin care routines
The centella asiatica extracts and active compounds in both the ampoule and the balm are excellent for calming the skin. Oat is another great skin soothing ingredient, especially if you have eczema. All 3 options are also alcohol and fragrance free.

The lipids in our skin decrease as we age, so for mature dry skin it's especially important to use products that respect and reinforce the skin's moisture barrier. Look for ingredients like ceramides, lipids, cholesterol, and retinol.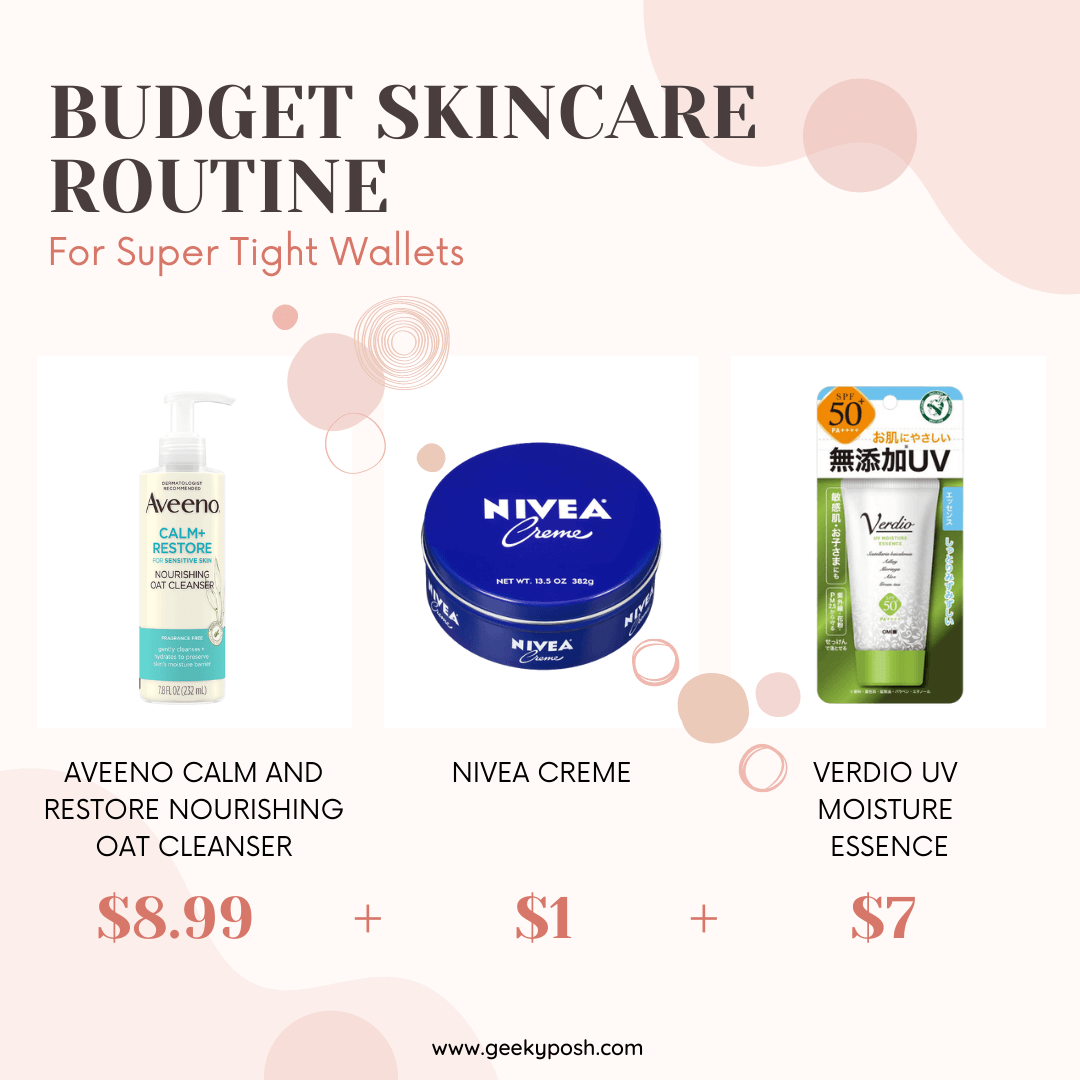 If budget is a concern, I would remove the serum step but still keep the sunscreen. Wearing sunscreen daily will be much better for your skin in the long run than just applying serum but skipping spf. A non water-resistant chemical sunscreen like the Verdio can also be easily removed by a regular cleanser, no double cleansing required.