If I had to recommend a serum that will work for all ages and skin types, it would be a gentle hydrating serum. In fact, I would consider hydration the foundation of good skin care. Get your skin hydrated first, then worry about the rest.
With that said, let's take a closer look at the AXIS-Y Advanced Aqua Boosting Ampoule and its hydrating benefits!
Quick Summary
Gentle and feels comfortable on the skin
Doesn't pill but can feel sticky if too much is used
Provides additional skin calming + antioxidant benefits
Overview
What is it
A highly moisturizing ampoule containing 10-Hyaluronic Acid and six premium natural ingredients. This combination of ingredients hydrate and lock in moisture to reach 10 layers deep into the skin delivering a refreshing burst of hydration that creates a silky and smooth finish.
Best suited for
All skin types looking for lightweight hydration with some extra skin-calming benefits.
Things to note
Free of alcohol, fragrances, and essential oils. Also vegan and cruelty free.
Packaging
A clear glass bottle with a dropper cap.
Scent
None detected.
Texture
A light gel that spreads easily and absorbs quickly.
Finish
Slightly dewy finish that dries down quickly once the serum is absorbed. Can feel sticky if you apply too much on dry skin.
Available For
$18 for 30ml on AXIS-Y official site, StyleKorean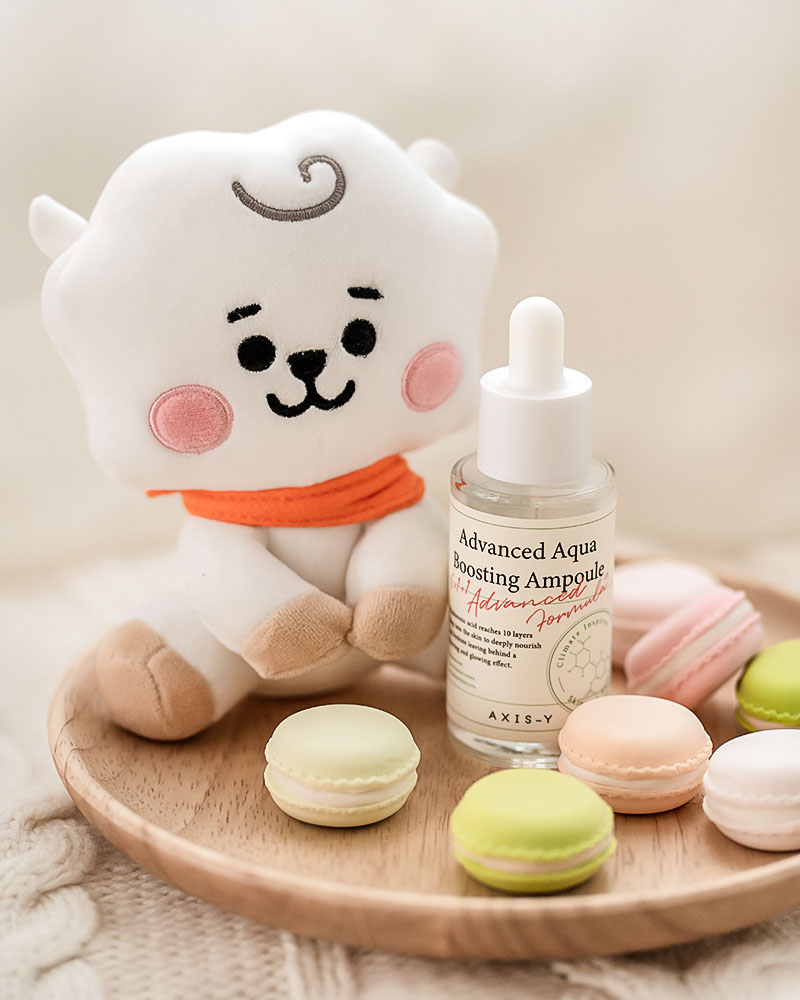 AXIS-Y Advanced Aqua Boosting Ampoule Ingredients
As with all AXIS-Y products, this hydrating serum follows their 6 + 1 + 1 formula
Centella Asiatica Extract is probably the most well-known of the anti-inflammatory extracts listed. Not only is it soothing, it's also a great antioxidant and has moisturizing properties1!
Madecassic Acid, Asiaticoside, Asiatica Acid, and Madecassoside are the main active compounds in Centella Asiatica that are responsible for its benefits.In addition to their shared wound healing benefits5, Asiaticoside and Asiatica Acid helped stimulate collagen production 2,3,4. Madecassoside specifically has the additional benefit of inhibiting UV-induced melanin production6.
Purslane extract may be less common than Centella Asiatica, but it's rich in amino acids, vitamins, and minerals that makes it a lovely antioxidant and anti-inflammatory ingredient7.
Hyaluronic Acid (HA) is the core goal-oriented ingredient and the Advanced Aqua Boosting Ampoule contains 7 forms:
Sodium Hyaluronate is the most common form found in skincare and known for its incredible water holding abilities, aka, keeping our skin moisturized!
Hydroxypropyltrimonium Hyaluronate is hyaluronic acid that's produced via fermentation, also known as Hyaloveil-P. According to the supplier it shares the same benefits as HA, and can be retained on the skin even in wash-off products8.
Hydrolyzed Hyaluronic Acid and Hydrolyzed Sodium Hyaluronate are low molecular weight HAs, meaning their particles are much smaller in size. There are some claims that low weight HA is pro-inflammatory, but studies actually show that they are anti-inflammatory and can help with skin repair functions9,10.
Sodium Acetylated Hyaluronate doesn't have much research behind it, but the manufacturer claims that it has 2x the water retention abilities of HA.
Sodium Hyaluronate Crosspolymer can be thought of as a bunch of regular HA coming together to form one big HA mesh, and initial studies show that this mesh has 5x the water binding abilities of regular HA11!
Potassium Hyaluronate is the other salt form of hyaluronic acid, but it's much less common and there have been no studies on its efficacy compared to other HA forms.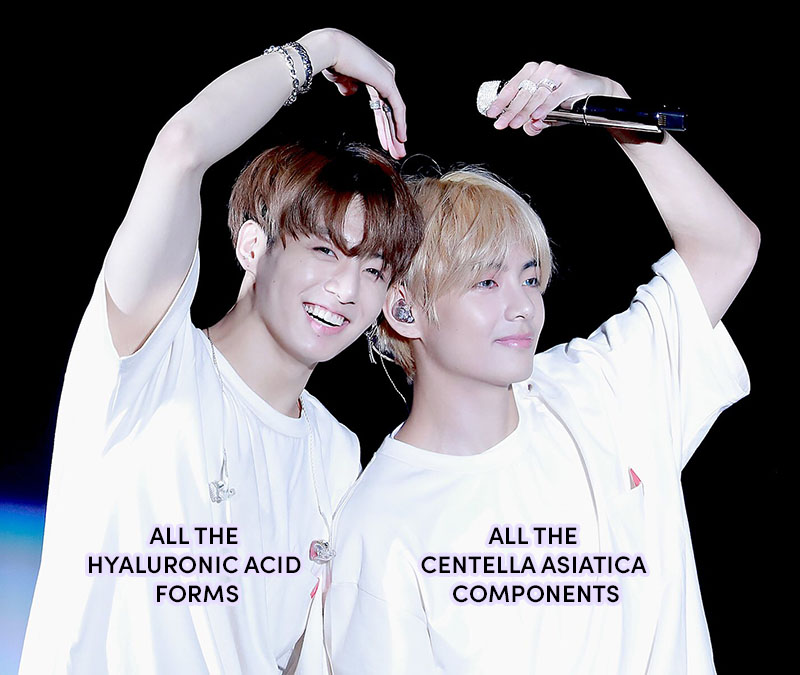 ANTI SEBUM P(HD) 0.5% is the effective technology, and it's a complex featuring Evening primrose, Arrowroot, Pine Needles and Elm Root extracts. Elm Root Extract specifically has been found to hydrate and have anti-inflammatory properties12, and one study found Evening Primrose extract to have anti-aging benefits13. No information found for the complex itself, though it seems to be popular in Korean skincare formulas.
Other noticeable ingredients: Vitamin E for an antioxidant boost and Licorice Extract for anti-inflammatory benefits.
Full ingredients
Water, Dipropylene Glycol, Butylene Glycol, PVP, Glycerin, Ammonium Acryloyldimethyltaurate/VP Copolymer, Polyglyceryl-10 Laurate, Caprylyl Glycol, 1,2-Hexanediol, Glyceryl Glucoside, Oenothera Biennis (Evening Primrose) Flower Extract, Ulmus Davidiana Root Extract, Pueraria Lobata Root Extract, Pinus Palustris Leaf Extract, Dipotassium Glycyrrhizate, Tocopherol, Portulaca Oleracea Extract, Centella Asiatica Extract, Madecassic Acid, Asiatic Acid, Madecassoside, Asiaticoside, Sodium Hyaluronate, Hydroxypropyltrimonium Hyaluronate, Hydrolyzed Hyaluronic Acid, Sodium Acetylated Hyaluronate, Hyaluronic Acid, Hydrolyzed Sodium Hyaluronate, Sodium Hyaluronate Crosspolymer, Potassium Hyaluronate, Disodium EDTA, Hydroxyacetophenone, Ethylhexylglycerin
How to use the AXIS-Y Advanced Aqua Boosting Ampoule
Steps and tips on how to apply the AXIS-Y Advanced Aqua Boosting Ampoule to get maximum hydrating benefits!
Apply during the serum step of your routine, after essences/toners and before your moisturizer.
Dampen skin first with a facial mist.
Apply a full dropper of serum in palm, and gently massage the serum into your skin
Make sure to bring the product down to your neck.
Wait until the serum is fully absorbed before moving on to the next step.
Make sure to lock in the hydration with a moisturizer at the end of your routine!
Notes
Serums can be applied on dry skin, but dampening the skin with a simple mist not only helps with ease of spread and absorption, but it provides the extra moisture to maximize the benefits of hydrating serums!
Usage Experience
✅ Adds noticeable hydration
The one thing we want our hydrating serum to do, and you'll be surprised at the number of products that miss the mark. Luckily this hydrating ampoule delivers on the benefits, and in an elegant lightweight texture as well! With daily use I notice less fine lines that are associated with the winter dryness, and skin feels more plump and soft too.
✅ Will work for all skin types!
Some hydrating serums can be too light, others too sticky, but this one feels just right. It's got that tiny bit of tackiness due to all the different hyaluronic acid forms used, but not so much where it would feel uncomfortable on the skin, especially if applied on damp skin.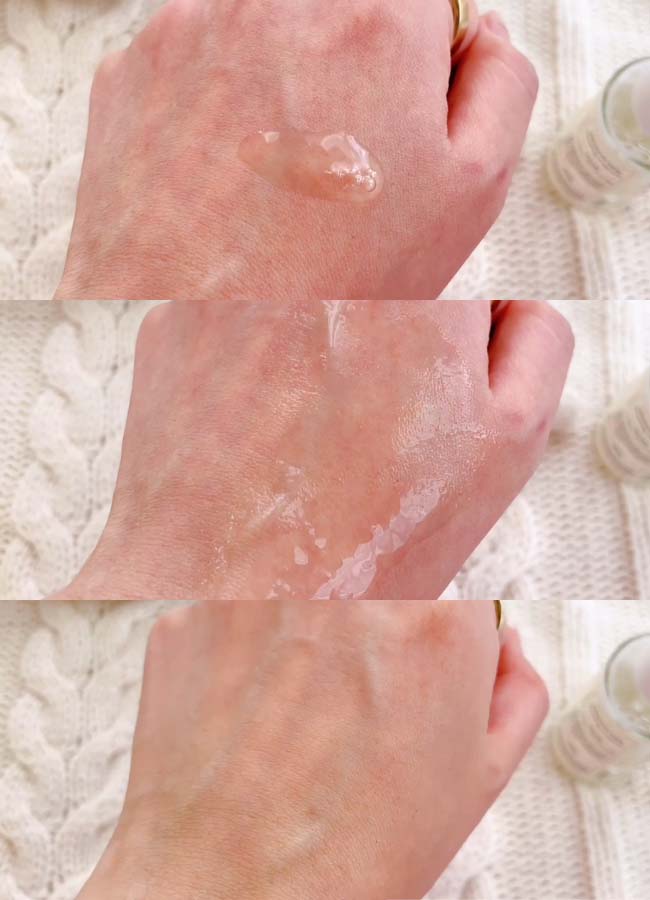 ✅ Will double as a soothing serum
If your skin is prone to redness or sensitivities, this lovely ampoule can help calm your skin too. I've been pairing this serum with my tretinoin and despite the cold + dry winter air making my skin more sensitive than usual, my skin has been pretty healthy! Of course taking it slow with retinol is key, but the AXIS-Y Advanced Aqua Boosting Ampoule definitely played a supporting role here.
Learn more: Face serums 101: What, when, and how to use them
AXIS-Y Advanced Aqua Boosting Ampoule vs…
💦 May Coop Raw Sauce
Both feel lightweight and comfortable on the skin, but I would consider the Maycoop even more hydrating. However, it doesn't offer any soothing or anti-inflammatory benefits, so pick the one that best suits your skin needs!
💦 Filorga Hydra-Hyal Serum
The Filorga was incredibly hydrating, and I enjoyed it a lot, but it's also pricier. Value wise I think the AXIS-Y is better, plus you get the extra skin soothing benefits.
💦 The Ordinary Marine Hyaluronic
TO's feels more like an essence than a serum, and you don't get that plumping + softening effect either. Super oily skin types may prefer the texture of the TO more!
💦 The Inkey List Hyaluronic Acid Serum
Both have similar textures, though The Inkey List may be a hint lighter. The AXIS-Y ampoule feels more hydrating imo though and worth the extra $ if your budget allows it.

💦 Klairs Rich Moist Soothing Serum
Similar texture, finish, and hydrating effects, but the Klairs serum has more botanical extracts, which means a higher chance of potential irritations. I had no issues with it, but between the two I prefer the AXIS-Y one.
💦 Youth to the People Triple Peptide and Cactus Oasis Serum
Both have the same lovely light texture, but the YTTP gets a small anti-aging boost with the peptides. However it's 3x more expensive and the pump dispenser can get messy.
💦 I'm From Pear Serum
Also lightweight, but you don't get any of the antioxidant or skin-soothing benefits. It does feel nice on the skin but for the price the Inkey List HA serum is better.
Final Verdict
Ingredients
Packaging
Texture/Application
Performance
Price
I've tried a LOT of hydrating serums and am seriously impressed that the AXIS-Y Advanced Aqua Boosting Ampoule has managed to stand out amongst all the competitors. It's not going to be the most hydrating serum you've ever tried, but for its price you'll be pleased at the results.
The skin soothing benefits are a big plus, something I don't see as often in other hydrating products, so if you're the dry + sensitive type, this could be a wonderful fit!
FAQs
Is the AXIS-Y Advanced Aqua Boosting Ampoule cruelty-free?

Yes! AXIS-Y is one of the few (but growing) Kbeauty brands that is cruelty free and certified by PETA.

Is the AXIS-Y Advanced Aqua Boosting Ampoule vegan?

Yes, AXIS-Y is certified vegan by the Korean Vegan Association.

Is the AXIS-Y Advanced Aqua Boosting Ampoule safe to use while pregnant or breastfeeding?

This serum doesn't contain any of the known ingredients (eg. retinol, salicylic acid) that can cause issues, so yes it should be safe to use. However it's always a good idea to confirm with your doctor!

Is the AXIS-Y Advanced Aqua Boosting Ampoule suitable for sensitive skin?

It depends on what your skin is sensitive to, but this serum doesn't contain any of the common irritants like alcohol or fragrance. It also features centella asiatica and its active compounds which can help with inflammation, but always review the full ingredient list to be sure.
Article Sources
To keep my content accurate and trustworthy, I rely on peer-reviewed studies, articles from reputable academic institutions, and quotes from certified healthcare professionals to back my claims. No woo-woo clickbait nonsense here!
Bylka, Wiesława, et al. "Centella Asiaticain Dermatology: An Overview." Phytotherapy Research, vol. 28, no. 8, Jan. 2014, pp. 1117–24, https://doi.org/10.1002/ptr.5110.

Bonte, F., et al. "Influence of Asiatic Acid, Madecassic Acid, and Asiaticoside on Human Collagen I Synthesis." Planta Medica, vol. 60, no. 02, Apr. 1994, pp. 133–35, https://doi.org/10.1055/s-2006-959434.

Maquart, F X et al. "Triterpenes from Centella asiatica stimulate extracellular matrix accumulation in rat experimental wounds." European journal of dermatology : EJD vol. 9,4 (1999): 289-96.

Lee, Jongsung, et al. "Asiaticoside Induces Human Collagen I Synthesis through TGFβ Receptor I Kinase (TβRI Kinase)-Independent Smad Signaling." Planta Medica, vol. 72, no. 4, Jan. 2006, pp. 324–28, https://doi.org/10.1055/s-2005-916227.

Jung, Eunsun, et al. "Madecassoside Inhibits Melanin Synthesis by Blocking Ultraviolet-Induced Inflammation." Molecules, vol. 18, no. 12, Dec. 2013, pp. 15724–36, https://doi.org/10.3390/molecules181215724.

Shukla, A., et al. "In Vitro and in Vivo Wound Healing Activity of Asiaticoside Isolated from Centella Asiatica." Journal of Ethnopharmacology, vol. 65, no. 1, Apr. 1999, pp. 1–11, https://doi.org/10.1016/s0378-8741(98)00141-x.

Chan, K., et al. "The Analgesic and Anti-Inflammatory Effects of Portulaca Oleracea L. Subsp. Sativa (Haw.) Celak." Journal of Ethnopharmacology, vol. 73, no. 3, Dec. 2000, pp. 445–51, https://doi.org/10.1016/s0378-8741(00)00318-4.

"Hyaloveil-P®." Ulprospector.com, 2021, www.ulprospector.com/en/na/PersonalCare/Detail/13306/394972/Hyaloveil-P.

Gariboldi, Silvia, et al. "Low Molecular Weight Hyaluronic Acid Increases the Self-Defense of Skin Epithelium by Induction of β-Defensin 2 via TLR2 and TLR4." The Journal of Immunology, vol. 181, no. 3, July 2008, pp. 2103–10, https://doi.org/10.4049/jimmunol.181.3.2103.

Schlesinger, Todd, and Callie Rowland Powell. "Efficacy and Safety of a Low-Molecular Weight Hyaluronic Acid Topical Gel in the Treatment of Facial Seborrheic Dermatitis." The Journal of Clinical and Aesthetic Dermatology, vol. 5, no. 10, Matrix Medical Communications, 2012, pp. 20–23, www.ncbi.nlm.nih.gov/pmc/articles/PMC3486775/.

Sundaram. "Pilot Comparative Study of the Topical Action of a Novel, Crosslinked Resilient Hyaluronic Acid on Skin Hydration and Barrier Function in a Dynamic, Three-Dimensional Human Explant Model." Journal of Drugs in Dermatology : JDD, vol. 15, no. 4, J Drugs Dermatol, 2016, pubmed.ncbi.nlm.nih.gov/27050698/.

Eom. "Cosmeceutical Properties of Polysaccharides from the Root Bark of Ulmus Davidiana Var. Japonica." Journal of Cosmetic Science, vol. 57, no. 5, J Cosmet Sci, 2021, pubmed.ncbi.nlm.nih.gov/17111070/.

Ceccacci, Sara, et al. "An Oenothera Biennis Cell Cultures Extract Endowed with Skin Anti-Ageing Activity Improves Cell Mechanical Properties." Metabolites, vol. 11, no. 8, Aug. 2021, p. 527, https://doi.org/10.3390/metabo11080527.