I don't think I need to stress how important sunscreen is. You can skip toners, serums, or even moisturizers but sunscreen is a must-have. I've tried my fair share of sunscreens, including most of the popular Japanese brands, and today I'm sharing 7 that have stood out from the rest. No matter the occasion or skin type, you'll find one that fit your needs.
When you'll be mostly outdoors…
Whether you're hiking or at the beach, if you're planning to spend a lot of time in the sun you'll want a sunscreen that's water-resistant with high UVB and UVA coverage. I recommend going with a chemical + physical formula to get more protection without sacrificing texture. The last thing you want in the heat is a face full of heavy sunscreen! Skip US sunscreens if you can as the chemical filters available are mostly trasu due to the FDA's molasses-like approval speed.
For normal/combo/oily skin:
La Roche-Posay Anthelios Xl Ultra Light Fluid Spf 50+
One of my HG outdoors sunscreen, I wore this during my summer trip to Asia (think 90°F/33°C+ heat and lots of humidity), and it kept me from burning and tanning. It has a medium-weight milky texture that's easy to apply on the skin and leaves a dewy finish. It reminds me a bit of the moisturizing Japanese sunscreens, but with a whopping PPD42 (vs. PA++++ is just PPD16+)!
I wouldn't use a face oil before this as it could lead to pilling. But otherwise it layers very well under makeup and has no white cast. Do NOT buy the US version, they're not the same!
$20 – $23 on eBay →
For normal/dry skin:
La Roche-Posay Anthelios XL Cream Comfort SPF50+
True to its name, it feels like a rich cream when applied, but spreads easily to ensure even coverage. I actually used this during my Taiwan trip this spring, and despite the humid 85°F weather, this did not feel heavy or sticky on my face. Unlike the Ultra Light Fluid, this doesn't pill at all, and it works just as well under makeup. However, I do notice a slight white cast, but nothing foundation or a bit of bronzer can't handle.
With a PPD39 rating, it also ranked in the top tier of overall sun protection in Dr. Chiu's sunscreen test!
← $25 on eBay
For the body or reapplying:
La Roche-Posay Anthelios XL Invisible Mist SPF50+
The key with using mists is that after spraying it liberally on your body, make sure you massage and pat the sunscreen into your skin so it's evenly distributed! I've tried several mists and they all have the same texture and application experience, so the LRP wins for having the great ingredients on top of everything else.
I used this during my Europe trip 2 summers ago, and even after spending a sunny afternoon on a boat in Barcelona I didn't tan or burn.
$21-$22 on eBay →
Clearly I'm partial to the La Roche-Posay Anthelios XL range, and that's due to its inclusion of 2 patents powerhouse filters: Mexoryl XS and Mexoryl XL.
What's so amazing about Mexoryl?
Both are photostable, which means they don't degrade in the sun like Avobenzone, and they protect against the entire UVA spectrum (and then some) from 290 to 400nm. One is water soluble and the other is oil soluble, and together they create synergy to enhance their UV protection. Dr. Darrell Rigel, a clinical professor of Dermatology at New York University called it "the number 1 ingredient in terms of protection from UVA radiation".
Despite the inclusion of fragrance, La Roche-Posay products are suitable for sensitive skin and I wore the Cream Comfort post-laser surgery with my doctor's approval and no irritations whatsoever.
Other well-rated outdoor sunscreens:

When you're spending all day in a big city…
In addition to UV rays, air pollution might be a major concern. Studies have found that these airborne particles can damage to your skin in the long run, with similar outcomes as sun damage: discoloration, inflammation, and lines + wrinkles. Yikes. A lot of products are now coming out with anti-pollution features, so why not use a sunscreen that does both?
For dry/normal/combo skin:
La Roche-Posay UVIdea XL Melt-in Cream SPF50
This feels similar to the comfort cream in texture, albeit a bit lighter. If you have oilier skin, you can skip your moisturizers and just use this instead as it does contain hydrating ingredients. I used this while in Taiwan (alternating between this and the cream comfort) due to the poor air quality in Taipei, and all I can say is that my skin didn't react to the sun or pollution. Layers well under makeup and no issues with pilling.
This comes in several versions: original, tinted, bb cream, and tone up. Do NOT get the tone up version, which I made the mistake of doing, as it gives an insane white cast. You'd have to be as pale as a sheet for it to pull it off.
← $36.99 on eBay
If you own an anti-pollution mist, you can simply layer that under or over your regular sunscreen for the extra protection. One that I like using is the Alba1913 Metropolitan Skin Guard Mist* which smells amazing and feels refreshing on the skin. Read my full Alba1913 brand review if you want to learn more!
If you don't own any anti-pollution mists or are too lazy to add that extra step, here are a few more anti-pollution sunscreen worth checking out:

For everyday life when you're mostly indoors….
…other than the few hours outdoors commuting, running errands, getting a meal, or whatever it is you may be doing. For days like these we don't need something as strong , which means we have more options:
For normal/combo/oily skin:
Biore UV Aqua Rich Watery Essence Spf 50+ (or any Japanaese sunscreen)
With their super light texture, excellent UVA protection, affordable prices, and plethora of options, you can't go wrong with one of the more popular Japanese sunscreens. I've tried a lot and my personal favorite is still this one because it literally feels like nothing on the skin and layers well under makeup.
It does contain alcohol, but since I apply sunscreen after a moisturizer (which acts as a buffer between my skin and the sunscreen) it has never dried me out or irritated my skin. Now I'd never use this if I knew I'd be out all day, and people have complained about tanning (UVA damage) with this. But if you're mostly indoors, it's a great option.
For all skin types that want an extra tint:
Peter Thomas Roth Max Mineral SPF45*
I reviewed this briefly on Instagram but I'll say it again, for a mineral sunscreen this is fantastic. 19.24% zinc provides great UVB + UVA protection for daily use, and it contains a few antioxidants to help further protect your skin. I also really love the tint, it blends seamlessly with my skin tone while blurring imperfections, allowing me to skip foundation completely. It's not heavy, oily, or uncomfortable in anyway, and might actually be my favorite texture-wise out of all 7 sunscreens on this list.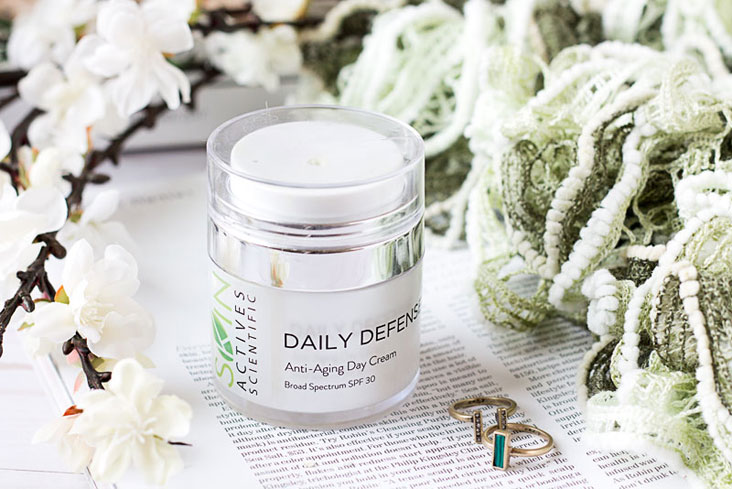 For all skin types that want a moisturizer + spf in one:
Skin Actives Daily Defense Anti-Aging Day Cream SPF30*
I reviewed this in detail a while back, but this is an extremely well formulated 2-in-1 product with great ingredients. Antioxidants to protect your skin, emollients to moisturize, and 18% zinc oxide to protect against UV rays. The cream is on the richer side so oily or even combo skin in the summer might not like the texture as much, but dry/normal skin will appreciate the convenience of using one less product in the morning.
← $59 on Skin Actives
Other great everyday options:

Or if you're curious, my ultimate sunscreen guide has the top 7 sunscreens with the most comprehensive UV protection, which includes the La Roche-Posay Cream Comfort. I haven't tried the rest yet because sadly none of them are readily available in the US, thanks to the FDA's reluctance to approve new sunscreen filters.
So even if you don't buy any of the sunscreens listed here, I still recommend European or Asian brands because you'll get superior formula and ingredient. The issue with US sunscreens is that there's no required rating for UVA protection, and as long as the filters cover both the UVB and UVA spectrum, it can be labeled as "broad spectrum". An EWG analysis of 446 outdoor sunscreens found that ~66% of them didn't have enough UVA protection (shocker), and because you don't burn from UVA rays, you'd never know until years later when it's too late.
Sunscreens that pass the test
When in doubt, check the sunscreen filters. You want to see a good mix of UVB and UVA filters, and in the case of mineral sunscreens, look for at least 15% zinc oxide. Titanium dioxide is trash in my books as it's mostly a UVB filter and is responsible for the atrocious white cast. Need a breakdown of all the common sunscreen filters? I've got you covered.
Whether you plan to spend your summer by the beach or in the city, hopefully one of these sunscreens will keep your skin healthy and safe. Please don't go and buy them all, because no one needs 7 sunscreens. At most you just need 2 sunscreens, one for outdoor and one for daily use, which can be one with anti-pollution filters if you live in the city. If you have any awesome sunscreens you recommend, please let me know in the comments below!