For as long as I've been a proponent of SPF, I've been partial to the more elegant texture of chemical sunscreens, particularly those from Asian brands. So for the first time in…10+ years, I'm using a Western brand physical sunscreen – the Skin Actives Daily Defense Anti-Aging Day Cream with SPF30 (what a mouthful) – and ready to share my thoughts on it.
What is it

In case the name wasn't obvious enough, it's an anti-aging day cream with 18% zinc oxide to provide broad spectrum UVA/UVB protection.

How I use it

As my am moisturizer + sunscreen on days when I'll mostly be indoors.

Best suited for

Those who prefer a simpler routine and don't mind the initial white cast. Also great for those who find chemical sunscreens irritating.

Packaging

An elegant and hygienic airless pump jar that dispenses the perfect amount each time. All moisturizers should come like this!

Scent

None

Texture

A bit runny like a lotion, but has the emollience and richness of a medium weight cream.

Finish

Shiny with initial white cast. The shine can be minimized with powder, and the whiteness goes away after a few minutes

Available At

Skin Actives – $35.40 for 1.7 fl oz
What's a physical sunscreen?
For an in-depth guide to all things sunscreen and an introduction to the different filter filters, I highly recommend reading my ultimate sunscreen guide (shameless plug). But in a nutshell:
Physical filters work by reflecting UVA and absorbing UVB, while chemical filters absorb both UVA and UVB (source).
Despite some claims floating around the Internet, chemical filters do not need to be absorbed into our skin to be effective. All filters work at the top layer of our skin, though depending the on the formula of the sunscreen and filters used, some chemical ones can be absorbed into the skin and cause sensitivities or other issues. That's why physical filters like zinc and titanium dioxide are typically recommended for sensitive skin, but the downside is that they have a heavier texture and leave a white cast.
Not all physical sunscreens are icky
With a whopping 18% zinc oxide (a physical filter that offers broad spectrum UVA + UVB protection) and my past experience with Skin Actives moisturizers, I had my reservations about this one. But boy I was pleasantly surprised! While it's by no means a light moisturizer, it wasn't at all thick or difficult to spread. Even as a moisturizer without SPF, it's a solid product, especially considering its key ingredients:
Protein Solution with Glutaredoxin (GRX), Thioredoxin (TRX), and Superoxide Dismutase (SOD) – all 3 are antioxidants, and Skin Actives holds the patent for using this blend in the treatment and/or prevention of UV damage
Sea Kelp Bioferment – an oil-free moisturizer that keeps the skin hydrated by forming a protective film over it (source)
Porphyridium Polysaccharide – studies show this could help improve the skin's barrier and overall texture + appearance (source)
Fucoxanthin – an antioxidant from brown algae that can protect against UVB rays (source)
Astaxanthin – a powerful antioxidant which can accelerate the skin's healing potentials (source)
Cholesterol derivatives – specifically Cholesteryl Oleyl Carbonate, Cholesteryl Nonanoate, and Cholesteryl Chloride which function as emollients and replenish the lipids in our skin
Pomegranate Seed Oil – helps nourish and regenerate the skin. It also contains 66% punic acid, which itself has anti-inflammatory and antioxidant properties (source)
Vitamin E – a potent antioxidant. The forms included are tocotrienols and tocopherols.
Lycopene – another antioxidant that protects against UVB photodamage (source). Are you starting to see a pattern?
Xanthophyll – aka lutein, a potent antioxidant that can also increase the skin's hydration levels and absorb harmful(?) blue lights (source)
R-Alpha Lipoic Acid – yet another antioxidant that can improve skin texture and improve signs of photodamage (source)
Beta-Carotene – I'll give you one guess. Yep, it's an antioxidant too, and converts to retinyl esters in the skin, making it a precursor of vitamin a (source)
Ferulic Acid – an antioxidant that can not only protects against UV rays, but also increases the protection abilities of vitamin e (source).
Mangiferin – an antioxidant found in mango trees that can protect against UV rays (source)
Sodium PCA – found naturally in our skin, it helps keep our skin retain moisture and stay hydrated.
View full ingredient list here.
As you can see Skin Actives specifically chose antioxidants that would work in synergy to provide additional UV protection (albeit mostly UVB). Their dedication to using research-proven ingredients is something I've always admired about the brand, and while in the past the texture of their products have been mediocre, I think they did a great job this time considering it's a physical sunscreen + moisturizer in one. Of course they also included a lot of different emollients and emulsifiers, but nothing that raises any red flags. There is also alcohol in here, but it's so far down the list that it shouldn't be a concern for most people.
One minor complaint: I wish they included some form of vitamin c in here, considering its UV protection abilities, not to mention a gold standard when it comes to antioxidants. I'm guess it's because Skin Actives already has 2 serums containing vitamin c, so they figured you could just layer that (or really any vitamin c serum) underneath this cream. But still, it would've been a nice addition.
Great ingredients aside, this cream still leaves a white cast and shiny finish when you use the full amount on your face. On the bright side, the white cast does help me see if I've applied the product evenly, so it's not a total loss. While it layers ok under makeup, I still prefer to wear this on days when I'll be makeup free (ie. weekdays when I work from home).
After using this for the past several months, I haven't noticed any darkening of my skin, sunspots, or any adverse reactions in general, suggesting it performs just as well as my past moisturizers and sunscreens but in one convenient step. I've also noticed that while my chemical sunscreens can really irritate my eyes when they gets in (I'm talking tears-inducing-want-to-rub-my-eyes out irritating), this one does not. The shiny finish isn't ideal, but nothing some powdering can't fix, so overall there really were no deal breakers for me.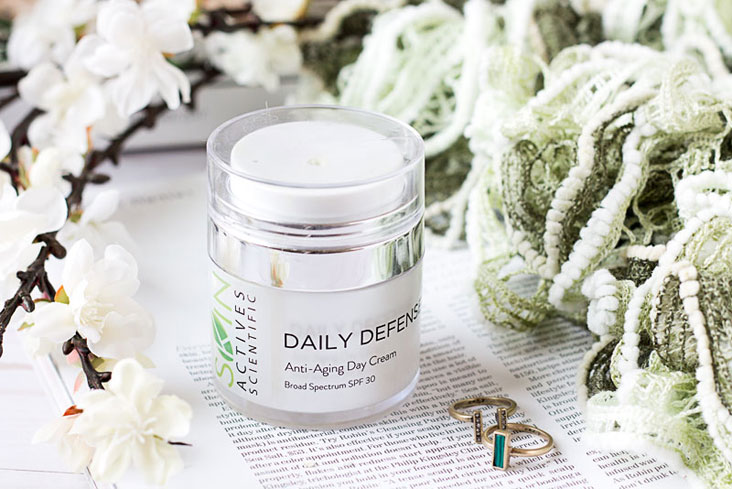 However that's not to say everyone will love the Skin Actives Daily Defense Anti-Aging Cream with SPF30. If you already have a go-to moisturizer, if you're going to be outdoors a lot, if you have oily skin, or if you need a clear finish for makeup application, this isn't for you. But if you want to simplify your morning routine, prefer the gentleness of zinc oxide over chemical SPF filters, or just need a good SPF for everyday use, this is an option worth considering.
Packaging
Ingredients
Texture/Application
Performance
Price
This really grew on me the more I used it, and would definitely have been included in my top 5 picks of Skin Actives products post if it was released back then! While I won't repurchase this immediately as there are other sunscreens and moisturizers I'd like to try, I'd be more than happy to add this back to my routine in the future. It also gives me hope that not all physical sunscreens are heavy, and I'd definitely be open to trying other zinc oxide based products moving forward.
I hope you found this review helpful, and let me know if there are any physical sunscreens you enjoy as this one has definitely converted me to a zinc oxide fan!