Last updated on September 7th, 2020
If you have dry or easily irritated skin, you need the La Roche-Posay Cicaplast Baume B5 in your stash. Its 5% panthenol + madecassoside combo does wonders at soothing + repairing skin!
What is it

A rich cream with 5% panthenol (vitamin B5) and madecassoside to help soothe and repair severely irritated skin.

How I use it

I lather it on whenever my skin is feeling like hell

Best suited for

All levels of irritated skin

Key ingredients

Panthenol – A humectant that helps attract and retain moisture on the skin, studies have shown that it also exhibits anti-inflammatory and soothing properties when regularly used over a period of time.
Madecassoside – One of the main compounds found in centella asiatica, its anti-inflammatory properties not only soothe the skin but can help promote the healing process. Studies also suggest that it can reverse the signs of sun damage when used with vitamin C (source)
Shea butter – An excellent emmolient that helps nourish and moisturize our skin, studies also show that certain compounds in shea butter have great anti-inflammatory properties (source)
Zinc + Copper + Maganese – There aren't many studies on the topical effect of applying these minerals, but the few available do show that they're beneficial to our overall skin health (source). NA

Irritants

None, it's free of parabens, alcohol, common comedogens, and fragrances.

Packaging

A nice hygienic tube that's actually easy to squeeze.

Scent

None

Texture

A rich cream that is somehow very easy to spread. Doesn't feel heavy or thick at all.

Finish

Shiny and leaves a slight white cast. Skin feels soft and soothed.

Size & Price

$14.99 for 1.35oz

Where to buy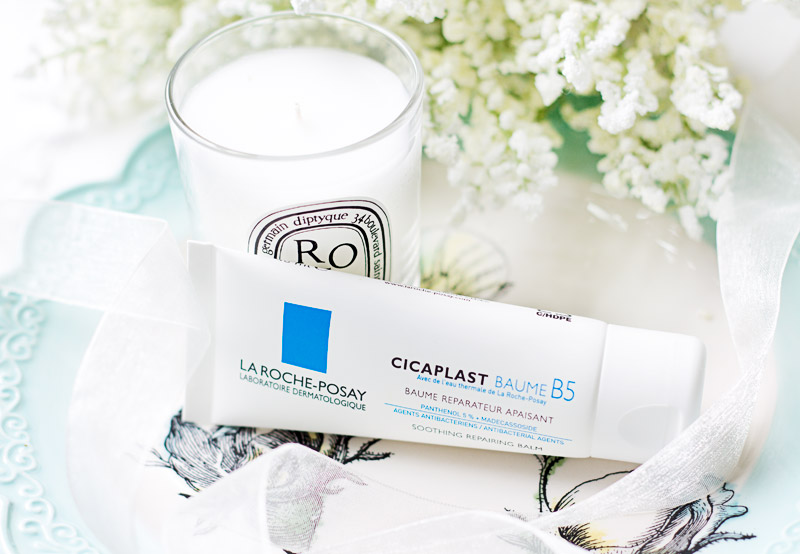 Remember when I mentioned in my LRP Double Repair Moisturizer review that there were better options for sensitive/irritated skin within the brand? Well this is that better option, because the Cicaplast Baume B5 Soothing Repair Balm is what will actually help with your skin's healing process. Unlike the Double Repair, this one contains absolutely no irritants and a good amount of skin-soothing and repairing ingredients to actually do its job. And boy does it get its job done.
I had an unfortunate experience testing out some Origins a few weeks ago, and something in those products made my entire face burn and get all splotchy. I was miserable…until I slathered on this cream. Not only did it not irritate my skin at all (pretty much everything including water burned at this point), but my skin felt instantly calmed. The next morning the redness had gotten better (though not completely gone) and my skin no longer burned. It was then that I knew I'd always need this balm in my stash and when I traveled.
Even though it's called a balm, it feels more like a rich cream, yet it's not thick at all and is very easy to spread. It's very nourishing and makes my skin feel buttery soft, but it also leaves my skin shiny and with white cast. Personally I'm ok with it, as the white cast is very minimal and actually has a brightening effect (makes for a great makeup primer too!), but those who don't like the finish should use the cream at night.
La Roche-Posay Cicaplast Baume B5
Packaging

Ingredients

Texture/Application

Performance

Price
I was surprised by how much I enjoyed using this product. I thought the rich texture would be off putting, but it was exactly what my irritated and damaged skin needed. Whether you suffer from occasional irritations or sensitive + dry skin year round, this is an excellent product to have in your stash, and I've already purchased a backup, just in case.
Thank you so much for reading, and if you have any questions (or comments) about this product let me know, I'd be happy to answer them for you! Otherwise enjoy the rest of your week and I'll be back with more posts once I return from my trip!
Did you enjoy this post?
I share first impressions, product comparisons, and more skincare tips regularly on Instagram! Learn about products first and get a bonus dose of daily fluff! 😸
Follow Now