If you have dry or sensitive skin, you need this product in your stash. Don't dismiss its simple tube packaging, it's seriously incredible at soothing all kinds of redness and irritations!
Overview
What is it
This multi-purpose soothing cream for cracked, chapped, chafed skin and dry skin irritations helps to hydrate and soothe. Non-greasy, skin protectant helps to protect & relieve dry, rough skin.
Best suited for
All types of irritated skin, even babies' skin. Oily skin might find the texture too heavy
Things to note
It's fragrance and alcohol-free, as soothing products should be!
Packaging
A plastic tube that's easy to squeeze. May need to cut the tube to get the last bits out.
Scent
Has a very faint sour smell due from the ingredients themselves, but it's not noticeable unless you put your nose right into the cream.
Texture
Rich but very easy to spread. Doesn't feel heavy or thick at all for my dry skin.
Finish
Lots of initial shine and a slight white cast. I'll either wait for the product to absorb or powder to minimize the shine. White cast goes away after a bit. Skin feels soft and soothed.
Where to buy
$14.99 for 1.35oz at Amazon, SkinStore (25% off with code JENNY) Dermstore (15% off with code JENNY), CultBeauty, Adore Beauty, Ulta, Target, CVS (wait for their 30% of all beauty sales!)
Cicaplast Balm B5 Ingredients
Panthenol – A humectant that helps attract and retain moisture on the skin, studies have shown that it also exhibits anti-inflammatory and soothing properties when regularly used over a period of time.
Madecassoside – One of the main compounds found in centella asiatica. Its anti-inflammatory properties not only soothe the skin but can help promote the healing process. Studies also suggest that it can reverse the signs of sun damage when used with vitamin C.
Shea butter – An excellent emollient that helps nourish and moisturize our skin, studies also show that certain compounds in shea butter have great anti-inflammatory properties.
Zinc Gluconate – It has antibacterial and sebum regulating properties which makes the Cicaplast Baume B5 a nice option for acne-prone skin dealing with inflammations. It's also been shown to have nice wound-healing abilities.
Copper Gluconate – Another mineral that's been shown to have wound healing abilities, especially when paired together with Zinc Gluconate since they work during different phases of the skin repairing process. It can also help with cellular regeneration!
Manganese Gluconate – The third of the mineral trio that's been studied for its wound healing benefits. There aren't too many other studies on the topical effect of applying these, but the few available do show that they're beneficial to our overall skin health.
Other moisturizing ingredients: Glycerin, Butylene Glycol, and Propanediol
Other emollients: Dimethicone
Full ingredient list:

Water, Hydrogenated Polyisobutene, Dimethicone (1%), Glycerin, Shea Butter, Panthenol, Aluminum Starch Octenylsuccinate, Butylene Glycol, Propanediol, Cetyl PEG/​PPG-10/​1 Dimethicone, Trihydroxystearin, Zinc Gluconate, Madecassoside, Manganese Gluconate, Silica, Aluminum Hydroxide, Magnesium Sulfate, Disodium EDTA, Copper Gluconate, Citric Acid, Acetylated Glycol Stearate, Polyglyceryl-4 Isostearate, Tocopherol, Pentaerythrityl Tetra-Di-T-Butyl Hydroxyhydrocinnamate, Sodium Benzoate, Phenoxyethanol, Chlorhexidine Digluconate, Titanium Dioxide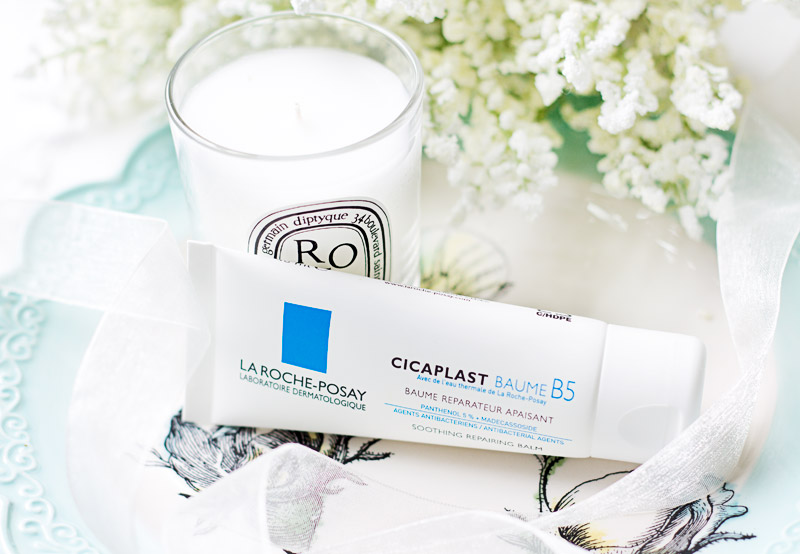 How to use the Cicaplast Balm B5
Make sure to cleanse the area first, and dry your skin.
As part of your skincare routine, use it during your moisturizer step after your actives and serums.
Use a pea sized amount for your face when using in the morning, or for irritation relief, apply a generous layer to use this as a sleeping mask.
As a spot treatment, dab a light layer on clean and bare skin.
If using in the morning, wait for the balm to absorb before applying sunscreen.
Notes
If you find the finish too dewy, wait a minute and then set with powder or remove excess oil with a blotting paper.
Usage Experience & Results
Remember when I mentioned in my LRP Double Repair Moisturizer review that there were better options for sensitive/irritated skin within the brand? Well this is that better option, because the Cicaplast Balm B5 Soothing Repair Balm is what will actually help with your skin's healing process.
Unlike the Double Repair, this one contains absolutely no irritants and a good amount of skin-soothing and repairing ingredients to actually do its job. And boy does it get its job done.
I had an unfortunate experience testing out some Origins products a few weeks ago, and something in them made my entire face burn and get all splotchy. I was miserable…until I slathered on this cream.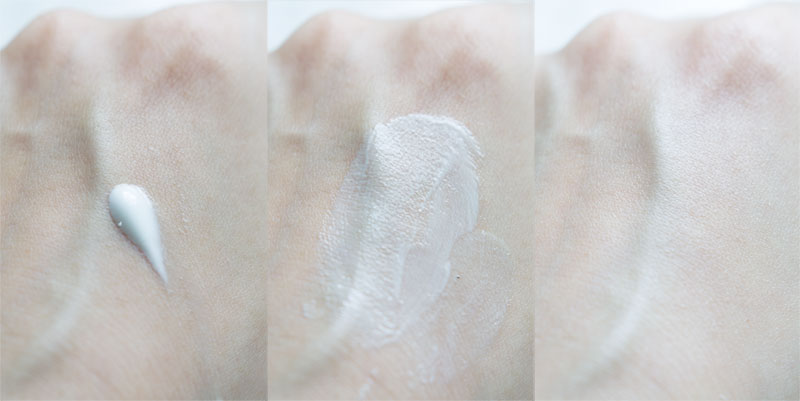 Not only did it not irritate my skin any further (pretty much everything including water burned at this point), but my skin felt instantly calmed. The next morning the redness had gotten better (though not completely gone) and my skin no longer burned.
Now the Cicaplast Balm B5 is staple in my routine:
Over exfoliated? Use Cicaplast.
Using tretinoin or a really strong retinol? Use Cicaplast.
Got a rash on my arm? Use Cicaplast.
Whenever my skin is feeling red, itchy, or just off, nothing soothes my skin and makes it feel better the next morning like Cicaplast.
Even though it's called a balm, it feels more like a rich cream, yet it's not thick at all and is very easy to spread. It's very nourishing and makes my skin feel buttery soft, but it does leave my skin shiny and with a slight white cast.
Personally I'm ok with it, as the white cast is minimal, but those who don't like the finish should use the cream at night.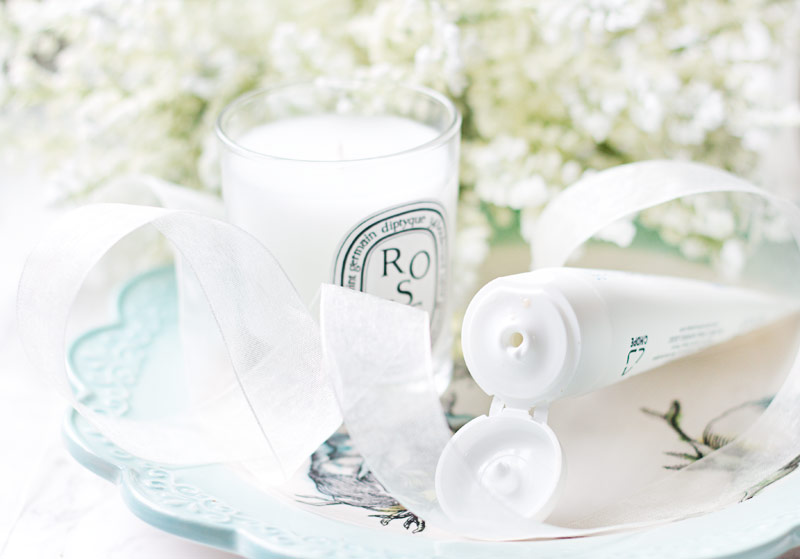 What Others Say
I've struggled on for 8+ yrs with sensitized skin, Rosacea and flare-ups of Perioral Dermatitis. My skin had poor resilience. Now? I wear a mask for 10 hrs a day in the med field, with gorgeous skin! This balm is now my MUST-HAVE. I have not had a PD flare-up since using this in my routine.

CYJ, combination skin
Because of this product, my skin barrier has quickly bounced back within a couple days. I slather it on at night, and wake up with softer skin- no dryness, no flakiness. The only thing to note is that it is a thicker formula and you don't need a lot.

Anonymous, Dermstore review
I know people rave about this and swear by it, and it does have a great ingredient line-up, but it broke my sensitive acne-prone skin out pretty badly and I suspect the shea butter or some other ingredient happened to clog my pores.

Lily, sensitive skin, Dermstore review
Cicaplast Balm B5 Compared
There are a lot of products out there that claim to soothe or repair the skin, but then contain ingredients that could potentially irritate the skin further! Let's take a look at a few of them:
Klairs Midnight Blue Calming Cream – I loved this before discovering the Cicaplast Balm B5 and in its defense it does have some nice soothing ingredients. But it also features several essential oils, albeit near the end. The Klairs is also not very moisturizing when used alone, though oily skin may prefer the finish.
SKIN&LAB Barrierderm Repair Balm – Now this one is fragrance/essential oil free and it's quite occlusive, but it doesn't have the same skin-repairing abilities as the Cicaplast. It's also a thicker balm and I personally find the texture uncomfortable on my skin.
v
Rovectin Barrier Repair Cream Concentrate – A thicker cream with some good barrier repair ingredients like ceramides and fatty acids, but unfortunately contains rose essential oil. I found this moisturizing, but not very soothing.
First Aid Beauty Ultra Repair Moisturizer – Despite the name it actually has a light almost fluffy texture that feels comfortable on the skin! It features colloidal oatmeal for their skin soothing benefits, but I still find the Cicaplast to be more effective overall.
Dr. Jart+ Ceramidin Moisturizing Cream – In terms of function this will be similar to the Rovectin in that it supports a healthier barrier but isn't great at actually soothing irritated skin. If anything my skin burned when using this one!
Curious how other moisturizers compare? I've reviewed 38 different ones and here are the best picks for dry and mature skin!
Final Verdict
Packaging

Ingredients

Texture/Application

Performance

Price
I was surprised by how much I enjoyed using this product. I thought the rich texture would be off putting, but it was exactly what my irritated and damaged skin needed. Whether you suffer from occasional irritations or sensitive + dry skin year round, this is an excellent product to have in your stash, and I've already purchased a backup, just in case.
FAQs
Can I use Cicaplast on my face everyday?

Yes! The ingredients are super gentle on the skin and can help strengthen your skin's natural barrier. I actually bring this with me on vacation as my main moisturizer and my skin always has that extra glow.

Can you use Cicaplast around eyes?

Since there are no irritating ingredients in the formula, it should be safe to use around the eyes. If you have oily skin start with a layer so you don't get milia.

Is the Cicaplast safe to use while pregnant or breastfeeding?

It doesn't contain any of the known problematic ingredients and is safe to use while pregnant or breastfeeding, but always check with your healthcare provider if you have concerns.

Does the Cicaplast Balm B5 clog your pores?

None of the ingredients in Cicaplast are comedogenic, but it's important that this product is applied on cleansed skin to avoid trapping in any dirt or bacteria in your pores.
Article Sources
To keep my content accurate and trustworthy, I rely on peer-reviewed studies, articles from reputable academic institutions, and quotes from certified healthcare professionals to back my claims. No woo-woo clickbait nonsense here!