Originally posted on July 18th, 2018
If you follow me on Instagram, you'll know that 2 months ago I underwent my first ever facial procedure – the PicoWay laser treatment –  to remove my dark spot once and for all. Was it painful? Was it worth it? I'm sharing all the details today in my review, so read on if you're curious!
PicoWay is latest generation of resurfacing lasers that addresses discoloration, fine lines, pores, dullness, and a variety of skin issues. It basically forces collagen regeneration by "damaging" the skin, hence the resurfacing effect. You can read more on the official PicoWay site, but here's a quick comparison of the PicoWay laser vs. traditional laser treatments:
Picoway Laser
✓
Super-short picosecond pulse duration
✓
Uses a photoacoustic effect to "damage" the skin
✓
No visible damage on surface level
✓
No downtime, just a few hours of redness
✓
Very low chance of post-treatment hyperpigmentation
✓
Requires fewer treatments to see results
Traditional Lasers
Slightly longer nanosecond pulse duration
Uses mostly heat to "damage" the skin
Pain level: 7+
Visible skin damage
5-7 days of downtime, longer if there's bleeding
Higher chance of post-treatment hyperpigmentation
Requires more treatments to see results
In case you're not convinced yet, Chinese actress Fan Bingbing specifically traveled to Taipei to get the PicoWay laser treatment (source). Now you know the secrets to her porcelain skin ????
My PicoWay experience at Excelsior Beauty Clinic
There are a ton of plastic surgery clinics in Taipei and most of them offer PicoWay lasers, but Excelsior Beauty Clinic stood out with their consistently positive reviews: pain free procedure with no downtime and excellent results. Yes, despite the generally low pain levels of PicoWay lasers, other clinics' patients have complained about it hurting or even bleeding, and I am not for that. Plus Excelsior is staffed with some of the best dermatologists and plastic surgeons in the field, with 5 branches in Taiwan and one in Shanghai. Clearly they're doing something right, right?
Also let's appreciate the bright and plush interiors of the clinic, because lbr, no one wants to get their face laser beamed in some old dingy room. There's also a clinic tour in my Instagram story highlights in case you missed the live posts!
I had a consultation with Dr. Chen right before the procedure, and she confirmed that PicoWay is able to remove my sun spots with just one treatment, plus improve my overall skin tone and texture. BUT:
Most of my discolorations are actually caused by genetics, and those require 8-9 consecutive treatments to fully remove. Attempting to remove them in just a single treatment can actually cause them to darken (something about how the laser shatters the pigmentation in the deeper layers of the skin, causing them to move closer to the surface and appear darker).
The spot removals are permanent, but the overall skin improvements aren't. Dr. Chen actually told me they'd only last 30 days, and it blew my mind, though it makes sense if you think about our skin cell turnover cycle. But, by sticking to a suitable skincare routine and healthy lifestyle, you can still maintain a good % of the results. More on that later.
Now onto the PicoWay laser procedure itself…that lasted about 10 minutes total. Dr. Chen did my entire face once, followed with targeted treatment for my pores, and then finally treating my sun spots. I was a nervous wreck the entire time, thinking it'd start hurting any second, but it never did. I could hear the zapping, but I felt nothing (leaving the topical numbing cream on for 20 minutes helped, haha). But the smell. My god the smell was awful. It smelled like burnt hair, or I guess burnt skin really, and it was definitely the worst part of the procedure.
Once the procedure was done, my skin was as red as a tomato and it looked like I was attacked by a swarm of bees. The nurse immediately applied a cooling gel mask to soothe the skin, which helped tremendously with the redness. The only parts that remained red were the areas around those sun spots, which Dr. Chen specifically targeted. Luckily they gave me a surgical mask to wear, and I was off to Costco (they sell these delicious dried noodles in Taiwan, and I hauled 2 cases back to the US) then dinner with my family. See? No downtime at all.
The last bit of redness subsided after 2 hours and by the time I got home around 9pm my skin was back to normal, except for the scabs that formed where my sun spots used to be. Dr. Chen said this was normal, and that the scabs will naturally fall off after 1-2 weeks, revealing clear skin underneath. The clinic also provided an anti-redness/itch cream in case the scabs bothered me, but I never had to use it.
Procedure total cost: $12999 TWD, which is about $424.26 USD. There are clinics that do it for as low as $130, but reviews from those clinics have been mixed. I'd rather pay more to see results than take the chance of throwing money down the drain.
My PicoWay laser results
You can see the scabs still there on Day 3 (05/13), but otherwise my skin was visibly brighter and my pores and fine lines were pretty much non-existent. My scabs actually fell off after a week, and that week (last pic in the highlight) was the best my skin has been in years. By the 1-month mark (06/07) my skin was still looking pretty good, though disclaimer: I'm wearing the tinted Peter Thomas Roth Max Mineral SPF45 in this photo. It's been my daily sunscreen so I completely forgot about the tint factor when I took the picture ????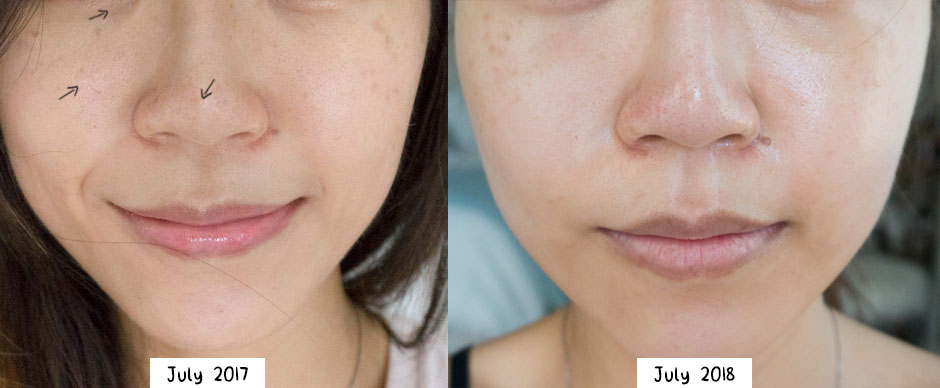 Fast forward to the present. It's been 2+ months since the treatment, and I will say my pores are more noticeable and my skin isn't as translucent anymore. But if you compare the present to my skin from last July, the improvements are still there:
The fine lines around my eyes are gone. Granted using an eye cream daily helps, but PicoWay made the biggest difference for sure.
My pores are still in better condition than before. Ignore the shiny right side, but compare the left matte side, and you'll notice the texture more in the before pic.
The spots are gone! What's left are due to genetics, and even those faded a bit. I might consider doing a series of treatments one day to get rid of those as well.
Despite its claims, the PicoWay laser is not a miracle treatment for all your skincare woes, or at least not a permanent one, unless it's UV-induced dark spots. However, depending on your skin condition, PicoWay laser can significantly improve your overall skin appearance and texture. I highly recommend finding clinic that offers this and getting a consultation to see what's possible for your situation. Of course, if you're ever in Taipei, definitely stop by Excelsior Beauty Clinic, they are fantastic (especially Dr. Chen)!
Post-laser skincare
Despite the PicoWay laser not leaving any visible damages on the surface level, your skin goes through a lot and you'll want to give it some extra TLC afterwards. It's actually easier than you'd think, and it's just for the 1-2 weeks following your treatment:
Avoid acids and exfoliants. That means no AHAs, BHAs, retinols, ascorbic acid vitamin c, or anything that could irritate your skin.
Avoid extreme heat. No saunas, hot springs, or even hot bathes. Basically you don't want to be in a situation that could potentially dehydrate your skin.
Wear SPF around the clock. I know you wear SPF everyday, but your skin needs sun protection now more than ever, so make sure to reapply every 2 hours!
Stick to gentle, hydrating products.  Take a break from your brightening and anti-aging products, which are typically more sensitizing. Also avoid products with alcohol, fragrances, or any other sensitizers.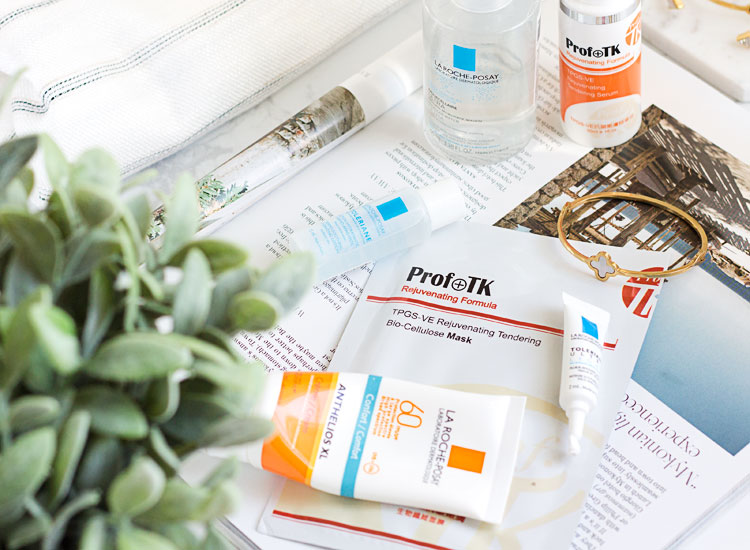 To keep things simple, I stuck to just 3 brands during my post-laser "recovery" phase: La Roche-Posay, Prof.TK/TK Labs, and Tunemakers. Here are the products I used:

After those my scabs fell off I started introducing brightening and non-retinol anti-aging products back in my routine, and after about 2 weeks I added retinol and started gently exfoliating again. I never experienced any side-effects or discomfort during the recovery phase, and I do think all the skin-repairing and fortifying ingredients in the above routine helped make sure I got the most out of my PicoWay laser treatment. If you're thinking about getting any facial treatments, whether it's lasers or peels, I highly recommend all the above products!
I hope you found this guide/review of my PicoWay laser experience helpful, and if you have any questions, feel free to ask in the comments below!