First a disclaimer: you can't actually shrink or close your pores. But before you get mad, what we can do is minimize the appearance of our pores, and that's what this post is about.
After years of complaining about my pores, along with my sebaceous filaments, I've actually managed to make my pores look smaller in the past few months. The star product? The Paula's Choice Niacinamide 20% Treatment.
Quick Summary
A rare pore treatment that doesn't rely on BHA but high % of Niacinamide
Continued use will minimize the appearance of sagging pores due to aging and photodamage!
Visible pores due to build up or overproduction of sebum will see better results with a BHA product.
Overview
What is it
A highly concentrated niacinamide (vitamin B3) serum that effectively tightens and minimizes the look of sagging pores and rough bumps caused by age or sun damage.
Best suited for
Mature skin types with stretched or sagging pores due to collagen loss. You'll notice that your pore is shaped more like a tear drop rather than a circle.
Things to note
This is alcohol, silicone, and fragrance-free.
Packaging
An opaque glass dropper.
Scent
None
Texture
Slightly viscous liquid that absorbs quickly into the skin.
Finish
Slight tackiness at first, but goes away after a few seconds. No noticeable shine or mattifying effect.
Where to buy
$48/0.67oz at Paula's Choice, Amazon, and Nordstrom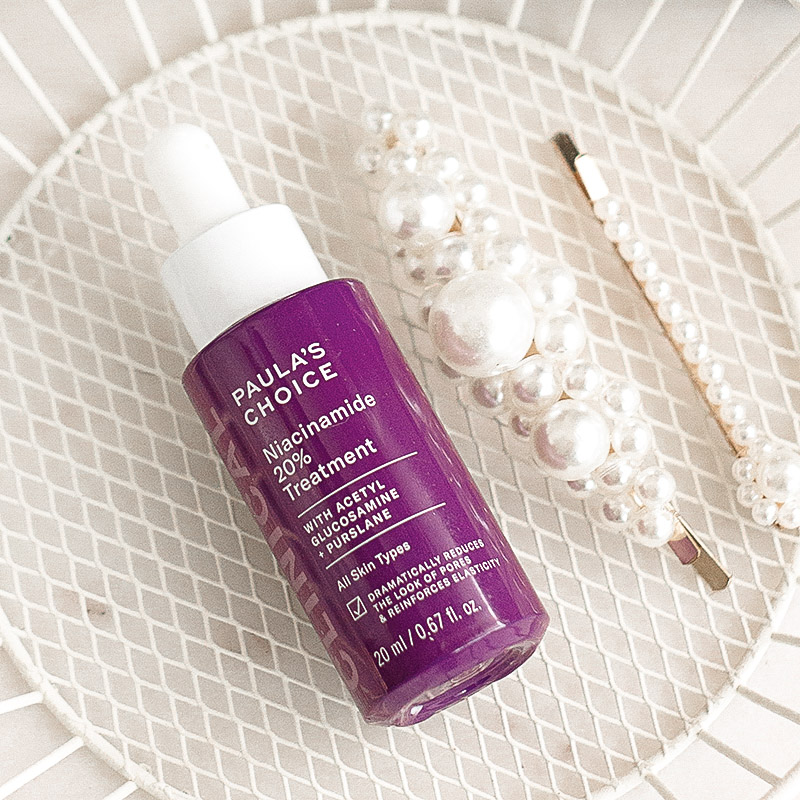 Ingredients Highlight
Let's talk about the glaringly obvious missing ingredient: Salicylic acid, which has always been the gold standard when it comes to pore care. However large pores aren't always hereditary or caused by clogs.
As we get older, we start to lose collagen and structural proteins that help support our skin. With this loss, our skin becomes prone to sagging, kind of like an old rubber band that's lost its elasticity.
Naturally the skin around our pores will suffer the same structural loss, leading to the sagged tear-drop appearance.
Keep in mind collagen loss isn't purely caused by age, another huge factor is sun damage, so wear your sunscreen everyday!
So now that we know what collagen loss does, we can focus on ingredients that increase collagen growth, which Paula's Choice Niacinamide 20% Treatment contains:
20% Niacinamide – A superstar ingredient that brightens, soothes, and most importantly, boost collagen and structural protein production! Most studies done on niacinamide were at a much lower %, so 20 does seem like an overkill.
Acetyl Glucosamine – One of the main constituents of hyaluronic acid, it also provides mild exfoliation benefits and helps brighten the skin when used with niacinamide.
Ascorbyl Glucoside – A vitamin c derivative that has all the benefits of ascorbic acid (incl. collagen boosting!) but without the irritations. It is less researched though but so far the results are promising!
Spiraea ulmaria (meadowsweet) extract – This actually contains salicylic acid derivatives that give it an anti-inflammatory property, plus it has enzymes that can help balance oil production.
Portulaca Oleracea (Purslane) Extract – Another interesting ingredient that contains fatty acids, natural moisturizing factors, and vitamins A (in the form of beta-carotene), C, and E.
Full ingredients

Water, Niacinamide, Pentylene Glycol, Butylene Glycol, Glycerin, Acetyl Glucosamine, Ascorbyl Glucoside, Licorice Root Extract, Meadowsweet Extract, Purslane Extract, Camellia Japonica Flower Extract, Epigallocatechin Gallate, Boerhavia Diffusa Root Extract, Green Tea Leaf Extract, Allantoin, Lecithin, Pullulan, Panthenol, Silica, Xanthan Gum, Sclerotium Gum, Propanediol, Sodium Phytate, Phenoxyethanol, Ethylhexylglycerin
How I use it
In the evenings after the Paula's Choice 2% BHA Liquid Exfoliant*. I find the results are amplified when these products are used together
I'll apply half a dropper focusing on my nose and cheeks where pores are most noticeable, then slowly bring the product to the rest of my face as I massage it in.
Can be used in the morning as well without the BHA Liquid Exfoliant.
My pore results
Initially I used this alone, twice a day for about 2 weeks, but saw no noticeable results. On the plus side my skin was not irritated at all and I noticed slight brightening in skin tone.
Then I started using this together with Paula's Choice 2% BHA Liquid Exfoliant, and that's when I noticed my pores were becoming less noticeable.
Keep in mind I've used the 2% BHA Liquid before (with other niacinamide products too) and while it has helped with pore appearances to a certain extent, it was never this noticeable.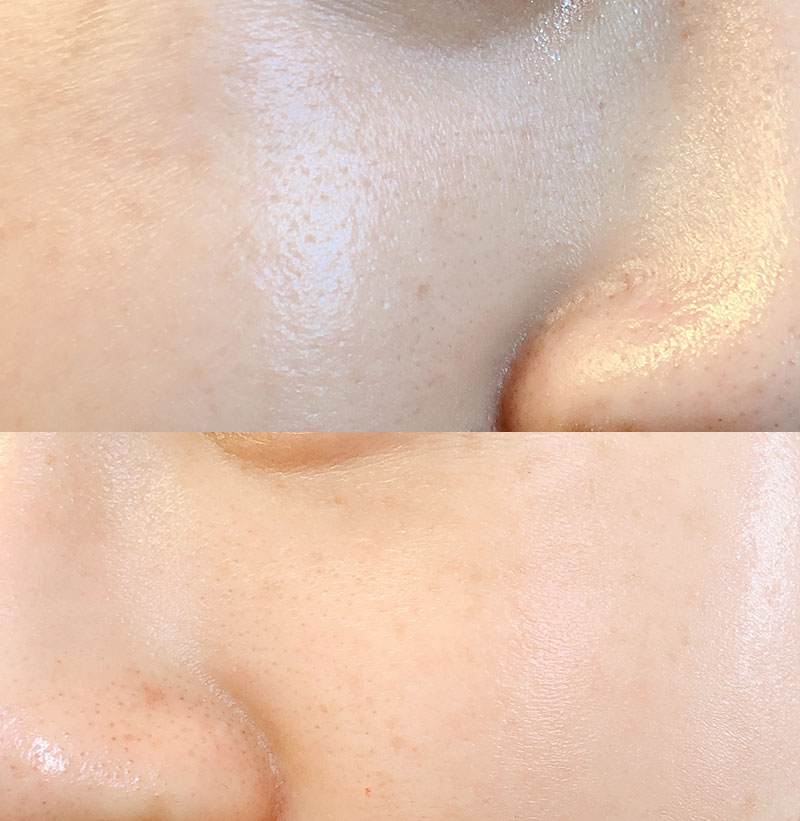 It's crazy but this is probably the best my pores have looked yet, as in you can't really see them anymore unless you're all up in my face.
The results surprised myself, as I've used plenty of niacinamide products before, but this is my first time using it at 20%. While most research show niacinamide to be effective at 10%, that's clearly not the case with my experience.
What I recommend is to start with a lower % and move your way up. It's possible that 10% or even 5% could be effective enough for your skin type!
In addition to these two star products, I've found that layering the following has really improved the overall appearance of my skin:
A gentle retinol product like the Peter Thomas Roth Retinoid Peptide Serum* helps with cell turnover and collagen production. It works wonderfully together with the Niacinamide 20% Treatment to provide overall anti-aging benefits.
A dedicated hydration serum can help plump up and add moisture the skin. If our skin is dehydrated not only can our pores appear bigger, but our fine lines are more noticeable as well.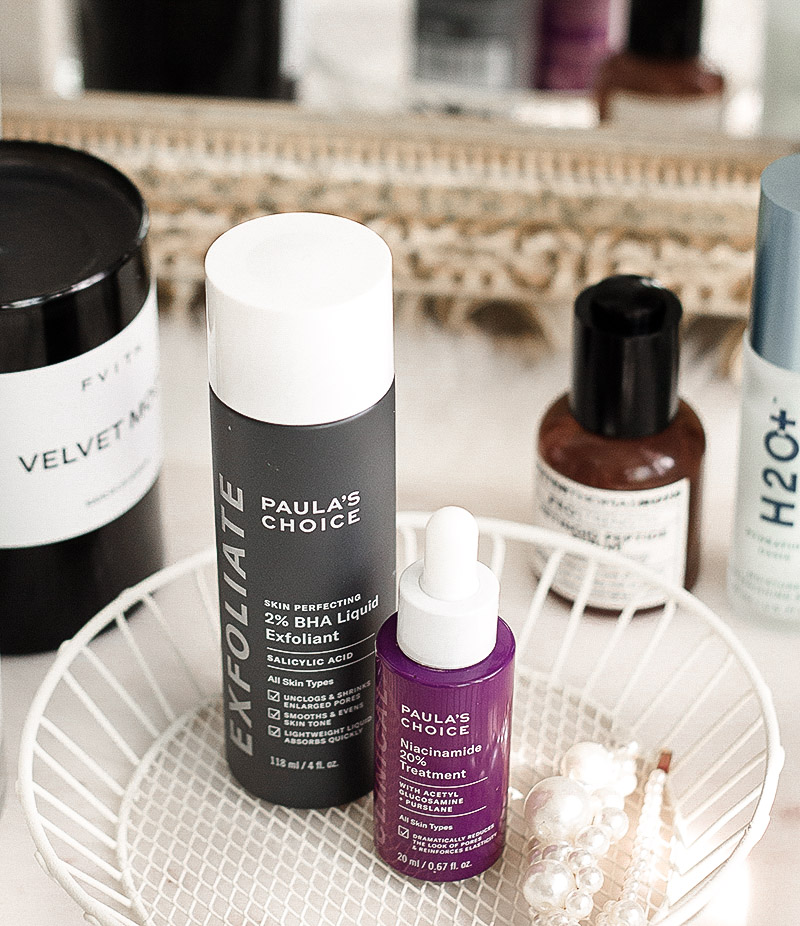 Final Verdict
Packaging
Ingredients
Texture/Application
Performance
Price
I think the results speak for themselves, but keep in mind this was when used together with the BHA liquid. On its own I didn't really notice a difference, but even then I know I'm still getting all the skincare benefits from the excellent formula. Definitely worth the money if you can commit to using both products together in your routine!