One of my most popular posts on here has been my Curology review, so I think it's only fair that I disclose that it's no longer the only retinoid product in my routine. Enter the Peter Thomas Roth Pro Strength Retinoid Peptide Serum.
Why I stopped focusing on Curology
Since my 2016 post, I've gone through at least another 10 bottles of Curology with the tretinoin + azelaic acid + niacinamide formula. While I haven't noticed any further fading of my dark spots, it's helped keep my fine lines at bay.
However it also required me to layer on lots of hydration and emollients to prevent drying out my skin. I had to be super careful with introducing any form of exfoliation to my routine, making sure I allowed for days off in between to not damage my barrier.
I have no doubts about the efficacy of the Curology formula, but my skin simply can't tolerate using it every single day.
That's when I discovered a new form of retinol – granactive retinoid, in the Peter Thomas Roth Pro Strength Retinoid Peptide Serum*.
What is granactive retinoid?
Aka Hydroxypinacolone Retinoate, this is a retinoic acid ester that works similarly to retinoic acid/tretinoin in that it can bind directly with the retinoid receptors of our skin cells without conversion! But unlike tretinoid, granactive retinoid doesn't irritate our skin!
It sounds almost too good to be a true, and in a sense, it is. The only studies done on GR are by the manufacturers and brands. The results are extremely promising, but independent research is required to fully prove its effects.
So obviously I had my doubts when using the PTR Retinoid Peptide Serum, but after sticking to it for 6 months, I'm now a granactive retinoid convert!
Peter Thomas Roth Pro Strength Retinoid Peptide Serum review
What is it
Expert-level concentrations of 10% Granactive Retinoid and 5% Hexapeptide Complex in an advanced leave-on anti-aging treatment serum that works to reduce the look of fine lines and wrinkles.
How I use it
Every evening immediately after my first essence/toner step. I use 3 drops, 2 for my cheeks and 1 for my forehead.
Best suited for
All skin types, especially sensitive skin that can't handle stronger retinol or tretinoin.
Things to note
Alcohol and fragrance free. However it does contain dimethicone and a few fatty acids that are slightly comedogenic (oleic acid, palmitic acid, and stearic acid). Some people have reported breaking out from this, but I personally haven't had any issues.
Packaging
A dark glass bottle with a dropper to dispense the product.
Scent
Fragrance-free.
Texture
Water-like with a noticeable slip. Feels like a really dry oil.
Finish
Velvet matte. Skin has that noticeable silicone-slip, but otherwise no noticeable stickiness or discomfort.
Where to buy
$110 for 1oz on Sephora and Peter Thomas Roth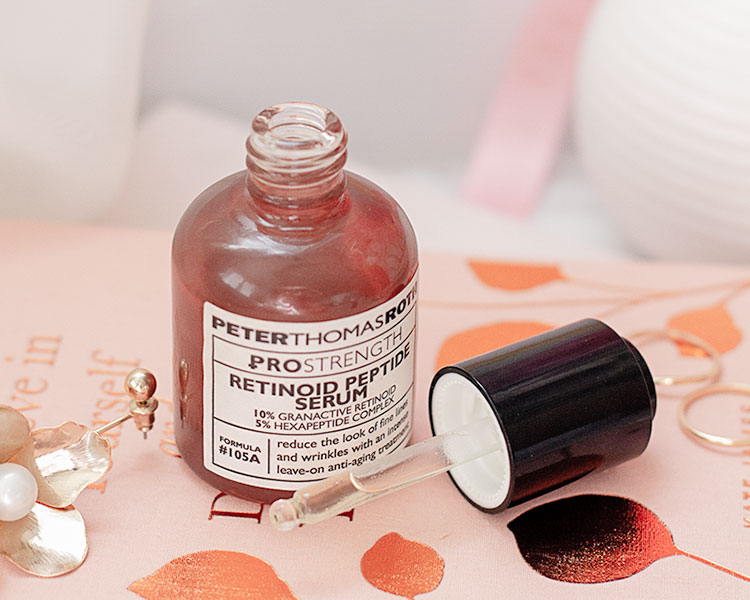 Ingredients Highlight
C9-12 Alkane, Dimethicone, Isononyl Isononanoate, Dimethyl Isosorbide, Trisiloxane, Cyclopentasiloxane, Polysilicone-11, Coco-Caprylate/Caprate, Caprylic/Capric Triglyceride,
Hydroxypinacolone Retinoate
,
Palmitoyl Hexapeptide-14
,
Ceramide NP
, Sunflower Seed Extract, Barley Extract,
Cucumber Extract
, Laminaria Ochroleuca Extract, Ginger Root Extract, Phytosteryl Canola Glycerides,
Sodium Hyaluronate
,
Sodium PCA
,
Squalane
,
Tocopherol
,
Lecithin
,
Linoleic Acid
, Oleic Acid, Palmitic Acid, Stearic Acid, Hydroxystearic Acid, Triolein, Bisabolol, Ethylhexyl Hydroxystearate, Ethoxydiglycol, Ethylhexylglycerin, Water/Aqua/Eau, Mica, Phenoxyethanol.
full ingredient analysis
First let's talk about the 10% Granactive Retinoid claim. The 10% refers to the complex, which is granactive retinoid + the solvent dimethyl isosorbide in a 1:9 solution. So 10% really means 1% granactive retinoid.
Misleading claim aside, this serum is full emollients like fatty acids and ceramides to strengthen the skin barrier as well as Palmitoyl Hexapeptide-14 for an anti-aging boost. It's like a comforting bowl of chicken noodle soup for the skin, except this soup has antiaging properties!
Usage Experience
The best part of the product? I'm able to use this daily without ZERO irritations. I've tried other retinol serums such as the Paula's Choice 0.3% retinol + 2% Bakuchiol Treatment* and none came close to the PTR in terms of gentleness.
Don't mistake its gentleness with weakness though. For me this has been just as effective at maintaining my skin health as Curology. Minimal fine lines and plump skin sans irritation, I can't complain!
As for the price, yes it's steep, but I've been using my bottle for 6 months every night, and I'm only about 2/3 way through, which means the entire bottle will last me about 9 months. $110/9 ≌ $12/month, which is actually less expensive than Curology!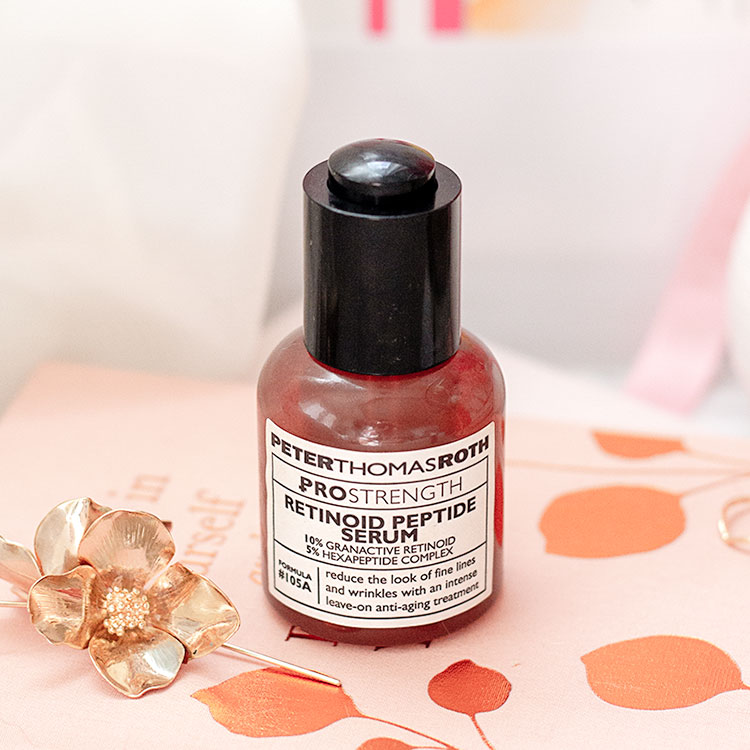 Other Granactive Retinoid products
I haven't tried any of these, but if you're hesitant to drop $$$ on the PTR, here are some affordable alternatives:

Final Verdict
Packaging
Ingredients
Texture/Application
Performance
Price
If you've been loving Curology and have seen great results while experiencing no or minimal irritations, by all means keep using it! But if you're like me and prefer gentler products, this PTR serum still delivers results and is a better value in the long run! If it's your first time switching to granactive retinoid and you have doubts about their efficacy, then I'd recommend trying one of The Ordinary options!