I've always wondered why there are so few K-beauty retinol options available, until I recently learned that Koreans prefer gentle products that achieve results over time, rather than stronger products that give instant results.
That would explain why the Innisfree Retinol Cica Repair Ampoule is the first Korean retinol I've come across, and officially the gentlest retinol serum I've ever tried.
Overview
What is it
This water-based daily retinol serum is non-sticky, lightweight and infused with proprietary Jeju Cica Liposomlogy™ that cushions the retinol formulation with nourishing Ceramide, Soothing Cica, and Hydrating Hyaluronic Acid. Visibly improved skin elasticity and firmness and a smoother complexion is just one step away.
Best suited for
All skin types, but especially sensitive, easily irritated skin that wants a serum to soothe, hydrate, and offer a tiny anti-aging boost. Also great for younger folks that want to dip their toes in retinol.
Things to note
It's alcohol-free and fragrance-free!
Packaging
A ceramic bottle with a pump dispenser. Feels luxurious but without the hefty price tag!
Scent
No noticeable scent.
Texture
A light milky serum that feels like water once applied on the skin. Easy to spread and quick to absorb.
Finish
A natural finish with minimal shine and no stickiness or feelings of discomfort.
Available For
$32-$37 for 30ml on Olive Young (JENNY123 for 5% off), YesStyle (GEEKYPOSH for 5% off), Stylevana (10% off with SHOPJENNY), and Innsifree US
$48 for 50ml on YesStyle
Innisfree Retinol Cica Repair Ampoule Ingredients
Water, Glycerin, Butylene Glycol, Niacinamide, Dibutyl Adipate, Caprylic/Capric Triglyceride, 1,2-hexanediol, Hydrogenated Lecithin, Ammonium Acryloyldimethyltaurate/Vp Copolymer, Sunflower Seed Oil, Cholesterol, Allantoin, Soybean Oil, Tocopherol, Tocopheryl Acetate, Sodium Methyl Stearoyl Taurate, Propanediol, Carrot Root Extract, Ethylhexylglycerin, Adenosine, Asiaticoside, Madecassic Acid, Camellia Sinensis Seed Extract, Asiatic Acid, Retinol, Stearyl Glycyrrhetinate, Hyaluronic Acid, Mannitol, Ceramide NP, Beta Glucan, Betacarotene, Phytosphingosine, BHT, Salicylic Acid, Acetyl Tetrapeptide-11
At first glance this looks more like the ingredients of a skin barrier repair serum, with lots of emollients like plant oils, cholesterol, ceramides plus humectants like hyaluronic acid, all which moisturize and nourish the skin.
Then you have skin soothing ingredients like allantoin, beta-glucan, adenosine, and the active compounds in centella asiatica: asiaticoside, asiatic acid, and madecassic acid. When we hear about the wound healing benefits of centella, it's these three specifically that deliver the benefits, plus asiaticoside and asiatic acid can also stimulate collagen production!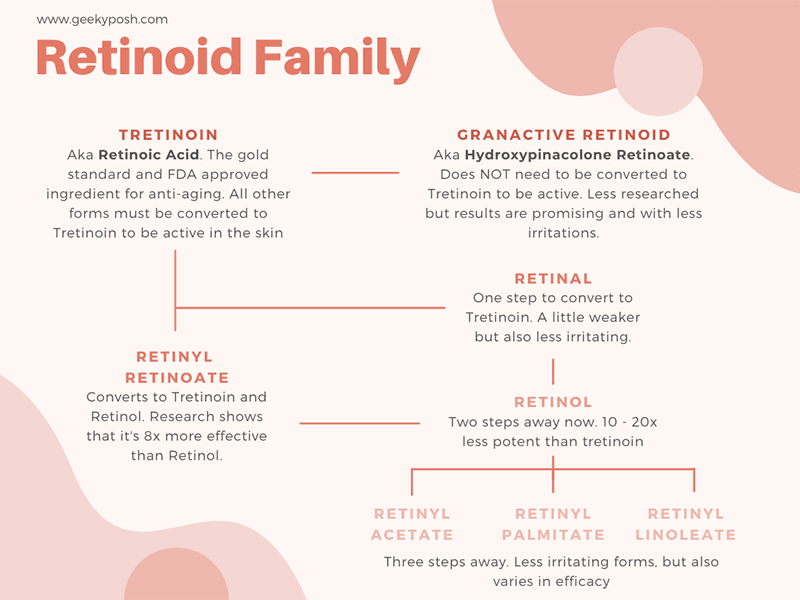 That brings us to the anti-aging feature, obviously the star is retinol, specifically 0.015% pure retinol (not some derivative), which is really low. Remember, retinol needs a 2 step conversion to turn into retinoic acid in the skin to do its work, which is why the typical starting dosage is 0.2% – 13 times stronger than this serum. On the other hand, the lower than average % helps minimize any chances of irritation, especially when reinforced by the above ingredients!
Other anti-aging ingredients: niacinamide, peptides
Other actives: salicylic acid (also at a super low %)
How to use the Innisfree Retinol Cica Repair Ampoule
If you're a first time retinol user, always start slow. I recommend once a day every other day or every 2 days, then building up your tolerance from there.
Apply to freshly cleansed skin after toners and first essences, but before your moisturizer.
When pairing with other serums, use the light to heavy rule: whichever has the lighter texture goes first.
Apply 1 to 2 pumps and massage into your face, bringing any extra down to your neck!
Wait a few seconds for the serum to fully absorb before moving to the next step.
While the Innisfree says you can apply this in the morning, retinol is sensitive to UV exposure and can break down, though the risk should be minimal with such a low %.
Notes
Since it's so gentle, it's possible to pair it with an equally gentle exfoliating toner in the same routine. When in doubt always err on the side of caution and use just one active.
Usage Experience & Results
✅ Gentle and hydrating
If I did a blind test, I would think this is a hydrating serum, and a really nice one too. It lives up to its claims of being lightweight yet still feels nourishing at the same time. When I just want a minimal routine, this Innisfree Retinol Cica Ampoule will be the only serum I use in the evenings!
✅ Helps minimize redness
When my skin gets flushed from using Tripollar or the areas around my nose are red, I've found that this retinol serum helps reduce the redness just as well as other skin soothing serums, and definitely better than my other retinol products! In fact, this has been my go-to whenever my skin feels mildly irritated, because for me it soothes more than it potentially irritates!
If you're a retinol newbie, it could be a very different case, so please don't try this as a skin barrier repair product!
✅ Zero irritations, just healthy skin
I know I say this about a lot of retinols (once you've weathered tretinoin you'd feel the same way too), but I'm literally using this as a soothing serum, that's how gentle it is. Credit to the great blend of ingredients, especially the centella asiatica extracts, which help support a healthy skin.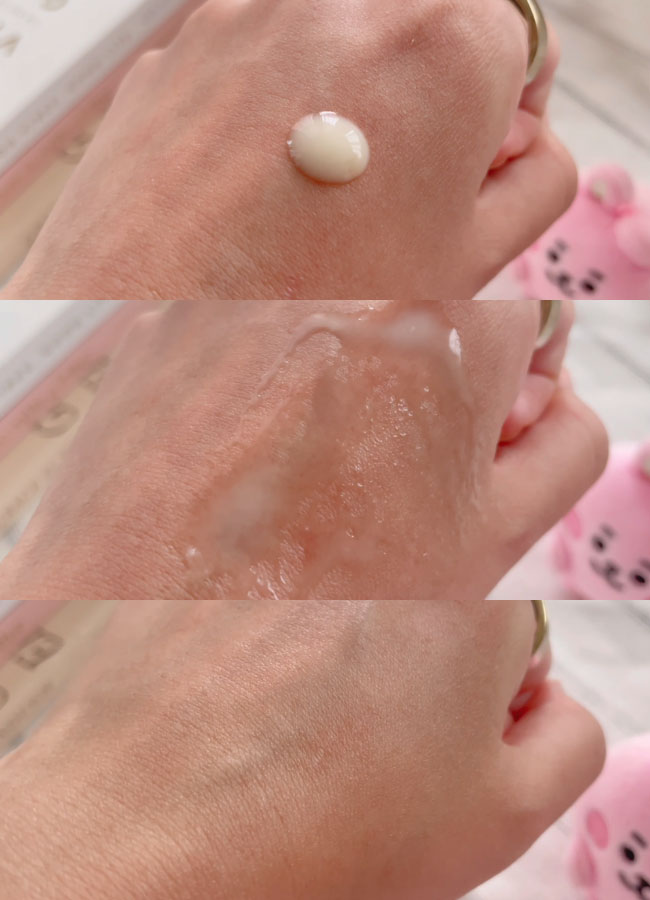 ❌ Limited anti-aging benefits
If you're looking for significant improvements in your fine lines, dark spots, uneven texture, or enlarged pores, the Innisfree Retinol Cica Ampoule isn't it. With such a low %, it's impossible to ask it to deliver the same results as more potent retinol products.
That's not to say you'll never see results. If you're still young and you use this consistently (I'm talking 3+ months at least), you should see improvements over time. I will update this post in a few more months, but at this 4 week mark I have not noticed any changes.
💡 Alternate with a stronger retinoids for better results
This is actually the perfect product to alternate with your tretinoin or retinal if you struggle with using stronger formulas daily. Not only do you still get your daily retinol, but you get the skin barrier repairing benefits as well!
What Others Say
With 28 days challenge , the Retinol Cica Ampoule really make my skin so much radiant and smoother. Day by day my appearance of pores are lesser and skin texture are getting smoother and smoother.

Jess, combo/sensitive skin
The serum is light and goes on nicely. My skin is not red after using it. I use this every night and I wake with my skin looking refreshed.

Anne, dry skin
I say with great disappointment that this has been perhaps the most underwhelming product I've tried in a while. Therefore, I don't recommend this to anyone who wants to get it for the sake of trying Retinol or for anti-aging purposes.

Angela, oily skin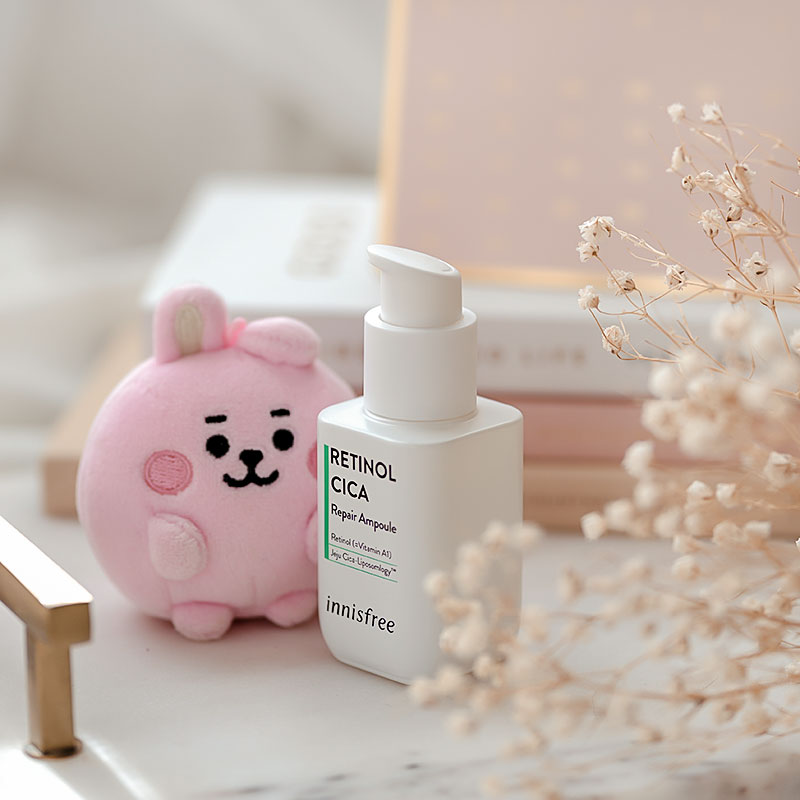 Innisfree Retinol Cica Ampoule Alternatives
The Inkey List Retinol
The closest in terms of texture and gentleness, and at 1/3 of the price. However, the Inkey List doesn't offer any hydrating or skin soothing functions, and it uses Granactive Retinoid, which is supposedly more effective but also less studied.
Kiehl's Micro-Dose Anti-Aging Retinol Serum
With 0.1% retinol, this is definitely more potent, but still below the standard dosage %. Like the Innisfree, this also contains plant oils and ceramides for skin barrier support, plus peptides for an extra anti-aging boost.
Maelove Stargaze Enhanced Retinol
The strongest retinol of the 3 at 0.2%, it's supported by antioxidants like niacinamide, white tea + grape seed extracts plus hyaluronic acid. Still feels gentle compared to retinal and definitely tretinoin.

Final Verdict
Ingredients
Packaging
Texture/Application
Performance
Price
Even though this is the weakest retinol I've tried and its anti-aging results were underwhelming, I was pleasantly surprised by how soothing it is! Its unique formula makes it the ideal retinol beginners or those with sensitive/easily irritated skin.
While this won't replace my main retinol anytime soon, it would replace The Inkey List Retinol as my choice to alternate with tretinoin thanks to its extra benefits!