If you're a long time reader (👋🏻 and 🙏🏻), you'll know that I struggle with dark spots and even tried the PicoWay Laser Treatment to address them (super effective btw).
BUT, laser treatments are expensive 💸, so I'm still on the search for an affordable product I can easily incorporate into my routine. Let's see if the this dark spot serum from AXIS-Y fits our needs!
Overview
What is it
A Niacinamide-based serum that corrects dark spots and improves uneven skin tone. With the help of plant-derived Squalane, this serum retains moisture to keep your skin glowing and healthy wherever you go.
Best suited for
All skin types that are looking for a moisturizing serum with brightening benefits.
Things to note
It's free of artificial fragrance, alcohol, and parabnes.
Packaging
A tube with a pump dispenser. I wish it came in a regular bottle instead as sometimes it takes several pumps to dispense any product. On the plus you can cut the tube when you're nearly done to get out every last bit of product!
Scent
None. Luckily none of the ingredients have naturally offensive odors!
Texture
A light gel serum texture. Feels like water once you massage it into your skin and absorbs quickly.
Finish
A natural finish with no noticeable shine or stickiness, Skin feels hydrated and comfortable.
Price & Size
$15 – $22 for 50ml on FeelUnique, YesStyle (5% off with code GEEKYPOSH), and Stylevana (10% off with SHOPJENNY)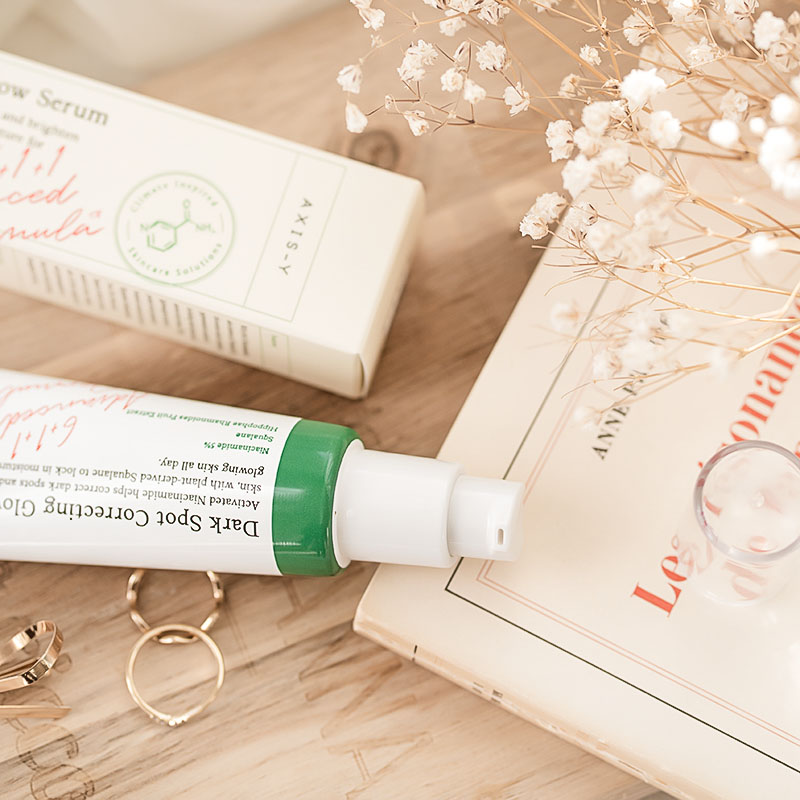 AXIS-Y Dark Spot Correcting Glow Serum Ingredients
Similar to the AXIS-Y Sunday Morning Refreshing Cleansing Foam, this dark spot serum also features the brand's signature 6-1-1 formula.
The 6 base ingredients are:
Squalane is a common emollient that that is naturally part of our skin's oil. It's moisturizing yet not heavy, plus it offers some antioxidant benefits!
Sea Buckthorn Extract is full of vitamins A, C, E and trace minerals, all of which are beneficial to the skin. Studies have shown that it can help with wound healing and increase skin hydration levels.
Allantoin is known for its skin-smoothing and soothing properties. Studies have shown that applying allantoin topically can help fasten our skin's repairing process.
Calendula Extract can also soothe our skin and a few experiments show its effects on wound healing, but researchers agree more studies are required. You should avoid this extract if you have ragweed allergies.
Papaya Extract hasn't been studied as much, though it does contain several phytochemicals with antioxidant and anti-aging benefits. The key component in papaya extract is actually papain enzyme, which can help gently exfoliate the skin.
Rice Bran Extract contains antioxidant compounds like ferulic and phytic acid, and a study found that it can help increase skin hydration. Another study also found it to have anti-inflammatory and collagen stimulating effects.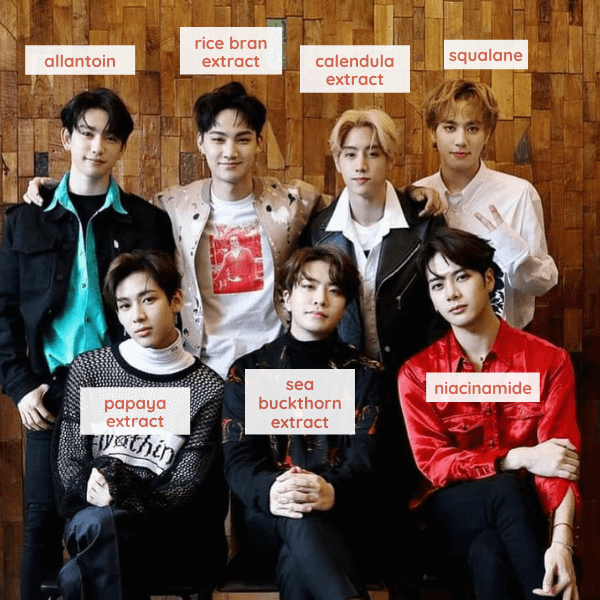 5% Niacinamide is of course, the core ingredient, and it is excellent. One because niacinamide is an extremely well-studied ingredient that's been proven to show antioxidant, anti-inflammatory, brightening, barrier repair, and collagen boosting effects, and two because 5% is the same % that many of these tests were done in.
Niacinamde + Rice Bran is the "quality producing technology", which imo is kinda cheating because it's just two of the ingredients already highlighted. AXIS-Y claims that using them together at certain ratios will deliver "an effective tone-up function", but I couldn't find any research to support this synergy.
Other hydrating ingredients: hyaluronic acid, arginine, glycerine
Full ingredient list
Water, Glycerin, Niacinamide, Sodium Hyaluronate, Propanediol, Erythritol, Butylene Glycol, Squalane, Rice Bran Extract, Calendula Officinalis Flower Extract, Papaya Fruit Extract, Sea Buckthorn Fruit Extract, Acerola Fruit Extract, Polyglyceryl-10 Laurate, Chlorphenesin, Arginine, Ethylhexylglycerin, Carbomer, Glutathione, 1,2-Hexanediol, Hydroxypropyl Cyclodextrin, Disodium EDTA, Hydroxyethylcellulose, Allantoin, Rosemary Leaf Oil
How To Use the AXIS-Y Dark Spot Correcting Glow Serum
One to two pumps after your toner/essence and actives. Eg. if you're using retinol, this should be used after the retinol.
Massage lightly into the skin until fully absorbed.
Gentle enough to use everyday, twice a day.
Learn to layer your serums like a pro with this guide: Face serums 101: What, when, and how to use them
Personal Experience & Results
✅ Features a well-researched ingredient at proven %
While it's hard to judge a formula by the ingredient list alone, knowing the % helps, and 5% niacinamide is excellent because we know that many of the research done was around 5%. Having this same % helps ensure that we're more likely to get similar results.
✅ Easy to incorporate into any routine
I'm a fan of the elegant texture and nice blend of hydrating/soothing ingredients, and I can see this being a formula that will work for all skin types. It also layers well under/over other products – no issues with pilling here!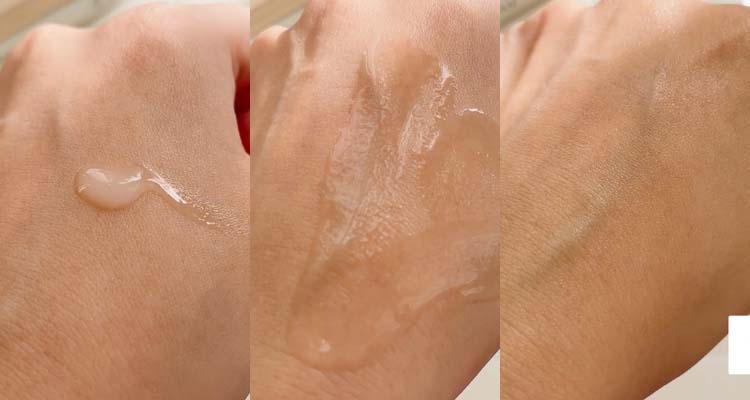 ✅ Helps fade PIH and subtly brighten skin tone
Don't expect drastic skin brightening results with this one, but with continued use I noticed that my skin tone looked a little brighter and acne scars faded a little quicker. But again, don't expect overnight miracles here.
❌ Does not work on stubborn dark spots
As expected, this serum didn't do anything for my dark spots from sun damage, they're just as visible as before I started using the product. This isn't completely surprising given that the only proven brightening ingredient is niacinamide. I expected to see more like tranexamic acid, kojic acid, arbutin, or even vitamin c.
The overall formula to me seems more like a hydrating serum with antioxidant benefits, which is great, but it's not what the product claims. So if you have darker pigmentation, I would recommend a more potent dark spot remover.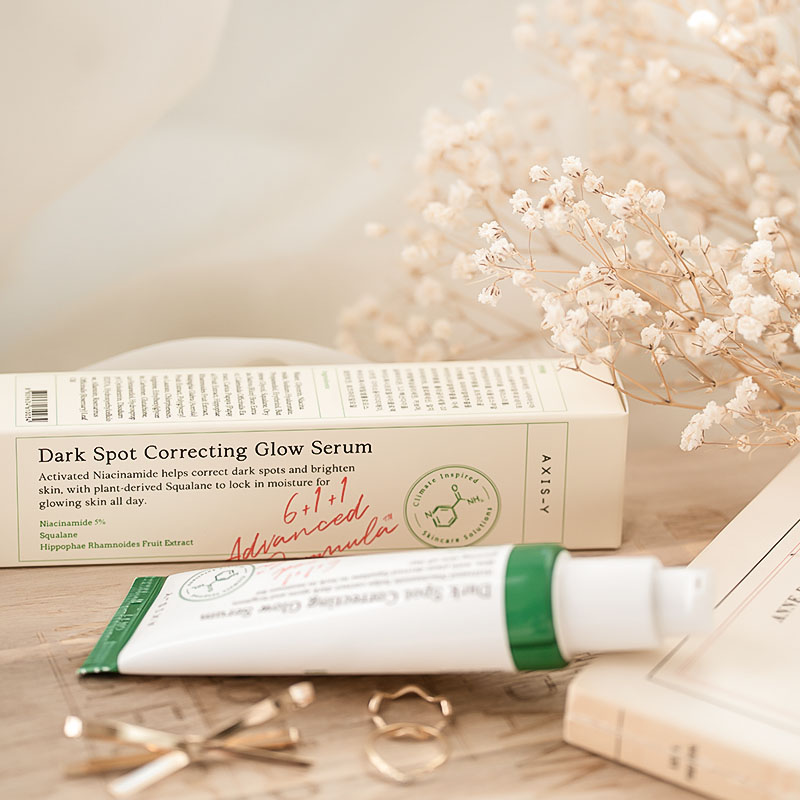 What Others Say
One of the things I like most about this serum is that it reduces my redness significantly, resulting in a more even and brighter complexion!

Ledia, oily/acne-prone
Works great and fast BUT not for sensitive skin. It destroyed my skin barrier after a few days of use. My skin is now very red, blemished, dry, and itchy.

Taylor, sensitive skin
This product has made a visible difference in fading acne scars and hyperpigmentation. I have tried many other k beauty products but this one has made a big difference in a short period of time.

JJensen
AXIS-Y Dark Spot Correcting Glow Serum Compared
…to the The Inkeylist Niacinamide Serum
The latter boasts 10% plus hyaluronic acid in a water-like texture. Neither fade stubborn dark spots but if you just want the benefits of niacinamide at an affordable price, I recommend The Inkeylist. FYI The Ordinary also has a 10% Niacinamide but a lot of people complain about pilling :/
…to the The Glossier Super Pure
Both have 5% niacinamide but Glossier's includes Zinc PCA which can soothe and balance oil production, making it a better choice for acne-prone skin.
…to the Glow Recipe Watermelon Glow Niacinamide Dew Drops
I would consider the AXIS-Y an affordable dupe of Glow Recipe sans cute packaging. Both are lightweight, hydrating, and include niacinamide for that extra boost.

…to the SkinCeuticals Discoloration Defense Corrective Serum
I haven't tried SkinCeuticals' but it contains the blend of brightening ingredients I expected to see in a dark spot correcting treatment: 3% tranexamic acid + 1% kojic acid + 5% niacinamide + 5% enzymes for exfoliation. Despite the high cost it's still well rated!
…to the Peter Thomas Roth Pro Strength Niacinamide Discoloration Treatment
PTR also offers a great blend of brightening ingredients: niacinamide + tranexamic acid + kojic acid + arbutin + peptides. This did a great job of fading PIH and I noticed that my dark spots did look slightly fainter.
Final Verdict
Ingredients

Packaging

Texture/Application

Performance

Price
If you're looking for a true dark spot fading serum, you're going to be disappointed. However, if you're looking for a gentle serum that brightens and hydrates, this is a lovely option. It's unfortunate but the product name and claims is this serum's biggest downfall. Had this been named "Hydrating Glow Serum" instead I'd consider this a winner as it definitely delivers in those areas!
FAQs
Is the AXIS-Y Dark Spot Correcting Glow Serum cruelty-free?

Yes! AXIS-Y is one of the few (but growing) Kbeauty brands that is cruelty free and certified by PETA.

Is the AXIS-Y Dark Spot Correcting Glow Serum vegan?

Yes, AXIS-Y is certified vegan by the Korean Vegan Association.

Is the AXIS-Y Dark Spot Correcting Glow Serum safe to use while pregnant or breastfeeding?

The formula doesn't contain any of the ingredients that are known to be harmful, however you should always check with your healthcare provider to be sure.

Can I use axis-Y Dark Spot serum everyday?

Yes, unless you're sensitive to fragrant essential oils, this serum is gentle enough to use everyday!

When should I use axis-Y Dark Spot serum?

You'll see the best results if you use this during your serum step twice a day, both morning and night.

Which is the best Dark Spot serum?

The best dark spot serum will be one that contains multiple research-proven ingredients that target hyperpigmentation specifically. Ones to look for are azelaic acid, niacinamide, tranexamic acid, and kojic acid.
Article Sources
To keep my content accurate and trustworthy, I rely on peer-reviewed studies, articles from reputable academic institutions, and quotes from certified healthcare professionals to back my claims. No woo-woo clickbait nonsense here!