Serums is one of the most important steps in a skincare routine in my opinion. It's like the main course of a meal where your skin will get most of its nutrients, so it's important that we choose products that fit our skin's needs and use them correctly.
Saying that there are thousands of serum options out there might be an understatement, and with so many options to pick from and each claiming that they solve every skincare concern under the sun, what is a girl (or boy) to do? Which serum do we pick? How many do we really need in our routine? When and how should we use them?
There are very few cure-all serums out there, and depending on the ingredients they feature, will generally be an antioxidant, hydrating, anti-aging, brightening, or exfoliating serum. Each type caters to specific skincare needs and varies in when and how to use them, so let's take a closer look at each one: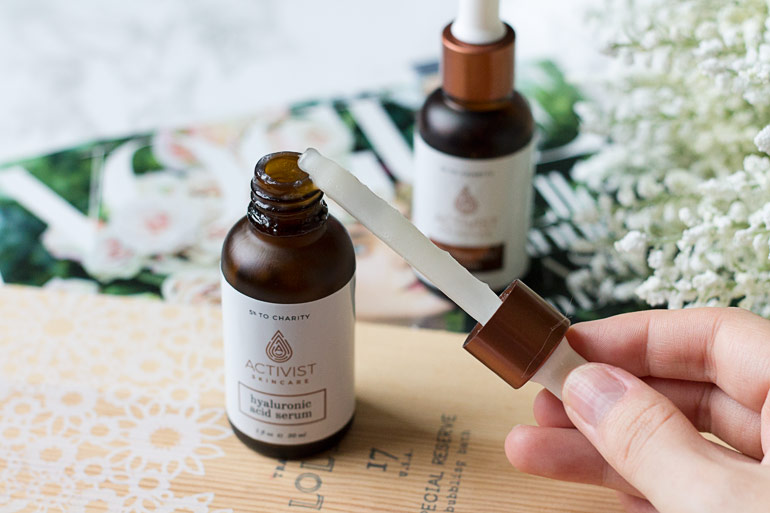 Antioxidant serums
What they do

Protect your skin from free radicals (UV rays, pollution, etc), which can accelerate the skin's aging process. Many antioxidants also provide other benefits like increasing collagen production or soothing irritations.

Common ingredients

vitamin c, vitamin e, niacinamide, green tea extract, coQ10, grape seed extract, resveratrol, ferulic acid

When to use them

In the mornings to protect your skin throughout the day. Can also be used at night.
If there's one serum worth investing in, it's an one packed with antioxidants because they typically provide a variety of benefits for the skin. Think of them as the Jack of All Trades, though if you're looking for specific goals like anti-aging or brightening, an antioxidant serum alone might not be enough. However most do include a couple hydrating ingredients, so unless your skin is parched, an antioxidant serum can double as a hydrating serum.
Since their main purpose is to protect the skin, make sure you have one in your morning routine so your skin is safe from the external (or internal) free radicals. Of course, don't forget sunscreen!
Antioxidant serums to try

Of course we can't forget one of the best antioxidants to include in our routine! 7 types of Vitamin C compared: which one is right for your skin?
Hydrating Serums
What they do

Draw and help retain moisture on your skin to keep it soft and supple.

Common ingredients

Humectants – hyaluronic acid, glycerin, collagen, trehalose, sodium PCA, panthenol, honey, aloe vera, urea
Emollients – ceramides, cholesterol, silicones, squalane, and most oils

When to use them

Mornings and evenings, after the rest of your serums and before your moisturizer.
Most hydrating serums are a mix of humectants (drawing moisture to the skin) and emollients (helps retain moisture by filling any holes in our skin's natural barrier), though often times they will also include antioxidants for extra benefits. Since these moisturizing ingredients work close to the skin's surface, make sure to use your other serums first so they have a chance to reach into the deeper layers of your skin.
If you're still young and have healthy skin, a hydrating serum is really all you need to keep your skin in great shape. Hydrating serums are also excellent if you have sensitive or irritated skin. The ingredients are typically gentle, and some are even anti-inflammatory and will help with the redness.
Hydrating serums to try

Tip: if you don't want to invest in a hydrating serum, use a hydrating sheet mask instead! Apply one after your other serums to enhance penetration of previous ingredients and give your skin a big drink of water!
Anti-aging serums
What they do

Minimize the appearances of fine lines and wrinkles, restore skin firmness and elasticity through increased collagen production

Common ingredients

niacinamide, peptides (look for names ending in -peptide), egf, retinoids (tretinoin, retinol, retinal)

When to use them

In the evening, unless your serum doesn't contain any vitamin a derivatives, then you can use it during the day too.
After the age of 25, our collagen production starts going downhill, so it doesn't hurt to start using anti-aging serum in your early 20's. While peptides are gentle and can be found in a variety of serums, the anti-aging gold standard is tretinoin, the most potent (and irritating) form of vitamin a. There are also gentler forms like retinol and retinal that require multiple conversion processes before it can be used by the skin, but some of the efficacy is lost during each conversion step, so keep that in mind.
If you're in your early/mid 20's, niacinamide, peptides, retinol, or even retinyl palmitate will suffice, but once you get older you'll definitely want to look at adding tretinoin to your routine.
Anti-aging serums to try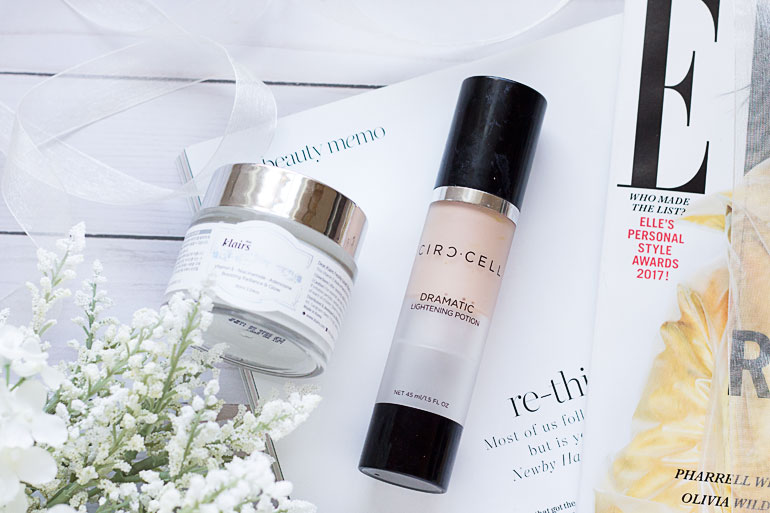 Brightening Serums
What they do

Improve skin tone and clarity by preventing discoloration and dullness

Common ingredients

niacinamide (truly a triple threat), vitamin c, hydroquinone, kojic acid, arbutin, tranexamic acid, licorice root extract, azelaic acid, retinoids

When to use them

Preferably in the evening, unless your serum doesn't contain any hydroquinone, arbutin (which hydroquinone is derived from), or vitamin a derivatives, then you can use it during the day too.
Contrary to what you might think, most brightening serums actually don't brighten your skin by getting rid of discoloration, but by preventing it from forming in the first place. A lot of factors can trigger pigmentation to form (eg. inflammations, UV rays, hormones), and these brightening ingredients swoop in to stop the process so these dark spots never see the light of day.
Now if you have existing dullness and discoloration you'd like to address asap, it's best to pair brightening serums with an exfoliating serum to get the best results. Of course don't forget sunscreen!
Brightening serums to try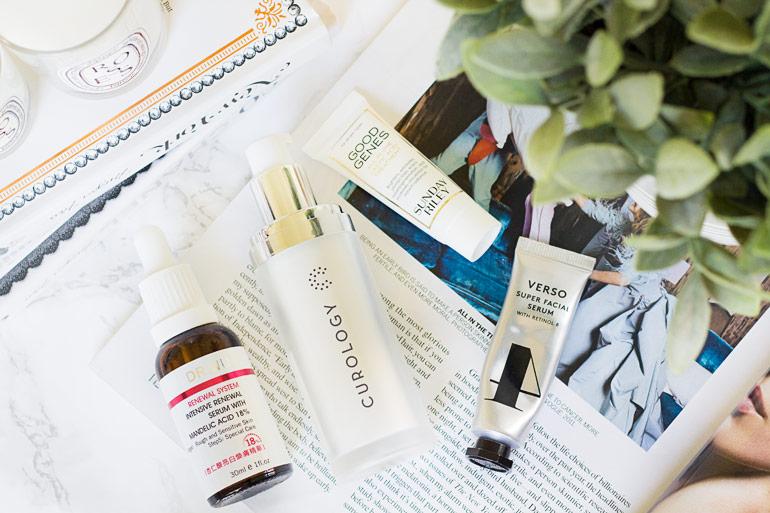 Exfoliating Serums
What they do

Improve skin cell turnover to reveal smoother, clearer, and more radiant skin.

Common ingredients

AHAs (glycolic acid, lactic acid, mandelic acid, citric acid, tartaric acid), BHAs (salicylic acid, betaine salicylate), and PHAs (lactobionic acid, gluconic acid/gluconolactone)

When to use them

In the evening as the first step after cleansing (AHAs and BHAs require a lower pH level for maximum efficacy)
If you want to improve your skin tone and texture, look for AHAs like glycolic, lactic, or the gentler mandelic acid (my favorite one!). If you have acne-prone or congested skin, salicylic acid will help unclog your pores. Lactobionic and gluconic acids are up-and-coming acids, and they're even gentler than mandelic acid, making them suitable for those who can't stand AHAs or BHAs.
Further reading: The AHA moment: 13 exfoliant for baby smooth skin
No matter which option you go with, exfoliating serums can deliver quick results, but it's important that you start slow and give your skin time to adjust to the acids. Overexfoliating can happen before you know it, especially if you're also using vitamin c (ascorbic acid) or retinoids (particularly tretinoin) in your routine, as both those ingredients have exfoliating properties as well.
Exfoliating serums to try

Obviously I haven't tried too many exfoliating serums, as I personally prefer gentle and minimal exfoliation only when necessary. But I know many people swear by an exfoliating serum and when used appropriately, they can really make a huge difference to your skin!
How to match your serums
As much as we'd all like to use all these serums in our routine everyday, for most of us that just not feasible (both for the skin and wallet). Here are some ideas on how you can mix and match these serums:
Healthy skin with with a focus on prevention:
Morning → antioxidant serum + optional hydrating serum
Evening → anti-aging serum + optional hydrating serum OR weekly exfoliating serum + anti-aging serum
Dull and textured skin
Morning → antioxidant serum + non-retinol/hydroquinone brightening serum
Evening→ exfoliating serum + brightening serum
Mature skin wanting to minimize signs of aging (my current mix!)
Morning → antioxidant serum + non-retinol anti-aging serum
Evening → weekly exfoliating serum + anti-aging serum OR anti-aging serum + brightening serum
Acne-prone and congested skin
Morning → antioxidant serum + hydrating serum
Evening → exfoliating serum + hydrating serum OR brightening serum (to help with acne scarring) + hydrating serum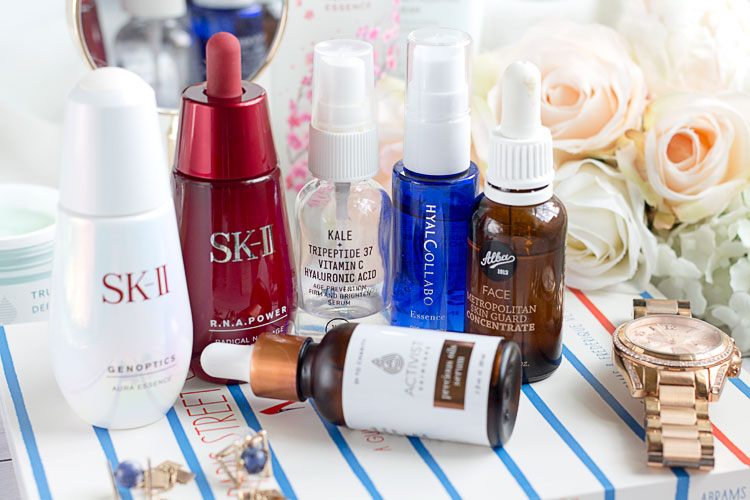 Though I've tried to categorize the serums into 5 types, the truth is that many serums today will be a hybrid of multiple types. So it's still important that you check the ingredient labels to make sure you're not using something with sensitizing ingredients during the day, or layering on multiple serums with acids that can potentially irritate the skin. When in doubt, follow the product instructions and "less is more" rule!
Hope you found this post helpful, and let me know which serums you use and swear by! Have a great week everyone!