The older I get the more minimal my skincare routine becomes: minimal number of products with minimal amount of ingredients. For me it's about quality, not quantity, and the fact that my skin just doesn't do well when I throw too many things at it.
So when I discovered the Japanese brand Tunemakers, I was immediately intrigued by their system.
Rather than create multiple product lines for different skin types, Tunemakers features 3 carrier products – a toner, a lotion, and a cream – plus a ton of booster essence that you can mix into the carriers or use alone to address specific skincare needs. It's bespoke skincare to the core, because you have full control of the customization.
Tunemakers booster essences are also unlike your typical essence or serum. Each features just one active diluted in water, and at most include an absorption enhancer or preservative.
Yep, that's it, no unnecessary fillers whatsoever, which means the products are also fragrance-free! Concentrate would probably be the more fitting term here, as each bottle has a higher % of actives compared to the average essence (or so the brand claims, sadly they don't actually list the %).
Not going to lie, I was very tempted to buy a ton of their essences given the availability and lower prices in Taiwan, but I controlled myself and bought just 3 products total: Concentrated Moisture Lotion, Ceramide 200, and Licorice Root Extract.
Tunemakers Ceramide 200 review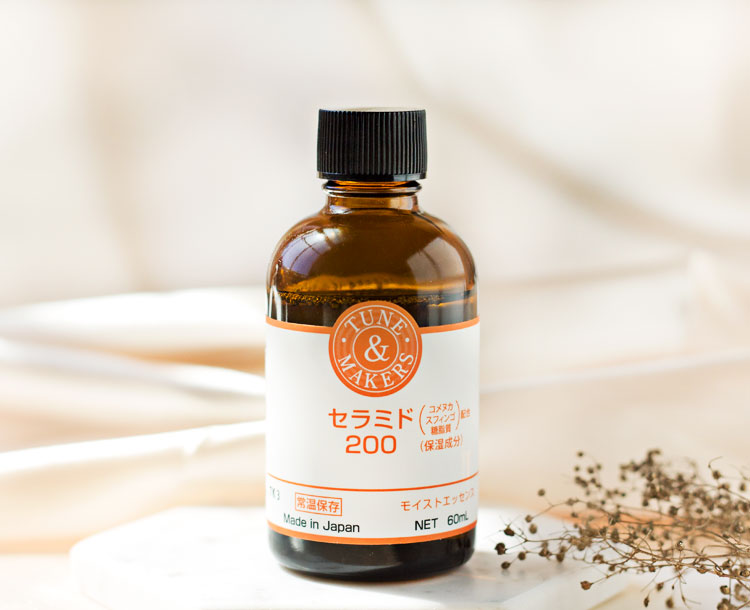 Ingredients
Water, 1,2-Hexanediol, Glycosphingolipids, Phenoxyethanol, Hydrogenated Lecithin, Lysolecithin
Texture
Feels like water, but with a slight slip. Absorbs instantly leaving a natural finish with zero stickiness.
Where to buy
$29 on eBay; $27.80 on Kirie Station; $19.99 on Yami; $24.99 on TokTok Beauty
This is one of their best sellers and despite the name, it doesn't actually include ceramides but a precursor of ceramide called glycosphinolipids/GSL1.
GSL itself is a lipid composed of fat and sugar, and functions similarly to ceramides in that it also repairs and strengthens the skin's moisture barrier. Research showed that a 5% GSL solution can help reduce trans-epidermal water loss2! Hydrogenated lecithin and lysolecithin are there as emulsifiers, but also act as emollients and penetration enhancer to deliver the GSL deep within the skin.
While my skin barrier is no longer compromised, it never hurts to strengthen my barrier and keep it as healthy as possible.
I was using this before my Picoway laser treatment, and even though my skin looked red and splotchy immediately after the laser, the doctor noted that my skin would recover quickly because "it's actually pretty healthy". I can't help but think the ceramide 200 is partly to thank for my quick recovery.
I love the simple ingredient list, how lightweight it feels, and how well it layers with other products. Most ceramide products can be heavy or oily, but this is neither, and why I'll keep using it in my routine until kingdom come.
Tunemakers Licorice Root Extract review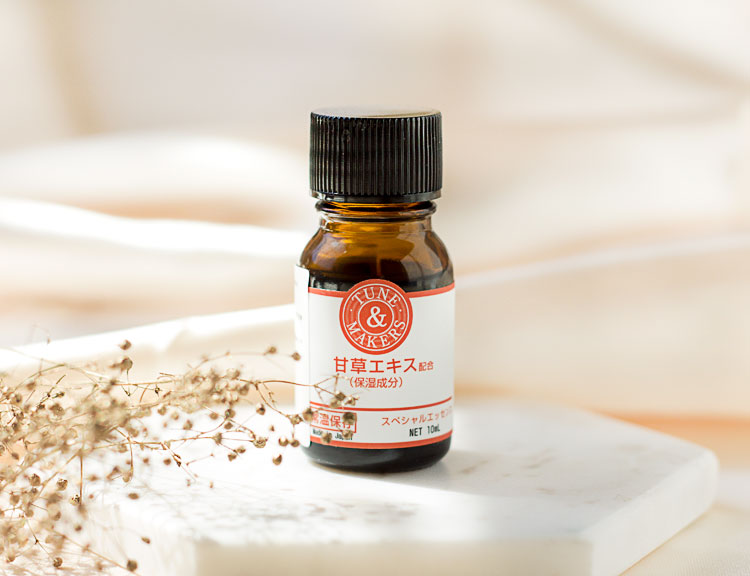 Ingredients
Water, Butylene Glycol, Glycyrrhiza Glabra (licorice) Root Extract
Texture
Liquid has a brownish tint, but feels exactly like water and absorbs instantly.
Where to buy
$14.99 on TokTok Beauty, $21 on Amazon, Kirei Station,
Licorice root is soothing and anti inflammatory, which makes this tiny bottle perfect for acne and post-acne spot treatments.
It also helps reduce general redness, so I figured it'd be good to have on hand in preparation for my laser treatment recovery. While I didn't actually get to use it for that purpose (the redness subsided before I got home), this truly works wonders on breakouts!
As soon as I spot any bumps I apply a dab of this and the next morning the spot looks less angry and inflamed. After dabbing the Licorice Root Extract a couple times the spot is pretty much gone, and the best part is it's never irritating and it leaves no marks behind.
I've also tried using this on my nose when it was a bit red from me extracting sebaceous filaments, and the redness was gone by the next morning. For me this is a lovely product to have on hand in case of skin emergencies, and I love that it's gentler than other breakout treatments.
If you have sensitive skin you can also try mixing this with your toner/serum/creams for an overall anti-inflammatory boost!
Tunemakers Concentrated Moisture Lotion review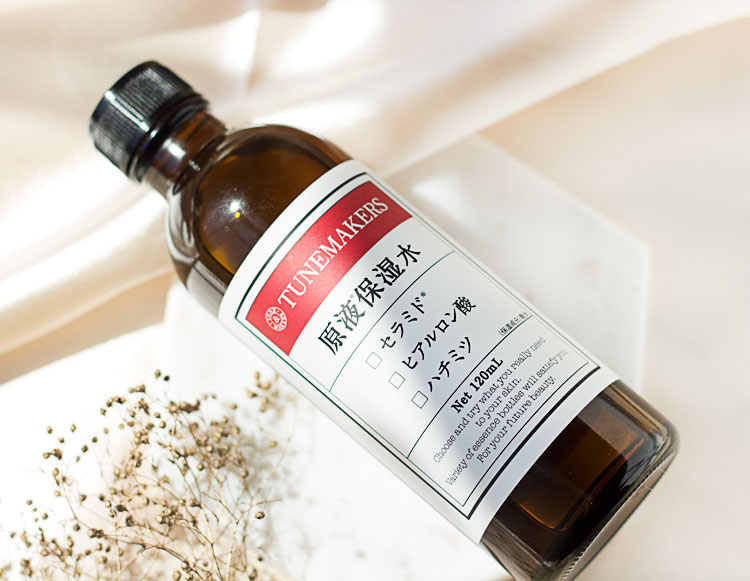 Ingredients
Water, Glycerin, 1,2-Hexanediol, Honey, Butylene Glycol, Magnesium Ascorbyl Phosphate, Glycyrrhiza Glabra Root Extract, Phenoxyethanol, Sodium Hyaluronate, Sodium malate, Hydrogenated lecithin, Sodium Citrate, Citric Acid, Xanthan Gum, Hydrolyzed Royal Jelly Extract, Glycosphingolipids, Soluble collagen, Lysolecithin, Malic Acid
Texture
Watery with a slight slip. Absorbs instantly leaving skin feeling smooth and soft without any stickiness.
Where to buy
$24.99 at TokTok Beauty; $30 Kirei Station; ~$35 at eBay
Tunemakers actually created this toner by adding in 5 of their own concentrates in the following ratio:

They also included vitamin c (in the form of MAP) for antioxidant and brightening benefits, while licorice root extract (reviewed earlier!) was added for an anti-inflammatory boost.
The toner itself is mildly acidic with an advertised pH of 5.5 to match our own skin's pH level. The idea is to provide our skin with the essential nutrients it needs while still nurturing our skin's moisture barrier, and I'm all for that!
Despite how lightweight this toner feels, it's incredibly moisturizing, and its results are on par with my all-time favorite Klairs Supple Preparation Toner. While the Klairs toner also helps soothe the skin, the Tunemakers toner is better at nourishing and plumping the skin.
Given that my skin is no longer sensitive, I actually prefer the Tunemakers Concentrated Moisture Lotion a tad more for its anti-aging benefits. It's also more expensive, but I've found that a little goes a long way, and my skin feels hydrated after just one application. I also love how smooth it instantly makes my skin feel, something even the Klairs toner couldn't achieve!
Packaging

Ingredients

Texture/Application

Performance

Price
Usually I hesitate to recommend a product for all skin types, because everyone's skin is unique, but I'll make an exception for this toner. Unless you're allergic to any of these ingredients, I think this is a well-made product with great ingredients that will hydrate, nourish, and strengthen your skin. If you're overwhelmed by all the options out there and want a toner that kinda does it all (and does it well), this is definitely worth checking out!
Overall I'm really happy to have discovered this brand, they remind me a bit of Odacite but instead of oils they have concentrates of research-proven actives.
If you can read Japanese, I highly recommend browsing their official site for more information. There's also a different site in Chinese if that's your preferred language. I plan on trying their moisturizer and AHA toner next!
Article Sources
To keep my content accurate and trustworthy, I rely on peer-reviewed studies, articles from reputable academic institutions, and quotes from certified healthcare professionals to back my claims. No woo-woo clickbait nonsense here!
Schnaar, Ronald L., and Taroh Kinoshita. "Glycosphingolipids." Nih.gov, Cold Spring Harbor Laboratory Press, 2017, https://doi.org/10.1101/glycobiology.3e.011.

DiNardo, Joseph C., and Michalun, M. Varinia. Skin Care and Cosmetic Ingredients Dictionary. United States, Cengage Learning, 2014.