Last updated on April 5th, 2019
What is it

An oil-free moisturizer featuring ceramide-3 and niacinamide to replenishes moisture for up to 48-hours and helps restore the skin's moisture barrier.

How I use it

As my AM moisturizer as it's not quite hydrating enough for the evenings.

Best suited for

Normal, combo, or oily skin types. Dry skin folks might find this too light.

Key ingredients

Ceramides – A natural lipid found in our skin's barrier, it's crucial in helping our skin retain moisture and keeping our skin soft and plump.
Niacinamide – A true skincare superstar. It's soothing, brightening, firming (by stimulating the production of collagen) and moisture retaining.
Prebiotic thermal water – A star ingredient in all LRP products, it contains prebiotics which can help strengthen our skin's natural barrier, and minerals which have soothing and antioxidant properties.
full ingredients on CosDNA

Irritants

Myristyl myristate

and

myristic acid

 may be comedogenic, and 

methyl methacrylate

may irritate sensitive skin (source). Otherwise this is paraben-free, alcohol-free, and fragrance-free.

Packaging

Hygenic, but the flat wide shape of the tube makes squeezing out the product more difficult as quantity decreases.

Scent

None

Texture

A lightweight lotion that's easy to spread and not one bit sticky.

Finish

Very natural, almost matte.

Size & Price

$19.99 for 75ml

Where to buy
2 facts you may or may not know about me: I prefer simple ingredient lists, and 2 of my favorite skincare ingredients are ceramide and niacinamide. So when I found out I won the giveaway for the then-new La Roche-Posay Toleriane Double Repair Moisturizer, I was ecstatic. I've always wanted to try out the La Roche-Posay Toleriane line, which aims to help soothe and restore sensitive skin – aka my skin when I get a little too exfoliant-happy.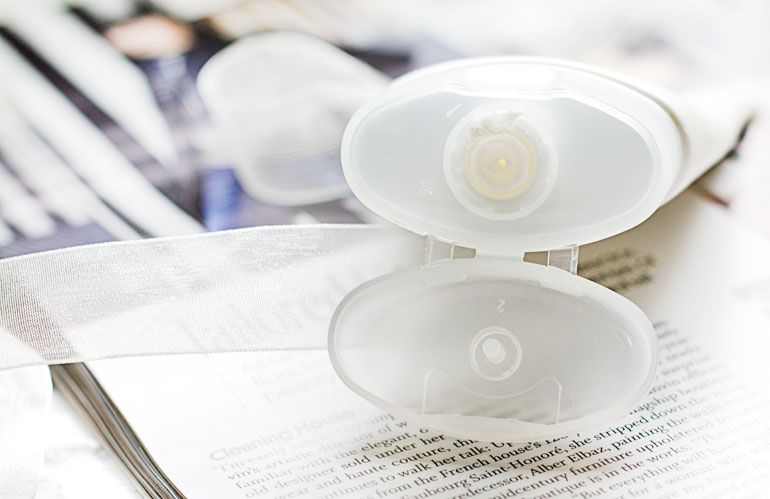 At first I liked the tube packaging, mostly for hygienic reasons, but I wish they didn't make the tube so wide and flat. As there's less product in the tube, it becomes increasingly harder to squeeze out the remaining product, hence the slight mess I've made around the opening.
As for the La Roche-Posay Double Repair Moisturizer itself, it truly is as basic as moisturizers can get. It has no scent, no color, and a light lotion-like texture. It does absorb very quickly and doesn't feel sticky or heavy at all on the skin. It leaves almost a matte finish, and while my skin does feel hydrated, it's a very light layer of hydration. Great for normal/combo/oily skin, but dry skin will find it lacking.
Whenever my skin is feeling irritated or sensitive, this is my go-to moisturizer. Despite the few questionable ingredients listed, I have not experienced any further irritations or breakouts. I do appreciate how light and comfortable it feels on the skin, though ironically it causes my favorite La Roche-Posay Anthelios XL SPF50 to pill. You'd think they'd learn to play nice since they're from the same brand, but nope.
In the long run I haven't noticed any specific improvements in my skin other compared to other moisturizers I've used in the past. I suspect that while this does contain ceramide and niacinamide, it might not contain enough for them to make a big enough impact. However, it works well to provide enough hydration in the day time without any oiliness or irritations, so I can't complain.
La Roche-Posay Toleriane Double Repair Moisturizer
Packaging

Ingredients

Texture/Application

Performance

Price
Overall this is a solid moisturizer, and I do enjoy using it, especially when my skin is irritated. However, the inclusion of the questionable ingredients and some of the reviews I've read on the La Roche-Posay website make me hesitant to recommend this to those with sensitive skin. All things considered, I still think this product is slightly overpriced and that there are better alternatives (from La Roche-Posay) if you're looking for a great moisturizer.