Two weeks ago, I talked about my luxury skincare picks and mentioned that price ≠ quality. This post, featuring one of my favorite affordable skincare brands, Good Molecules, is proof of that.
Why I'm a fan of Good Molecules Skincare
There's no shortage of affordable skincare brands, from The Ordinary to The Inkey List to your regular drugstore options, we certainly have a lot to choose from. I'm personally biased towards GM for the following reasons:
🔬 Research-proven ingredients
Not unique to Good Molecules but still important to consider when it comes to skincare. While new ingredients sound fun and exciting, you're most likely to see results with formulas that have been appropriately tested and researched.
🧪 No-frills formula
Rather than filling their products with unnecessary ingredients like fragrance or fancy-sounding-but-actually-useless botanicals, they stick to the essentials. This minimizes any chances of sensitivities or irritations.
✨ Beautiful packaging
Yes, I know looks aren't everything, but who doesn't like pretty things? Good Molecules' minimal yet colorful packaging really pops when compared to the monochrome palette of similar brands.
🧈 Elegant textures
Can be a hit or miss in lower-priced brands, and when they're a miss, it makes us less inclined to use the products, which defeats the purpose of buying them in the first place. Everything I've tried from Good Molecules has been pleasant on the skin with no discomfort or pilling.
🐰 Cruelty-free
I'll admit I'm not a stickler for this, but I do try to use cruelty-free products when I can. Cooper and Shelly both approve as well.
I've had the chance to try out a lot of Good Molecules skincare products and honestly they're all great for the price. But if I had to pick a few to recommend, it would be these:
My Good Molecules Favorites
My past experiences with eye patches have been pretty negative, so I had low hopes for this one. Except it actually did hydrate and depuff my eye area thanks to its essence-soaked hydrogel patches. Despite how juicy they are, they did not slide around my face and have been perfect for use during my nuFace sessions. If you're overwhelmed with the variety of kbeauty eye patches, get these Good Molecules ones instead!
→ $16/60g at Beautylish
I'm a huge fan of enzyme-based exfoliating powders! They gently remove dead skin without the harshness of acids or physical scrubs and instantly leave me with softer skin. My old favorite was the AMOREPACIFIC Treatment Enzyme Peel Cleansing Powder, which is divine but expensive af. While this feels a bit grittier, the results are comparable, and the price is so much more reasonable! A great option if you want a gentler alternative to the conventional exfoliants.
→ $16/60g at Beautylish
I was initially underwhelmed by this as a moisturizer as I didn't find it moisturizing for my dry winter skin. However, it works wonderfully as a primer to keep my foundation from creasing or sliding, and I don't need to worry about pilling because it's silicone-free! I did test this again as a moisturizer in Taiwan where it's much more humid, and it worked wonderfully there. As a primer, it should work for all except really oily skin types, and as a moisturizer, it'll work for all but dry skin!
→ $14/50ml at Beautylish
Good Molecules has a Cold Pressed Rosehip Seed Oil($10), Squalane Oil ($8), and Ultra-Hydrating Facial Oil ($10), which is a blend of camellia oil and sea buckthorn oil. I personally love the Squalane for how light yet moisturizing it feels, and it's the one I use the most to mix with my moisturizers. The Ultra-Hydrating Facial Oil is thicc, but my skin drinks it up in the wintertime. I've also been mixing it with the Drunk Elephant TLC Framboos and lemme tell you, the concoction is incredible. Plus, smaller bottles are travel friendly and keeps the oils from going rancid before you finish them!
→ $8-$10 each, or $28 for all 3 at Beautylish
If you just want something gentle that removes makeup well and doesn't sting your eyes or leave a film, definitely give this one a try. It reminds me a lot of the Clinique Take the Day Off Cleansing Balm but slightly less balmy and at a fraction of the price. FYI it does contain polyethylene, so those avoiding microplastic in skincare will want to skip this one.
→ $15/75g at Beautylish
I'm usually super picky with eye cream and had low expectations for this one, but I was shocked by how well it hydrated without feeling heavy or oily! It also does a great job of depuffing the eyes and it layers well under makeup, making it really an excellent day time eye product!
It's gentle and it cleanses just well enough to not strip your skin but still leave it feeling fresh. Don't expect this to remove makeup or heavy duty sunscreen but it will work wonderfully as a second or morning cleanse. Plus it comes in a luxe glass bottle!
An excellent alternative to the Glossier Milky Jelly Cleanser if you're trying to avoid the brand.
What about Good Molecules serums?
You'll notice that I haven't listed any of their serums, and here's why:
Objectively they're still decent. For the price you can't expect them to perform on the level of $$$ but if you're looking for basic hydration or brightening, Good Molecules won't disappoint.
Subjectively they're just not enough for my 30+ dry skin when I'm looking for noticeable antiaging results. That's why I'm ok spending more money for serums that do, but saving money in other areas by using Good Molecules' other products!
Want to learn more about serums? Face serums 101: What, when, and how to use them
Good Molecules vs The Ordinary
I haven't tried too many products from The Ordinary, but from what I've tested so far and what I hear from other skincare bloggers, The Ordinary's product textures can be a hit or miss. Pilling seems to be a major issue, something I've never experienced with Good Molecules.
On the other hand, The Ordinary has a HUGE variety of different serums at different %, with some of these options being more potent than what Good Molecules has to offer! TO really dives into the science in their product description as well, so if you're a skincare pro, you might prefer their offering.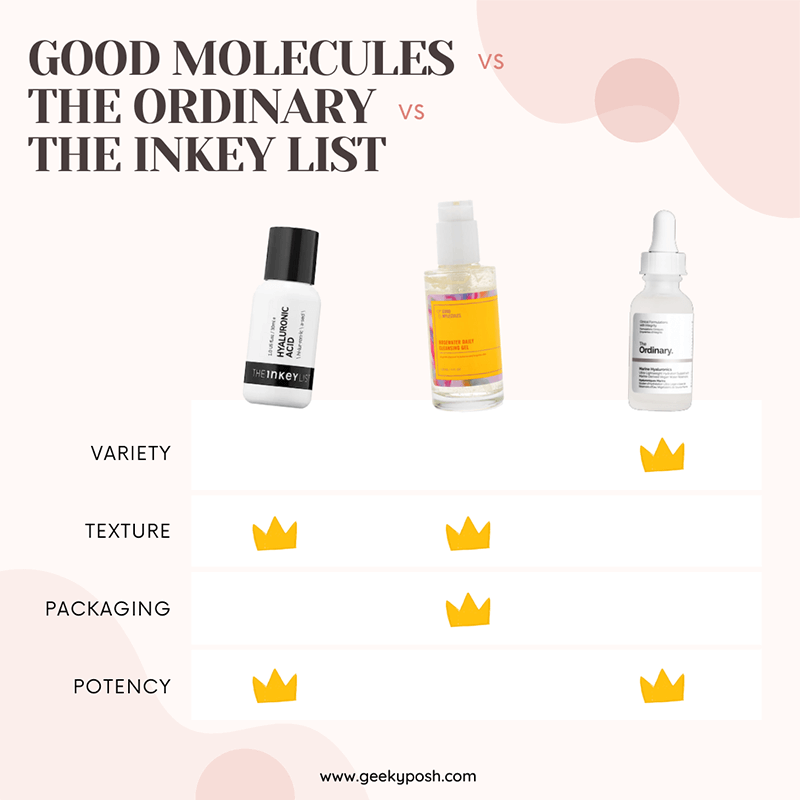 Good Molecules vs The Inkey List
I've tested both brands significantly, and I would say The Inkey List is a happy medium between Good Molecules and The Ordinary. It has more potent options (like their Vitamin C 30%) and more products than Good Molecules, but not an overwhelming amount like TO.
The Inkey List's product textures are also quite elegant, but sadly their packaging is the least attractive of the 3. Both The Ordinary and Good Molecules use mostly glass packaging while Inkey List's bottles are all plastic.
Which affordable skincare brand is the best one?
Best is obviously subjective, but I think each of the 3 have carved out a niche for themselves and produced some fantastic products. It really comes down to what you're looking for and your personal preferences, but you can't go wrong with any of the big 3!