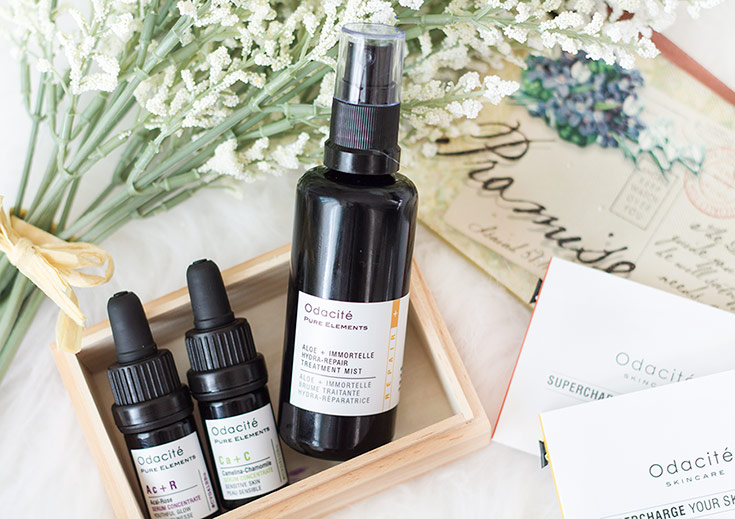 What is it

A refreshing facial mist that effectively infuses your skin with instant hydration and soothing extracts.

How I use it

To add hydration throughout my skincare routine. I'll spray this between each step of my routine, especially before I use a sheet mask or apply moisturizer. I find that when my skin is hydrated products absorb better. I've also mixed this with the Odacité serum and it's fantastic.

Best suited for

All skin types, especially sensitive + easily irritated skin

Key ingredients

Aloe vera, rose water, immortelle flower oil, chamomile extract,  hyaluronic acid, oat extract, and rice extract – many of which are organic. Full ingredient list here.

Irritants

none! paraben-free and alcohol-free

Scent

A light floral scent that's just noticeable enough and not overbearing.

Packaging

A somewhat heavy dark glass bottle that looks and feels luxurious. It also makes me extra paranoid, because I'm always afraid of dropping and shattering this.

Texture

Despite the inclusion of oils, it feels just like water

Finish

A natural finish with no stickiness or heaviness, no matter how many times I use it in a routine.

What I love

The fabulous ingredient list – everything in this mist is great for soothing the skin. It's refreshing and hydrating, as a good mist should be, plus it plays super well with all my other products!

What I dislike

Literally nothing. It's a friggin' fabulous facial mist.

Size & Price

$39 for 50ml/1.69oz

Where to buy

Odacité (US), Cult Beauty (UK & Worldwide)
In case you can't tell, chamomile is one of my favorite skincare ingredients, so I couldn't pass up the chance to incorporate it in my skincare routine. Not only is it soothing thanks to this key ingredient, it also contains several plant extracts with anti-inflammatory and antioxidant properties, making this the perfect facial mist/toner for anyone using serious actives in their routine.
I've been using the Odacité Aloe + Immortelle Hydra-Repair Treatment Mist for several weeks now and together with the Odacité Ca+C Camelina Chamomile Serum it's helped eliminate any dryness and flaking associated with using Curology. That's right, I've been using my 0.05% tretinoin + 4% azelaic acid prescription every night, immediately after cleansing, and no issues whatsoever. #WINNING
[wp-review[