I was still in full summer mode last week in Florida, but now that I'm back in DC I'm definitely feeling the fall temperatures! In addition to switching out my summer wardrobe, it's also time to update my summer skincare routine.
Do we need a fall routine?
Short answer: Yes!
Long answer: Our skin's oil production actually fluctuates with the temperature. The warmer it is, the more oil we produce, and vice versa (source). Since our skin isn't producing as much oil in the cooler months, it's important we replenish these emollients through our products to protect our skin against the elements and lock in the hydration! Nothing sucks moisture like the heat on full blast!
This doesn't mean we need to get rid of everything we used during the summer, that'd just be wasteful and super expensive. Sometimes all you need is an extra product or two!
1. Try thicker toners or emulsions
Instead of water-based toners, I prefer products with some oils in them to make up for what my skin lacks. My favorite is the Laneige Cream Skin Refiner, which I've reviewed here and still adore. It's simple, gentle, and insanely hydrating without being too heavy, just perfection in a bottle.
Emulsion is an interesting skincare category and not often discussed because they can be confusing. Is it moisturizer or a serum? My answer is it depends! If your skin is extra thirsty, use it to add extra moisture before your cream, but otherwise you can use this alone or mixed with facial oils as your last step.
I've really grown to love emulsions for their versatility, and a favorite of mine is the Amorepacific Essential Cream Fluid*, reviewed here., but lately I'm also enjoying the Donginbi Red Ginseng Moisture & Balancing Emulsion* mixed with a bit of oil in the am before my sunscreen!

2. Mist generously
Chances are you already have a mist in your stash, all you need to do is use it more generously! I like to create a hydration sandwich by misting my skin between every skincare step. Not only does damp skin absorb products better, but by adding our emollient layers over the mist we can lock in that extra hydration!
Currently I'm using the Klairs Fundamental Ampule Mist* which has a base of green tea water and a smorgasbord of humectants.
If you don't have one, look for bi-phase mists that include nourishing oils, like the Pixi Glow Mist*, Sioris Time is Running Out Mist, or Tatcha Dewy Skin Mist. You can use these in place of toners or to add hydration throughout the day, and since they contain oils, they'll lock in the moisture automatically.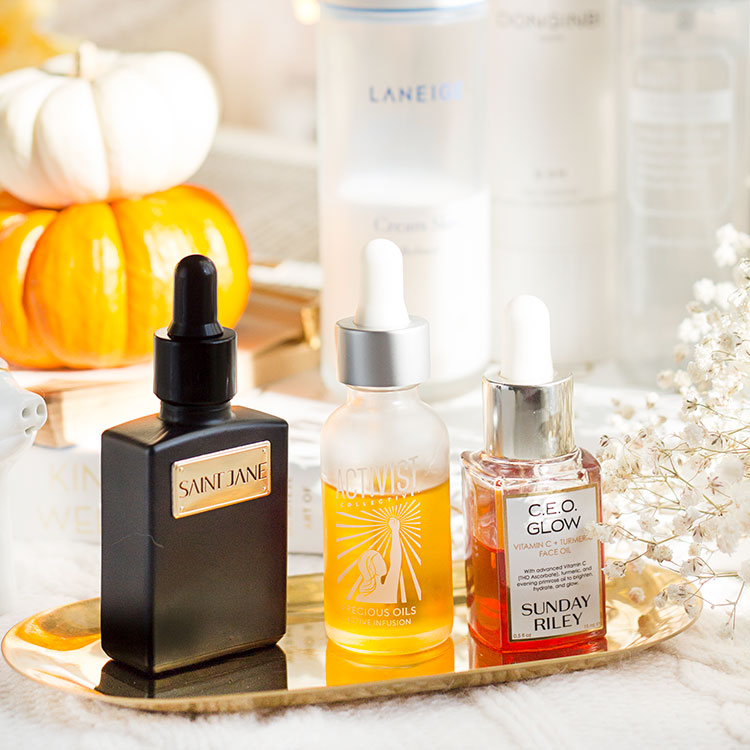 3. Add a facial oil
It's no secret that I love facial oils year round, but they're must-haves in my fall/winter routine since my skin is naturally producing less. Here are a few that I love:

I'm currently testing the Saint Jane Beauty Serum which stands out with its 500mg of CBD, and so far I like it, just not sure I love it.
Also oils don't have to be expensive or complex. Single oils like rosehip or squalane will work just as well, and minimize any chances of sensitivities. Here are a few wallet-friendly options all under $10!

Not sure how to incorporate facial oils in your routine? Here are 5 ways I use them in mine!
4. Lock it in with a $1 cream
If you don't have emulsions or mists or facial oils and don't want to spend the money to buy them, don't fret. For just $1, you can buy a small tin of the Nivea Creme which is fantastic for locking in moisture.
You can keep your routine as is, and just apply the Nivea Creme as the last step in your routine, before sunscreen in the morning. A thin layer is usually all I need, so the tin should last you the winter and then some!
So you see, a seasonal routine switch doesn't have to be complicated or expensive. As a matter of fact completely switching up your routine might even upset your skin if it's sensitive, so it's always better to keep things simple. Hope you found this post helpful, and stay warm!