Two things that are so hot on social media right now: green skincare and literally green skincare. The Dewy&Bae Raw Glow Serum is both, thanks to its key ingredient, chlorophyll.
If you're on Instagram you've probably seen this beautiful green oil, it's hard to miss and the color really just catches your eye. I've been oggling at it on people's feed until Dewy&Bae kindly reached out and sent me one to review, so here we are!
What is it

"The first facial oil serum to contain plant origin Chlorophyll". It's also vegan and cruelty-free.

How I use it

After my serums but before my moisturizer, a few drops mixed into my moisturizer, mixed with a mist/toner to create an emulsion, or after a sheet mask to lock in the extra essence. The possibilities are endless.

Best suited for

All skin types, especially those who prefer "green" and/or vegan formulas.

Key ingredients

jojoba oil, grape seed oil, squalane, aloe vera, vitamin e, coQ10, and of course chlorophyll derived from alfalfa. full ingredients here.

Irritants

This does contain neroli essential oils at the bottom of the list. While I haven't experienced any irritations, keep this in mind if you're sensitive to eo's.

Packaging

A clear glass dropper bottle with a leak-proof and child-proof cap (that I couldn't open for the longest time…fail). It feels and looks quite luxurious.

Scent

Slightly sweet and citrusy, but it dissipates once you've massaged the oil in. I personally love it and find it very uplifting!

Texture

It's a medium-light weight oil. While you can apply it directly to dry skin, I find it works best on damp skin or mixed with other products. When applied on damp skin it absorbs fairly quickly.

Finish

Slightly dewy and not uncomfortable in any way.

Available At

Dewy&Bae for $56 (1oz/30ml)
Since chlorophyll is this oil's star ingredient and what really sets it apart from other oils, let's take a closer look at it shall we?
Chlorophyll – green washing or the real deal?
Natural beauty brands tend to spew out a lot of information, a lot which I hate to say, is greenwashing and fear mongering. So it's not to surprising that the latest it ingredient to sweep the eco-beauty realm is literally green and of course comes from plants (because any other source would be blasphemous). The benefits claimed range from skeptical to downright insane: detoxing and a natural replacement for sunscreen? Don't even get me started *rolls eyes*
Luckily none of these claims actually came from Dewy&Bae, though they do tout chlorophyll as "a powerful blemish banisher & wound healer full of antioxidants & vitamins A, C, E and K."
As always, I only trust sources from research journals and educational institutions, and here's what I found:
Its potential skin benefits are not new. Research done back in 1949 and found topical chlorophyll can help with wound healing.
It can help reduce signs of photo aging. On a 12-day clinical study of 4 women, 0.05% chlorophyll (in the form of sodium copper chlorophyllin) was found to produce comparable results to 0.025% tretinoin. The sample size is too small to make any definite conclusions, but it's promising!
It can help with acne. A study of 10 people found 0.1% chlorophyll complex helped reduce acne and visibility of pores after 3 weeks. Another study of 24 people (specifically Asians with darker skin) found that chlorophyll with light therapy helped reduce acne and sebum production compared to using light therapy alone. Again, the the sample size is limited, but the results show potential.
Looks like Dewy&Bae were not far off with their claims! However is it the miracle ingredient touted amongst eco-beauty brands? Hardly. But with more research, it could be a great anti-aging ingredient for acne-prone skin. Keyword could. Until then I still recommend sticking to tried-and-true (ie. well studied) ingredients like retinol and vitamin c.
Read more: 7 types of Vitamin C compared – which one is right for your skin?
However that's not to say the Raw Glow Serum is worthless, because it still has a good mix of great skin-loving ingredients. In addition to 4 oils that work well for all skin types, it has aloe to soothe+ hydrate and anti-aging antioxidants like vitamin e and CoQ10. I highly recommend reading this INCIDecoder Analalysis if you'd like to learn more. But in a nutshell, this is a well-formulated oil even without the chlorophyll.
Usage Experience
For me a good oil is one that gives my dry winter skin the extra nourishment it needs. Bonus points if it includes other beneficial ingredients, smells nice, feels nice, and is just generally nice to use. And the Raw Glow Serum meets all these criteria.
My favorite way to use this is after my serum step. I'd mist my skin generously, and while still damp, I'd apply 2-3 drops all over and massage it in. This emulsion blend has wonderful slip allows for me to massage my face (with my hands or with a tool) without worrying about tugging my skin. Absorption is quick and my skin instantly feels softer and smoother, not to mention the dewy glow it imparts.
As for long term effects, I feel like my fine lines are less noticeable and my skin still has the same glow from when I was using the more expensive True Botanicals Renew Oil. Perhaps I was already used to the results I saw from the Renew Oil, so the Raw Glow Serum's results didn't wow me as much, but they're definitely there.
What I loved most about this oil though is the usage experience. From the aesthetics to the scent to the texture, everything about it makes me look forward to using it in my routine. And to see results, using products consistently is half the battle! While the Raw Glow Serum didn't quite dethrone the Naruko Supreme Rejuvenating Elixir Oil as my all-time favorite facial oil, it's top 3 for sure!
Final Verdict
Packaging
Ingredients
Texture/Application
Performance
Price
The Dewy&Bae Raw Glow Serum is one of those oil that you can't really find fault with. It lives up to pretty much all of the brand's claims, even its ability to "rebalance the skin in 7 days" was true because technically it did make my skin less dry. The chlorophyll aspect is nice, but is more of a novelty factor than anything else. For me the biggest draw of this oil is definitely its skintertainment factor, so if that's a big deal for you, this is certainly one worth considering.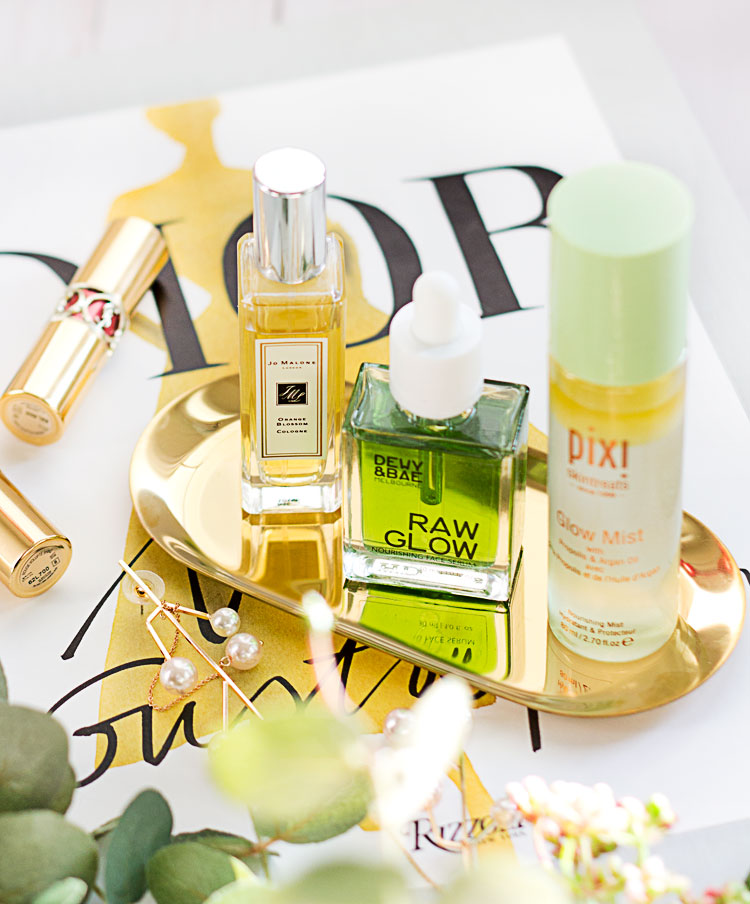 Have you guys tried this oil or anything with chlorophyll before?