At this point I think most of us have our skincare routine figured out: cleanse → tone → serum → moisturize with a cream/gel/oil → spf in the morning. So where do lotions/emulsions fit in the routine?
I've often wondered that myself, which is why I don't bother using them. But then the AMOREPACIFIC Essential Creme Fluid entered my life, and much like a cliché rom-com, it changed my routine in ways I could never imagine.
Ok so it's not quite that dramatic, but let's just say it changed my routine for and my perspective on lotions/emulsions both for the better.
Overview
What is it
A silky lotion that captures the rich nutrients of a cream in a light, refreshing fluid formula to maintain long-lasting moisturizing power in skin while providing antioxidant benefits.
Best suited for
All skin types except those sensitive to fragrance. Oilier skin will really enjoy this as their moisturizer thanks to how light it is, while dry/combo skin can layer on a thicker cream afterwards. Acne-prone skin will want to patch test this first as some ingredients can be comedogenic.
Things to note
Alcohol-free but there is added fragrance. Ceteryl alcohol may cause breakouts for certain people.
Packaging
An elegant opaque pump bottle. It looks like a work of art on my shelf! The minor downside is that I can't tell how much product is left.
Scent
A fresh floral scent, aka that typical high end skincare scent.
Texture
Creamy yet really light, and absorbs instantly into the skin.
Finish
Velvety soft, with no heaviness or stickiness.
Where to buy
$98 for 3.04oz at Nordstrom, Sephora, and AMOREPACIFIC
Ingredient Highlight
Water, Hydrogenated Poly(c6-14 Olefin), Propanediol, Glycerin, Dimethicone, Stearic Acid, Palmitic Acid, Camellia Sinensis Leaf Extract, Camellia Sinensis Seed Oil, Arginine, Butylene Glycol, Glyceryl Stearate, Cetearyl Alcohol, Glyceryl Caprylate, Hydroxypropyl Starch Phosphate, Hydrogenated Lecithin, Caprylic/capric Triglyceride, Pentaerythrityl Tetra-di-t-butyl Hydroxyhydrocinnamate, Bis-diglyceryl Polyacyladipate 2, Caprylyl Glycol, Carbomer, Tocopherol, Ethylhexylglycerin, 1,2-hexanediol, Fragrance
For $98 a bottle, AMOREPACIFIC isn't mucking around when it comes to their green tea extracts, the key ingredient in this product.
Each bottle contains 150 baby green tea leaves, harvested from their own gardens. Why baby leaves? According to research, the younger the leaves, the more EGCG and ECG (key components in green tea) and the less contaminants they contain.
The combination of green tea polysaccharides + vitamins + oil from these leaves are then micro-encapsulated to improve product absorption and provide potent antioxidant + moisturizing benefits to the skin.
Some other notable ingredients include arginine, an amino acid that can increase collagen production, and vitamin e, an antioxidant that doubles as a preservative.
The rest of the ingredients aren't of much interest, though keep in mind this does contain a noticeable fragrance. Do I wish there were more beneficial ingredients? Sure, but between having a bunch of mediocre performing actives or a few incredibly powerful ones, I'd go with the latter, and so did AMOREPACIFIC.
AMOREPACIFIC uses Neutra-melting Emulsion™, an aging and cooling process that helps preserve the potency of the ingredients that can otherwise be compromised by traditional emulsifying technique (source).
This process works especially well with antioxidants like green tea extract, which are typically sensitive to extreme temperatures. It also requires less surfactants than traditional methods. As a result, you get the silky fluid texture of a lotion, but the moisturizing and antioxidant benefits of a cream.
Between the use of baby green tea leaves, microcapsules, and this unique emulsifying process, it's evident that AMOREPACIFIC strives to preserve the potency of the green tea extracts, something we could never tell from looking at the ingredient list alone.
This is why while understanding ingredients is important, it's equally important not to judge a product by the ingredient list alone. Formulating correctly is just as important!
How to use
Dry skin types can use this as a typical emulsion, which comes after your serum step but before your facial oil or moisturizer.
Oily/combo skin types can use this as your regular moisturizer instead.
1 pump is enough for my whole face.
Apply a face mist beforehand if you want to create a moisture sandwich!
Learn more: How to layer your skincare products – an in-depth guide
Experience and results
First off the Amorepacific Essential Creme Fluid texture is simply luxurious, it feels like I'm rubbing a soft kitten on my face, and as a certified Cat Lady™, that's high praise. The light creamy fluid absorbs into the skin instantly, leaving behind a velvety smooth finish.
I use this after my serum step, and I still like to layer another cream over my cheeks for extra hydration, butno matter your skin type, this will add some awesome antioxidant protection and moisture to the skin.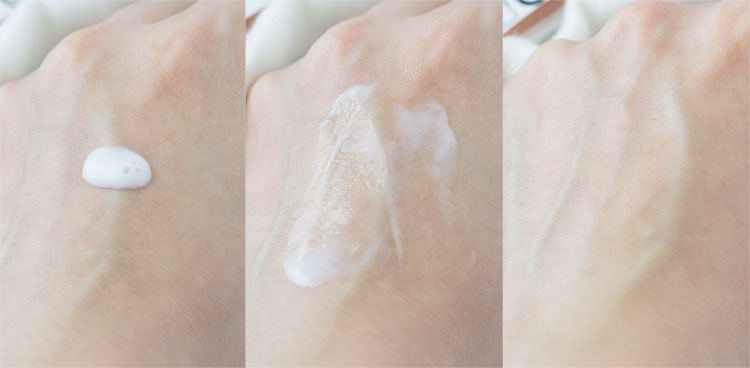 It layers beautifully under other products and makeup, and I have no issues with pilling.
Between lightweight gel moisturizers and the Essential Creme Fluid, I'd definitely pick the latter as my day-time moisturizer. It keeps my skin just as hydrated as the Shiseido Essential Energy Moisturizing Gel Cream (mentioned in my Spring Beauty Discoveries), without the pilling woes.
For me, the AMOREPACIFIC Essential Creme Fluid has replaced my facial oil, as both help moisturize my skin and provide additional benefits, except that oils can feel heavier, take longer to absorb, and leave a shiny finish.
I've actually stopped using facial oils since introducing this in my routine, and that's saying something because I'm generally a big fan of oils. I was surprised to find myself not missing the oils that much (maybe I will again in the winter time)!
As an antioxidant, green tea works to protect and prevent damage rather than to reverse it, so it's hard to tell if there has been any improvement in just a few weeks. I will say that this always leaves my skin soft, smooth, and adequately moisturized, and with long term usage, I'm sure the difference would be even more noticeable.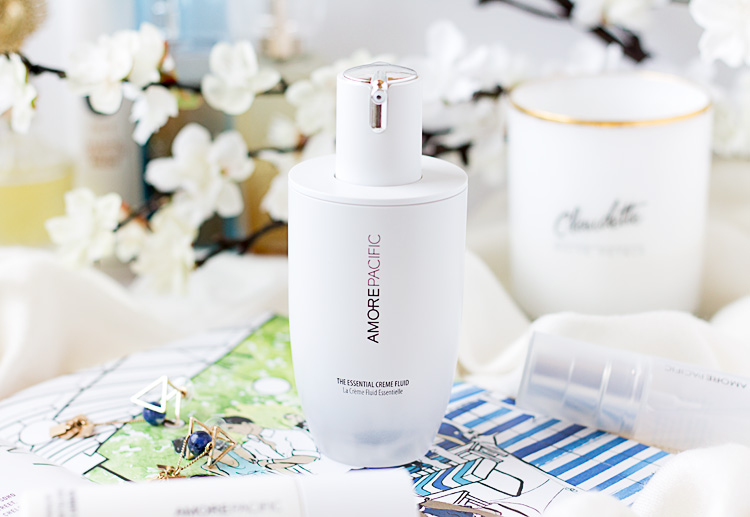 Amorepacific Essential Creme Fluid Dupes?
👯‍♀️ Laneige Cream Skin Refiner
Both by the Amorepacific company, you'll notice a lot of similarities between the ingredients (green tea & white tea) as well as extraction methods. The Cream Skin Refiner is more watery and toner-like, while the Essential Creme Fluid is more of a silky lotion. The latter feels more elegant, but the Laneige delivers similar results at a fraction of the price!
Final Verdict
Packaging
Ingredients
Texture/Application
Performance
Price
Given the price point, I'd hesitate to call this an essential in a typical routine, despite what the product name claims. However, I can't deny that it's a beautiful product inside and out, not to mention a pure delight to use.
If you prefer a lightweight non-gel moisturizer, this is an excellent option. Or if you're not a fan of oils but still want that extra moisture boost, this is worth checking out! Since this awakened my interest in emulsions, it only means I now have even more products that I want to try, so I don't know if I'll be repurchasing this immediately. But if the great results keep up, I wouldn't rule out buying this in the future!