I'm a big believer in CBD supplements to deal with minor stress and anxiety, but I've had my doubts about CBD in skincare. It was all the rage on Instagram a while back (apparently the new trend is bananas now), and the Saint Jane Beauty Serum was one of the most talked-about products.
What is it
An antioxidant-packed serum with 500 mg of full-spectrum CBD plus 20 potent botanicals that help to deeply hydrate, detoxify pores and boost skin's natural glow.
How I use it
Twice a day after my serum step in my skin care routine. First I'll mist then massage 1-2 drops into my damp skin. Occasionally I'll mix this with my evening moisturizer.
Best suited for
Dry to combination and/or aging skin types. Oily skin might find this a tad heavy but can make it work by mixing with moisturizer or prepping with a mist. Sensitive skin types should be wary of the essential oils. Blemish prone skin might appreciate the anti-inflammatory benefits of CBD.
Ingredients
Sunflower seed oil, Shea nut butter, Pomegranate seed extract, Grapeseed oil, Cannabidiol (500mg full spectrum CBD), Rosehip seed extract, Seabuckthorn fruit extract, Jojoba seed oil, Rose flower oil, Helichrysum flower oil, Palmarosa leaf oil, Sandalwood wood oil, Frankincense resin extract, Geranium leaf/flower oil, Myrrh resin extract, Calendula flower extract, Nardostachys Chinensis root oil, Tocopherol, Prickly pear seed oil, Rosemary leaf extract
full ingredient analysis
Things to note
There are several essential oils in here that could be irritating if you have sensitive skin.
Packaging
An opaque black glass dropper with a gold label. Minimal and luxurious.
Scent
Smells like a mix of essential oils. Not strong, but definitely noticeable and not the best scent IMO. Luckily it dissipates quickly
Texture
A medium-weight oil that is best applied to damp skin or mixed with a moisturizer.
Finish
Applying to damp skin helps with absorption and leaves the skin looking glowy, not oily.
Where to buy
$125/1oz on Sephora and Credo Beauty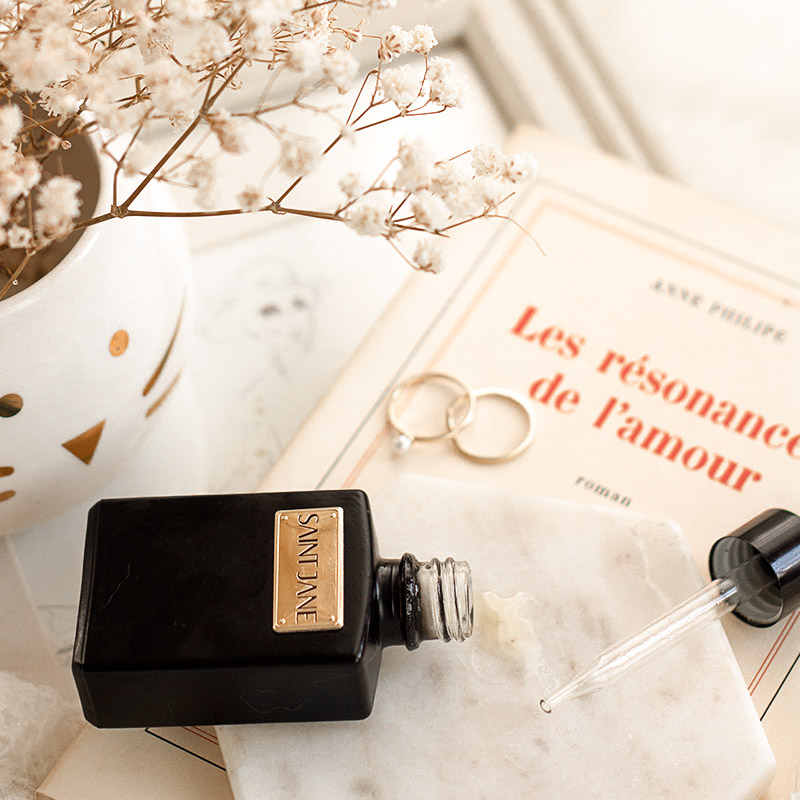 Is topical CBD worth it?
Paula's Choice has a great research-backed post on the benefits of CBD, but in a nutshell:
It's anti-inflammatory. This makes it a suitable ingredient for both acne-prone and sensitive skin types that frequently deal with redness. CBD can help soothe the skin and prevent post-inflammatory hyperpigmentation (PIH).
It's a wonderful antioxidant. Meaning it will protect our skin from free-radicals and prevent signs of aging.
It can balance sebum production. This could make it a good ingredient for oily/combo skin types.
So yes, CBD sounds like a promising ingredient, but also keep in mind:
Studies on CBD are limited. While it's tempting to dive headfirst into the latest and greatest ingredient, keep in mind they're not nearly as well researched as proven ones.
Quality can vary depending on the source. For one, you'll want to make sure the ingredients show Cannabidiol. Some brands are purposely vague with their labels to try and pass hemp oil off as CBD. Next, you'll want to see third-party lab reports to confirm that you're getting the labeled amount of CBD and that it's not tainted. Saint Jane's report can be found on its product page.
It's expensive. Some of the more reputable brands charge a pretty penny for products with CBD! Considering you can find plenty of proven ingredients with the same effects, is CBD really worth the price?
After my experience with the Saint Jane Beauty Serum, my answer is no, but that doesn't mean this serum is a dud.
Usage experience
The texture and scent remind me of the True Botanicals Renew Pure Radiance Oil, with the Saint Jane Beauty Serum being slightly lighter. It's still moisturizing, as you would expect of any facial oil, and I've found that having one in my routine has helped reduce the appearance of fine lines and skin texture.
A quick look at the ingredients, and you'll find that True Botanicals contains more beneficial extracts while Saint Jane's has more essential oils and of course, CBD. I personally prefer TB's formula, not to mention it's actually less expensive!
That's not to say that this oil is useless. I definitely noticed CBD's anti-inflammatory effects while using this product.
I didn't experience any sensitivities with retinol or vitamin c while using this oil, and now that it's finished, I've found that my skin is more reactive to retinol again. I've since introduced other calming products in my routine and my skin's resilience has improved.
So despite its great anti-inflammatory benefits, this oil didn't really stand out for me in any way. In my opinion, there are better and/or more affordable products that nourishes your skin, hence I did not miss this when I finished it.
What to buy instead
If you're looking to soothe sensitive skin, I swear by the La Roche-Posay Cicaplast Baume B5, but I've also heard wonderful things about Krave Great Barrier Relief and Stratia Liquid Gold.
As for facial oils, I already mentioned True Botanicals Renew Pure Radiance Oil* but Activist Skincare Precious Oils Serum* delivers similar results as well at a better price point.
Naruko Supreme Rejuvenating Elixir Oil* is still my favorite overall and a super affordable option is the Good Molecules Ultra-Hydrating Facial Oil*.
Final Verdict
Packaging

Ingredients

Texture/Application

Performance

Price
As a product that was heavily hyped on Instagram, especially among CBD advocates, I was disappointed. Again, objectively speaking this is not a bad facial oil by any means, but it fails to wow, especially at that price point. Your money is better spent elsewhere!