A year ago I raved about the Tripollar Stop X and my love for the at-home radio frequency facial device has not changed. I got the chance to try the upgraded version, the Tripollar Stop Vx, so let's find out what's different, and how the different tools compare.
Quick Summary
Features both Multi-Radio Frequency (RF) and 2nd generation DMA technologies.
Continuous use of multi-RF mode visibly plumps the skin, especially around nasolabial folds
Single use of DMA mode is enough to tighten the jawline contour, but it's also noticeably more painful.
What is TriPollar Stop Vx?
Overview
As one of the most effective devices in the market, the innovative TriPollar Stop VX uses Multi-RF and DMA technologies together to provide extraordinary results: lifting sagging skin, plumping and tightening, reducing wrinkles, softening the skin, detoxifying and oxygenating, and sharpening the jawline contour.
Available For
$649 for the device + a tube of preparation gel, but it's regularly on sale at SkinStore (25% off with code JENNY) and Tripollar Official (25% off with code GEEKYPOSH). Amazon may also have flash sales.
Is a primer required?
Yes, you need to apply a thin layer of their Preparation Gel beforehand help transfer the heat. Less is more, and do not try to use a different gel or else the treatment might not work as well. FYI the gel does contain fragrance!
Does it hurt?
The RF mode feels like a warm sensation on the skin, though if you're sensitive to heat you might find it uncomfortable. I actually find it relaxing! But the DMA mode will hurt – like someone snapping rubber bands constantly on your skin. As you go from low to high mode the heat/pain will increase as well.
Is there any downtime?
Other than some slight redness there's no downtime! You can reduce the redness by applying a cooling sheet mask afterwards.
Is it time consuming
Takes about 5-7 minutes to complete one section of my face with just RF mode, bringing the total time to 20 minutes. Add another 2-3 minutes for the RFA mode along the jawline. Initially you'll need to use it every other day for a couple months, then reduce to 2 times a week to maintain the results.
Is it safe to use while pregnant?
No studies were done to confirm the safety of the device during pregnancy so it's best to stop using it, just in case.
Is it safe for all skin tones?
Safety and effectiveness of the device is only confirmed for Fitzpatrick skin types II to IV. Types I, V, or VI can be prone to skin discoloration when using this device.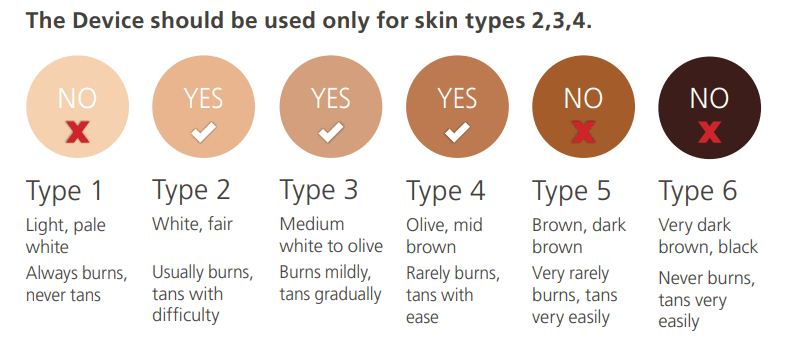 Areas to avoid
For the RF mode, avoid our nose, eye lids, and the lymph node areas on your neck. Also avoid where your thyroid is. For the DMA mode avoid all areas except your jawline!
What is radio frequency technology?
It works by sending waves (as in radio waves) to continuously heat the deep layers of the skin. When maintaining that high temperature, our skin reacts by releasing heat-shock proteins, which then in turn stimulate collagen and elastin production (source). Don't worry, this heat is transferred to the deep layers, so the surface level of your skin is perfectly safe :)
Due to its ability to stimulate collagen production, RF technology has been shown to improve fine lines, improve mild sun damage, and even improve facial firmness!
Tripollar Stop Vx uses multi-radio frequency, which are interchanging RF waves that allow for a quicker, broader, and more even heating process. Keep in mind the studies done on RF were done on single RF, but those who have used both Stop (single RF) and the newer Stop X or Stop Vx (multi-RF) agree that the latter is less uncomfortable and more effective.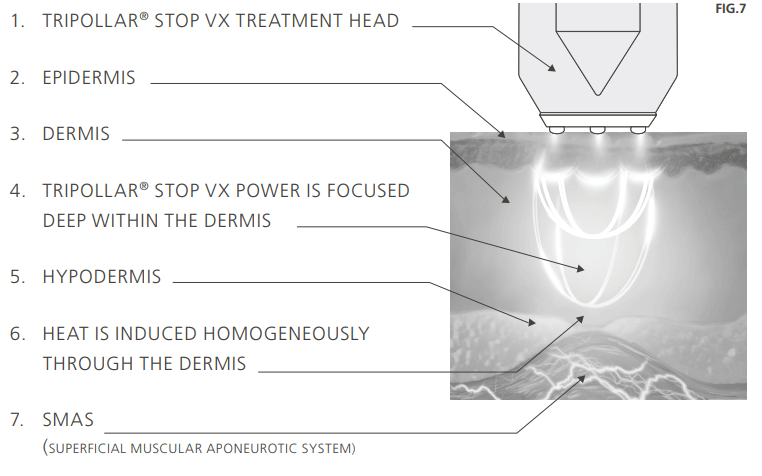 What is DMA technology/ELV?
DMA stands for dynamic muscle activation, which is Pollogen (Tripollar's parent company)'s proprietary muscle toning technology. It uses electric currents that stimulate our facial muscles to contract, while simultaneously using Multi-RF. Think of it as a workout for your facial muscles!
Two sponsored studies saw good anti-aging results from using DMA + RF, but another study on cellulite and stomach circumference deduction only saw results from RF.
ELV is the term used in the US market, but it's the same thing.
How to use the Tripollar Stop Vx
After cleansing and drying your face in the evening, do not apply any other skincare products.
Apply a thin layer of the preparation gel to areas of application. Less is more with the gel, you want just the thinnest layer to cover your skin. I use half a pea sized amount for both of my cheeks.
Turn on your device to the appropriate setting. I suggest starting with the lower level until your skin can tolerate the warmth/pain, then adjust to the higher level.
Divide your face into 3 sections: forehead, left cheek, and right cheek.
Start moving the device across your skin in continuous, slow, small, and circular motions.
Keep the device moving in the same area until you see the orange light and hear a beep. That means the temperature has reached the desired levels. Repeat 1-2 more circles then move on to the next area.
Repeat 4 and 5 until you've completed the entire section. Now we're going to switch to linear motions.
For your nasolabial folds, move the device slowly from the bottom to the top of the fold in one linear motion. Repeat 10-20 times.
Next move the device in an upward linear motion along your jawline contour, starting right below your chin. You can switch to the blue DMA + RF mode for this step only. Repeat 10-20 times.
Move the device slowly from the corner of your mouth upwards right before the middle of your ear. Repeat 10-20 times.
Finally move the device from the corner of your nose (top of your nasolabial folds) along the bottom of your cheek bones, slightly pushing upward. This is to help lift and plump the apple of your cheeks. Repeat 10-20 times.
You can now switch to the next section. Make sure to repeat steps 8-11 for both cheek sections.
Once all 3 sections are complete, rinse off the remaining gel with water. Continue with your regular skincare routine.
Notes
Do not use your Tripollar Stop device daily! Use at most every other day. To reduce redness apply a gentle hydrating sheet mask afterwards.
Tripollar Stop Vx Before & After
For a week by week breakdown, I recommend reading my Stop X review as the results are very similar. As my nasolabial folds are is where I have the most noticeable sagging skin, I saw noticeable lifting and plumping at around the 8-week mark.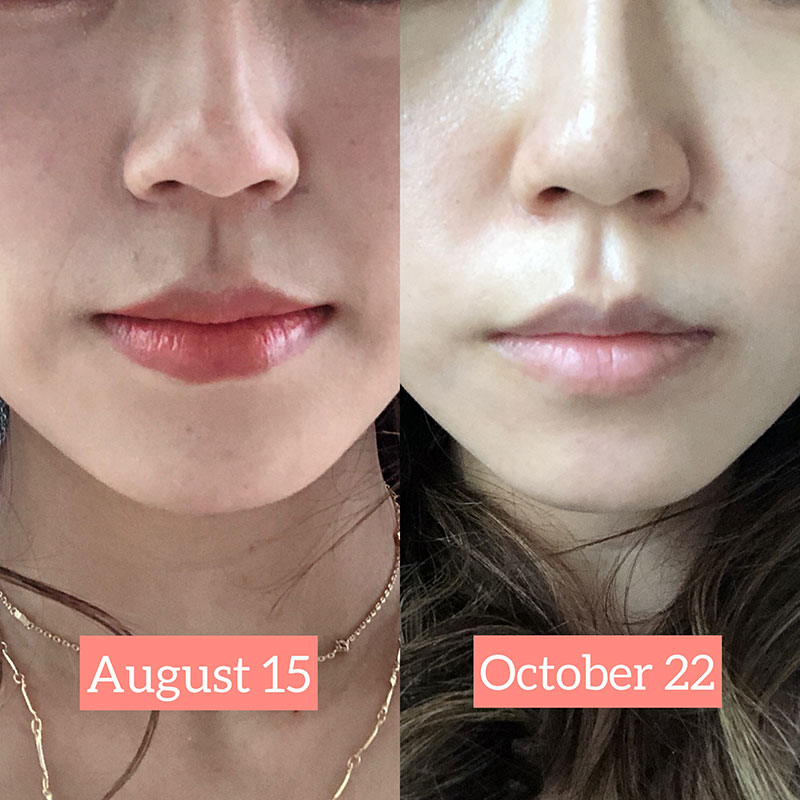 Now if you add in the DMA mode, then you start seeing significant results around your jawline contour as well. For me it took only one use to get visible lifting, and when I say visible, I mean even my husband noticed the effects!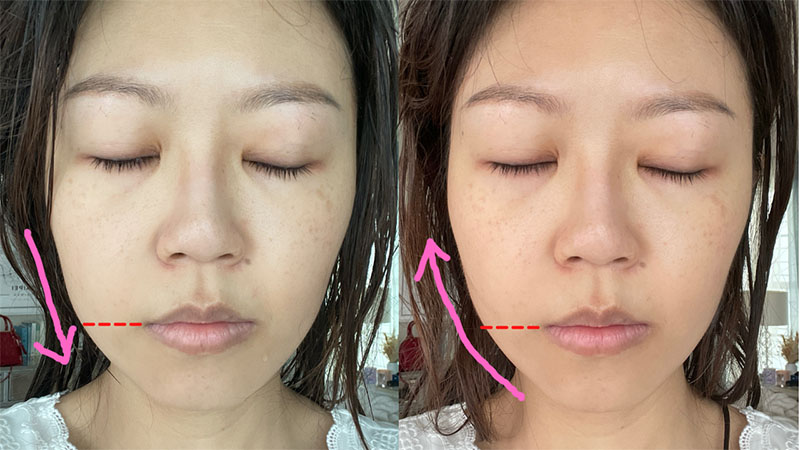 However, as someone with low pain tolerance, I found the DMA mode uncomfortable. The zapping sensation is noticeable and I could see the corner of my mouth twitch involuntarily during the process!
Because the sensation was so jarring, I began dreading the DMA mode, and eventually I just stopped using it. However if you have a higher pain threshold, it will make a noticeable difference to your jawline.
Tripollar Stop Vx vs Tripollar Stop X
Stop Vx
Stop Vx Gold
Stop X
Stop X Rose
Price
$649
$849
$399
$449
Radio Frequency
Multi-RF at 1.0MHz-1.25MHz
Multi-RF 1.0MHz-1.25MHz
Multi-RF at 1.0MHz-1.25MHz
Multi-RF at 1.0MHz-1.25MHz
DMA
DMA with
continuous pulses
DMA with
continuous pulses
❌
❌
Thermal Mapping
❌
✔️
❌
✔️
Pain Level
RF mode is low and same as the Stop X.
DMA mode is medium and noticeably uncomfortable.
RF mode is low and same as the Stop X.
DMA mode is medium and noticeably uncomfortable.
Low, feels like a warm sensation on the skin
Low, feels like a warm sensation on the skin
The main difference between the two is the DMA mode which lifts and tightens. If you don't own any microcurrent devices, the Tripollar Vx is my recommended choice since it works just as well (if not better) on sagging skin!
However if you have a low pain tolerance or aren't interested in the tightening effects, you can save some money and use just the Stop X.
I haven't tried the Stop X Rose or Stop Vx Gold so I'm not sure how well the thermal mapping feature works, it's listed here simply for comparison purposes.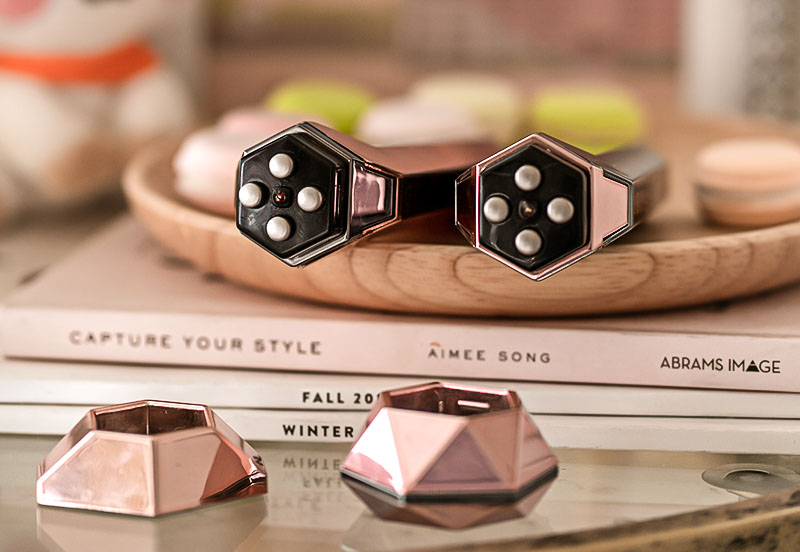 Tripollar Stop Vx vs NuFACE
Tripollar Stop Vx
Nuface Trinity
Nuface Mini
Price
$649
$339
$209
Tech
Multi-RF at 1.0MHz-1.25MHz and DMA with continuous pulses
Microcurrent
Microcurrent
Levels
High and low for both modes, so 4 levels total
5
5
Rechargeable
❌
✔️
✔️
Areas Used
DMA mode is for the jawline only, RF mode can be used on the entire face except eye area
Whole face, with separate attachment for eyes and lips area
Whole face except eyes and lips area
Pain Level
RF mode is low and same as the Stop X.
DMA mode is medium and noticeably uncomfortable.
None, may feel occasional zap if the gel dries
None, may feel occasional zap if the gel dries
Time required
30 minutes (20 for RF, 10 for DMA), every other day
5-20 minutes 5, days a week
5-20 minutes 5 days a week
Efficacy
Instant lifting results on low
Instant results on level 5, otherwise takes a few sessions
Instant results on level 5, otherwise takes a few sessions
If I take out the pain factor, the Stop Vx is the winner for me – it delivers quicker results and you just need a few minutes every other day. However, the discomfort ended up being a deal breaker, so I'm happy alternating between Stop Vx RF mode and Nuface and just waiting a bit longer to see the lifting results.
If you're looking just for lifting and am less concerned about plumping, I'd definitely recommend Nuface for its user-friendliness and pricing.
What others are saying
This tool is small and lightweight, but powerful. It's easy – I just plug it in and pick my setting. I am impatient and want to see magic right away, so I use the high setting on the RF which warms my skin and high on the ELV, which tingles a little. The results are really remarkable! I used it before a wedding, and all my college friends were there. EVERYBODY complimented me on how great my skin looked and a few people asked if I had done anything.

Llyod Good, Amazon
OMG, I love, love, love this little magical tool! I've been using it for about a month and it really works! I love the ELV mode because I see immediate results right after I use it on my jaw area, but now that I've been using for weeks, I see results all over. I've had so many people ask me what I've been using on my skin. I never write reviews, but WOW, I just had to share. (I'm in my mid forties for reference)

Amy E Green, Amazon
I am not sure i got malfunction machine. Green right is on n off while using and temp detectors light is keep on even not on my skin. Also DMA is really really painfull… I got hifu at clinic, this little machine's DMA is much more painful… its sugessted 4.5 min each side… impossible…I cannot do more than 1 min. I should purchase normal one not vx. For result, my skin got slightly farmer but still not tight as I wanted. I will keep using to see long term results.

Yumiko, Tripollar
Final Verdict
Design
Comfort Level
Ease of Use
Performance
Price
I had high hopes when Tripollar released the Stop Vx as I thought it would be a significant improvement from the X. Objectively, the added DMA mode is no small difference, but 1) it only works on the jawline and 2) the chicken that I am found it too painful (literally) to use, so now I'm stuck using the same RF mode as the X.
For those braver and with a higher pain threshold, I still think the Stop Vx is worth the investment if you're looking for the "one" tool for your anti-aging needs. But if your jawline is fine, the Stop X offers a better value for your money. Let's just say you can't go wrong with either device!