The search is over. I've found my holy grail everyday sunscreen, and it's the Allie Extra UV Gel N.
What is it
Contains Kanebo's original advance technology to give deep UV barrier protection whilst being light and comfortable to use. Includes hyaluronic acid and collagen to moisturize skin. Strong SPF50+ PA++++ power but comfortable for everyday use on face and body.
How I use it
Every morning after my moisturizer. I apply 4 pea sized amounts on my cheeks, forehead, and chin, then spread the sunscreen evenly across my face. The initial white cast helps determine an even application. Add 2 pea sized drops for the neck.
Best suited for
All skin types, except the super dry and sensitive, as this does contain alcohol. My dry skin had no issues though.
Things to note
While it's fragrance free, there's about 7-11% alcohol in this. For me the alcohol here is mostly beneficial as it helps keep the formula elegant and I do not experience any dryness, but ymmv.
Packaging
A plastic tube with geometric embossing on the lid and doesn't track finger prints! A step up from your usual sunscreen tube.
Scent
Fragrance free but smells strongly of alcohol initially!
Texture
A light cream-gel that feels like water once you start rubbing it in. Extremely elegant and comfortable on the skin.
Finish
Natural with a bit of dewiness. There is a noticeably tackiness when you touch your face, but otherwise you won't feel a thing. There's also an initial white cast but is gone after about a minute.
Where to buy
$28/90g on Amazon; $30 on eBay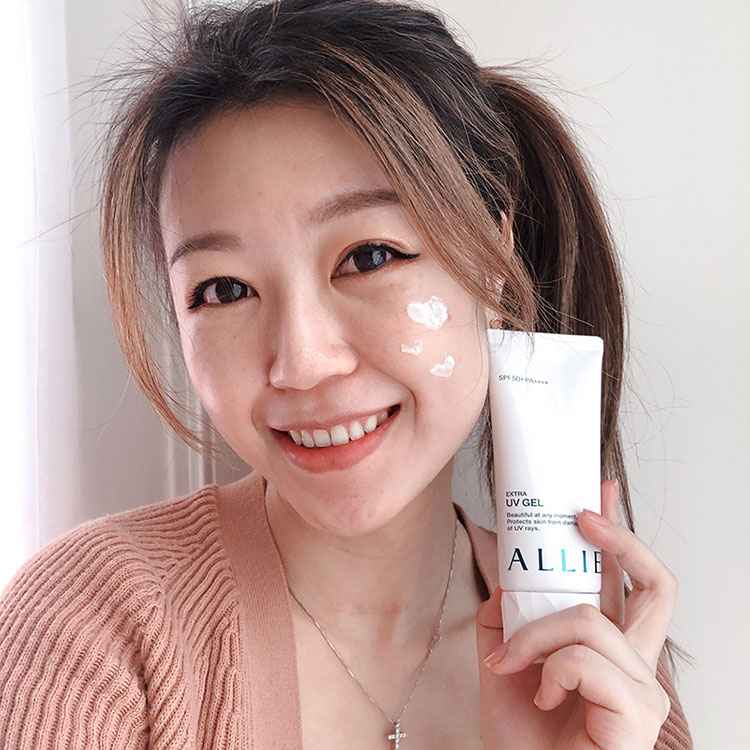 Ingredient Analysis
Water,
Zinc Oxide 11.53%
,
Alcohol
,
Octinoxate 7.19%
, Dimethicone, Isononyl Isononanoate, Butylene Glycol,
Tinosorb S 2.0%
,
Uvinul T 150 2.0%
, Glycerin, Isopropyl Palmitate, Triethylhexanoin, Sodium Acrylate/​Sodium Acryloyldimethyl Taurate Copolymer, Isohexadecane, Triethoxycaprylylsilane, Acrylates/​Polytrimethylsiloxymethacrylate Copolymer, PEG-400, Polysorbate 80, Polysilicone-9, Xanthan Gum, C30-45 Alkyl Dimethicone, C30-45 Olefin, Sorbitan Oleate, Disodium EDTA, BHT,
Sodium Hyaluronate
,
Hydrolyzed Collagen
, Phenoxyethanol
full ingredient analysis
When it comes to sunscreen, I like to see strong and stable filters, and the Allie UV Gel features 4:
Zinc Oxide – A physical filter that protects against UVB + UVA rays, very gentle and non-irritating. Can leave a slight white cast depending on the formula.
Octinoxate – An elegant chemical filter that protects against UVB rays. Not very stable when used alone but pairing it with Tinosorb S helps tremendously.
Tinosorb S – A next generation UVA/UVB chemical filter that's non-irritating and extremely stable. A 2007 test on 18 different sunscreen filters found Tinosorb S to provide the best UV protection! Available everywhere except in the US :(
Uvinul T 150 – A next generation UVB filter and one of the best of all UVB filters available today. Again, not available in the US :(
As with most Japanese sunscreens, this is high in alcohol, which helps keep the formula elegant. Lab Muffin goes into all the details about alcohol in skincare, but tl;dr: it's really not that bad for you.
I'd rather use a sunscreen with better UV protection + alcohol than one that's got weaker filters + no alcohol, but ymmv.
Further reading: PA? PPD? Broad Spectrum? The ultimate guide to understanding and choosing the best sunscreen
While other beneficial ingredients like hyaluronic acid (which this does contain) are nice, I don't really care for them in sunscreens. I'm wearing this mainly to protect my skin against UV rays, and that's what I want the formula to focus on. So props to Allie for focusing on what matters.
Usage Experience
It was love at first application.
✅ Lighter than even the Klairs and Purito sunscreen which I previously shared, I can really layer this on to get the full 1/4 tsp amount for my face and not end up super oily or shiny. It's just the right amount of moisture and dewiness. *chef's kiss*
✅ It doesn't pill, layers beautifully under makeup and actually helps my base last longer!
✅ It's incredibly budge-proof, thanks to Allie's exclusive anti-friction technology. You can check my Instagram quick review for a video of me trying (and failing) to rub it off!
✅ Water/sweat resistant! I did the spritz test and you can see how the water droplets form on the sunscreen.
Allie UV Gel vs other sunscreens
While I liked the formula and filters of the Klairs and Purito ones, I did have concerns about how good its UV protection actually was, especially since it's been proven that not all SPF50 PA++++ sunscreens are made equal.
So yeah, turns out the Klair and Purito one both fell short of their claims, along with a couple other Korean sunscreens, but that's not shocking to me. The question is, what about Allie?
A 2019 and 2020 test done in China compared the efficacy of 90+ sunscreens after 4 hours under the sun in 34℃ heat. The skin was then checked to assess the UV damage (burns and tans).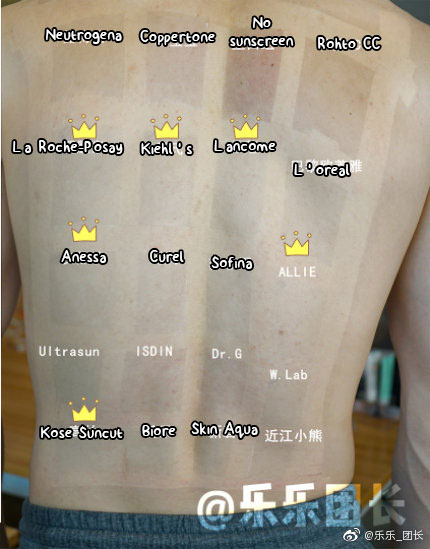 Not the most scientific study, but for comparison's sake it works. It's also a good projection of how these sunscreens will perform in real life. Either way, Allie is a clear winner here, and I'm happy to see my other fave LRP perform well too.
Final Verdict
Ingredients

Packaging

Texture/Application

Performance

Price
A flawless sunscreen in my book, maybe even more so than the La Roche-Posay Anthelios which is my outdoors hg sunscreen. It checks off everything you could ask for in a sunscreen and has been proven to work! I know the initial white cast and alcohol content might make some hesitant to try it, but for me it's 1000% worth it. Buy it now, you won't regret it.