Finding the right sunscreen can be tricky, but finding the right physical/mineral sunscreen can even be trickier. I've generally had positive usage experiences with AXIS-Y products, so I had high hopes for their physical sunscreen as well. Let's see how it performs!
Quick Summary
Elegant light lotion texture doesn't feel heavy on the skin.
Includes skin soothing ingredients but also essential oils.
May not be suitable for darker skin tones due to minor white cast.
Overview
What is it
A Mugwort based sunscreen featuring 2% Niacinamide and Squalane that protects skin from UVA and UVB damage while providing the healing properties of skin-loving ingredients for an every day, no-stress life.
Protection Factor
Labeled: SPF50+ and PA++++
Tested: SPF 60.4, PFA 24.3/PA++++
Filters
Zinc Oxide and Titanium Dioxide
Best suited for
An everyday sunscreen for combo/oily skin types that prefer physical/mineral filters and don't mind fragrance.
Things to note
Alcohol-free but does contain fragranced essential oils.
Packaging
A tube packaging with a precise dispenser. This prevents products from getting all over the opening and makes it easier to clean as well.
Scent
Faint lime like scent
Texture
A cream-lotion that's easy to blend.
Finish
A satin, almost matte, finish but leaves a white cast. The white cast is 95% gone after ~30 minutes but never fully fades. Non sticky and layers well under makeup.
Available For
$23 for 50ml on AXIS-Y, YesStyle (5% off with code GEEKYPOSH), and Stylevana;
AXIS-Y Complete No-Stress Physical Sunscreen Ingredients
As a physical sunscreen, AXIS-Y included both inorganic/physical UV filters available:
Titanium Dioxide protects against 290 – 350 nm range. It's non-irritating but gives the dreaded white cast on darker skin tones.
Zinc Oxide protects against 290-400 nm range. It's also non-irritating but can leave a white cast as well. It's still unknown whether non-nano zinc oxide (used in this sunscreen) is harmful to coral reefs, but Lab Muffin suggests it's a possibility depending on how the zinc comes into contact with the corals8. FYI the % used is below 25%.
Want to learn more about UV filters and the labels on your sunscreen? PA? PPD? Broad Spectrum? The ultimate guide to understanding and choosing the best sunscreen
As with all AXIS-Y products, this physical sunscreen follows the same 6 + 1 + 1 formula
Calendula Extract can also soothe our skin and a few experiments show its effects on wound healing1, but researchers agree more studies are required. You should avoid this extract if you have ragweed allergies.
Squalane is a common emollient that is naturally part of our skin's oil. It's moisturizing yet not heavy, plus it offers some antioxidant benefits2!
Allantoin is known for its skin-smoothing and soothing properties. Studies have shown that applying allantoin topically can help fasten our skin's repairing process3.
Green Tea Extract is a powerful antioxidant that's also well-studied. It can help protect our skin against UV rays and will work wonderfully under your sunscreen4.
Chamomile Extract is a better studied ingredient if you're looking for anti-inflammatory benefits5, specifically from its two active compounds, chamazulene and bisabolol. It also has some antioxidant properties!
Grape Seed Extract are full of polyphenols, which are compounds that boast antioxidant and anti-inflammatory properties. They've also been shown to have UV protection benefits6, which makes it another great ingredient to pair with sunscreen.
Artemisia Capillaris Flower Extract is the core goal-oriented ingredient and it's a type of mugwort, but different from the more common Artemisia Vulgaris. This species is less studied in skincare but it's anti-inflammatory benefits have shown to help with atopic dermatitis7.
SYN-COLL is the effective technology, and it's a trademark name for Palmitoyl Tripeptide-5, a synthetic peptide that claims to boost collagen production and help with skin texture. Manufacturer studies show promising results, though its anti-aging benefits may be wasted in sunscreens.
Full ingredients
Water, Zinc Oxide, Propylheptyl Caprylate, Butyloctyl Salicylate, Propanediol, Titanium Dioxide, Butylene Glycol Dicaprylate/Dicaprate, Dicaprylyl Ether, Caprylyl Methicone, Polyglyceryl-4 Diisostearate/Polyhydroxystearate/Sebacate, Disiloxane, Niacinamide, Trimethylsiloxysilicate, Calendula Officinalis Flower Extract, Camellia Sinensis Leaf Extract, Artemisia Capillaris Flower Extract, Vitis Vinifera (Grape) Seed Extract, Juniperus Virginiana Oil, Cedrus Atlantica Bark Oil, Amyris Balsamifera Bark Oil, Pogostemon Cablin Oil, Chamomilla Recutita (Matricaria) Flower Water, Disteardimonium Hectorite, Magnesium Sulfate, Stearic Acid, Aluminum Hydroxide, Triethoxycaprylylsilane, Methyl Methacrylate Crosspolymer, Polyglyceryl-3 Polydimethylsiloxyethyl Dimethicone, 1,2-Hexanediol, Vinyl Dimethicone/Methicone Silsesquioxane Crosspolymer, Polymethylsilsesquioxane, Glyceryl Caprylate, Caprylyl Glycol, Ethylhexylglycerin, Adenosine, Copaifera Officinalis (Balsam Copaiba) Resin, Tocopherol, Squalane, Allantoin, Butylene Glycol, Glycerin, Palmitoyl Tripeptide-5
How to use the AXIS-Y Complete No-Stress Physical Sunscreen
Steps and tips on how to best apply sunscreen to ensure proper protection and prevent pilling!
Apply as the last step in your morning routine after your moisturizer.
Make sure to wait for your moisturizer to set before applying sunscreen for best results.
Use the 2-finger method to apply the correct amount to your face.
Layer one finger's worth of product at a time to help with blending.
Wait for sunscreen to fully set (shouldn't be more than a few minutes) before applying makeup!
Notes
To help with application and reapplication, you can use a damp makeup sponge or cushion puff to pat the sunscreen in!
Usage Experience
✅ Easy to apply and comfortable to wear
Easily the biggest selling point of this sunscreen is how nice it feels on the skin. Unlike many other physical sunscreens, it's neither heavy nor chalky.
The texture feels similar to any other lotion product, and it has just the right amount of emollience to help with blending, but not so much that it leaves your skin looking shiny.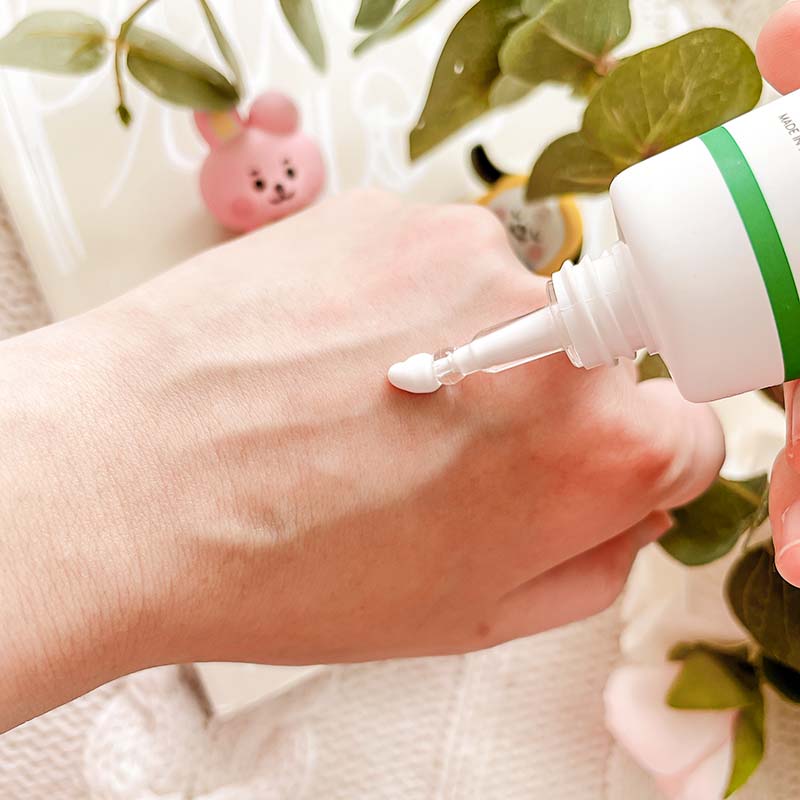 ✅ Great texture and finish for combo/oily skin
With the abundance of moisturizing and dewy sunscreens it's nice to see a formula that caters to oilier skin types and/or those living in humid climates. The best part is that the AXIS-Y Complete No Stress Physical Sunscreen will still work well for dry skin types as long as you moisturize beforehand!
✅ Independently tested
With the Korean sunscreen scandal last year, it's always more reassuring to the consumers to see a third party verifying the sunscreen's SPF and PA levels. AXIS-Y has confirmed that this sunscreen was independently tested at a lab in Spain under the following standards:
In-Vitro SPF test (ISO 24443:2012)
In-Vivo SPF test (ISO 24444:2019)
In-Vitro UVA test (ISO 24443:2012)
In-Vivo UVA test (ISO 24442:2012)
More independently tested sunscreens
❌ Minor white cast
Unless a physical sunscreen is tinted, it uses nanoparticles, or you're super pale, some level of white cast is inevitable. It's the worst when you first apply it, but on my NC20 skin tone 95% of the white cast is gone after a while. This is better than most other physical sunscreens, but dark skin tones will still need to be mindful.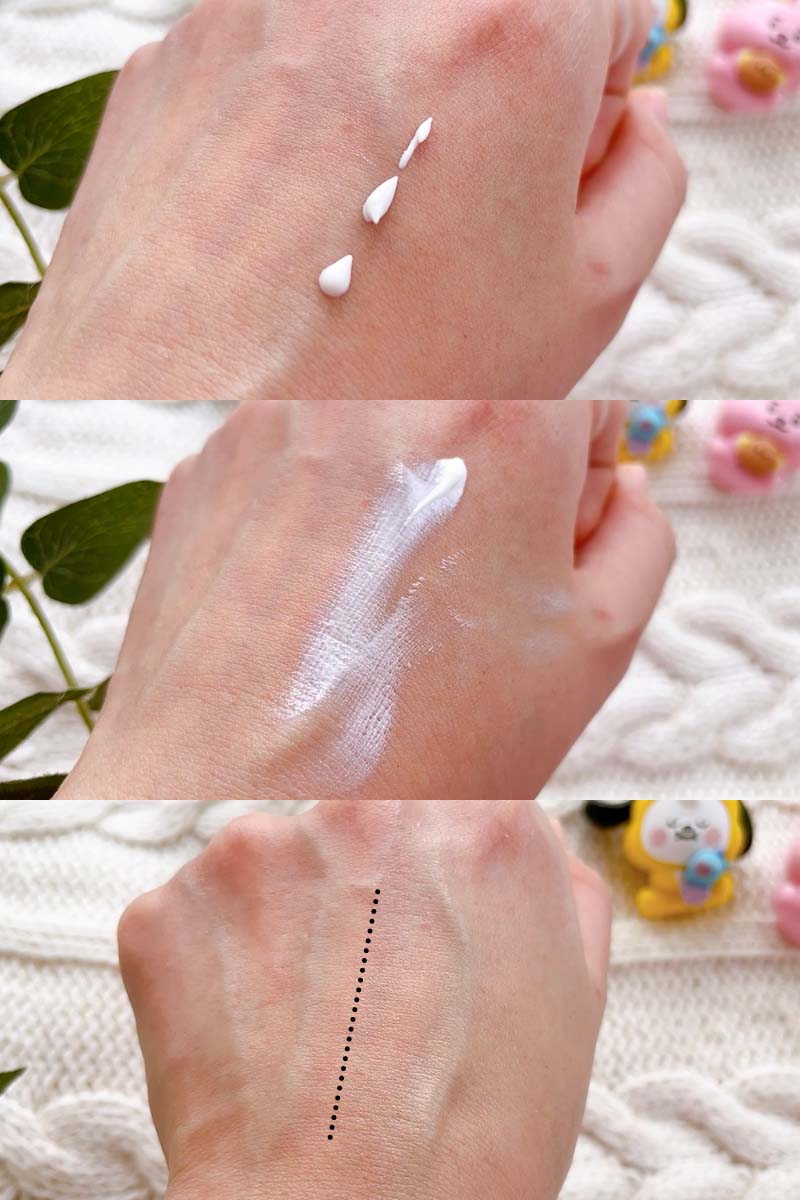 AXIS-Y Complete No-Stress Physical Sunscreen vs…
☀️ Pestlo Safe Recipe Sun Essence
The two are very similar in that they're both better for oily/combo skin types, but the AXIS-Y wins with its non-pilling texture.
☀️ Rovectin Skin Essentials Aqua Soothing UV Protector
It's less drying that the AXIS-Y but the white cast is significantly worse. It also pills like crazy.
☀️ Althea Petal Velvet Sunaway
Still available on Amazon, this is an elegant milk sunscreen that will work for most skin types. The white cast is almost non-existent too, but I do wonder about its SPF/PA levels and why Althea stopped selling them on their official website…
All the above are SPF50, PA++++, and none have been independently verified. While it's a small sample size, it's safe to say that the AXIS-Y sunscreen is the winner of the group.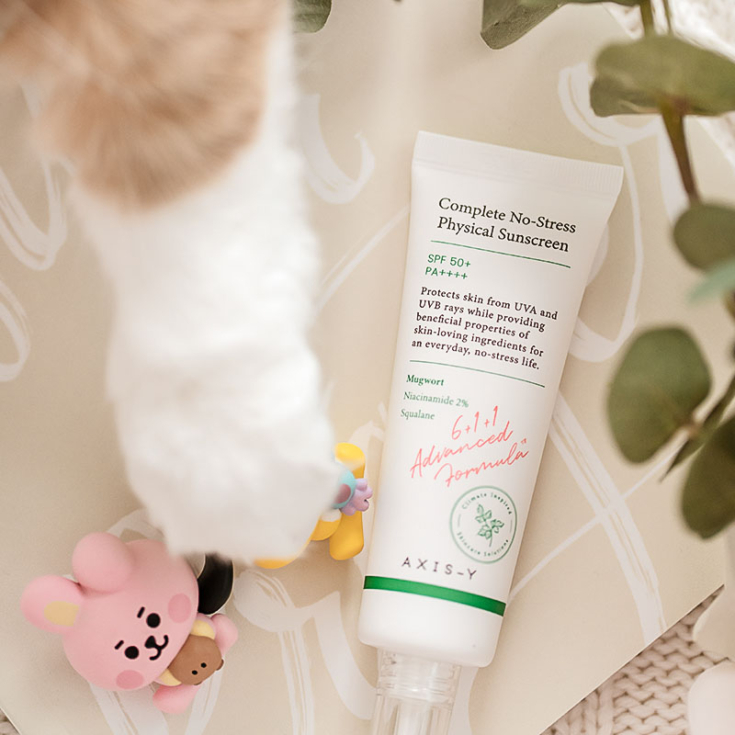 Final Verdict
Ingredients
Packaging
Texture/Application
Performance
Price
When it comes to sunscreens, most people are either team chemical or team physical, and if you're not team physical, you're going to find 99% of physical sunscreens underwhelming, including this one.
But for those that do prefer physical sunscreens, this AXIS-Y Complete No-Stress Physical Sunscreen is one of the better non-tinted versions I've tried. It won't be enough if you plan on spending all day at the beach, but for everyday use it'll wear nicely, and you know you'll be properly protected One to consider if your skin type and needs fits.
FAQs
Is the AXIS-Y Complete No-Stress Physical Sunscreen cruelty-free?

Yes! AXIS-Y is one of the few (but growing) Kbeauty brands that is cruelty free and certified by PETA.

Is the AXIS-Y Complete No-Stress Physical Sunscreen vegan?

Yes, AXIS-Y is certified vegan by the Korean Vegan Association.

Is the AXIS-Y Complete No-Stress Physical Sunscreen coral reef safe?

Despite myths that physical sunscreens are safer for coral reefs, studies have shown that uncoated zinc oxide nanoparticles are indeed harmful to reefs. AXIS-Y does not use nano zinc, but it's still possible that non-nano zinc could be harmful. However the dosage makes the poison, and these studies were done with higher concentrations of sunscreen than what's actually detected in reality. So no, I wouldn't call this sunscreen 100% reef safe, but I wouldn't stress out too much about using it at the beach either (though I do think there are better sunscreens for beach wear).

Is the AXIS-Y Complete No-Stress Physical Sunscreen safe to use while pregnant or breastfeeding?

Yes. Physical sunscreens are typically safe to use while pregnant or breastfeeding so mamas can avoid the potential hormone disrupting chemical filters. However it's always a good idea to check with your doctor to be sure!
Article Sources
To keep my content accurate and trustworthy, I rely on peer-reviewed studies, articles from reputable academic institutions, and quotes from certified healthcare professionals to back my claims. No woo-woo clickbait nonsense here!