I'm not a morning person, at all, so I need all the help I can get to start my day right (you know, after I hit the snooze button 20 times). So today, I'm sharing 5 amazing products that are the stars of my morning routine!

My customized planner
I try to write down my to-do's the night before so that there are no surprises the next morning, and I can start tackling my tasks after breakfast. I'm currently using the monthly and weekly inserts from Sessa Vee and I love their minimal + elegant design.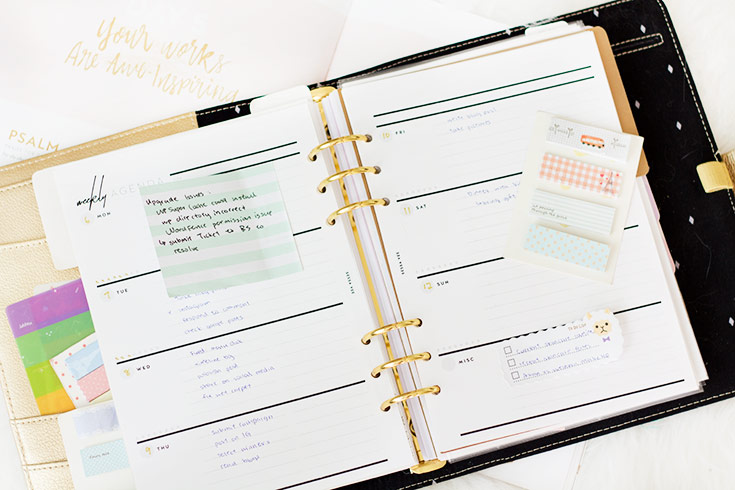 Definitely check them out for planner inserts and accessories! Kikki-K (where my planner is from) is another great place to shop for planners accessories, especially if you prefer a cuter and more whimsical style.
Bioderma H2O Micellar Water
I mentioned this in my Bioderma review, but I love using micellar water as my AM cleanser. It's gentle, effective, and super fast – perfect for mornings when I'm running late (which really is every morning, I'm sorry). I'm sold on the Bioderma micellar waters, but if you have another brand you love, try using it as a morning cleanser and see how you like it!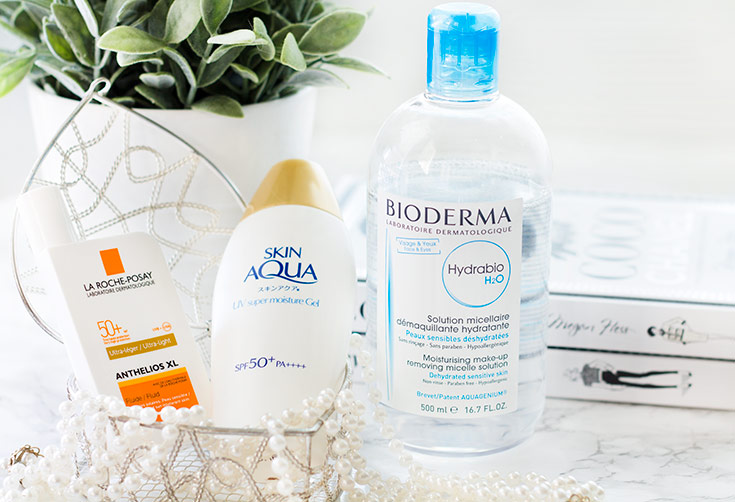 A broad-spectrum sunscreen
No morning routine is complete without sunscreen, and you need one with UVA and UVB protection. If I know I'll be outdoor later in the day, I apply my favorite La Roche-Posay Anthelios XL Ultra Light Fluid SPF50+, and if I'm staying in, I'll select a slightly lighter Japanese sunscreen (currently it's the Skin Aqua UV Super Moisture Gel SPF50+ PA++++). I prefer Japanese sunscreens because they typically have higher UVA protection compared to other Asian brands, and UVA is the main cause of aging, so…yeah.
Dove Advanced Care Antiperspirant
I don't think beauty bloggers give enough love to deodorants and antiperspirants for keeping our armpits dry and odor-free, but the truth is, we'd be a bit of a wreck without them. Like all beauty products, deodorants aren't created equal either – some leave stains on your shirts, some irritate your underarms, and some just straight up stink (how ironic is that?).
Enter the Dove Advanced Care Antiperspirant, which offers 48 hours of odor and wetness protection plus added skincare benefits with its NutriumMoisture formula and Dove ¼ moisturizers for softer, smoother underarms. Or as this reviewer put it:
"It glides on so soft and silky you don't even know you're wearing it. This deodorant keeps me smelling so good from the time I put it on to the time I go to bed." – beaglebullet7669
After making the switch and testing it out for the past few weeks, I can confirm that it really does an excellent job of keeping my underarms dry, soft, and fragrant! It's like skincare for my underarms, because they need love too.
Dove Advanced Care comes in a variety of different scents, and I opted for "Rebalance", which is a sweet blend of plum + cherry blossoms and smells incredible. So when I apply it, I smell incredible, all day long. #WIN! Needless to say, this antiperspirant quickly became a star product in my morning routine, and much like sunscreen, I'll never leave home (or my bedroom, since I work from home now) without it.
Amazing Grass Green Super Food Energy
Other bloggers make morning smoothies with real fruit and veggies, but I'm lazy so I make mine with soy milk + a scoop of the Amazing Grass Green Super Food Energy powder. I love that it's super easy to mix and it contains organic vegetables, fruits, and even probiotics. It's no substitute for real fruits and veggies, but getting a bit extra never hurts! Yummy lemon flavor aside, I find I no longer need coffee or even tea to keep me energized when I drink this!
Hope you enjoyed this post, and let me know what your must-have products are for your morning routines! I'm terribly slow at replying to comments (it's something I'm working on), but I do appreciate and read each one. Thank you for reading and have a great rest of the week!