Klairs is known for their gentle and no-fuss skincare products, but the Klairs Fundamental Water Gel Cream has crossed over from simple to just…bland.
What is it
This gel-cream is a moisturizer with a gel-type texture. As Klairs Fundamental Line, it provides the fulfills the 'basics' in your moisturizing skincare. It contains Jeju Green Tea Water and Panthenol to provide moisture and deep hydration with a light finish. Recommended for all skins and seasons.
How I use it
As my morning moisturizer, after serums and before sunscreen.
Best suited for
Those who prefer refreshing gel textures to rich creams. Normal/combo/oily skin types will enjoy how light it feels, but dry skin types might not find this moisturizing enough.
Things to note
This is fragrance/essential-oil/alcohol free. Includes Ethylhexyl Palmitate which can be comedogenic.
Packaging
A translucent plastic jar. Nothing fancy.
Scent
Fragrance free with no noticeable scent.
Texture
A super watery gel that's much easier to scoop out with a spatula. Feels extremely light and refreshing on the skin, almost like a serum
Finish
Natural finish with some initial dewiness.
Where to buy
$31 for 70ml on Wishtrend, Amazon, and YesStyle
Ingredients Highlight
Camellia Sinensis Leaf Water
, Butylene Glycol, Glycerin, Aqua (Water), Ethylhexyl Palmitate, Cetyl Ethylhexanoate, 1,2-Hexanediol, Pentaerythrityl Tetraethylhexanoate,
Panthenol
,
Rice Extract
, Hibiscus Esculentus Fruit Extract,
Camellia Sinensis Leaf Extract
, Laminaria Japonica Extract, Artemisia Vulgaris Extract,
Centella Asiatica Extract
,
Rosemary Leaf Extract
,
Phytosphingosine
, Caproyl Sphingosine,
Tocopherol
, Glyceryl glucoside,
Hydrolyzed Hyaluronic Acid
,
Trehalose
, Jojoba Esters, Sunflower Seed Oil, Hydrolyzed Jojoba Esters, Glyceryl Acrylate/Acrylic Acid Copolymer, Cetyl Alcohol, Hydrogenated Lecithin, Ammonium Acryloyldimethyltaurate/VP Copolymer, Hydrogenated Polydecene, Ethylhexylglycerin, Cyclohexasiloxane
full analysis
As someone with dry skin, I would've liked to see more emollients like plant based oils to help lock in the moisture. However for a daytime summer moisturizer or those with normal to combo skin, this humectant-heavy formula is a refreshing change from the usual oil-based cream or silicone-based gels.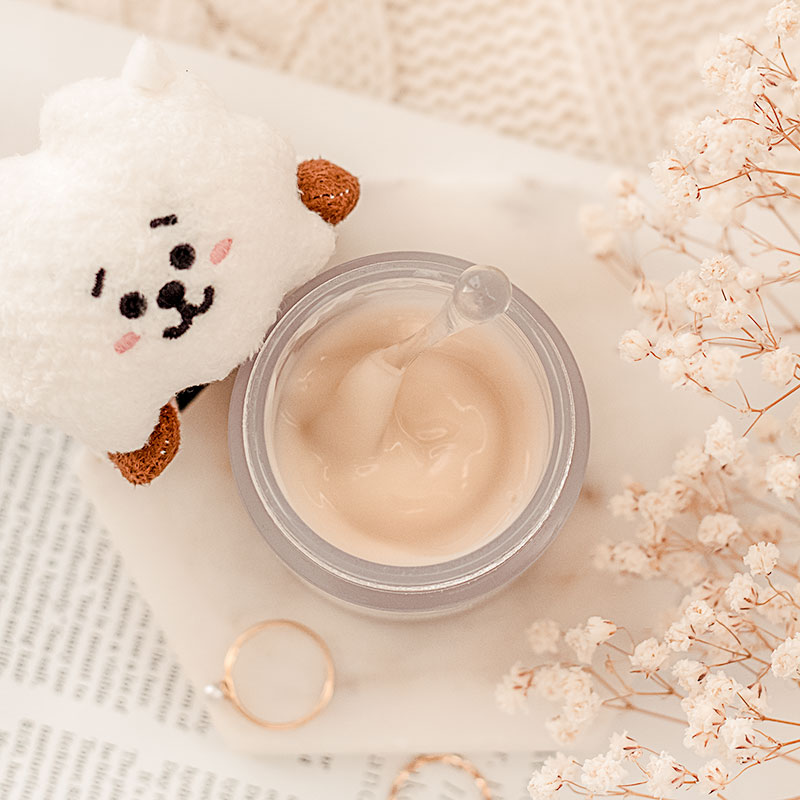 There's quite a bit of plant extracts featured, and personally I have mixed feelings about that.
While some have been proven to soothe and protect (eg. green tea extract and centella asiatica extract) the skin, others have scant research. I would've preferred to see more proven ingredients like vitamin c or niacinamide instead.
Usage Experience
For me the biggest selling point is its fascinating texture. I've never tried anything quite like it, and I ended up having a lot of fun just scooping up the cream to watch it drip back into the jar. Skintertainment amrite?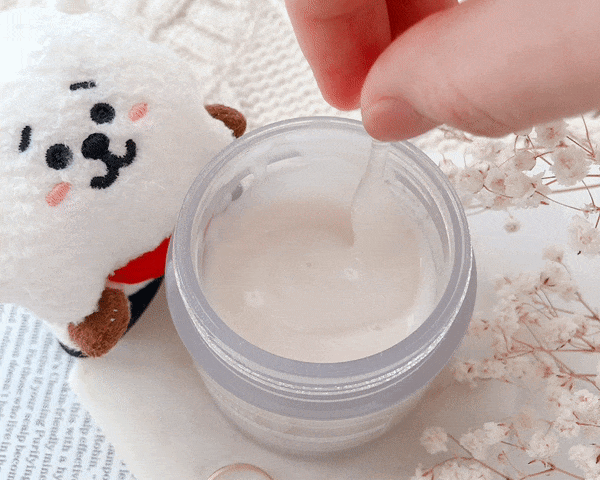 I also love how well this layers under sunscreen and makeup. Many gel moisturizers tend to pill on me, but this was not the case. Again, another win for the texture.
As with most moisturizers, I didn't expect this to do anything skin changing. However I did expect it to sufficiently moisturize my skin, and sadly it was lacking in that aspect. It would work ok in the mornings during summer, but otherwise I'd need an oil afterwards.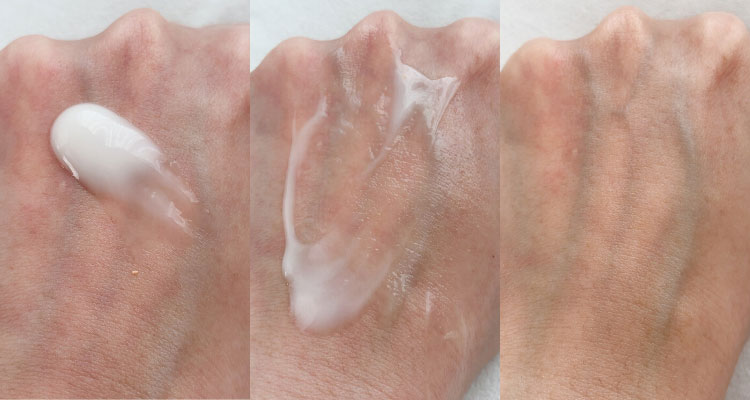 I can see this being a great moisturizer for other skin types or in certain climates, but it definitely doesn't live up to its claim of working for all skin types and environments. My dry skin in the winter would shrivel like a prune with just this!
Klairs Fundamental Water Gel Cream Compared
…to the Perfect One Moisture Gel
Both have extremely light refreshing gel textures, but the Perfect One feels even more hydrating, thanks to its abundance of humectants. If you have combo/oily skin you can't go wrong with either, but you could possibly replace your hydrating serum or toner with the PF one!
→ $53 for 75g on Perfect One US site – currently on sale for $48.
…to the Klairs Freshly Juiced Vitamin E Mask
The Vitamin E Mask feels a bit thicker but it's still a light gel formula. The mask also does an amazing job of brightening the skin – which puts it ahead of the Fundamental Water Gel Cream in my book.
→ $27 for 90ml at Wishtrend, Ulta, Sokoglam, and Amazon
…to the belif The True Cream Aqua Bomb
The Aqua Bomb is your classic hydrating gel cream. It feels a bit heavier than the Klairs but also more moisturizing. If you have combo-dry or normal-dry skin you'll enjoy how lush this feels. Drier skin types like mine should try the belif Moisturizing Bomb instead.
→ $38 for 50ml on Sephora, Ulta, Amazon
…to the Peter Thomas Roth Water Drench Hyaluronic Acid Moisturizer
The PTR actually feels even lighter and like water once you massage it in and moisturizing capabilities are comparable to the Klairs. Between the 2 I'd pick the Klairs for the price, but neither are great for dry skin types.
→ $52 for 50ml at Sephora, Ulta, Dermstore, Cultbeauty
Read more: 36 moisturizers reviewed, and here are the best ones for dry aging skin
Final Verdict
Packaging
Ingredients
Texture/Application
Performance
Price
As the description claims, this is meant to be your basic moisturizer, nothing more. With that expectation in mind, this can be a lovely (albeit slightly expensive) product for those without dry skin. You'll appreciate how light it feels and how well it layers under products while keeping your face hydrated.
For those with dry skin, I would suggest something with more emollients and occlusives to really lock in the moisture. As a result, this one is a pass for me.