Usually retinol (specifically tretinoin) is my top anti-aging ingredient pick, but I'm always open to exploring other options. Peptides have recently been on my radar, specifically the ones in the new Peter Thomas Roth range.
If you're curious about peptides, Anne has a great post on them, but in a nutshell, they can increase collage production, decrease collagen breakdown, and influence muscle contractions which helps relax the lines on our face, making them promising anti-aging ingredients.
So naturally, I was intrigued by the Peter Thomas Roth Peptide 21 line and have been testing for the past month, and here are my thoughts on each one:
Peptide 21 Amino Acid Exfoliating Peel Pads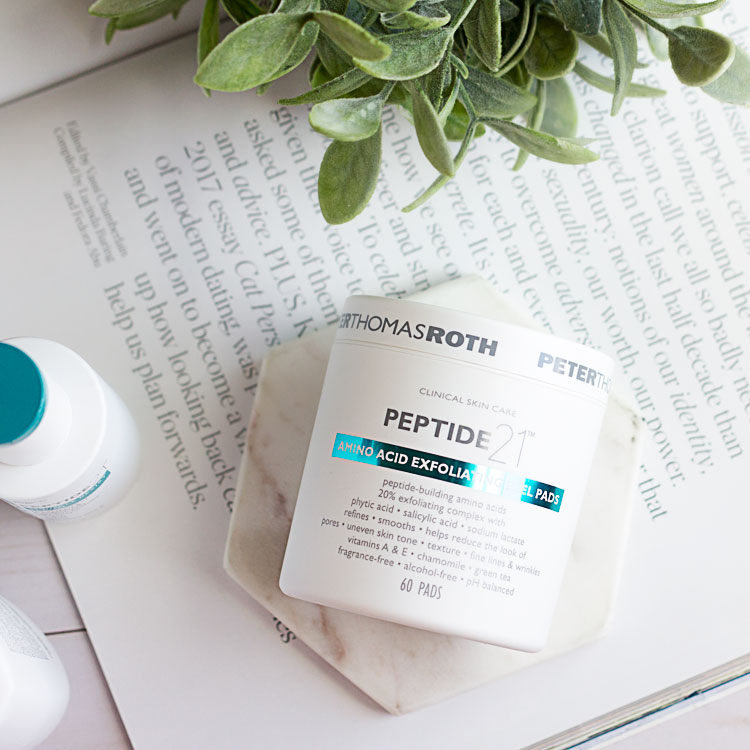 Key Ingredients

amino acids, salicylic acid, green tea extract, chamomile extract, vitamin a, vitamin c, vitamin e (full list here)
alcohol-free, paraben-free

Price & Size

$52 for 60 pads at Sephora, Ulta, Nordstrom, Dermstore, and Peter Thomas Roth (use code geekyposhe_PTR30 for 30% off!)
So these don't actually contain peptides, but rather amino acids, which are the building blocks of peptides and collagen, and have a ton of skin-benefits themselves:
Many are naturally found on our skin as part of the natural moisturizing factors (NMFs). Basically they're essential to helping our skin stay healthy and hydrated
Arginine can help speed up wound healing1 and when used with AHAs, can help reduce irritations.
Proline, Glycine, and Leucine can help reduce the appearances of fine lines when used together2. Glycine can also help promote wound healing3
Histidine can help protect against skin infections4
Isoleucine can help repair our moisture barrier5
As for the exfoliant itself, PTR claims a "20% complex of salicylic acic + phytic acid + sodium lactate", which sounds potent, except neither phytic acid nor sodium lactate are actually exfoliants . So really it's just salicylic acid, which is still great for clearing our the gunk in our pores and treating blackheads.
Also pay attention to the word "complex", which just means a mix of ingredients including the key ones mentioned. PTR uses this sneaky word in the serum description as well, so just keep in mind the key ingredient % is actually much lower.
As for the peel itself, my thoughts since my initial Instagram post hasn't change. I still love it for its efficacy and gentleness. There's minimal stinging and redness, and I always wake up with brighter and smoother skin when I use this the night before.
It's also nice to see a BHA-only peel pad, making this a nice option for those with oily and/or problematic skin. I can definitely see myself repurchasing this one!
Rating: ♥♥♥♥♥
Peptide 21 Wrinkle Resist Serum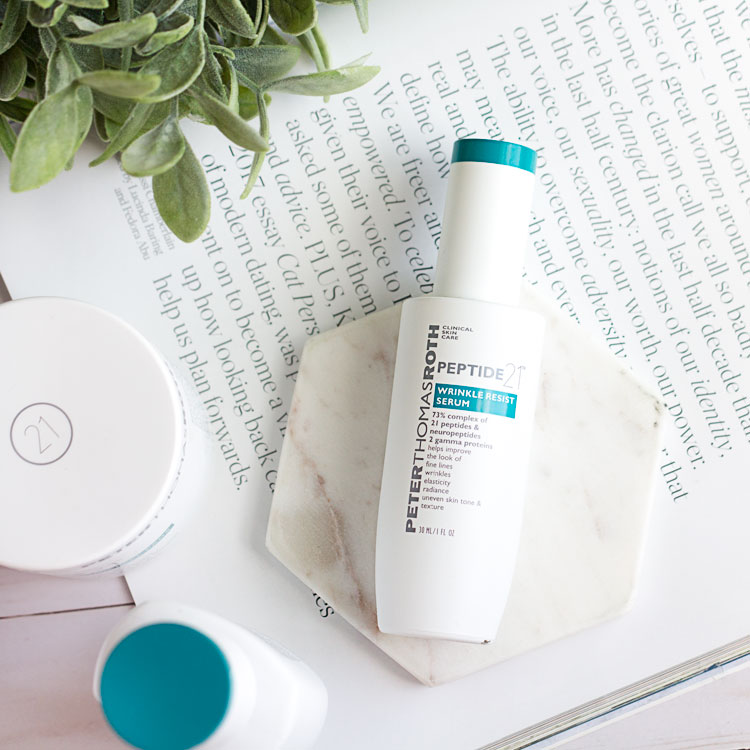 Key Ingredients

peptides, squalane, hyaluronic acid, vitamin a, vitamin c, vitamin e (full list here)
alcohol-free, paraben-free, fragrance-free

Price & Size

$110 for 30ml/1oz at Sephora, Ulta, Nordstrom, Dermstore, and Peter Thomas Roth (use code geekyposhe_PTR30 for 30% off!)
PTR claims a "73% complex of 21 peptides + neuropeptides", but we know the % doesn't mean much.
Also I'm not sure why the brand chose to separate peptides and neuropeptides, since the latter is just a subset of peptides that can communicate with and affect other cells. Lastly I counted 17 peptides in the ingredient list, so PTR, you owe us 4 more peptides!
Dubious marketing aside, let's take a look at some of the peptides featured. Most have limited research done only by the manufacturers, but here are a few more notable ones:
Acetyl Hexapeptide-8, aka Argireline, helps smooth out wrinkles, but it's more so a temporary fix, rather than treating the root issue6
Matrixyl 3000, which is a combo of Palmitoyl Tripeptide-1 and Palmitoyl Tetrapeptide-7, is probably one of the better studied peptides (which isn't saying much, but you take what you can get). Together they can help reduce wrinkles and improve skin tone and texture7
Dipeptide Diaminobutyroyl Benzylamide Diacetate, aka Syn-Ake, is similar to to Argireline in that it helps relax the lines on our face. It's also one of the smaller peptides that's able to penetrate into the skin.
Depending on your feelings about peptides, this ingredient list can either be impressive or disappointing, but let's talk results.
I will say that of all the non-retinol based anti-aging serums I've tried, this is one of the better ones. I don't have serious wrinkles (yet), but I've definitely noticed less fine lines around my eye area! The texture is also lovely: lightweight and absorbs fast with minimal stickiness.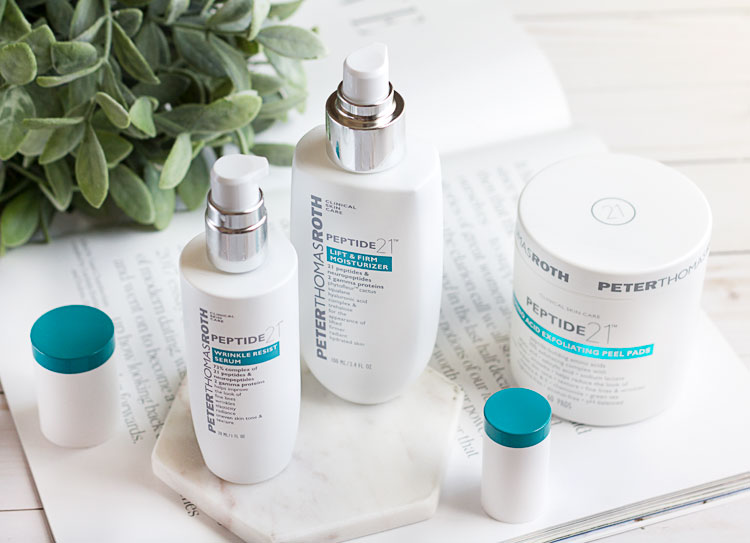 Compared to the Hylamide SubQ Antiage Serum, which is also peptide based, the PTR Peptide 21 Wrinkle Resist Serum delivered much better results, but also at triple the price.
If you have the budget, I do think this is one worth considering, especially if you've had good results with peptides in the past. Personally I like it, but won't be repurchasing this anytime soon.
Rating: ♥♥♥♥
Peptide 21 Lift & Firm Moisturizer
Key Ingredients

peptides, squalane, jojoba seed oil, hyaluronic acid, vitamin e (full list here)
alcohol-free, paraben-free, fragrance-free

Price & Size

$78 for 100ml/3.4oz at Sephora, Ulta, Nordstrom, Dermstore, and Peter Thomas Roth (use code geekyposhe_PTR30 for 30% off!)
This has pretty much the same peptides as the serum, but in a lightweight gel texture. I appreciate the pump bottle to keep the ingredients potent, and 3 pumps is enough to keep my currently dry-normal skin moisturized throughout the night. Skin looks matte but feels soft the next morning.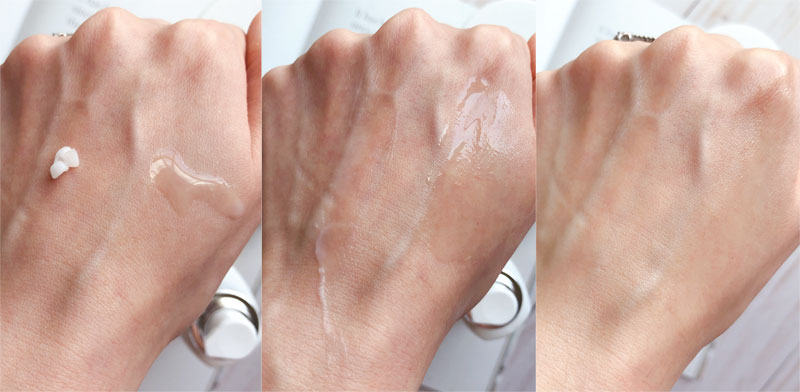 Of the 3 products in the range, this is definitely the most underwhelming. My personal preference for cream moisturizers aside, this just didn't do much for me.
For a while I was actually using half this and half my usual night cream on each side of my face, and the only difference is that the side with my regular cream actually had slight glow the next morning. Yep, pass.
Rating: ♥♥
Final Verdict
Packaging
Ingredients
Texture/Application
Performance
Price
Misleading descriptions aside, I'm actually pretty happy with 2 of the 3 products in this range! The peeling pad and serum are both gentle alternatives to the usual options, and they've delivered noticeable results, which is ultimately the most important thing. Yes they are pricey, so I wouldn't consider these must-haves, but if you have the budget, I'd recommend adding those two to your wishlist and skipping the moisturizer.
They now have a trial kit at $65, which includes all 3 products in travel sizes. Plus you can get 30% off with code geekyposhe_PTR30!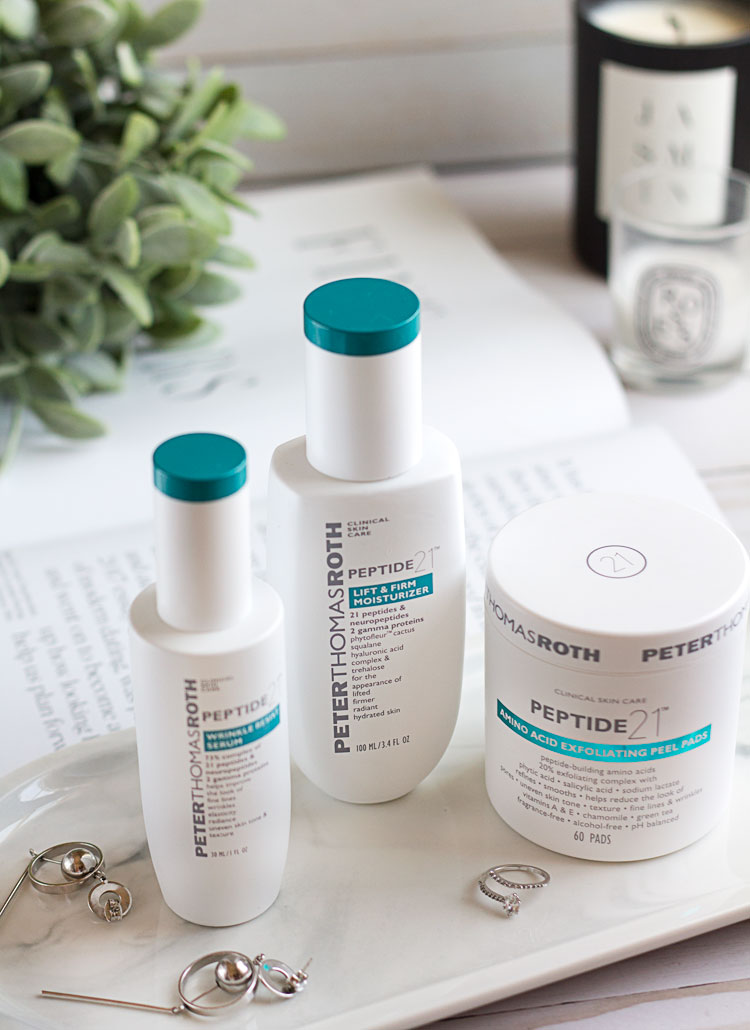 What are your thoughts on peptides? Yay or nay? Do you use any peptide-based products in your routine?
Article Sources
To keep my content accurate and trustworthy, I rely on peer-reviewed studies, articles from reputable academic institutions, and quotes from certified healthcare professionals to back my claims. No woo-woo clickbait nonsense here!