Originally posted on November 24th, 2018
With so many skincare options out there nowadays, sometimes I wonder if paying $$$ for a product is even worth it anymore. Surely there's a more affordable alternative out there?
Take the True Botanicals Renew Pure Radiance Oil for example. At $110, I'd never think of buying it. But then I tried it, and suddenly the price point made a little more sense.
What is it
An oil made with nature's most restorative ingredients for aging skin. Reduces signs of aging and sun damage. Replaces traditional face cream and moisturizer. Cruelty-free.
How I use it
2-4 drops right before my moisturizer, twice a day. I also mist my skin thoroughly before applying the oil.
Best suited for
Combo, normal, or dry skin types that want to focus on anti-aging. Oily and acne-prone skin types might find this too heavy and prefer the Clear Oil instead. Sensitive skin types will want to look at the Calm Oil.
Things to note
There are a few essential oils which can be sensitizing, but luckily they're at the bottom of the list.
Packaging
In a sturdy glass dropper bottle. Nothing too fancy, but feels well made, except for a possible leaky cap. Mine arrived half empty because it leaked all over the box! I would've raised hell if I paid for this, but luckily it's a pr gift so I feel less bad, but I'd definitely be wary of traveling with this.
Scent
Fresh and herbal. It's definitely noticeable when you're applying it, but not so strong where it's offensive.
Texture
It's definitely a heavier oil, but spreads easily on damp skin.
Finish
When applied on damp skin, it leaves a dewy finish that layers well under other products. However any more than 6 drops and my face starts looking shiny in a ready-to-fry-an-egg kinda way
Where to buy
$110 at True Botanicals, Beauty Heroes (get 15% off if you're a subscriber), and Follain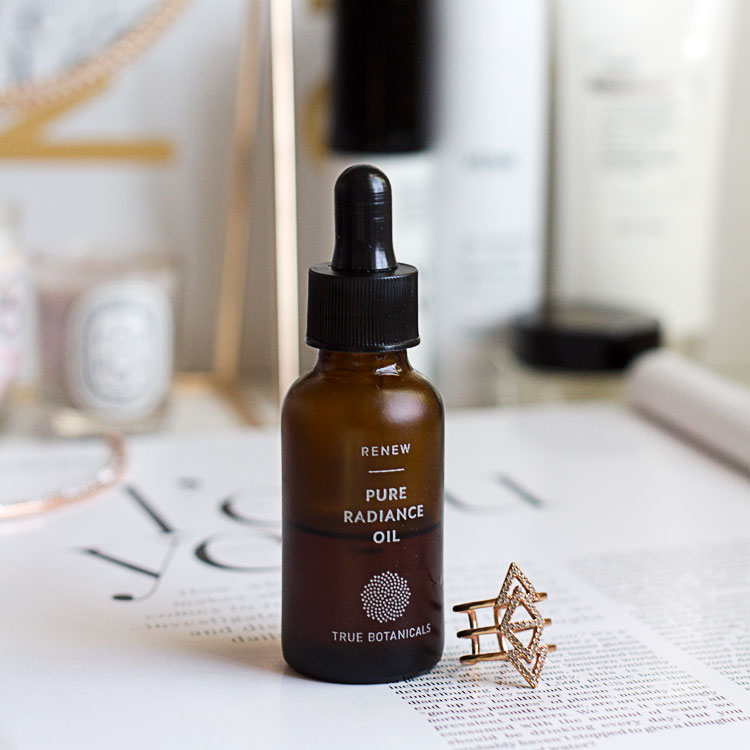 Ingredients
Green Tea Seed Oil,
Grape Seed Oil
,
Avocado Oil
,
Marula Seed Oil
, Hemp Seed Oil,
Chia Seed Oil
, Watermelon Seed Oil,
Rosehip Seed Oil
, Raspberry Seed Oil,
Argan Oil
, Evening Primrose Oil,
Squalene
,
Tocopherol
, Kiwi Seed Oil, Papaya Seed Oil,
Passionfruit Seed Oil
, Milk Thistle Seed Oil,
Algae Extract
,
Haematococcus Pluvialis (Astaxanthin From Red Pond Algae) Extract
,
Rosemary Leaf Extract
,
Jojoba Seed Oil
, Red Pine Needle Oil, Howood Wood Oil,
Rose Flower Oil
, Vetiver Root Oil, Jasmine Flower Extract, Neroli Flower Oil, Frankincense Oil
Can we take a minute here to admire this beautiful blend of seed oils and algae extracts?
Asides from their basic emollient properties, many of these oils double as antioxidants to protect our skin from free radicals. Some of these oils (green tea seed, avocado, marula, argan) are high in oleic acid which is excellent for nourishing for dry/mature skin, but their heaviness can be comedogenic for acne-prone folks.
However the heaviness is balanced out by lighter oils (grape seed, hemp seed, chia seed, watermelon seed, rosehip, raspberry seed, evening primrose, papaya seed, passionfruit seed, milk thistle) rich in linoleic acid, which can help repair our skin's moisture barrier, reduce acne, and lighten hyperpigmentation (source)!
After reading both the True Botanicals' ingredient descriptions (props to them for doing that!) and INCIDecoder's analysis, it's really hard to find fault with the formula, even with the essential oils which at least provide aromatherapeutic benefits. Also a good thing they're listed at the end, so the sensitizing effects should be minimal, but YMMV.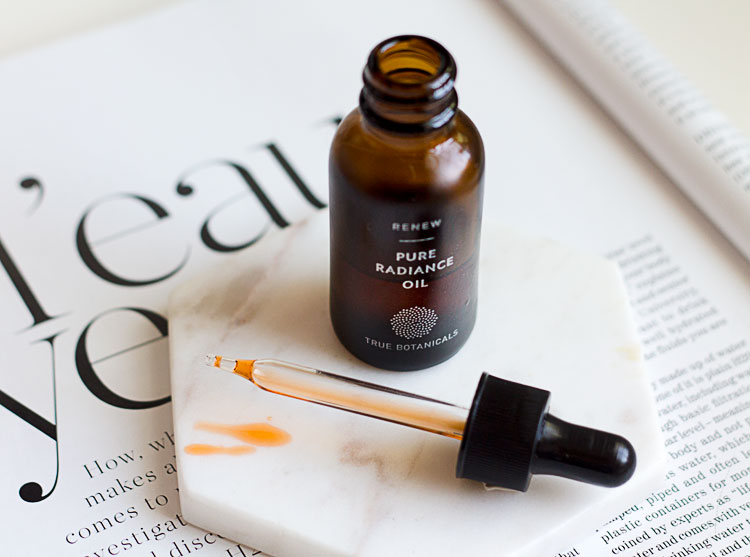 Usage Experience
True Botanicals recommends applying it on damp skin, and I 200% second that, otherwise you'll need a lot more product to evenly distribute it on your skin.
I recommend using a simple mist like La Roche Posay's Thermal Water or a botanical hydrosol, that way your skin is getting the full benefits of the oil without anything else mixed in and possibly impacting the effects. On damp skin, this spreads and absorbs easily and doesn't leave a super shiny finish.
While this is meant to replace your moisturizer, it just wasn't quite occlusive enough to keep my skin moisturized throughout the night. I tried using more, but it didn't absorb as well and would get all over the pillowcase instead.
That's not to say this isn't an excellent booster to my routine, because with all those beautiful ingredients, it definitely is. Since using this my skin has felt softer, plumper, and with less noticeable fine lines.
When I stopped using this to test out other products, my skin definitely lost some of its glow. For me this oil delivered the most noticeable results of any other oils I've tried!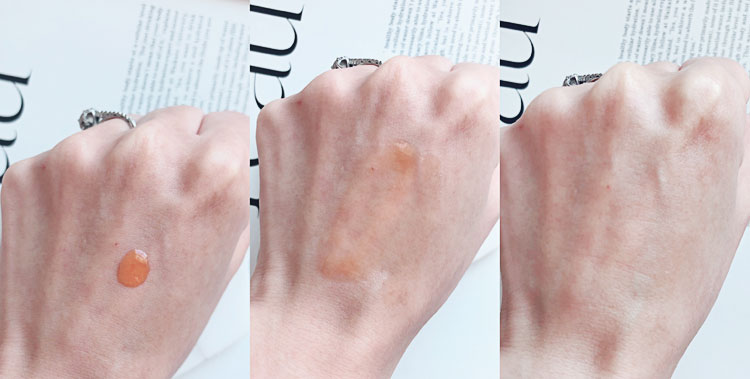 True Botanicals Renew Pure Radiance Oil compared
Now the million dollar questions…is it worth $110? I can definitely see why they've priced it so high, which isn't uncommon among natural skincare brands, especially with a blend as beautiful as this one. If you have an exclusively green routine and already use oils as a moisturizer, I think the True Botanicals Renew Pure Radiance Serum is worth investing in.
However if you're already have your antioxidant serum and prefer the good ol' cream to seal everything in, buy only if you have the budget to spare. I do think there are more slightly less expensive oils that deliver similar results:
Activist Skincare Precious Oils Serum – They will customize this to fit your skin type, and while it's not as potent as this oil, it's also lighter and less expensive.
Naruko Supreme Rejuvenating Elixir Oil – An oil-essence hybrid, this has the most beautiful texture of all the oils I've tried and made my skin incredibly soft. However it doesn't give the glow this one does.
Lumene Valo Arctic Berry Cocktail Brightening Hydra-Oil – Another oil-essence hybrid, this one wins for being the most affordable option. It has the same softening + smoothing benefits, but the results aren't as drastic and take longer to notice. However, you can't really complain when you're paying 1/5 of the price.
Kiehl's Midnight Recovery Concentrate – Not a true oil, but it has a beautifully light texture and improves your skin tone and texture in the long run. This does contain essential oils higher up the list, so keep that in mind.

Other anti-aging products
As we get older our skin produces less oils so using products with emollients like this True Botanicals facial oil becomes more important. However, as mentioned earlier, you can get similar moisturizing results with other facial oils at a lower cost.
Now if you're serious about actually reducing signs of aging, there are more effective and affordable anti-aging products to use. My number one recommendation will always be retinol, the gold standard for anti-aging. My favorite retinoid is tretinoin – the strongest and most effective – in my Curology formula.
Final Verdict
Packaging

Ingredients

Texture/Application

Performance

Price
Overall just a stunning oil, and one that truly nourishes the skin. The results are almost immediately noticeable, but it comes at a price (literally). I do wish this could actually replace my moisturizer, as that would justify the cost a bit more. With so many oil options out there, I do want to try other ones before I repurchase this. However if it's on sale and I'm out of an oil, I honestly wouldn't mind splurging on another bottle, because it really does make my skin feel and look that much better.