Ask a skincare enthusiast what their top 3 ingredients are, and I bet you'll get a lot of "Centella Asiatica Extracts" in the response. While it's not one of my top 3, it's definitely a top 10.
Products featuring this ingredient often claim to calm dry and sensitive skin, but the Skin1004 Madagascar Centella Hyalu-Cica Line takes it a step further and promises incredible hydration as well. Let's see how each of the products perform!
Key Skincare Ingredients
Skin1004 named this product line after the two key ingredients featured in this line: Hyaluronic Acid (HA) + Centella Asiatica (CA). The formula features them in what the brand calls "a golden ratio", to maximize their skin-soothing and hydrating benefits.
While there's no public research available to validate such a ratio even exists, there's plenty of proof that both these ingredients deliver excellent skincare benefits:
Hyaluronic Acid Skincare Benefits
Often seen as "sodium hyaluronate" on the ingredients label, it's a wonderful humectant that draws and retains moisture on the skin. By keeping the skin moisturized, it also helps minimize the appearance of fine lines and wrinkles while making the skin feel more full and plump.1
Hyaluronic acid can come in different molecular weights and provide further benefits:
High weight HA (500k – 4M Dalton) is too big to penetrate the skin but can form a protective layer that helps lock in moisture.2
Low weight HA (<500k Dalton) increases the moisture level in the skin and help with skin repair.3,4 They can also help reduce inflammation related to rosacea.5 If you see "hydrolyzed" as part of the name in the ingredient list, chances are it's a low weight HA.
Centella Asiatica Skin Care Benefits
An anti-inflammatory plant extract that's gotten really popular over the years, it's skin soothing and wound healing benefits mainly comes from the following active compounds:
Asiaticoside – Found to increase antioxidant activity and collagen production!7,9
Madecassoside – Found to inhibit melanin production from UV damage.8
Asiatic Acid – Can also help increase collagen as well as glycosaminoglycans (another humectant found naturally on our skin) production.7
Madecassic Acid – Yep this one helps with collagen production as well.7
At this point the question is more like: what doesn't it do? Another fun fact, centella asiatica (CA) can also increase hyaluronic acid production within our skin, providing extra hydration benefits!6
Skin1004 sources their centella from Madagascar where the average temperature of 25 degrees, 700m altitude, and low pollution environment makes it ideal for growing this plant.
While there's no proof that the extracts are more potent when sourced from Madagascar, we do know that soil nutrient is critical to overall plant health. Plus this is also where L'oreal gets their centella for their famous Cicaplast B5 Balm!
Other Featured Ingredients
In addition to the above 2 must haves, many, if not all, the other products in this line contain the following as well:
Adenosine – A promising ingredient with wound healing and barrier repair properties. May also improve skin elasticity by increasing collagen production!
Ceramide NP – An essential component in our skin barrier that helps retain moisture. I found it interesting that Skin1004 only included this form when it works best paired with Ceramide EOP.
Niacinamide – A well-researched brightening, anti-aging, and barrier repair ingredient we love to see.
Polyglutamic Acid – A humectant similar to HA that draws moisture to the skin, and it can also increase the production of natural moisturizing factors in our own skin. More research is required but so far it's promising.10
Damask Rose Flower Water – Contains some antioxidants but also fragrant components. Less sensitizing than essential oils though!
Pear Fruit Extract – A study showed that it has promising anti-aging, brightening, and antioxidant benefits, but more research is definitely needed here.11
No alcohol, no artificial fragrance, though there is a light floral scent from the rose water ingredient.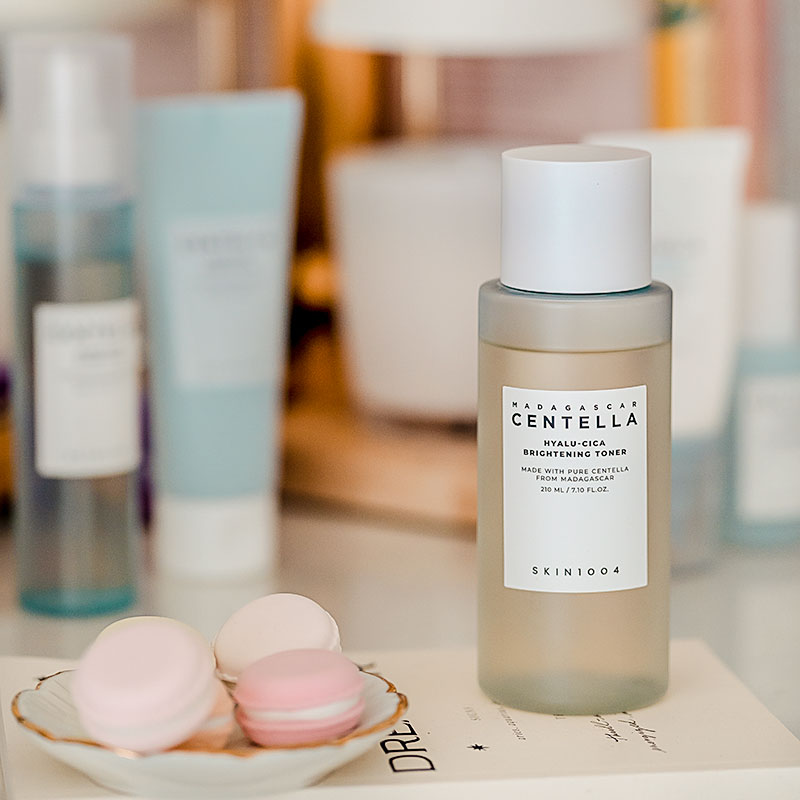 Skin1004 Hyalu-Cica Brightening Toner
Key Ingredients
74% CA Leaf Water, 3 types of HA, a tiny bit of LHA and AHA
Price & Size
$20 for 210ml on Skin1004, Amazon, Olive Young (JENNY123 for 5% off), YesStyle (GEEKYPOSH for 5% off), Stylevana (10% off with SHOPJENNY)
As someone with dry skin I like my toners thicc and moisturizing, but this one feels pretty much like water on the skin. However, it still manages to deliver decent hydration and I like that it has some gentle exfoliants too:
Citric Acid, an AHA, will help remove the dead skin cell buildup, giving us softer and smoother skin.
Capryloyl Salicylic Acid, an LHA, is like the gentler cousin of salicylic acid. It too can decongest our pores and smooth our skin, but it can also thicken our dermal layer and increase collagen + elastin + HA production.10
For my dry skin this wasn't as hydrating as say the Haruharu Wonder Toner or Maycoop Raw Sauce, but I found it easy to apply multiple layers to compensate. It's hard to judge its exfoliating effects since I already use actives regularly, but it's been a lovely addition to my routine. Just don't use it when your skin is sensitive or it will sting a bit.
Must-have factor: ⭐⭐⭐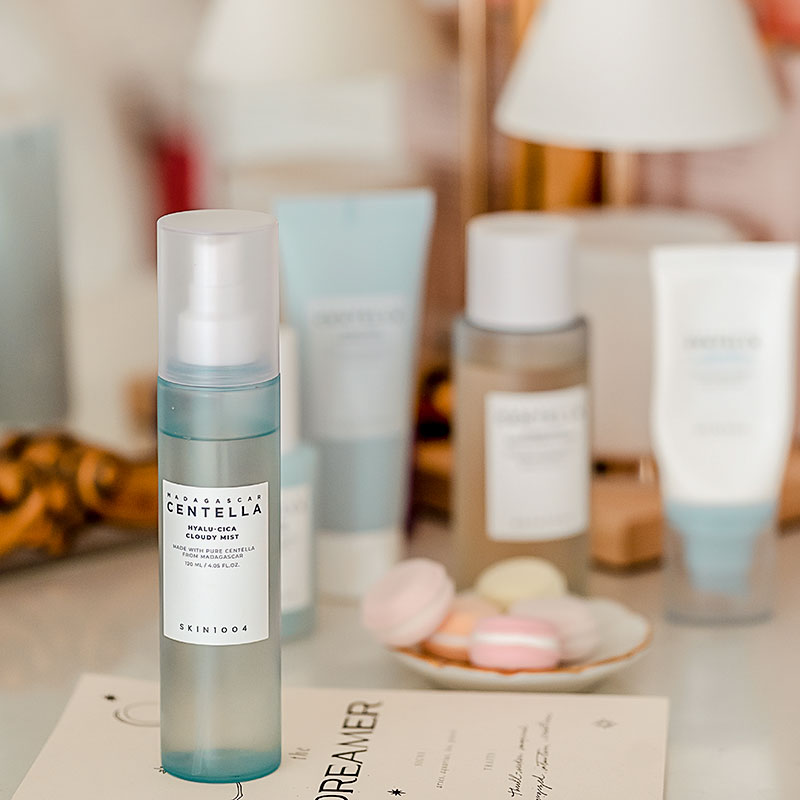 Skin1004 Hyalu-Cica Cloudy Mist
Key Ingredients
Green Tea Water, 0.3% CA Extract, 3 types of HA, Galactomyces Ferment Filtrate
Price & Size
$21 for 120ml on Skin1004, Amazon, YesStyle (GEEKYPOSH for 5% off), Stylevana (10% off with SHOPJENNY), Jolse
I love a good mist, and this is a GOOD mist. First the mist itself is super fine and dispenses evenly and gently on the skin. None of that getting sprayed with a hose kind of feel.
Second, the mist isn't overly heavy or greasy, which makes it perfect for layering between skincare steps to create a nice hydration sandwich:
cleanser ➡️ toner ➡️ mist ➡️ serum ➡️ mist ➡️ moisturizer ➡️ mist ➡️ facial oil/sleeping mask
Third, and perhaps a minor point, but Galactomyces Ferment Filtrate is also the same star ingredient found in SK-II's expensive essence. Obviously the % is much lower in this mist but as a fermented ingredient fan, I always love seeing them featured in products.
If you're looking for a mist to freshen up in hot and humid weather or want something that layers nicely and offers a nice boost in hydration, this is a great option.
Must-have factor: ⭐⭐⭐⭐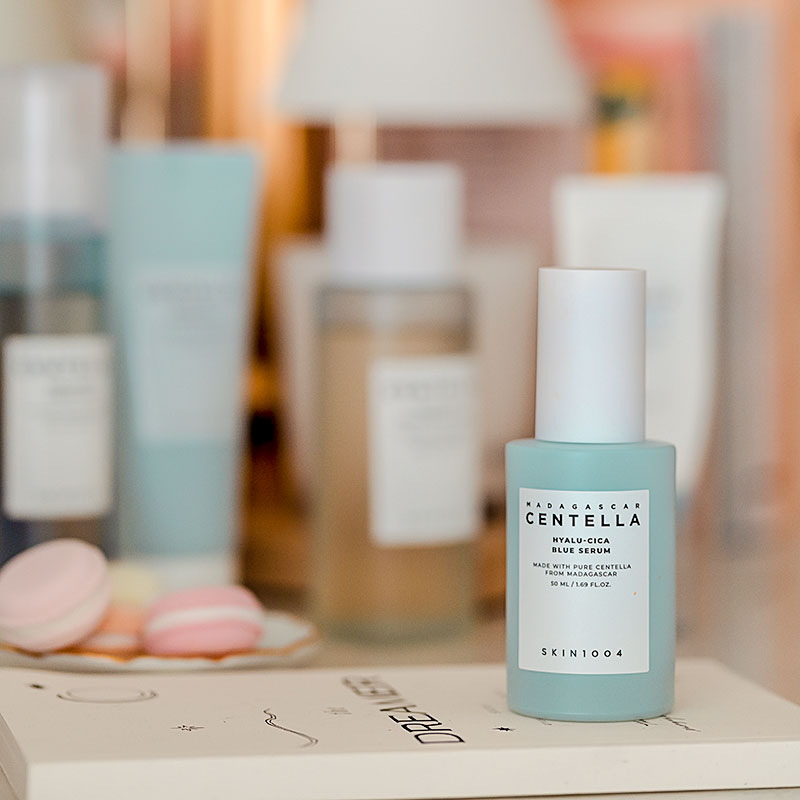 Skin1004 Hyalu-Cica Blue Serum
Key Ingredients
38% Centella Asiatica Leaf Water, 3 types of HA, Panthenol, Arginine
Price & Size
$22 for 50ml on Skin1004, Amazon, Olive Young (JENNY123 for 5% off), YesStyle (GEEKYPOSH for 5% off), Stylevana (10% off with SHOPJENNY)
If you hate hydrating serums that are sticky, don't worry, this isn't it. In fact, the texture is super watery, with just a bit more viscosity than the toner. It also contains the most hydrating ingredients out of the entire line, with 5 types of HA vs 3.
Now initially when using this it feels almost too light for my dry skin and didn't have that plumping effect I love from thicker serums. However throughout the day (and night) it hydrated the skin just as well as any other HA serums I've tried, but it really doesn't offer much else. Despite the centella asiatica water base, I didn't find this serum particularly soothing or calming.
Oilier skin will enjoy the light hydration, but my dry skin definitely prefers something richer that gives it more bounce.
Must-have factor: ⭐⭐⭐
Skin1004 Hyalu-Cica Sleeping Pack
Key Ingredients
CA Leaf Water, 5 types of HA, Panthenol, Arginine
Price & Size
$20 for 100ml on Skin1004, Amazon, Olive Young (JENNY123 for 5% off), YesStyle (GEEKYPOSH for 5% off), Stylevana (10% off with SHOPJENNY)
As someone who rarely likes sleeping masks (they're just moisturizers with a fancy name!), this one surprised me in a wonderful way. First, love the water gel texture – it's refreshing, it's light, and it absorbs nicely into the skin even when you use a generous layer. No more residue all over your pillowcase!
Second, it actually provides long-lasting hydration throughout the night. My moisturizer was struggling to keep up with my now-dry winter skin, and usually I'd just lather my Nivea Creme on top, lately I've been using this instead and it's holding its own. For a gel texture, that's pretty impressive.
While the Nivea will still be my go-to when my skin gets really dry or I just need something super occlusive, I can see myself and other skin types using this year round. It's certainly light enough and it does feel refreshing on the skin.
Bonus point: it helps brighten the skin too! Every time I use it I notice a glow in my skin the following day, similar to the Klairs Freshly Juiced Vitamin E Mask!
Must-have factor: ⭐⭐⭐⭐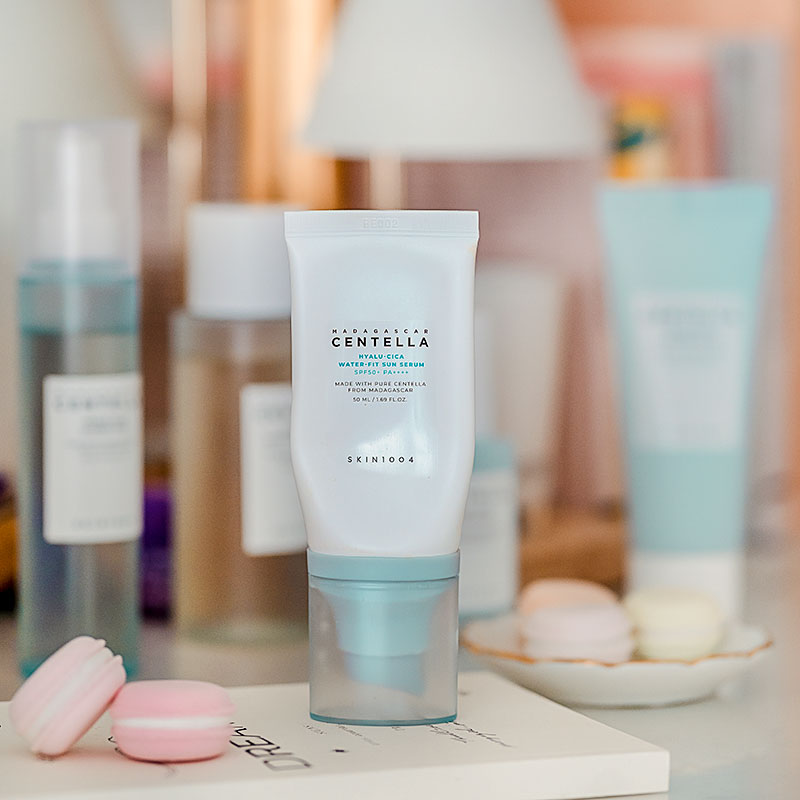 Skin1004 Hyalu-Cica Water-Fit Sun Serum
Key Ingredients
Centella Asiatica Extract (0.98%), 3 types of HA, Green Tea Extract
Filters
Uvinul A Plus, Uvinul T 150, Tinosorb M, Uvasorb HEB
Price & Size
$19 for 50ml on Skin1004, Amazon, Olive Young (JENNY123 for 5% off), YesStyle (GEEKYPOSH for 5% off), Stylevana (10% off with SHOPJENNY)
Saving the best for last! This checks off everything I'm looking for in a great everyday sunscreen:
✅ Independently tested to confirm SPF50+ and PA++++ rating
✅ Light lotion texture sets quickly and doesn't pill
✅ No white cast!
✅ Slightly dewy finish that feels just moisturizing enough with no stickiness
✅ Layers wonderfully under makeup
For context this feels more moisturizing than the SCINIC or Beauty of Joseon but lighter than Round Lab or Isntree. Combo or oily skin types can get away with using this as your moisturizer!
Now if I had to pick a flaw with this sunscreen, it'd be the pump packaging. I initially thought it was great until I realized it made the 2-finger application method a little difficult. How many pumps = 2 fingers?
I initially used 9 pumps which was an overkill, and after checking my application with a UV camera compact, I found 6 pumps to be sufficient. You can also go old-school and pump into a measuring spoon to get 1/4 tsp for your face.
If the pump is a non-issue for you, then definitely give this well-rounded sunscreen a try, you won't be disappointed!
Must-have factor: ⭐⭐⭐⭐⭐
Final Verdict
Pros
Beautiful lightweight texture for all products.
Uses well-researched, proven ingredients
All products live up to their hydration claims.
Cons
Not as soothing as I expected, may not be suitable for sensitive skin.
Scores & Summary
Ingredients
Packaging
Texure/Application
Performance
Price
As a centella line, I was disappointed with the lack of skin soothing results. There were a few days when my skin irritated, and unfortunately these products didn't help reduce the redness, and some even stung on application. Skin1004 has a pure centella line that would probably be more suitable for sensitive skin.
On the plus side, the line definitely lives up to its hydration claims, impressive since each of the products feel incredibly light on the skin. In a sea of a million hydrating products, the mist and sleeping pack were standouts for me while the sunscreen was just an absolute home run. If you have dry skin like me, those 3 are what I'd most recommend, but oilier skin types or those living in humid climates will likely enjoy all 5!
Article Sources
To keep my content accurate and trustworthy, I rely on peer-reviewed studies, articles from reputable academic institutions, and quotes from certified healthcare professionals to back my claims. No woo-woo clickbait nonsense here!
Juncan, Anca Maria, et al. "Advantages of Hyaluronic Acid and Its Combination with Other Bioactive Ingredients in Cosmeceuticals." Molecules, vol. 26, no. 15, 22 July 2021, p. 4429, www.ncbi.nlm.nih.gov/pmc/articles/PMC8347214/, 10.3390/molecules26154429. Accessed 25 Oct. 2022.

Essendoubi, M., et al. "Human Skin Penetration of Hyaluronic Acid of Different Molecular Weights as Probed by Raman Spectroscopy." Skin Research and Technology, vol. 22, no. 1, 16 Apr. 2015, pp. 55–62, pubmed.ncbi.nlm.nih.gov/25877232/, 10.1111/srt.12228. Accessed 27 Oct. 2022.

Gariboldi, Silvia, et al. "Low Molecular Weight Hyaluronic Acid Increases the Self-Defense of Skin Epithelium by Induction of β-Defensin 2 via TLR2 and TLR4." The Journal of Immunology, vol. 181, no. 3, 18 July 2008, pp. 2103–2110, pubmed.ncbi.nlm.nih.gov/18641349/, 10.4049/jimmunol.181.3.2103. Accessed 27 Oct. 2022.

Schlesinger TE;Powell CR. "Efficacy and Tolerability of Low Molecular Weight Hyaluronic Acid Sodium Salt 0.2% Cream in Rosacea." Journal of Drugs in Dermatology : JDD, vol. 12, no. 6, 2013, pubmed.ncbi.nlm.nih.gov/23839183/. Accessed 27 Oct. 2022.

Ratz-lyko, A, et al. "Moisturizing and Antiinflammatory Properties of Cosmetic Formulations Containing Centella Asiatica Extract." Indian Journal of Pharmaceutical Sciences, vol. 78, no. 1, 2016, p. 27, pubmed.ncbi.nlm.nih.gov/27168678/, 10.4103/0250-474x.180247. Accessed 27 Oct. 2022.

Bonte, F., et al. "Influence of Asiatic Acid, Madecassic Acid, and Asiaticoside on Human Collagen I Synthesis." Planta Medica, vol. 60, no. 02, Apr. 1994, pp. 133–135, pubmed.ncbi.nlm.nih.gov/8202564/, 10.1055/s-2006-959434. Accessed 27 Oct. 2022.

‌Jung, Eunsun, et al. "Madecassoside Inhibits Melanin Synthesis by Blocking Ultraviolet-Induced Inflammation." Molecules, vol. 18, no. 12, 16 Dec. 2013, pp. 15724–15736, www.mdpi.com/1420-3049/18/12/15724, 10.3390/molecules181215724. Accessed 27 Oct. 2022.

Lee, Jongsung, et al. "Asiaticoside Induces Human Collagen I Synthesis through TGFβ Receptor I Kinase (TβRI Kinase)-Independent Smad Signaling." Planta Medica, vol. 72, no. 4, Jan. 2006, pp. 324–328, pubmed.ncbi.nlm.nih.gov/16557473/, 10.1055/s-2005-916227. Accessed 27 Oct. 2022.

Zeichner, Joshua A. "The Use of Lipohydroxy Acid in Skin Care and Acne Treatment." The Journal of Clinical and Aesthetic Dermatology, vol. 9, no. 11, 2016, pp. 40–43, www.ncbi.nlm.nih.gov/pmc/articles/PMC5300717/. Accessed 27 Oct. 2022.

‌Ogunleye, Adetoro, et al. "Poly-γ-Glutamic Acid: Production, Properties and Applications." Microbiology, vol. 161, no. 1, 1 Jan. 2015, pp. 1–17, www.microbiologyresearch.org/content/journal/micro/10.1099/mic.0.081448-0;jsessionid=pOPNh3h120RML8I5TP2dyf8K.mbslive-10-240-10-110, 10.1099/mic.0.081448-0. Accessed 28 Oct. 2022.

‌Khiljee T;Akhtar N. "Investigation of Antiaging and Skin Rejuvenation Potential of Phyto-Constituents from Pyrus Communis Loaded Topical Emulgel." Pakistan Journal of Pharmaceutical Sciences, vol. 32, no. 1(Supplementary), 2019, pubmed.ncbi.nlm.nih.gov/30829206/. Accessed 28 Oct. 2022.