Sunscreen might be my favorite product category to test out, and the more I try, the pickier I get. Universally elegant texture and finish, proven protection, and reasonably priced are just a few of the things I look for. So when I do come across one that checks off everything on my list and then some, you bet I'll be sharing it with you all! Today's star, the whimsically packaged Round Lab Birch Juice Moisturizing Sun Cream.
Quick Summary
A true moisturizer + sunscreen in one product, except for really dry skin types.
Independently tested to contain labeled SPF and PA protection levels.
Uses next generation filters that are safer, more stable, and more effective.
Overview
What is it
A hydrating sunscreen that does double duty as moisturizer and sunscreen, for all skin types.
Protection Factor
Labeled: SPF50+ and PA++++
Actual Tests: SPF55 and PA++++ by Korea Institute of Dermatological Sciences
Filters
Uvinul T 150, Uvinul A Plus, Tinosorb M, and Iscotrizinol/Uvasorb HEB
Best suited for
All skin types that want a moisturizer + sunscreen in one, though very dry skin types may still need a moisturizer underneath.
Things to note
The sunscreen is alcohol free and contains no artificial fragrance. Does contain small amounts of essential oil.
Packaging
A plastic tube packaging with minimal + whimsical artwork. Might be the cutest sunscreen I've tried yet!
Scent
While it does contain chamomile flower oil, there is no noticeable scent.
Texture
A lotion-like texture that spreads easily and feels comfortable on the skin.
Finish
If you skip moisturizer, the finish has a slight dewiness with no white cast on my skin tone. Darker skin tones may notice a slight white cast, and layering moisturizer underneath can cause the finish to look shinier.
Purchase
$19.60 for 50ml at Olive Young (JENNY123 for 5% off), Stylevana (10% off with SHOPJENNY), Corelle, Jolse,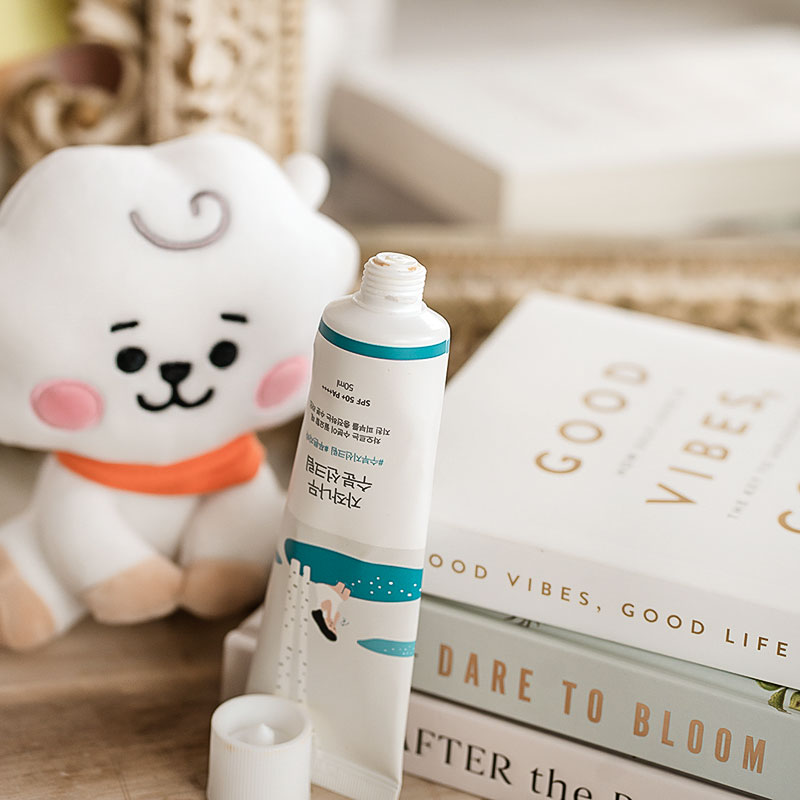 Round Lab Birch Juice Moisturizing Sun Cream Ingredients
Water, Dibutyl Adipate, Propanediol, Diethylamino Hydroxybenzoyl Hexyl Benzoate, Polymethylsilsesquioxane, Ethylhexyl Triazone, Niacinamide, Methylene Bis-Benzotriazolyl Tetramethylbutylphenol, Coco-Caprylate/Caprate, Caprylyl Methicone, Diethylhexyl Butamido Triazone, Glycerine, 1,2-Hexanediol, Butylene Glycol, Betula Platyphylla Japonica Juice ( 1,425 ppm ), Sodium Hyaluronate, Hyaluronic Acid, Glyceryl Glucoside, Dipotassium Glycyrrhizate, Allantoin, Portulaca Oleracea Extract, Artemisia Annua Extract, Pinus Sylvestris Leaf Oil, Anthemis Nobilis Flower Oil, Acrylates/C10-30 Alkyl Acrylate Crosspolymer, Sodium Stearoyl Glutamate, Polyacrylate Crosspolymer-6 Ethylhexylglycerin, Ascorbic Acid, Adenosine, Pentylene Glycol, Behenyl Alcohol, Behenyl Alcohol, Polyglyceryl-3 Methylglucose Distearate, Decyl Glucoside, Tromethamine, Xanthan Gum, t-Butyl Alcohol, Tocopherol, Carbomer
Like most Korean sunscreens, this Round Lab one features only next generation filters that are known for their safety, stability, and efficacy:
Uvinul A Plus protects against UVA rays. It's stable and studies show that only minimal amount gets absorbed into the skin.
Uvinul T 150 specifically protects against UVB rays. It's extremely stable and just a small % is needed to provide high SPF protection.
Tinosorb M is an interesting filter in that it reflects and absorbs both UVA and UVB rays. Like all other next-gen filters, it's photostable and can even help stabilize other ingredients. It also doesn't get absorbed into the skin, but it can leave a slight white cast on darker skin tones.
Iscotrizinol or Uvasorb HEB protects again UVB and some UVA rays. It's excellent in water-resistant formulas, only losing 10% of its protection abilities after 25 hours!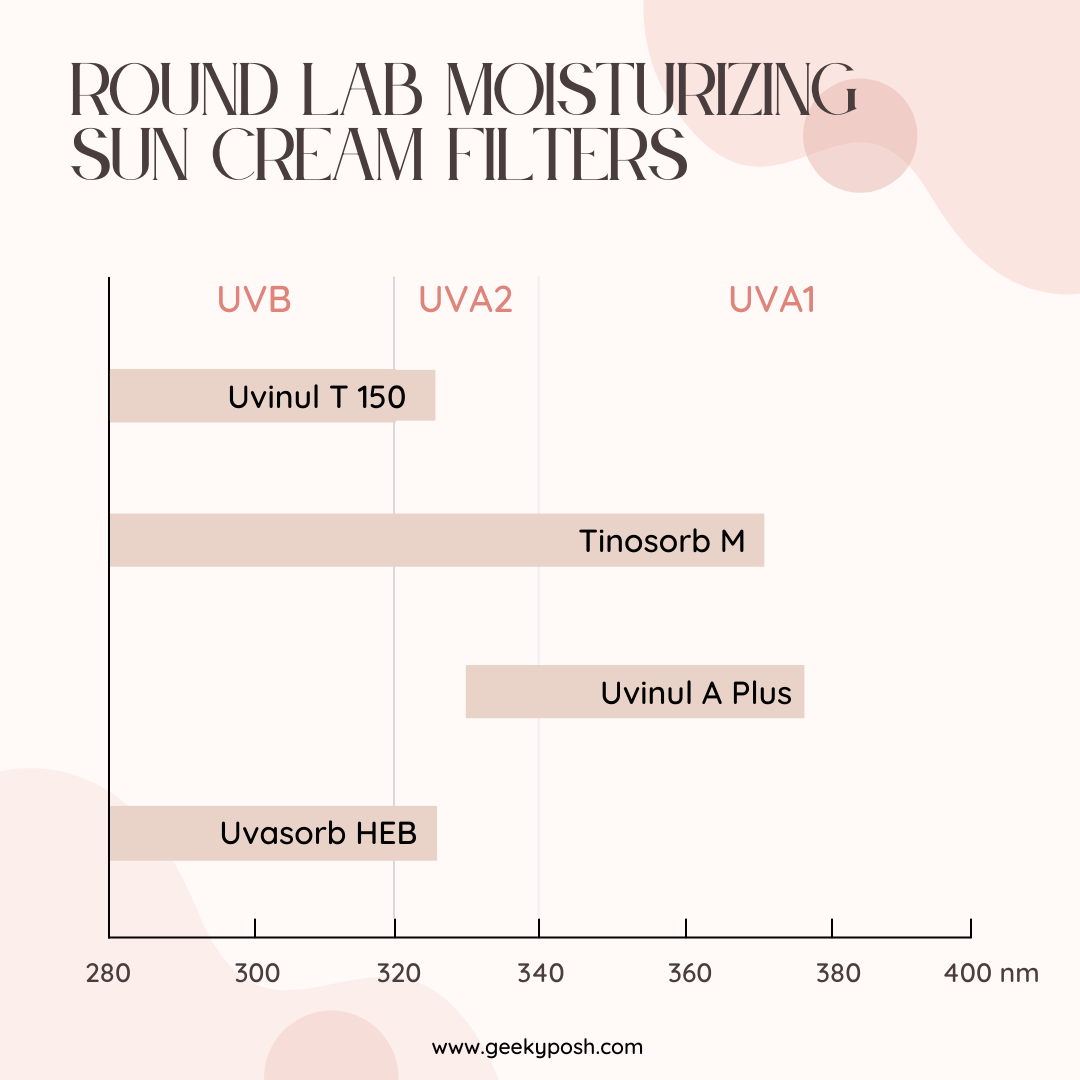 Since it's meant to double as a moisturizer, it contains additional emollients, humectants, and event some antioxidants:
Emollients: Dibutyl Adipate, Coco-Caprylate/​Caprate, Caprylyl Methicone, Behenyl Alcohol (a fatty alcohol)
Hydrating ingredients: 2 types of Hyaluronic Acid, Glycerin, Glyceryl Glucoside
Antioxidants: Niacinamide, Purslane Extract, Vitamin C, and Vitamin E
Soothing ingredients: Licorice Root Extract, Allantoin, and Chamomile Flower Oil
My thoughts: Usually I don't care about all these other ingredients, but as a product that claims to double as a moisturizer, it's certainly nice to see some well-research options like vitamin c and hyaluronic acid in the mix.
How to use the Round Lab Birch Juice Moisturizing Sun Cream
Steps and tips on how to best apply sunscreen to ensure proper protection and prevent pilling!
Apply every morning as the last step in your skincare routine.
Moisturizer optional unless you have super dry skin.
Use the two finger method to ensure adequate application for your face, and apply one finger at a time.
Use another finger for your neck.
Wait for sunscreen to fully set (shouldn't be more than a few minutes) before applying makeup!
Notes
To help with application and reapplication, you can use a damp makeup sponge or cushion puff to pat the sunscreen in!
Usage experience & results
✅ UV protection verified
Since the Korean sunscreen scandal we're definitely seeing more sunscreens getting independently tested now, which is awesome. Yeah it sucks that we can't 100% trust the labels alone, but as a consumer I appreciate brands putting in the effort to reassure us of their product quality.
✅ Perfect for quick/minimal morning routines.
I've tried several products that claim to be a sunscreen + moisturizer in one, and this is the first product that's actually good at both. My skin felt moisturized and protected all day, knowing that I was getting the SPF50+ and PA++++ on the label!
✅ Moisturizing but not heavy at all
My biggest fear when I saw the name "sun cream" and that it doubles as a moisturizer was that it'd be too heavy. But it feels just like it looks: a light lotion texture on the skin that spreads easily and sets quickly, all while adding that final layer of moisture to your skin.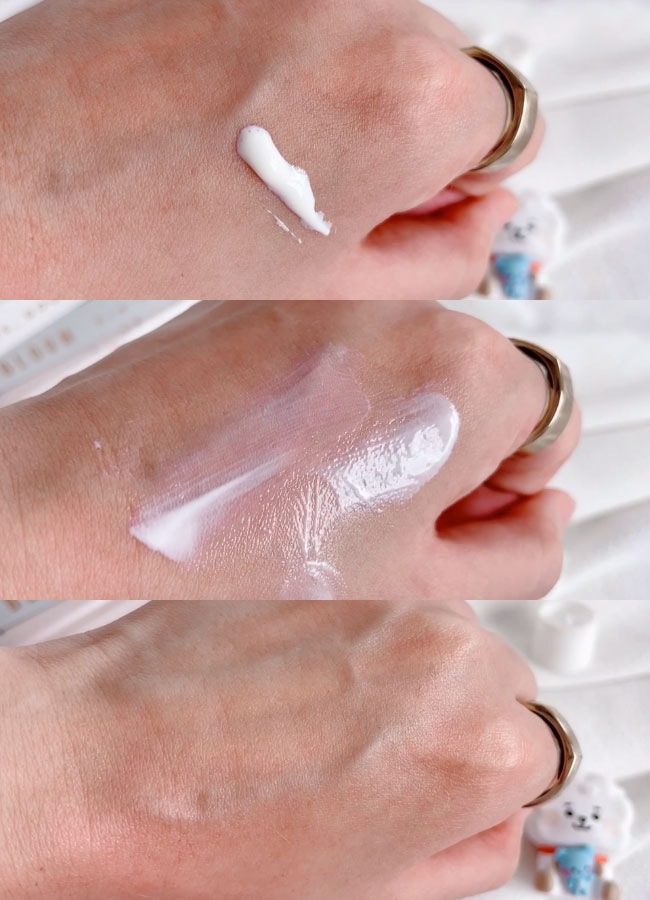 What others say
Please read the reviews below for more insight on how this sunscreen works with different skin types!
All in all I would say that the Round Lab Birch Juice Moisturizing Sun Cream is particularly well suited for dryer skin types, a noticeably moisturising sunscreen that has a super pleasant texture that also plays well with other products.

Sugar Peaches Love, combination skin
Okay, this Round lab birch juice moisturizing sun cream is easily another favourite to add to my sunscreen list. It is so hydrating yet lightweight and has absolutely no white cast.

Christina Hello, dry skin
This is quite thick and creamy and leaves a little greasy feeling behind although that greasiness disappears after about 4-5 minutes.

Girl Behind the Glasses, oily + dehyrated skin
Round Lab Birch Juice Moisturizing Sun Cream dupes
⛱️ Dr. Jart+ Every Sun Day Waterproof Sun Milk
I haven't tried this personally, but it uses the same 4 filters and is also independently tested. The main difference is that the Dr. Jart+ is waterproof, so you can use this for outdoor activities!
🌊 SCINIC Enjoy Super Mild Sun Essence
Contains 2 more filters and feels a hint lighter than the Round Lab. If you have combo/oily skin you can skip your moisturizer with this one too!
🌾Beauty of Joseon Relief Sun : Rice + Probiotics
While I haven't tried this, fellow bloggers Ulrike and Anne both rave about the elegance of this formula, so I trust their word. It's also independently tested (twice!) and seems to have a lighter texture compared to the Round Lab sunscreen.
Final Verdict
Ingredients

Packaging

Texture/Application

Performance

Price
Product claims can be pretty exaggerated, but in Round Lab's case, you are getting exactly what they promise: a two-in-one moisturizer and sunscreen that actually hydrates and protects you from UV rays. It does it all elegantly, and in a cute packaging too!
If there was one flaw, it'd be the slightly higher price compared to other Korean sunscreens, but when you consider that it replaces your moisturizer too, the value is definitely there!
FAQs
Is the Round Lab Birch Juice Moisturizing Sun Cream cruelty-free or vegan?

According to their official Malaysian site, yes it's both cruelty-free and vegan!

Is the Round Lab Birch Juice Moisturizing Sun Cream safe to use while pregnant or breastfeeding?

This sunscreen doesn't contain PABA and tolamine salicylate, two ingredients confirmed to be dangerous by the FDA. Nor does it contain the older sunscreen filters like oxybenzone, avobenzone, ensulizole, octisalate, homosalate, octocrylene, and octinoxate, which may or may not have long term health concerns. While I don't think the Round Lab sunscreen will be dangerous to use while pregnant, ultimately this is a decision you need to make with your healthcare provider.

Is the Round Lab Birch Juice Moisturizing Sun Cream reef safe?

Technically yes. It doesn't contain any of the known filters that aren't reef-friendly, but keep in mind a lot of the filters have yet to be studied for their impact. Also the impact of sunscreen on coral reefs in the grand scheme of things is rather low, so unless you plan on swimming near them, I would not worry about this.