While I don't think toners are must-have skincare products, finding one that works well can still seriously improve your routine. Hydrating toners are a dime a dozen, most of which are nothing to write home about, but the Haruharu Black Rice Hyaluronic Toner is an exception.
If you've been looking for a lightweight hydrating toner with extra oomph, keep reading!
Overview
What is it
A light, hydrating, and refreshing toner packed with nourishing ingredients. Our unique fermentation formula transforms raw ingredients into a more flexible configuration for the skin to absorb. We have developed a formula targeting powerful absorption by utilizing patented Ultra Deep Technology — made to deliver active ingredients deep within the skin.
Best suited for
All skin types, especially combo or oily skin that crave hydration without any heaviness. May not be suitable for sensitive skin types due to alcohol and fragrance content.
Things to note
Contains alcohol, fragrance and essential oil. Is cruelty free.
Packaging
A plastic bottle with a purple gradient design. Love the minimal aesthetics!
Scent
Has a lavender scent but dissipates quickly on application.
Texture
Water-like but with noticeable slip.
Finish
Natural finish with no shine or oiliness. Skin has that hydrated dewiness, similar to when you've just finished sheet masking.
Available For
$12-22 for 150ml on YesStyle (GEEKYPOSH for 5% off), Stylevana (10% off with SHOPJENNY), StyleKorean, iHerb, Amazon, and Peach & Lily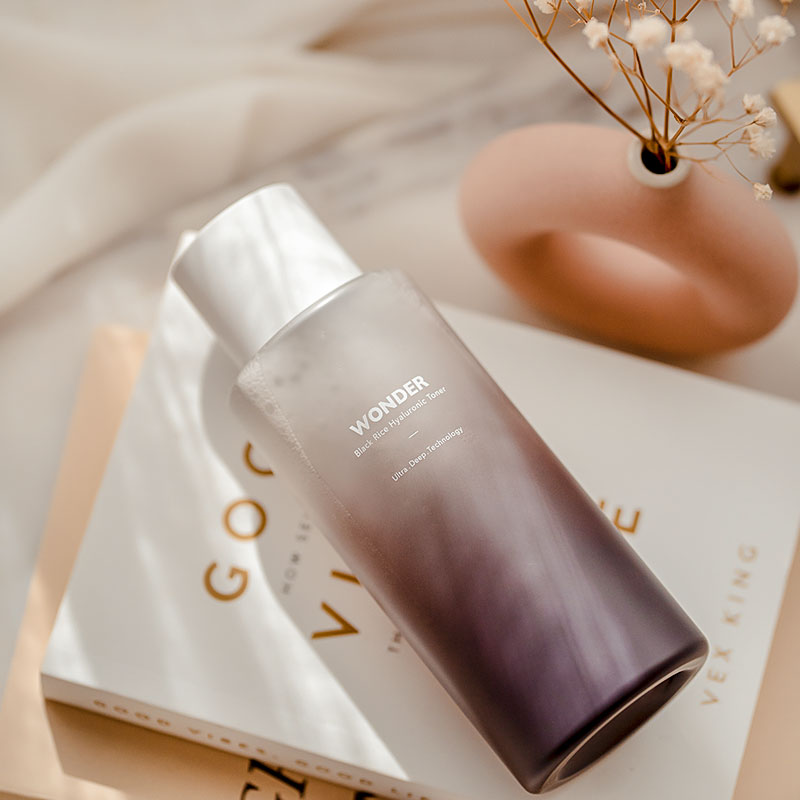 Haruharu Black Rice Hyaluronic Toner Ingredients
Water, Betaine, Glycerin, Propanediol, Rice Extract, Phyllostachys Pubescens Shoot Bark Extract, Aspergillus Ferment, Panax Ginseng Root Extract, Cyclodextrin, Scutellaria Baicalensis Root Extract, Hyaluronic Acid, Beta-glucan, Cellulose Gum, Xanthan Gum, Butylene Glycol, Lichen Extract, Zanthoxylum Piperitum Fruit Extract, Pulsatilla Koreana Extract, Sodium Phytate, Tamarindus Indica Seed Gum, Polyglyceryl-10 Laurate, Polyglyceryl-10 Myristate, Glucose, 1,2-Hexanediol, Alcohol, Lavender Oil, Limonene, Linalool
The star ingredient here is obviously rice extract, specifically fermented black rice. Rice extract itself is full great components like vitamin e, ferulic acid, polysaccharides, omega-3 fatty acids, and trace minerals like calcium, selenium, and zinc, delivering antioxidant and moisturizing benefits.
But black rice extract specifically has been found to reduce UV induced damage1, reduce hyperpigmentation2, reduce inflammatory response, and induce collagen production3. The research is limited compared to more proven ingredients like vitamin c or niacinamide, however what we do know is promising.
Some other interesting extracts to note:
Phyllostachys Pubescens Shoot Bark Extract – Bamboo extract, which contains antioxidant rich and skin soothing compounds like flavones, phenolic acid, and amino acids4.
Panax Ginseng Root Extract – From an eastern medicine perspective, ginseng is known for improving blood circulation, but research has also shown it can help prevent hyperpigmentation5 and photoaging6.
Skullcap Root Extract – A traditional Chinese medicinal herb rich in antioxidant and anti-inflammatory flavonoids.7
You'll also notice that there's no common preservatives like parabens or phenoxyethanol. Instead it uses a natural preservative called EURO-NApre, which uses Usnea Barbata (Lichen) Extract + Zanthoxylum Piperitum Fruit Extract + Pulsatilla Koreana Extract. The plus side that these ingredients also provide some antioxidant and anti-inflammatory benefits, the downside is that it only prolongs the shelf life up to 3 months non-refrigerated and up to 6 months in a fridge.
Other hydrating ingredients: glycerin, hyaluronic acid, tamarind seed gum, betaine, beta glucan
How to use the Haruharu Black Rice Hyaluronic Toner
1. The purpose of a hydrating toner is to prep the skin for further product absorption, so it should be the first product applied after cleansing, twice a day.

2. When using an exfoliating toner, the Haruharu Toner should be applied after the exfoliant.

3. Pour a generous amount into your palm (at least a quarter size) and pat gently into your skin.

4. Repeat step 3 as necessary until your skin feels hydrated. Once the toner has fully absorbed, proceed to the next step of your skincare routine.
Usage Experience and Results
✅ Wonderfully lightweight and hydrating
True to its name, the Haruharu Wonder Black Rice Hyaluronic Toner is wonderful. Like I said earlier, it's been a while since I've been this excited about a toner. The hydration results I get from just one layer is noticeable, and my skin feels like it just finished a quick masking session!
The best part is, that unlike milky toners, ie. Laneige Cream Skin or the Aromatica Rose Infusion Treatment Toner, the Haruharu is oil-free so it will work well for all skin types. Combo and oily skin will especially appreciate how quickly it absorbs.
✅ Softer, smoother skin with a healthy glow
Even though it contains no exfoliants, this rice toner still manages to make my skin soft and smooth. Results aren't immediate results and takes continuous usage, but this is much gentler on the skin. Fine lines as a result of dry skin are also less noticeable.
My favorite part of the toner though is the glow it gives! Not a shiny or dewy look, but my skin looks less dull and has that subtle glow from within, similar to the glow from using SK-II Facial Treatment Essence! Now the Haruharu is nowhere near an exact dupe, but I'm impressed nonetheless.
✅ Alcohol is a non-issue
To be fair, alcohol is a non-issue for me for 99% of the products, but sometimes I can feel that cooling sensation from the alcohol dissapating. I definitely did not fee any of that with this fermented back rice toner, which makes sense since it's so low on the ingredient list anyways. Even when my skin is slightly sensitive from using acids or retinol, this toner (and its alcohol) wasn't irritating in any way.
BUT if alcohol is still a concern, Haruharu also has an alcohol-free version!
🤔 Weaker preservative = shorter shelf life
Mentioned this in the ingredients analysis earlier and it's also clearly labeled on the bottle that it has a shelf life of 6 months after opening. If you don't have a skincare fridge you'll definitely want to be generous with using this!
What Others Say
My skin feels instantly hydrated after it absorbs and looks visibly more plump with a healthy glow. With consistent use my skin has become more smooth and less dull. One of the surprising things about this toner was how well it helps controlled sebum production in my t-zone.

Courtney
I LOVE this stuff! It leave my skin feeling so hydrated. I usually try to avoid products with added fragrances but the scent is very light and not overpowering so dissipates quickly when on the face.

Mac, combination skin
My skin looked too oily with redness covering my cheeks and chin. As for moisture, I would say it was decent. I'm sure there are way better toners out there. The only good thing that this toner did was that it reduce my dark spots.

iHerb customer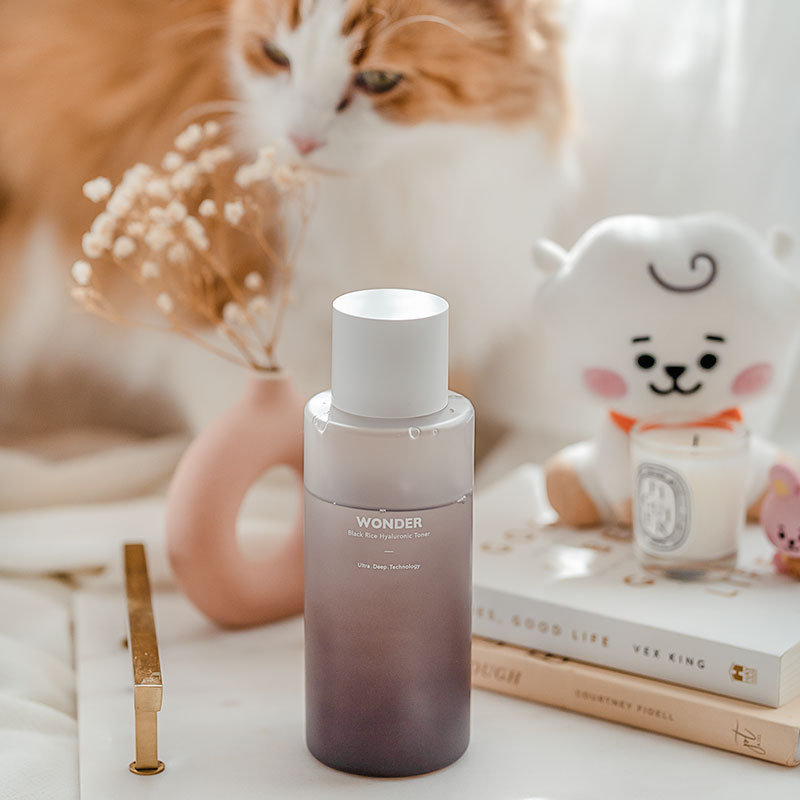 Haruharu Black Rice Toner Compared
Klairs Supple Preparation Toner
They both have similar textures and I'd say are equally hydrating. The Klairs feels more soothing and I'd recommend that if you have sensitive skin. If you want more brightening/skin smoothing benefits go with the Haruharu, but honestly both are great.
May Coop Raw Sauce
Both contain alcohol, May Coop more so than the Haruharu, but the May Coop is also noticeably more hydrating. In fact I found it to work better than a lot of hydrating serums! It's harder to find though, and more expensive.
Neogen Micro Ferment Real Essence
Also contains fermented rice extract, the Neogen is great if you want a lightweight brightening toner/essence, but it won't offer much in the hydration department.
Innisfree Firming Energy Essence
Features fermented bean extract but the two feel really similar in all other aspects! Innisfree feels even silkier on the skin, but I would say the Haruharu is slightly more hydrating.

Final Verdict
Ingredients
Packaging
Texture/Application
Performance
Price
While I can't say for sure if the active ingredients are absorbed deeper into the skin, this still checked off all the boxes I'm looking for in a good toner: hydrating, lightweight, absorbs easily, and no sticky finish. Bonus points for the skin smoothing + glowing benefits too!
It's not perfect, but if you're a generous toner user who doesn't mind alcohol or fragrance, this is a great affordable option that's definitely worth trying!
Article Sources
To keep my content accurate and trustworthy, I rely on peer-reviewed studies, articles from reputable academic institutions, and quotes from certified healthcare professionals to back my claims. No woo-woo clickbait nonsense here!