When it comes to anti-aging, what are your main concerns? Fine lines? Loss of elasticity? Dullness? Dryness? Yes to all of these for me! While I've had varying success using different products to address these needs, Clinical Skin promises to address all of them with their line of just 5 products!
With a healthy dose of skepticism and hope for great results, I've been testing their 4 star products for the past 6 weeks. Let's find out if they live up to the bold claims!
Key Ingredients
Clinical Skin prides themselves in using only well-researched and potent ingredients proven to make a difference in our skin. No frou frou extracts that may or may not work, just the usual powerhouses we're all familiar with and that would benefit all skin types. Love it.
All products contain their signature formula, the A.C.E. Technology, which work together to support a healthy skin barrier while protecting against free radicals:
A for Antioxidants
Specifically Vitamin C and Vitamin E. Vitamin C we already know is wonderful for boosting collagen production and evening the skin tone, while Vitamin E can help protect against UVB rays. But when the two are used together they can protect against UVB and UVA rays, though you definitely still need to wear sunscreen!
C for Ceramides
Love ceramides, it's one of my favorite ingredients, especially when my skin is feeling extra dry or sensitive! It's an essential building block of our skin barrier, which means they play a key role in barrier health and keeping our skin moisturized. Of the hundreds of different ceramides out there, Clinical Skin features these 4:
Ceramide EOP – It helps store linoleic acid, an essential fatty acid for barrier health, and supports epidermal integrity.
Ceramide NP – Boosts barrier support and moisturizing function when paired with Ceramide EOP!
Ceramide AP
Ceramide NG
E for Enzyme
Specifically Superoxide Dismutase, which is also a powerful antioxidant. As an enzyme, it works by breaking down harmful oxygen molecules, but unlike other antioxidants (eg. vitamin c), it doesn't break down itself after the process.
In vitro studies have shown it to be more effective than vitamin e or green tea extract, while an in-vivo study showed that it helps reduce redness from UV rays.
Other supporting ingredients
While not a part of the ACE Technology, these are just as beneficial to our skin and help support basic skin hydration functions:
Hyaluronic acid for drawing moisture to the skin and keeping it hydrated.
Cholesterol, another building block of our skin barrier that works together with ceramides to support and nourish our skin.
Phytosphingosine, a type of lipid found naturally in our skin. One study has shown it has antimicrobial and anti-inflammatory properties which can be helpful against acne-prone skin.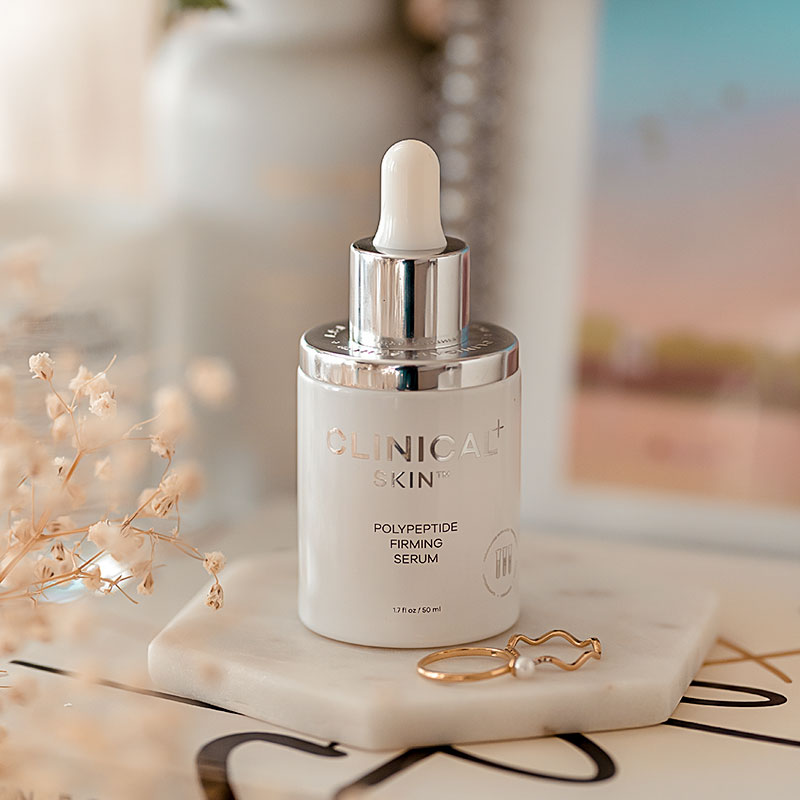 Clinical Skin PolyPeptide Firming Serum
KEY INGREDIENTS
Copper Peptide, Argireline, Matrixyl, Palmitoyl Tripeptide-28, Glutathione, Plankton Extract, Copper PCA, Zinc PCA
PRICE & SIZE
$250 for 50ml from Clinical Skin
I'm a big fan of peptides for anti-aging, either paired with retinol or as an alternative when the latter can't be used (eg. pregnant). The 4 featured in this serum are:
Argireline – Aka Botox in a Jar, because this peptide works on neurons to inhibit signals to the muscles, which then limit their movements. A manufacturer study saw a 17% decrease in wrinkle depth when using 10% argireline, but there's few non-sponsored studies otherwise. Seems more of a surface-level fix rather than addressing the root of the problem and increasing collagen production.
Matrixyl – Manufacturer claims this can boost collagen, fibronectin, hyaluronic acid and laminin 5, all of which can reduce the appearances of fine lines and wrinkles!
Copper Peptide – Another collagen boosting ingredient, this can also promote elastin growth as well as reduce inflammation and improve circulation.
Palmitoyl Tripeptide-28 – I found very little information on this one, just that it works by turning on the gene for collagen production. More collagen = firmer skin.
This particular peptide serum is just beautiful – the light milky texture applies like a dream and absorbs well with no stickiness. Skin immediately feels hydrated, soft, and smooth after application, and long term use I'm seeing similar benefits as an EGF serum: healthier skin with a youthful glow.
Since I'm also using their retinol serum, it's hard to say how much the PolyPeptide Firming Serum contributes to the anti-aging results. If budget is a concern, I would still stick to retinoids to treat signs of aging. But if cost isn't a concern and you want something to complement the effects of retinol or need a temporary replacement, you won't be disappointed with the results.
Must have factor: ⭐⭐⭐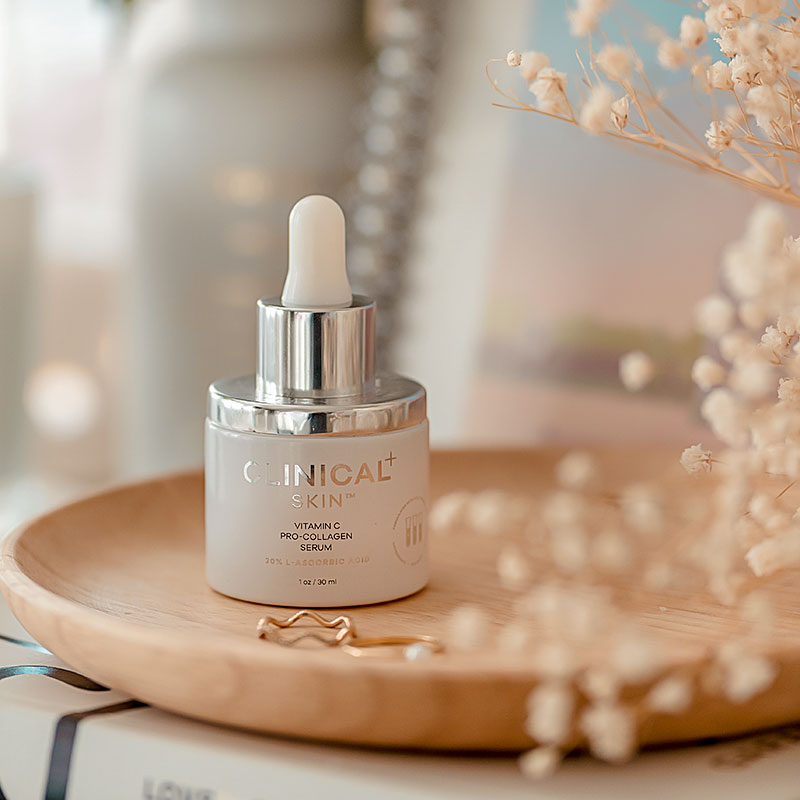 Clinical Skin Vitamin C Pro-Collagen Serum
KEY INGREDIENTS
20% Ascorbic Acid, Caffeine, Glutathione, Zinc PCA, Chamomilla Recutita (Matricaria) Flower Extract
PRICE & SIZE
$120 for 30ml from Clinical Skin
Vitamin C is my favorite ingredient to use during the day for all its UV protection benefits, and this is one of the stronger formulas I've tried at 20% ascorbic acid. I love that it also features glutathione, another antioxidant that can help stabilize the vitamin c, while Zinc PCA helps reduce sebum production (definitely a plus during the day) and can also help boost collagen production!
The texture for the Vitamin C Pro-Collagen Serum is a light, dry oil, which dry skin may love, but oily skin may have mixed feelings about. I've found that applying a few drops at a time on a section of my face works best, and once absorbed, there's minimal shine or oiliness left behind.
I've been using this every morning and have seen brighter skin as a result. It's actually one of the most effective brightening vitamin c serums I've tried, and the results are definitely more noticeable than lower % vitamin c, but it comes at a price (of $120 to be exact). On sale, it'd say it's worth a splurge, but will have to pass at the full price.
Must have factor: ⭐⭐⭐.5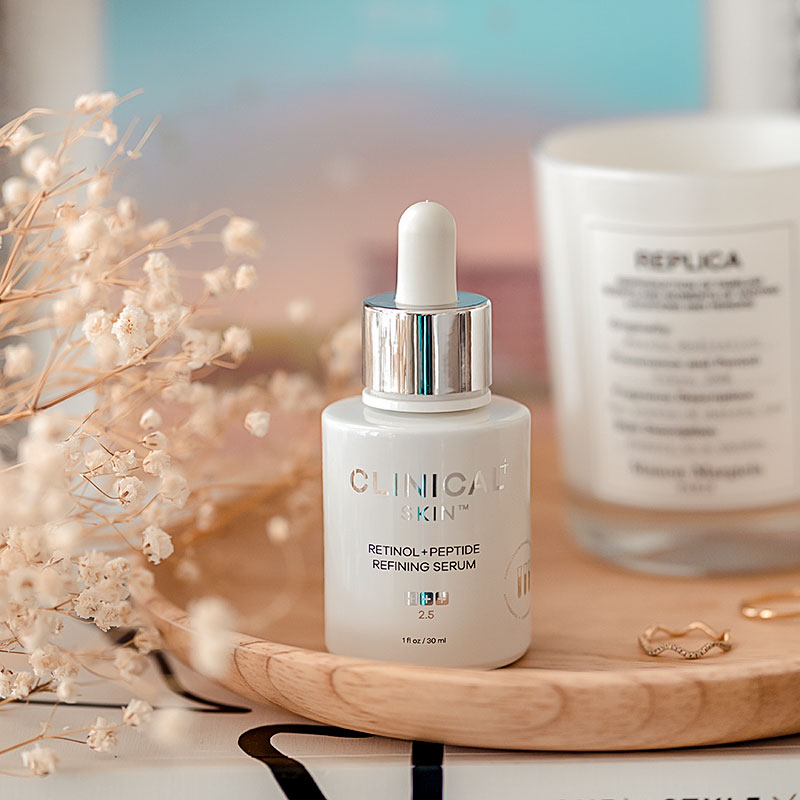 Clinical Skin Retinol + Peptide Refining Serum 2.5
KEY INGREDIENTS
Retinol, Bakuchiol, Niacinamide, Ubiquinone, Allantoin, Matrixyl, Kelp Extract, Turmeric Extract, Squalane
PRICE & SIZE
$80 for 30ml from Clinical Skin
While retinol is one of the gentlest in the retinoid family, and therefore less effective than retinal or tretinoin, this serum does try to makeup for that by including other anti-aging ingredients like Bakuchiol, Niacinamide, and Matrixyl, all of which can boost collagen production.
Since it uses retinol and has emollients like ceramides, squalane, and cholesterol to nourish the skin, irritation was non-existent, even with daily use. It has a similar dry-oil texture as the Vitamin C, absorbs well, and layers nicely in my skincare routine.
Result wise it's hard to say how much this vs the Polypeptide serum contributed, but between the price and ingredients, I think the Retinol + Peptide Refining Serum is the better value of the two. If you want a gentle retinol that can hold its own against retinals, this is definitely worth considering!
Must have factor: ⭐⭐⭐⭐
Clinical Skin Multi-Lipid Replenishing Moisturizer
KEY INGREDIENTS
Sodium PCA, Caffeine, Allantoin, Squalane, Shea Butter Extract, Evening Primrose Oil
PRICE & SIZE
$110 for 50ml from Clinical Skin
When using potent actives like retinols and vitamin c, you definitely want a nourishing moisturizer in your routine, and this Multi-Lipid Replenishing Moisturizer was definitely formulated with the pairing in mind. Evening Primrose Oil is a great touch, as it's full of fatty acids that not only moisturize, but also soothe the skin. In fact it's been shown to reduce inflammation and help with cell regeneration!
The packaging is a flop though. At first it seems awesome because it's an airless pump, but it actually gets stuck quite a bit. Sometimes I'd have to push 5+ times just to get enough product, and once it actually shot the moisturizer so high up it landed in my hair (which led to a very confused husband when he saw me).
As for the moisturizer itself, it seems thick at first but actually absorbs well into the skin and leaves a satin finish behind. It doesn't feel overly rich or heavy, making it suitable for combo and oily skin types as well. Skin feels moisturized and soft, but it doesn't really stand out from more affordable options. For the price, I was really hoping to see more (and not struggle with dispensing it!).
Must have factor: ⭐⭐
Final Verdict
Pros
Excellent, well-studied ingredients with minimal fluff.
Formula balances the efficacy of powerful actives with antioxidants and a moisturizing base to respect our skin barrier.
Will work for all skin types, especially sensitive skin.
Delivers noticeable results with daily use.
Cons
Super expensive!
The packaging could be improved given the price.
Scores & Summary
Ingredients
Packaging
Texture/Application
Performance
Price
Price aside, I've enjoyed using Clinical Skin's products in my routine, and they've delivered noticeable results. I know I gave it a must have rating of only 3, but the PolyPetide Firming Serum was actually my favorite to use. It's just beautiful in every way and took my usual Vitamin C + A game to a whole new level.
But realistically price is a factor, and it's hard to justify spending so much on a product when you can get 80% of the results at 30% of the price. This is definitely a luxury skincare line, but at least you're paying for great ingredients and formula instead of just a fancy brand name!