Two of the most common retinol questions I get are "how do I get started?" and "how do I know when it's safe to use something stronger?". While I wrote a super detailed guide on all things retinol, today I want to share a brand that takes the guesswork out of this fabulous but tricky ingredient: The Medik8 Crystal Retinal line!
My review will be specifically on the Medik8 Crystal Retinal 6, but the rest of the line share generally the same formula, texture, and usage experience. The main difference is the strength of retinal used.
Overview
What is it
Clinically proven to provide incredible age-defying results. Think visibly brighter, firmer and smoother-looking skin in just one tube. Unlike others, Crystal Retinal is encapsulated in a patented crystal structure and housed in an innovative airless tube – for enhanced stability until the very last drop.
Best suited for
Dry, normal, or combination skin types that need a step-by-step guided approach to using retinol. Oily skin type might find this too heavy and want to skip moisturizer, and those sensitive to fragrance might want consider other options.
Things to note
Alcohol-free but does contain fragrance, specifically Coumarin, which is a potential allergen.
Packaging
An airless tube with a pump dispenser, which ensures you can get every last drop of the product out while still maintaining ingredient freshness and efficacy.
Scent
A soft citrus-vanilla scent that quickly dissipates. I personally like it!
Texture
A mousse-like lotion that spreads easily, but does take a bit longer to fully set and absorb.
Finish
A satin, almost blurred finish once the product fully absorbs (~30 seconds). Skin feels comfortable with no feelings of heaviness.
Available For
$53 – $106 for 30ml on Skinstore (JENNY for 25% off), CultBeauty, Look Fantastic, Dermstore, and Face the Future depending on strength.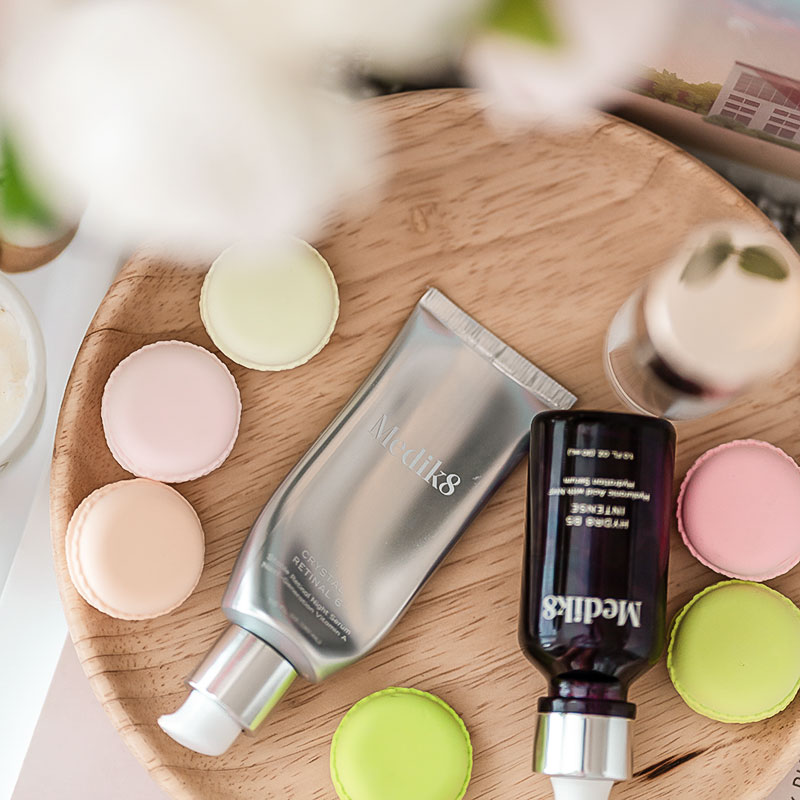 Medik8 Crystal Retinal 6 Ingredients
Water, Caprylic/Capric Triglyceride, Glycerin, Isododecane, Cetearyl Olivate, Sodium Acrylate/Sodium Acryloyldimethyl Taurate Copolymer, Cyclodextrin, Cetearyl Alcohol, Sorbitan Olivate, Tocopheryl Acetate, Squalane, Hydroxyethyl Acrylate/Sodium Acryloyldimethyl Taurate Copolymer, Hydroxyacetophenone, 3-O-Ethyl Ascorbic Acid, Phenoxyethanol, Hydroxypropyl Methylcellulose, Sodium Hyaluronate, Tetrahexyldecyl Ascorbate, Rubus Chamaemorus Seed Oil, Pentylene Glycol, Daucus Carota Sativa (Carrot) Seed Oil, Retinal, Alumina, Isostearic Acid, Lecithin, Sodium Polyaspartate, Polyglyceryl-3 Polyricinoleate, Lonicera Japonica (Honeysuckle) Flower Extract, Lonicera Caprifolium (Honeysuckle) Flower Extract, Polyhydroxystearic Acid, Disodium EDTA, Ethylhexylglycerin, Stearic Acid, Polysorbate 60, Sorbitan Isostearate, BHT, Vanilla Planifolia Fruit Extract, Dipteryx Odorata Bean Extract, Coumarin, Red 4, Titanium Dioxide/CI 77891.
The star ingredient is obviously retinal, and Medik8 Crystal Retinal 6 uses 0.06% retinal, which is why it's low on the ingredient list. Retinal is typically used at low %, anything too strong will just irritate your skin and cause peeling.
Retinal is part of the retinoid family, and while not as strong as Tretinoin, it's still shown to reduce fine lines and wrinkles really well without irritating the skin! It also works up to 11 times faster than retinol1, another common over-the-counter retinoid.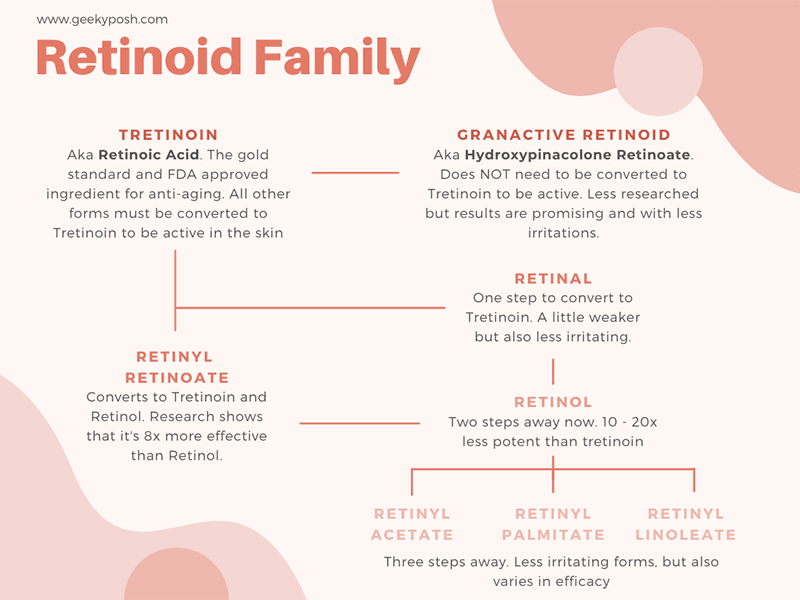 What makes Medik8's retinal more effective is their encapsulation technology. According to Dr. Meghan Feely, board certified dermatologist "The objective is to increase the stability of retinol, enabling it to penetrate more deeply into the skin, while mitigating potential side effects".2 The outer layer of the encapsuled retinol also provides some extra moisturizing benefits!
Antioxidants: 3-O-Ethyl Ascorbate, Tetrahexyldecyl Ascorbate (both oil soluble vitamin c forms, Vitamin E (also an emollient)
Emollients: Squalane, Carrot Seed Oil (also has antioxidant benefits), Fatty Alcohol
Humectants: Glycerin, Hyaluronic Acid
Anti-inflammatory: Japanese Honeysuckle Flower Extract
Not a ton of fancy ingredients, but almost everything that's featured in this retinal serum is well-researched and effective. There are a lot of emulsifiers and thickeners though, which isn't a bad thing, and would explain the lovely texture.
How to use the Medik8 Crystal Retinal Serum
Use in the evenings only. Retinoids can increase photosensitivity (and really just sensitivity overall) so it's best to use at night.
After your cleansing and toning step, take a look at the serums you'll be using in your routine. Water-based serums should go first, or if they're all oil-based, then the order should go from light to heavy.
If all your serums are oil-based and with a similar texture, then apply the Medik8 Crystal Retinal first for efficacy, or apply it last to reduce potential irritations.
Make sure you apply to dry skin, otherwise it's actually harder to absorb. Encapsulation makes the formula oil-soluble, so its effects are diminished on damp skin!
2 pumps should be enough for your face and neck.
Start slow at once or twice a week, then slowly increase your dosage until you feel comfortable using this nightly.
While this formula is more emollient than past retinal serums I've tried, it's still best to apply a moisturizer afterwards to minimize dryness.
Notes
If you're a retinoid newbie or have sensitive skin, make sure to start with Crystal Retinal 1, which is the lowest retinal dosage at just 0.01%.
Medik8 put together a helpful example routine, you don't need to follow it exactly, but it'll give you an idea of how to add the Crystal Retinal Serum in your routine.
Usage Experience & Results
✅ Gentle but effective
While it has a lower retinal % than the Maelove Moonlight Serum, the encapsulation technology + antioxidant boost give them similar results. Nothing dramatic, but excellent at preventing skin texture and new fine lines from forming. No changes in skin tone though.
As for its gentleness, I'm able to use Medik8 Crystal Retinal 6 with no issues even when my skin is on the sensitive side. I can only imagine how gentle 3 or even 1 feels. The Inkey List Retinol is still my #1 pick for a first-time retinol, but Medik8's would be a close second.
✅ Brilliant phased system for retinol beginners
In a world with a million retinol, retinal, and retinoic acid options, it can be a nightmare deciding which one to start with, and when to upgrade. Medik8 takes all the guessing game out by creating 4 different levels of their retinal serum, and when you're done with one, just move to the next level!
Because your skin is already used to the formula, there will be no surprises when you upgrade. The difference in retinal % is low enough to not cause irritations, but also not so low you can't notice any improvements.
❓ Unique texture might not be for everyone
While the texture isn't heavy, it's definitely not your typical serum texture. It feels more like a moisturizer, and if your skin is super oily you'll want to pass or have this double as your night cream. I personally like the fluffy lotion texture, but my dry skin craves emollience and I don't mind massaging a bit more for the serum to fully set.
💸 Lower % for higher cost
While very low % of retinal is required to be effective, Medik8's % are still lower comapred to other brands. For example, the Crystal Retinal 6, which is the third level in their retinal line just has 0.06%, while other brands (see below for detailed comparison) offer 0.1% or higher at similar price points.
I don't think the Medik8 Crystal Retinal serum is less effective per se, as the overall formula matters too, but the % difference is significant, especially when you consider the price.
What others say
After a couple of days, the texture of my skin was way smoother. The large pores on my t-zone had shrunk. And my skin has a lovely glow.

Beautiful With Brains
Like that you can go up in strengths as your skin gets more tolerant. Have followed the instructions religiously and Read more about review stating Smells great 😊have had no irritation. Makes my skin so soft when I wake up.

Laura, oily skin
I have large pores, mixed skin with occasional breakout. With this serum i've had daily massive breakouts on my chin. I have used it for 5 months at first hoping its just purgeing but its been too long.

Bruna, oily/sensitive skin
Medik8 Crystal Retinal Serum alternatives
🌵 Youth To The People Retinal + Niacinamide Youth Serum
Contains 0.15% retinal + 5% niacinamide for a fantastic anti-aging combo, plus ceramides, squalane, and botanical oils to nourish the skin. Fragrance-free. This to me is equally gentle and $40 cheaper than Crystal Retinal 10!
🌙 Maelove Moonlight Retinal Super Serum
The best valued retinal imo. Has an extremely similar usage experience to the Medik8, from the light scent to the texture, but Maelove features 0.11% retinal for a stronger punch. The brand does have a gentler retinol option (0.25% retinol) that will be more beginner friendly.
🧈 Kiehl's Micro-Dose Anti-Aging Retinol Serum
Uses retinol instead of retinal, but at an undisclosed %. Has a similar texture to Medik8 and probably comparable in strength to Crystal Retinal 3 ~ 6. Love that it contains peptides for an extra anti-aging boost!
💧 The Inkey List Retinol
If you want a no-fuss beginner friendly retinol my number 1 pick will always be this one. It uses Granactive Retinoid, which is even gentler on the skin, plus the $10 makes it super affordable as well.

Final Verdict
Ingredients

Packaging

Texture/Application

Performance

Price
There's no doubt that the Medik8 Crystal Retinal is a beautiful product, and a lot of thought went into the packaging and formula to maximize product efficacy. Their phased system is also brilliant, allowing users to gradually increase their retinol dosage while minimizing irritations.
I thoroughly enjoyed using my Crystal Retinal 6 but with so many options available now, delivering value is critical, and this is where Medik8 falls short for me. Its price is just too high, with their Crystal Retinal 10 at $106 while still having lower % than more affordable competitors.
Obviously if cost isn't an issue and you want a safe, guided approach to retinol, Medik8 is a great option. But if you're a seasoned retinol user, this would be a pass for me.
FAQs
Which Medik8 Crystal Retinal should I start with?

If you're a beginner and have sensitive skin or just want to play it super safe, start with Crystal Retinal 1.

If you're a beginner with more resilient skin, or have had some experience with retinol, you can start with Crystal Retinal 3.

If you're an experienced retinoid user, you can start with Crystal Retinal 6!

How long does a tube of Medik8 crystal retinal last?

With daily use it'll last you about 10 weeks, but with the recommended phased usage, a tube can last up to 5 months.

Is Medik8 Crystal Retinal good for acne?

Retinal is great for targeting early comedones and increasing skin cell turnover, both of which are helpful for mild to moderate acne. However, the Cetearyl Alcohol and Stearic Acid in this formula can be comedogenic. If you know these ingredients are problematic for your skin, I would look for a different retinal serum.
Article Sources
To keep my content accurate and trustworthy, I rely on peer-reviewed studies, articles from reputable academic institutions, and quotes from certified healthcare professionals to back my claims. No woo-woo clickbait nonsense here!
Siegenthaler, G., et al. "Retinol and Retinal Metabolism. Relationship to the State of Differentiation of Cultured Human Keratinocytes." Biochemical Journal, vol. 268, no. 2, June 1990, pp. 371–78, https://doi.org/10.1042/bj2680371.

Kilkeary, Alanna. "Why Encapsulated Retinol Is Perfect for Sensitive Skin." Skincare.com, Makeup.com, 27 Sept. 2021, www.skincare.com/expert-advice/all-expert-advice/what-is-encapsulated-retinol.