I know many of my recent product features have been on the pricier end, so today I want to share some of my favorite affordable skincare products, all which are under $20 except for one, but you'll see why soon. Anyways, no more babbling, on to the stars of this post!
First & second cleansers
This is one category I'm typically reluctant to spend $$$ on (though I've made a few exceptions lately) and my daily staples are actually all on the lower price range, but still fantastic. Bioderma Sensibio* ($14.9) is my favorite of the 3 versions, removing makeup gently without stripping the skin or leaving behind any residue.
Glossier Milky Jelly Cleanser ($18) is slightly pricier, but it's my all-around favorite cleanser in terms of ingredients and general usage experience. Literally, no complaints with this one. A more affordable albeit boring option, the CeraVe Hydrating Cleanser is a great choice, and you can read my full here. For traveling or during the summer, I like the DHC Face Wash Powder* ($12.5) which leaves my skin fresh and soft. A little goes a long way with this!
Mists & toners
I feel like it's almost a crime that I didn't include one of the Hada Labo toners, but it's been literally 10 years since I last used them, so there you go ¯\_(ツ)_/¯ But for a just as affordable option with great ingredients, I'd recommend the iUNIK Rose Galactomyces Essential Toner* ($16.97). It's hydrating and gentle on the skin, plus it's lighter and less sticky than the Klairs Facial Preparation Toner ($16.76), which is still awesome btw and I'll always keep repurchasing.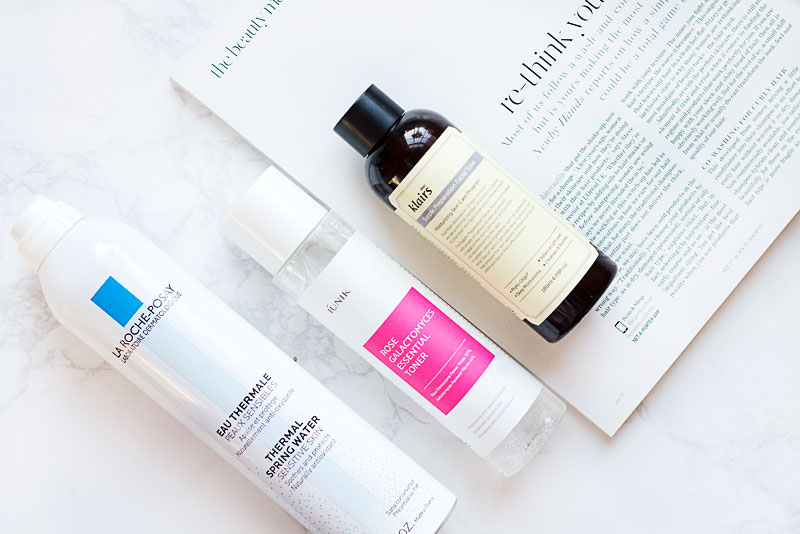 Last but not least is another must-have in my routine for layering and adding lots of hydration – the La Roche Posay Thermal Spring Water ($17.98), which contains a buttload of trace minerals and nutrients for the skin. Plus this huge bottle lasts forever!
Not pictured: the Naruko Rose & Botanic HA Jelly Lotion ($9.99) which I've reviewed previously and now kind of miss. The texture and scent was just lovely.
Need more inexpensive options? 5 skincare brands with affordable + effective products
Serums & oils
Facial oils are notoriously expensive, but the Andalou Natural 1000 Roses Moroccan Beauty Oil ($13.9) is such an affordable + fabulous option with great ingredients (rosehip + cranberry seed + pomegranate seed oils), and it smells like roses + vanilla! For more options, I highly recommend the Trilogy No.1 Limited Edition Sampler Set* ($25) which gives you the chance to try 5 different oil blends. I know that's more than $20, but at $5/5 ml bottle, it's a steal compared to the same-sized Odacite oils. My favorites are the No.15 LE Beauty Oil and the Very Gentle Restoring Oil, both of which I've been using for a month now and there's still more than half a bottle left of each!
An affordable serum I've been enjoying lately is the iUNIK Propolis Synergy Serum* ($15.98), which contains 70% propolis extract and 12% sea buckthorn fruit extract. It reminds me a lot of the Innisfree Green Tea Seed Serum ($18.76) in that both feel very comfortable on the skin and help improve overall skin health in the long run. And no, I've never tried any of The Ordinary serums, so that's why they're not on this list, and yes, I'm probably the last person on earth who hasn't tried them yet.
Not pictured: Skin Actives Cranberry Moisturizing Serum* ($14), Collagen Serum ($16), and Every Lipid Serum ($20). If you can get over the plain packaging, these are some seriously wonderful serums, and you can read my review here & here.
Use one of these sheet masks in lieu of your serums: $2 indulgences – my top 5 affordable sheet masks
Lotions & creams
I've raved about the La Roche Posay Cicaplast Baume B5 ($14.99) multiple times already, and it's the one I always bring with me when I travel. The iUNIK Beta-Glucan Daily Moisture Cream* ($11.99) was surprisingly pleasant to use, especially during the day. It's lightweight, oil-free, and contains great ingredients like beta-glucan, niacinamide, and hyaluronic acid.
The Klairs Freshly Juiced Vitamin E Mask* is currently out of stock, but on sale it's $18 and one of the best brightening products I've ever used. I'll spare you the swooning, which you'll find plenty of in my reviews here and here.
Not pictured: The Naruko Rose & Botanic HA Hydrating Cream ($18.99), which I've reviewed in details here. This also has an interesting texture that melts into water when you massage it in.

Honestly there are days where I'll use exclusively these products, and my skin is just as happy with them as it is with my high end lotions and potions. For me these affordable options are excellent for maintaining the skin's health, and I'll rotate in my more expensive & potent products when I think my skin really needs help.
Hope you've found this post helpful, and let me know if you have any affordable products you swear by!