2017 has been an incredible year in terms of makeup discoveries, so of course I had to dedicate a whole post to my favorites from this category. Most of these won't come as a surprise since I rave about them frequently on Instagram, but I'm excited nonetheless, because I seriously adore each of these products to bits.
To keep things interesting, I didn't include any favorites (except 1!) from previous year, though you can read them here (2016), here (2015), and here (2014 winter) if you're curious. I still enjoy using many of those products, but the following discoveries were definitely my go-to's this past year.
YSL Touche Eclat Blur Primer
I wasn't expecting to fall in love with this, but now I can't imagine being without it. It does an excellent job of smoothing the skin and blurring the appearances of pores, but most importantly, it creates the perfect base for my YSL Touche Eclat Cushion Foundation. Plus bonus points for the bougie gold specks because I have a weakness for these frivolous details #sorrynotsorry.
A little goes a long way with this primer. I've been using this sample for 6 months now and I still have more than half left, so I'm pretty sure the full sized bottle would last me about…3 lifetimes.
← $52 at Nordstrom, Sephora; $39 at Selfridges
YSL Touche Eclat Cushion Foundation in B20
I've already raved about this in detail, and 7 months later my love for it is still going strong. I did cheat on this a bit with other foundations but as with all affairs, they ended in regret with me running back to my true love while kicking myself for ever betraying it in the first place.
The only issues I have with this is how messy it's gotten, hence why I'm ashamed to show the inside. Nothing a good wipe down with a tissue can't solve, and frankly the results are worth any packaging disaster.
$48 on Nordstrom, YSL; $55 on StrawberryNet; $38 for refills →
(Free global shipping on StrawberryNet; YSL offers frequent 20% off deals)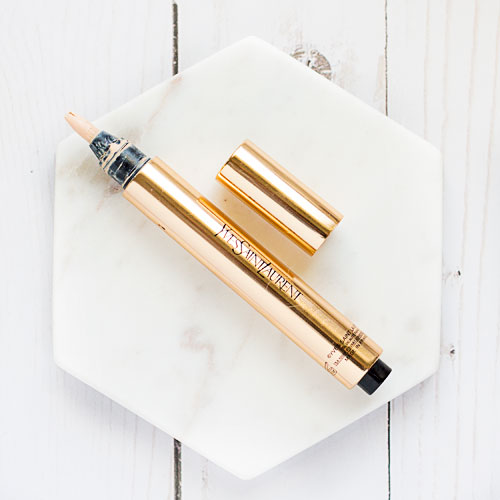 YSL Touche Eclat in 1.5
The famous highlighter that started it all. First of all, this is NOT a concealer, so don't bother using it on blemishes or dark spots. However, I find it excellent for brightening my under eye area (if my dark circles are bad I'll use concealer first), the creases around my nose, and for highlighting my nose bridge. It gives such a natural yet noticeable brightening effect, and it doesn't caking or crease.
And yes, I'm obsessed with the YSL Touche Eclat line, in case it wasn't obvious. I think it's fantastic for creating a natural glow-from-within complexion.
← $42 on YSL, Nordstrom, Sephora; $29.5 on Selfridges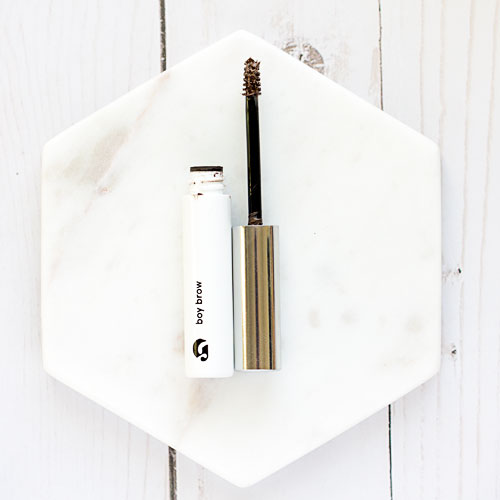 Glossier Boy Brow in brown
Guys, this one was love at first use. I'm incredibly challenged when it comes to brows, and this makes it so friggin easy to achieve the natural yet full look. If you can't use brow pencils for your life (welcome to the club!), this is a must have, it seriously changed my brow game for the better.
I debated between black and brown and ultimate went with the latter, since my natural hair color is a soft black. The color is a perfect fit – dark enough to make my brows actually visible but not too dark where I started looking like Bert from Sesame Street.
$16 on Glossier →
Tom Ford Eyeshadow Quad in Disco Dust
Another love at first use product, everything about this palette is perfection – the quality, color (the third shade is the most beautiful coral), pigmentation, and just how versatile it is. I can create natural day looks and instantly glam it up for a night out by using the darkest shade for a smokey eye and pressing a bit of the shimmer on my inner corners. I also prefer quads over large palettes for simplicity of use (no frou-frouing over which of the million shades to wear) and ease of traveling.
I have the quad in Honeymoon as well, which is beautiful for fall/winter or for a more glam look, but Disco Dust wins for being wearable year round. If you want to invest in an eyeshadow palette, this is it.
← $85 on Nordstrom, Sephora; $76 on Selfridges
Marc Jacobs Highliner in (Earth)quake 41*
This combines the ease of use of pencil liners with the smudge-proof wear of gel liners, and my oily lids absolutely loves it. I've already reviewed this in-depth, and my statement about it being a holy grail still holds true today.
One minor annoyance is how soft the liner is, so it dulls easily. It does include a removable sharpener at the end if you want sharp lines, but I usually just use a liquid eyeliner for that. This is great for tightlining as well, just make sure to let it dry (~15 seconds) before blinking.
$25 on Sephora, Net-a-Porter →
(also available in a set with the new Fineliner and Velvet Noir Mascara for $49 at Sephora and Net-a-Porter)
Marc Jacobs Velvet Noir Major Volume Mascara
A big thank you to Shireen for introducing this mascara into my life, because goodness knows my sad, short, straight lashes needed this. It gives volume and length without the dreaded spider legs effect, and the finished results are soft fluttery lashes that almost look as good as falsies. Most mascaras I've tried are usually too wet, resulting in my lashes clumping and drooping. If this is a common problem for you, you need to give this mascara a try.
← $26 on Sephora, Net-a-Porter; $14 for the travel size on Sephora
(also available in a set with the new Fineliner and Velvet Noir Mascara for $49 at Sephora and Net-a-Porter)
Tom Ford Sheer Cheek Duo in Paradise Lust
A MUA applied this on me in Nordstrom and I was instantly wowed by how good it looked. The highlighter is a soft champagne pink that somehow manages to be super noticeable yet still natural – it's as if someone is constantly shining a light on your face, in the most flattering way and angle of course.
The blush is a peachy pink and reminds me of Nars Orgasm but warmer. It's quite pigmented and does contain shimmer, but it's also very blendable, and you can mix it with the highlighter to create a rosy sunkissed glow. This duo has been my go-to all summer and a stable in my travel makeup bag.
$80 on Nordstrom, Sephora; $78 on Net-a-Porter; $68 on Selfridges →
YSL Volupte Tint in Oil in 8 Pink About Me
So I think these are getting discontinued, which makes me sad as I think they're wonderful for nourishing my lips + adding a pop of color. They aren't sticky like typical glosses and they leave a lovely tint once the oil dries down. When I'm not wearing lipstick I reach for one of these – I have them in 3 shades and they're all beautiful, but my favorite is this pink one.
← $32 on YSL
Lancome L'absolu Rouge in 264 Peut-Etre
If you're a k-drama fan, this is the shade worn by Kim Go-Eun in Goblin. While I'm not a fan of the show, I am a big fan of this shade and the formula. It's the perfect dusty rose shade that will flatter all skin tones, and it feels so comfortable on the lips, as if you're wearing lip balm. It has a satin finish, which will minimize the appearance of any lines or dry patches.
This is a very underrated product in my opinion, but it can definitely holds its own against Tom Ford and Burberry lipsticks. Plus the limited edition packaging is gorgeous.
$32 on Sephora; $29 on Selfridges →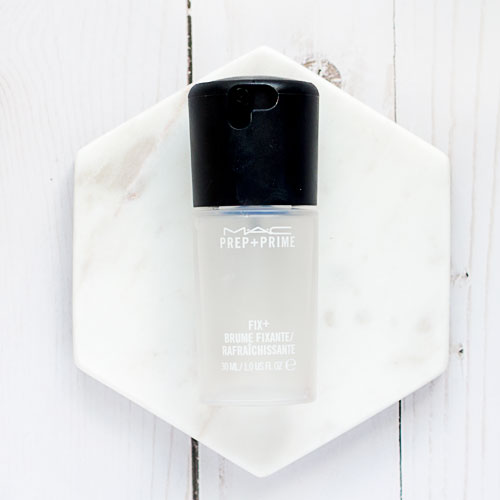 MAC Prep + Prime Fix+
My first and forever favorite setting spray. It gives a dewy (but not oily!) finish to your makeup, getting rid of any powdery look or cakiness in the process. You can also use it as a prime your skin before makeup to add extra hydration, making this a versatile product to have when traveling. I prefer the travel size for that reason, plus the full size just takes forever to finish.
← $12 on MAC, Ulta, Nordstrom; $11.5 on Selfridges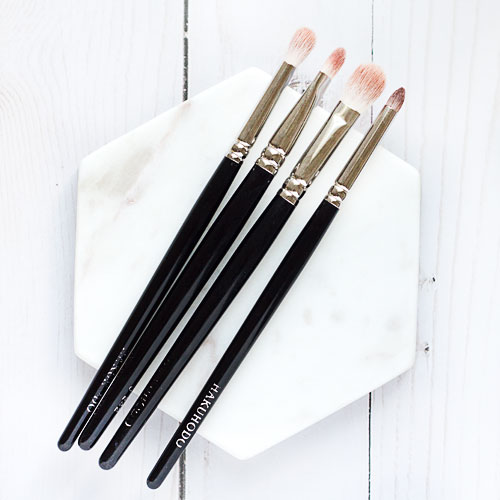 Hakuhodo Makeup Brushes
Best makeup investment of 2017. These brushes have made such a difference in the application and finish of my eye makeup, and their prices are more than reasonable. My favorites are the J5529, J5523, J242, and G5514. You can read my detailed review on these here.
If I had to complain, it'd be that they look really boring (I can't help it, I like pretty things!). Also, there are a ton of options on the site, so choosing which brush to buy can be overwhelming. The 4 I chose are classics recommended by many bloggers and fude enthusiasts, and I couldn't be happier with my choices!
$17 – $19 on Hakuhodo USA →
($9 flat rate shipping in the US, $11 worldwide)
Wayne Goss 02 Brush
I love how soft and versatile this brush is. I mainly use it for applying highligher but it can also be used for powder, blush, or bronzer. It picks up the products well and applies them to the skin evenly without disrupting your base. Plus it feels like a chinchilla on running against your cheeks.
Like the Hakuhodo brushes, this is made of real hair (blue squirrel in this case) and crafted in Japan. If I didn't already invest in Hakuhodo, I would buy more of his brushes as I think the quality is fantastic and the prices are reasonable.
← $35 on Beautylish
(free worldwide shipping for orders $35+)
IT Brushes for Ulta Velvet Luxe Soft Focus Sculpting Brush
This is my go-to brush for contouring, the shape is perfect for under the cheekbones and the jawlines, plus the hair feels like soft blue squirrel fur despite being synthetic. Since it's synthetic, the brush will work with powder, cream, or even liquid products.
I have a couple more face brushes from the IT Cosmetics for Ulta line and their quality is excellent. Prices aren't bad, especially if you get them during Ulta's 20% off sale.
$34 at Ulta →
Whew that was a long list, yet coming up with these favorites was almost a no-brainer because these are all such obvious choices for me, and I'm so glad I splurged on these. Hope you enjoyed this post, and if you haven't done so yet, don't forget to check out my 2017 in review post for a surprise at the end! This will be my last post for 2017, so I wish you all an early Happy New Year and the best for 2018! <3
Tip: You might have noticed that there's a price discrepancy between some of the retailers, particularly Selfridges, which ships worldwide. If you think you'll be making repeat purchases, it's worth signing up for their Selfridges+ program for $55/year that offers unlimited free shipping global shipping. Even better, sign up for one account and share it with friends so that y'all can split the annual cost!