You guys, I haven't been this excited about makeup since the release of Urban Decay Naked 6 years ago, but I've found my holy-grail-smudge-proof-oil-proof-water-proof-super-pigmented-easy to use-unicorn eyeliner. Yes it actually exists. Meet the Marc Jacobs Highliner Gel Eye Crayon.
What is it

A gel eyeliner in a crayon that delivers intense color and 12-hour waterproof wear and amazing glide in shimmer and matte finishes.

Best suited for

Anyone, from noobs to pros, who likes their eye makeup to stay put

Shades

12 mattes and 25 shimmers

Texture

buttery soft

What I love

Its incredible staying power, wide range of shades, amazing pigmentation, ease of use, and built-in sharpener at the bottom!

What I dislike

It's almost too soft, so if you need sharp precise lines, you'll need to sharpen the tip each time or better yet, go with a liquid liner

Size & Price

$25 for 0.01 oz/ 0.5 g

Where to buy
This isn't my first Marc Jacobs makeup, and I've always had a positive impression of the brand – sleek packaging, good quality, and reasonable prices. Solid, but nothing to scream for joy about, until Influenster kindly sent me the newest MJ product – the Highliner Matte Gel Eye Crayon in Earthquake (dark brown) and Pink of Me (baby pink).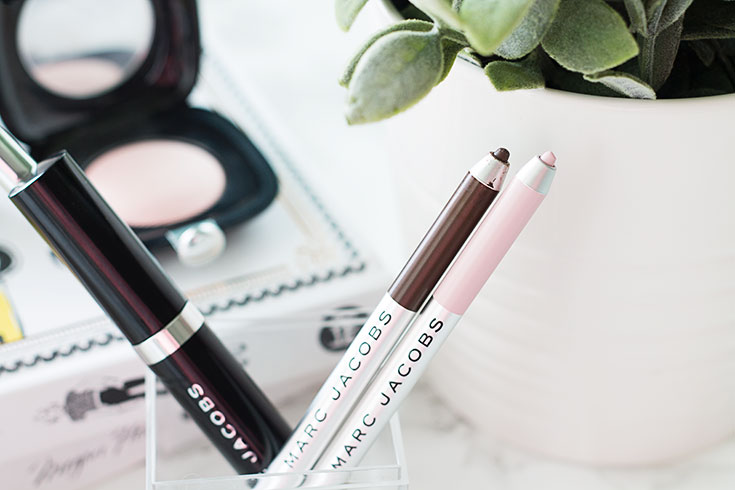 The eyeliner has a brushed silver packaging, giving it the same sleek look I've come to appreciate from the brand. At first glance they look like any other pencil liner, except that they're actually gel in a pencil format, giving you the pigmentation and staying power of gel plus the easy application of a pencil. This was clear as soon as I swatched them – they glided like butter on my skin (because the last thing we need are eyeliners tugging our delicate eye area and creating wrinkles) and were super pigmented.
What really blows me away and made this my holy grail is its incredible staying power. Like holy crap this does NOT budge once you apply it (you have 15 seconds to smudge or blend before it sets). Usually my eyeliner smudges or fades a bit by the end of the day, even if I prime my lids, but not this. It stayed in place all day, as pigmented and beautiful as the moment it was applied – a medal-worthy feat considering that this has never happened before!!
Keep in mind this is a gel formula, so if you're all about sharp precise lines, that ain't gonna happen. The softness of this liner means that you'll always end up with a blunt tip and thicker lines, a small trade-off considering all things. They do include a built-in sharpener at the base of the liner, just in case.
#MakeupTip: For a winged look, use a liquid liner at the ends to draw the tips. You can also layer liquid liner over the Marc Jacobs Highliner for extra definition.
Lastly, I want to give a shout out to Marc Jacobs for including the beautiful dark brown shade (earthquake) in their Highliner range. It strikes the perfect balance of natural while still giving your eyes definition. The baby pink shade I found is wonderful for highlighting my aegyo sal, though I might check out one of their shimmer shades in the future for this. I seriously regret stocking up on my old favorite Smashbox liners now, because these Marc Jacobs Highliners are the only eyeliners I'll be using from now on.
For comparison's sake
Much like ex-boyfriends, I have few fond memories and much regret when it comes to the following eyeliners:
Stila Smudge Pot – My first love (and eyeliner). Great staying power and pigmentation, but the pot would always dry out before I could even make a dent in it. Sad. Wasn't thrilled about having to use a separate brush to apply, such a hassle.
Wet & Wild MegaEyes Creme Eyeliner – The rebound. More affordable and less smudge-proof than Stila's Smudge Pot, so I didn't feel as bad when it dried out (and it did, fast).
Dolly Wink Liquid Eyeliner – The upgrade. Great at first, but I feel like it got less pigmented with each use, probably due to the ink drying out. While it didn't smudge, it did fade significantly by the end of the night.
Stila Smudge Stick Waterproof Eye Liner – The one night stand (I've never had one, but I'd imagine this would be the eyeliner equivalent, considering that I used it once on a whim). Very thin tip and very pigmented, which makes it super obvious when the lines are crooked or uneven. Plus it smudged like crazy. Good if you're into the I-just-got-punched-in-eye look.
Urban Decay 24/7 Glide-On Pencil – The blind date. Everyone was recommending this, but I didn't get the hype. Am I rubbing chalk on my eyes? Why is this so dry? And it's 2017, why am I still manually sharpening eyeliners? Decent staying power and pigmentation though.
Revlon ColorStay Liquid Eye Pen – The drunken one night stand. This was a liquid liner with a weird ball-point felt tip – it was like using marker on my eyes! The pigmentation was so poor I couldn't even gauge its staying power. Definitely avoid at all cost (both eyeliner and drunken one night stands).
Smash box Always Sharp Waterproof Kohl Liner – The long-term relationship. My old favorite, auto sharpened each time you capped the lid, and had the best staying power out thus far (still smudged a bit after a day). The eyeliner itself didn't last long and I had to repurchase after a few months.
Makeup Forever Aqua XL Eye Pencil Waterproof Eyeliner – The side piece (I used this for my aeryo sal + highlighting while I used the Smashbox as my regular liner). Very waxy, which makes applying along the lower lash line a pain in the ass. Good staying power once you got it on though. Pigmentation is meh, only because you really have to press hard to get the colors on the skin.
Let's just give this a 10/10?
Packaging
Pigmentation
Application
Staying Power
Price
In my heart this deserves a 10/10 because it's so perfect, but I tried to be as objective as possible and factored in the price, hence a 9.5. If you're still searching for a pigmented eyeliner that stays put all night, you need to give these a try. I kid you not, they are absolutely fantastic and god-sent for oily lids like mind.
This has been a good week thanks to this amazing discovery. Hope you guys have a great rest of the week as well, and let me know if you've ever tried the Marc Jacobs Highliner!