As you're reading this post I'm probably at the airport or already on my flight to Europe where I'll be prancing around exploring San Sebastian, Barcelona, Paris, and Brussels for the next 2.5 weeks.
Given that I'll be traveling extensively, it seems fitting that I share the skincare products I'm bringing and how I put together my travel-proof skincare routine.
My rules for skincare when traveling
I'm all about those tiny samples. I pretty much save them for when I travel, because I hate the idea of carrying large full sized products, and I'm not a fan of decanting (see rule #5). Plus it's a great way to try out new products!
Mix in old with the new. While tiny samples are great, I'm not going to switch up my entire routine at the risk of irritating my skin.

The only thing worse than splotchy burning skin is splotchy burning skin while on vacation.

Always bring products to handle breakouts or irritations. Because you never know when 💩 is gonna hit the fan, or in this case, your face. My go to acne treatment is the La Roche-Posay Effaclar Duo and for irritations I like the La Roche-Posay Cicaplast Baume B5 or Yadah Anti-T Red Zero Spot Cream (full review here).
Amp up with sheet masks. I like traveling light and saving room for souvenirs, so that means everything must fit in a small makeup bag. If I feel like my skin needs an extra oomph, I'll bring a few sheet masks. They're also great for long plane rides where the air can get really dry.
Minimize the decanting. I personally don't like decanting because it's a hassle and I never finish the decant anyways. Plus it just doesn't seem as hygienic? I'll only do it if I absolutely love the product and can't be without it.
Pack for the weather. My skin changes due to the weather, so I'll skip the facial oil if I'm headed somewhere hot and humid, but I'll definitely bring one if I'm going somewhere cold and dry.
But don't pack what I'm going to buy. Depending on my destination, there's a good chance I'll haul some skincare goodies while I'm there. If I'm going to do that, there's no point in bringing whatever I'm going to buy anyways. Or if I'm going to bring it, I'll just bring a sample size.
With these above rules in mind, my vacation skincare routine ends up being a simplified version of my usual routine with a few new items mixed in, and this usually helps prevent any negative reactions (eg. breakouts or irritations) from occurring, because the last thing I want to worry about is my skin while I'm on vacation.
My "Europe in Spring" skincare routine
So the weather is pretty similar to the US, albeit a bit chillier, so my face will actually be in the normal range – not too dry, not too oily, aka perfect. Here are the products in usage order:
Labotica Green Tea Lip & Eye Point Remover* – Full review here. The small pack makes this ideal for travel, plus it's gentle on the eyes. Enough said.
Caudalie Micellar Cleansing Water – Doesn't even compare to my favorite Bioderma, but it does a decent job, and I just want to be done with it asap. If I run out I'll just buy a small bottle of Bioderma from the pharmacy.
DHC Face Wash Powder* – Low pH, non-drying, and just a little bit of powder creates a nice foam. I'm holding back from using this regularly so I can save it for travels. Will probably decant as the bottle is too big for my liking.
Cure Natural Aqua Gel – I happen to have a sample of my favorite peeling gel, so of course I'm going to bring it with me. My skin could use a gentle exfoliation mid-trip.
Naruko Rose & Botanic HA Aqua Cubic Hydrator EX – A nice hydrating toner. Again, not my favorite, but it comes in a convenient travel size bottle and gets the job done.
Sunday Riley Good Genes – Since I won't be bringing my Curology bottle (too big), this small sample will suffice. I do like the product, though I'm not sure if I like it enough to spend $100+ on it.
Verso Super Facial Serum – I got a sample of this from the CultBeauty Spring Goodies Bag and it's one of the two "new" product I'm bringing. I'm almost done with the Good Genes sample so this is a backup.
Skin Actives Cranberry Moisturizing Serum* – A hydrating serum is a must and this one is just the perfect size. Plus it smells like cranberries!
Origins GinZing Refreshing Eye Cream – Yay for Sephora samples! Though I don't love this eye cream, the tiny tube is perfect for traveling.
Odacite Green Tea-Lemongrass Serum Concentrate – Gotta love the tiny samples Odacite gives with every order. I adore their serums/oils and I've always wanted to try this brightening blend.
La Roche-Posay Cicaplast Baume B5 – This is one of the moisturizers in my current rotation and it'll be perfect in case my skin decides to act up. Love this stuff.
Viale Supreme Repair Cream* – I'm definitely decanting this because I adore the texture of this cream and how it makes my skin feel. Nothing wrong with bringing a little luxuriousness when you travel ;) I'll alternate between this and the Cicaplast Baume B5.
La Roche Posay Anthelios XL Ultra Light Fluid SPF50+ – A must have when I travel due to its incredible UVA protection. You bet I'll be hauling a ton of these when I'm in Europe *waves arms angrily at the terrible US formulation*
La Roche-Posay Effaclar Duo – I hate how big this tube is but no one wants pimples while on vacation, and this works so well I just can't be without it.
A few sheet masks – All of the hydrating sort. I prefer the lighter ones with smaller packaging for convenience.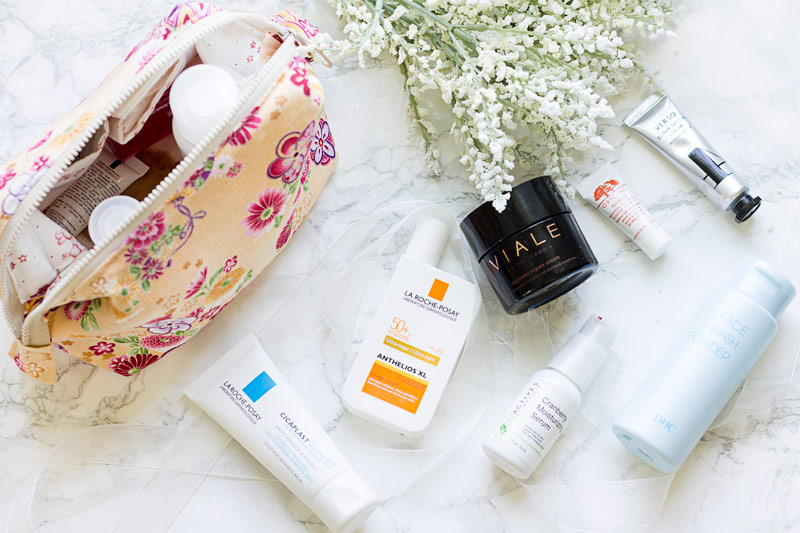 It seems like a lot of products but keep in mind most of these are tiny sample sizes, so they all fit nicely inside my small makeup bag. Also, I'll probably rotate my usage of the serums and moisturizers depending on how my skin feels, so it's not like I'll be using everything in here every time.
How do you guys pack your skincare products when traveling? What are your must haves when you're away from home? Hope you guys have a great week and follow me on Instagram if you're interested in my travel shenanigans!